The Marina Bay area is blessed with many great restaurants with spectacular views and Me@OUE is definitely among the top, literally speaking. I've seen the bay from many different angles and thought I had seen everything. But the view from Me@OUE's rooftop lounge and restaurant is great because it is at a comfortable height (not too high) which makes you feel like you are in the thick of the fireworks.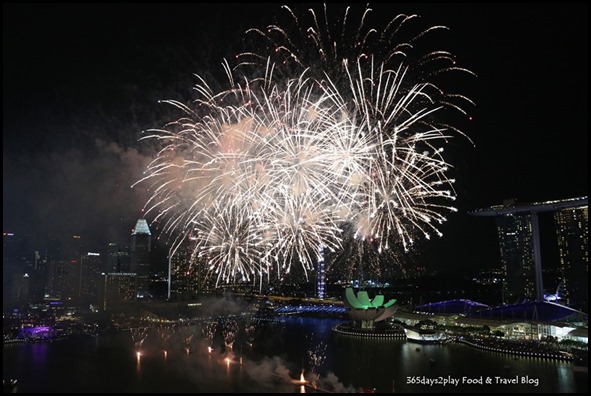 To celebrate Singapore's Jubilee Anniversary on August 9th Me@OUE invites diners to tuck into dishes influenced by local favourites with the restaurant's distinct twist. The menu highlights Celebrity Chef Chen Kentaro's vast expertise of fusing Japanese, French and Chinese cuisine with a local flair. For $245++ per person, you can tuck into the National Day Menu comprising the following items :
Caviar
Superior Seafood Soup in Young Coconut
Uni Chawanmushi
Chilli Lobster
Chicken-Rice with Foie Gras & Black truffle
Mangosteen Vanilla Sorbet
If you don't wish to go for the full on 6 course National Day Menu on 9th August Sunday, you can also sample 3 SG50 special main courses on 8th August Saturday :
Sweet and Sour Pork
Chilli Lobster
Sri Lankan King Crab
The normal menu is available along side the SG50 special main courses. We were lucky to be able to sample this SG50 special dishes as well as a few other signature dishes from ME@OUE! Read on for more details.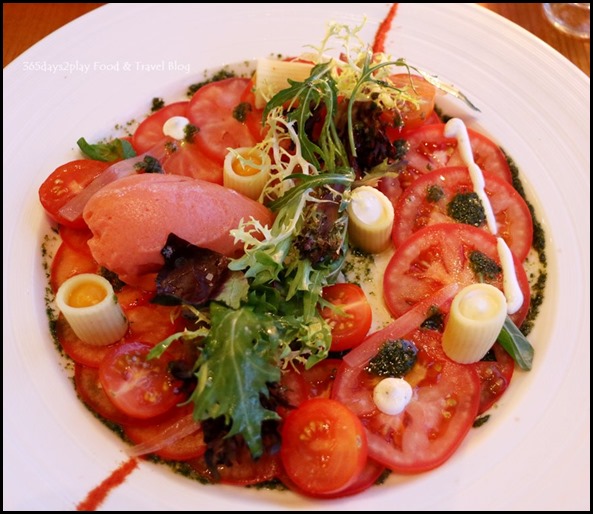 Roma Tomato Salad, with Tomato Ice Cream, Rigatoni Mascarpone Pepper, Pesto $22