Found this restaurant "near" to my office. Well, near enough if 10 minutes walk is considred near, 5 minutes of which were under the hot sun. Seriously, the sun at City Hall isn't that hot! (okay I know City Hall is shaded)
The place looks pretty authentic. The chef is Japanese and the wasabi here is the real kind, not the pasty kind you get at the cheap chains. During the lunch hour, they offer 3 types of daily set lunches as well as the perennial set lunches.
Sasmhimi rice box with udon $21 – This is only available on Fridays. Love the very generous and huge slices of fish. My favourite is undoubtedly the swordfish, followed by salmon. They are quite obliging in substituting the types you don't want with the types you want.
Look how fresh and huge they are!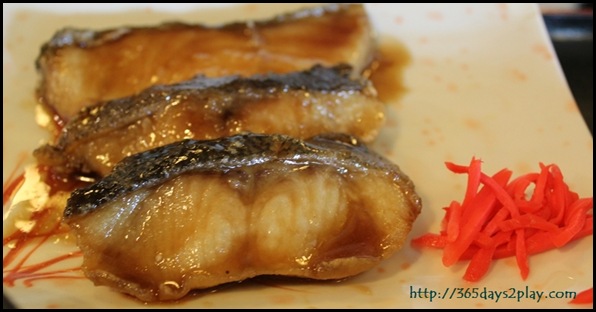 Cod fish set $18 – $20 (can't remember!) Available every weekday.
Himawari also offers ala – buffets at about $33/pax for lunch. Dinner is slightly more expensive. With the fish tasting this good, I really want to go for the buffet! My colleague's husband tried it recently and proclaimed the buffet to be quite good!
Himawari Japanese Restaurant
Tel: 6272 1100      Email: yoichi.nakaoka@himawari.com.sg
Alexandra Road Branch – 991B Alexandra Road, Blk 4, #01-08/09 Singapore 119970
Changi Branch — 1 Changi Business Park Crescent, #02-19 (Plaza 8) Singapore 486025