Prior to my maternity leave, I had envisioned myself being the modern mum and being able to bring baby out to enjoy afternoon tea once in a while. Reality struck after the baby arrived and the dream hasn't happened yet. He has however visited his fair share of Yakuns and ToastBox because 1/2 hr is all he can take before he gets bored and wants a change of scenery.
Couple of months back, I did manage to take some time off on the weekend from motherly duties to have a cuppa with my colleagues at the Axis Lounge Mandarin Oriental. The afternoon tea was average, a little on the pricey side given that the food is non-refillable but the company and being able to take a breather from the confines of the house was priceless.
Here's what we had. What you see in the pictures are for 3 pax. Axis Lounge combines the food instead of serving 3 tier sets individually to customers.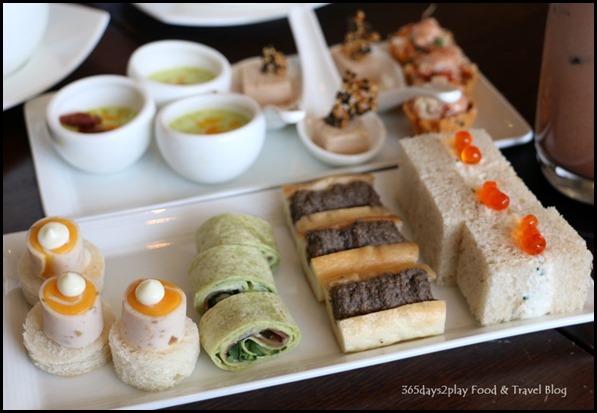 Savouries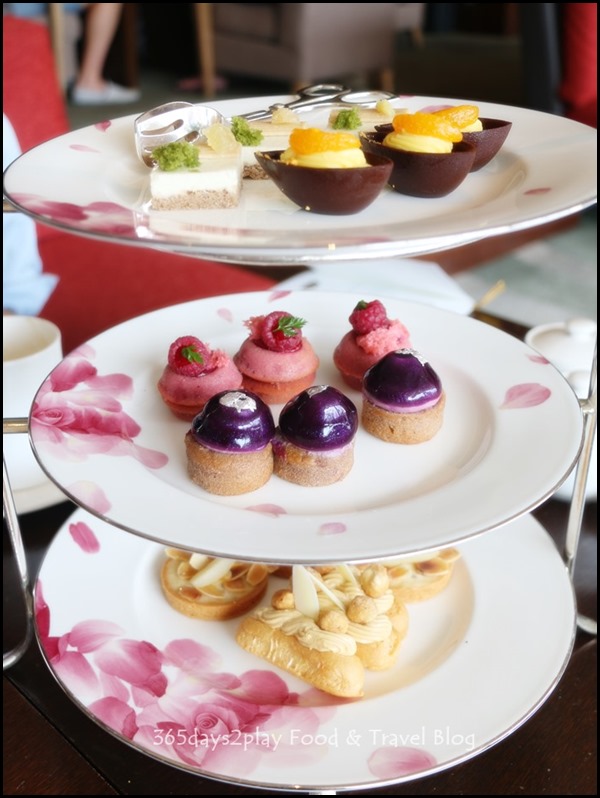 Sweets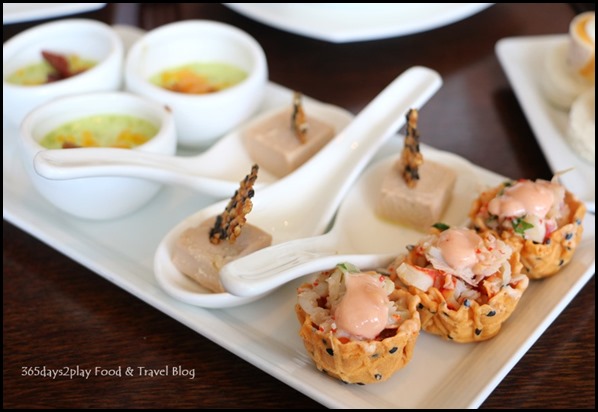 We all agreed the savouries were more enjoyable than the sweets. I particularly liked the goose liver terrine and the slow poached lobster. Too bad they weren't refillable.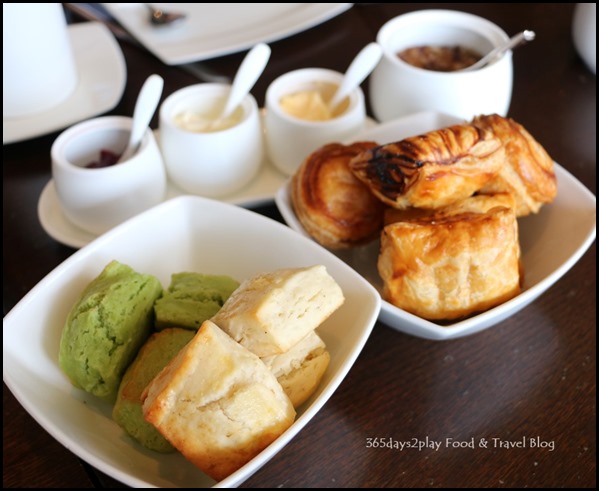 Scones and puff pastries. Scones come with jam, clotted cream and lemon curd. The scones were nice but the puff pastries had much room for improvement. We unanimously thought that the puff pastries were dry, tough and tasteless.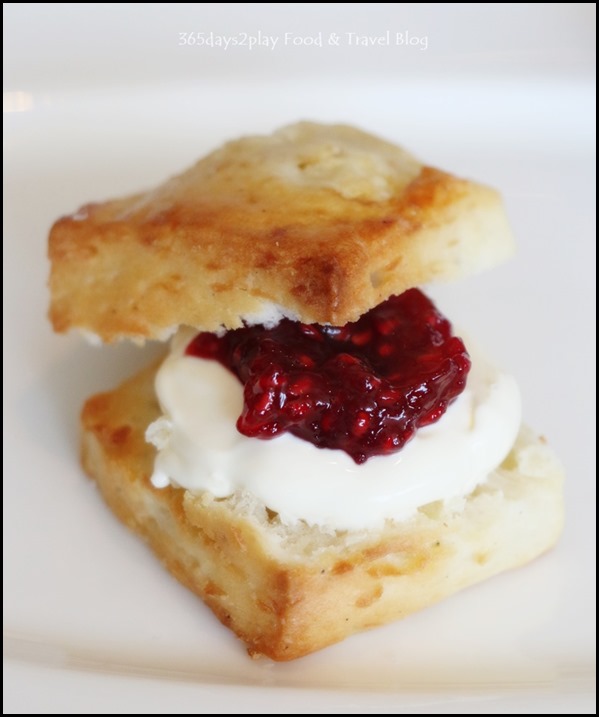 Always have to "decorate" my scone so here it is! Clotted cream on the bottom and raspberry jam on the top.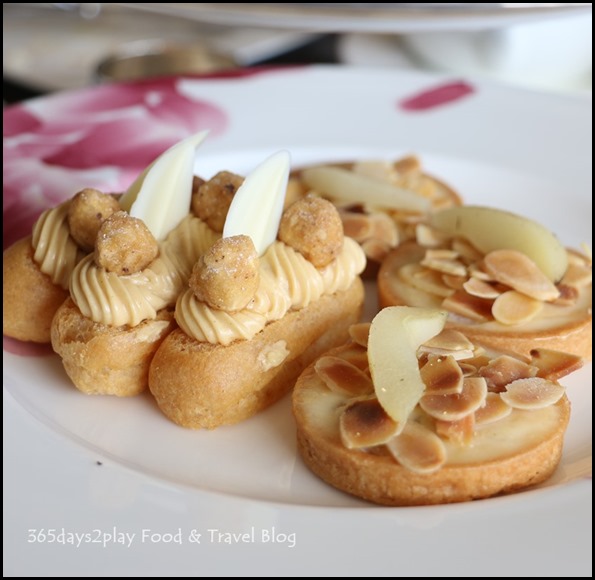 Closer look at the sweets. Caramel hazelnut éclair and bourdaloue tart (aka French pear tart) were both nice.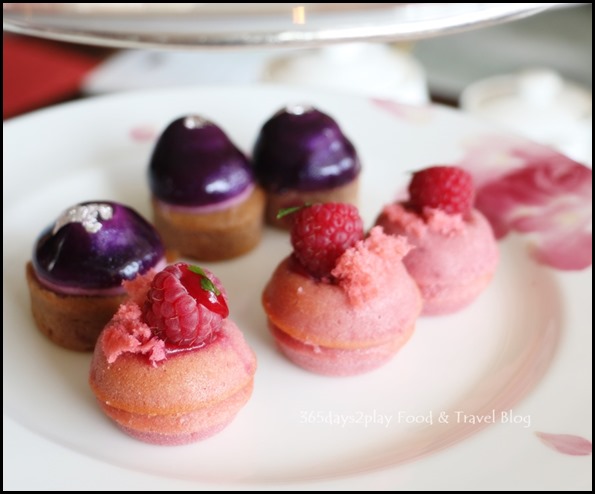 These were pretty but psychedelic looking and overly sweet. I did not even try the neon purple one.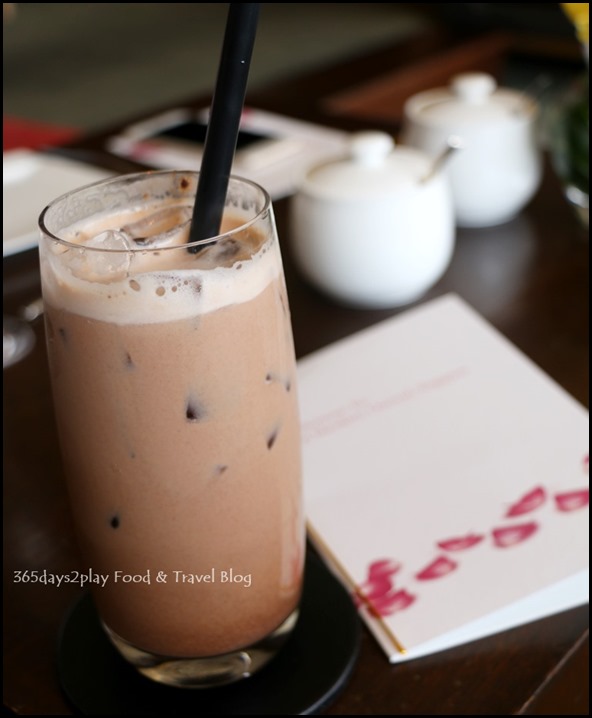 You get 2 choices of drinks so my first choice was a delicious icy cold hot chocolate to beat the heat.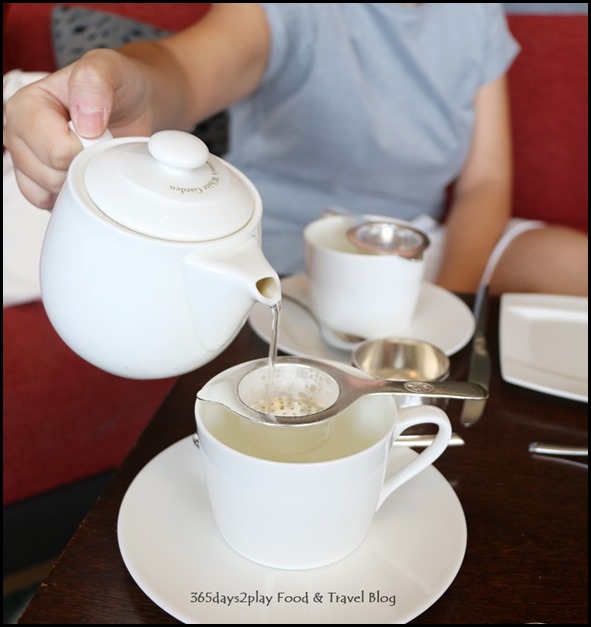 Plus a pot of tea using TWG teas.
Bright and cosy Axis Lounge. Wasn't very crowded when we were there on a Saturday afternoon. If you're not an afternoon tea kind of person, and prefer something Asian such as dim sum, you can check out Mandarin Oriental's Cherry Garden's Dim Sum brunch.
---
Add me on Facebook, Instagram and Twitter if you want to be kept up to date with the latest happenings in the food and lifestyle scene in Singapore!
Other afternoon tea places in Singapore to check out
---
Axis Bar & Lounge Afternoon Tea
5 Raffles Avenue, Marina Square, Mandarin Oriental Singapore, Singapore 039797
Tel : +65 6338 0066
http://www.mandarinoriental.com/singapore/fine-dining/axis-bar-and-lounge/
http://www.facebook.com/MandarinOrientalSingapore
$42 per pax, $80 for 2