*Media Invite*
Before I begin the post proper, I just want to say that the highlight of the event was to be escorted under a huge 6 man umbrella by a cute umbrella bearer during the torrential downpour. What a sight indeed. At first, it was just me, Hazel from Ai Makan and Sherie of Maameemoomoo together with the umbrella. Half-way to the VIP booth, we acquired 2 stowaways, who just as mysteriously disappeared before we even reached our booth. Scroll right to the end for photos.
OKAYYY, on to the event itself. As the official home appliance sponsor of SAVOUR 2012, Bosch invited old media as well as new media to experience Bosch's best-in- class induction hobs, elite built-in ovens, versatile kitchen machines and a range of cooking appliances during a "Face Off" cooking experience with Bosch star chefs. The 2 star chefs of the day were Chef John See, who previously worked as the Chief Chef to former Australian Prime Minister John Howard, as well as Chef Claudio Sandri, who currently helms the kitchen at Brasserie Wolf.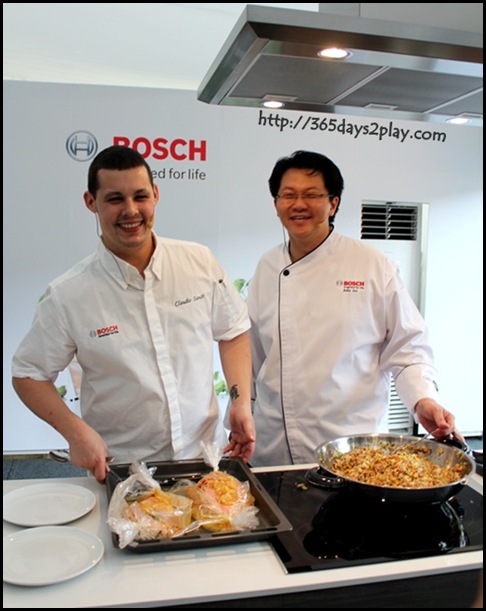 For the record, I liked the brown fried rice done by Chef John See.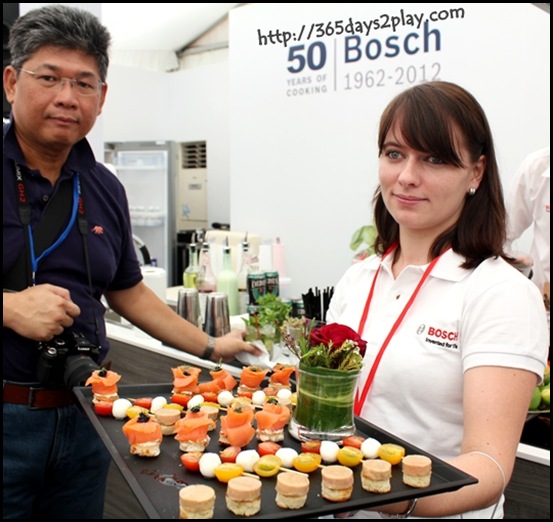 While waiting for the chefs to do their thing, we indulged ourselves in the delicious canapés provided. I love canapés, not least because they look so dainty and tasty! If there are so many dim sum restaurants around, why aren't there restaurants focussing on just canapés?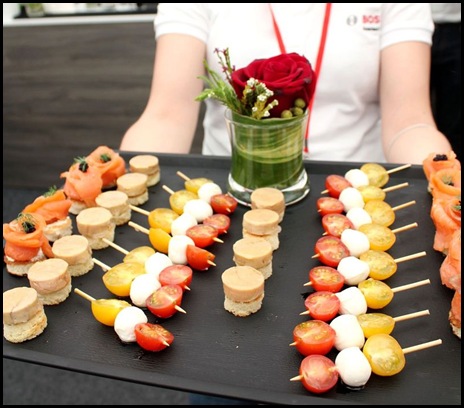 Closer look…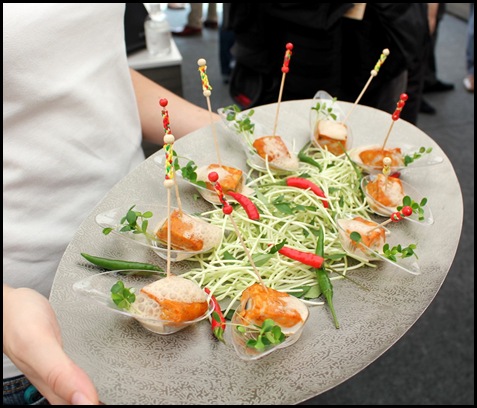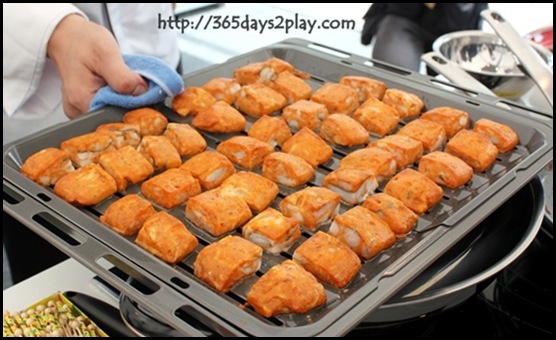 Even otah can look so atas when put in the right hands!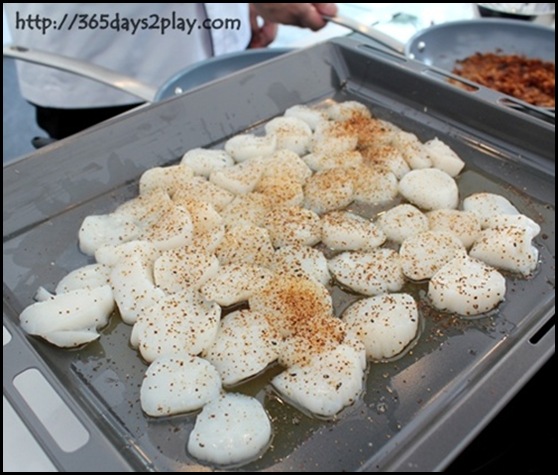 Scallops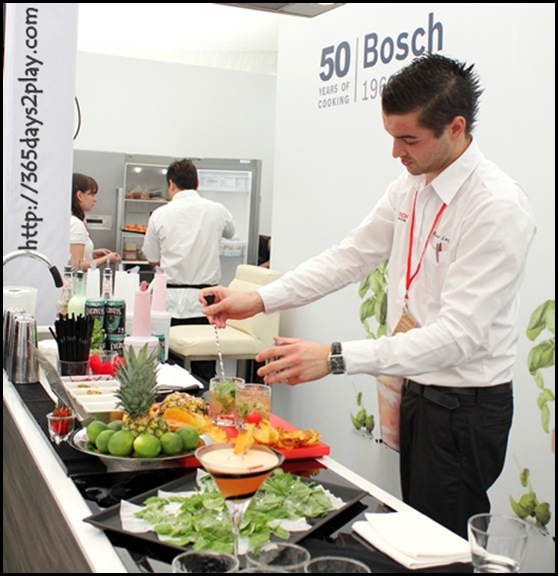 A mixologist getting our drinks ready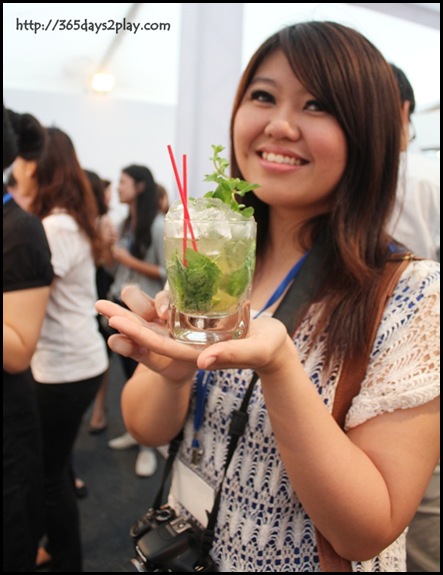 Hazel of Ai Makan posing with the refreshing minty concoction that kinda resembles plants growing out of the glass.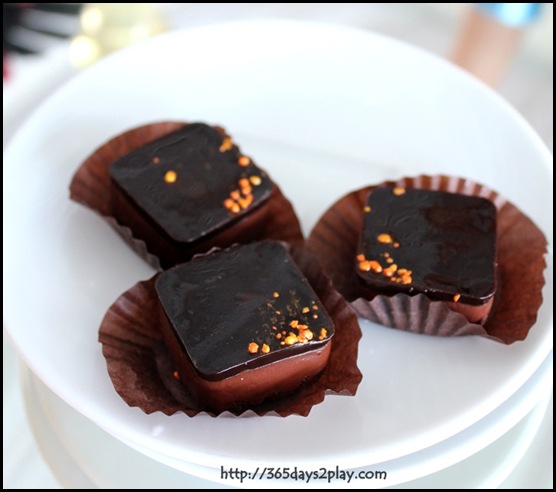 The perks of being Bosch's VIP guest was that we got to raid the VIP tent! After walking through the torrential downpour, I wasn't all that keen on the free flow of champagne so I just opted for a cappuccino. There were lots of canapés to choose from. We were told they were all air flown in from France, but actually, we agreed that most of the canapés tasted weird. No idea why. There was however, 1 item which was fantastic beyond words, and that was the chocolate treat above. Top layer of chocolate ganache like jelly followed by another chocolate layer that has a mousse flavour but not texture, and finally at the bottom, chocolate crispy base. Decadence! I had 3 to myself. Pity there's no way to buy this …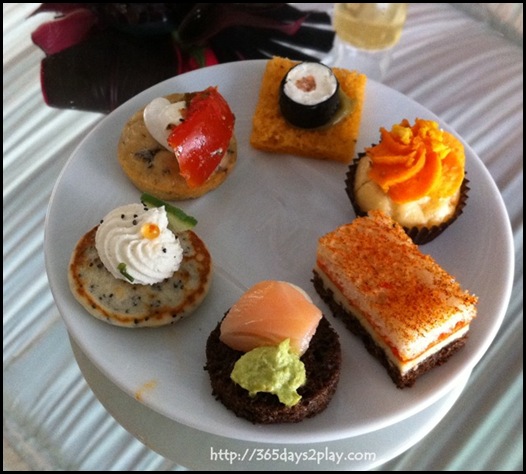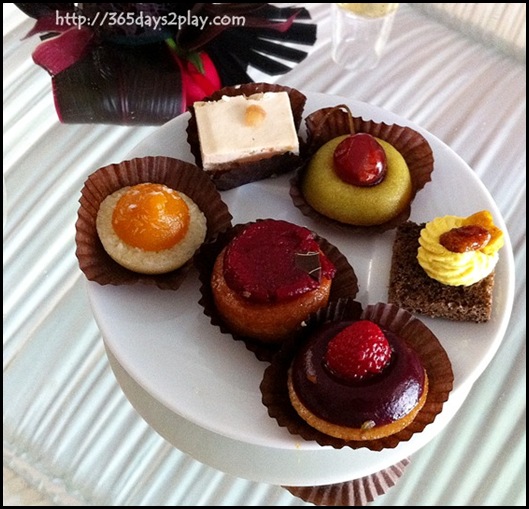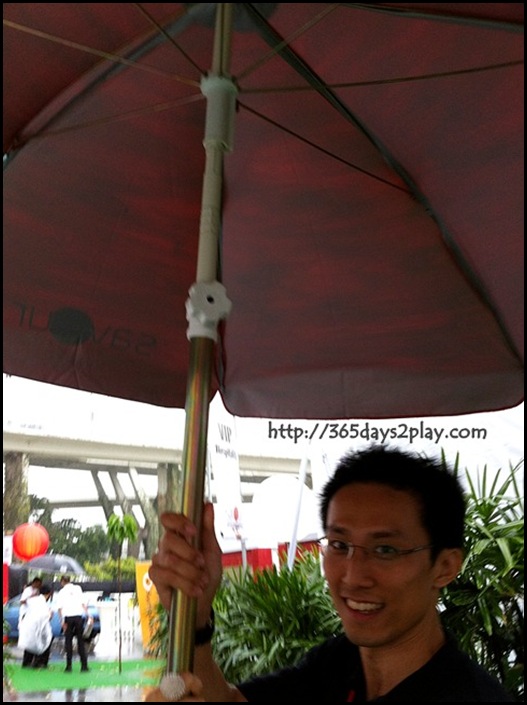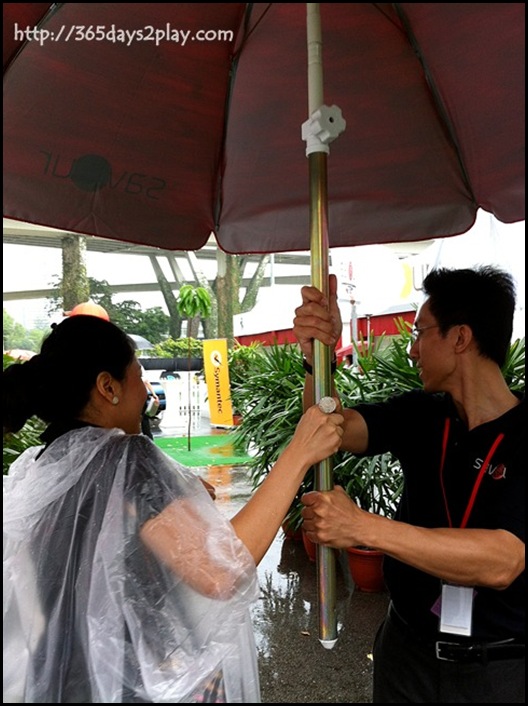 And this is the 6 man umbrella I was talking about. Sherie of Mameemoomoo trying to help the guy hold up the umbrella.