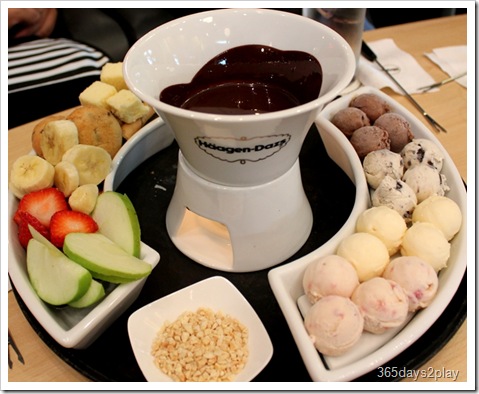 There's something strangely fun with having an ice-cream fondue. You know the chocolate fondue fountains that hotel restaurants are so fond of displaying? After a certain number of greedy guests have had a go at sticking fruits, marshmallows, chocolate bits and what have you into the fountain, they invariably leave behind a sticky trail of chocolate on the chocolate fountain contraption?
Well I had subconsciously assumed that it would be pretty much as messy with the ice-cream fondue. Chocolate plus ice-cream, double the mess, no?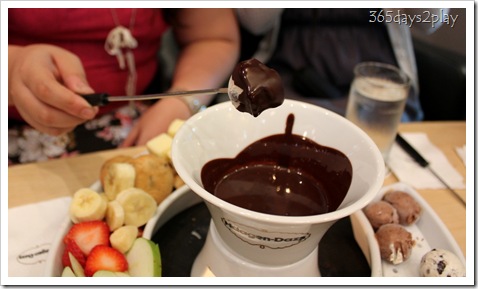 Well as you can see, ice-cream fondue isn't messy because the ice-cream instantly solidifies the chocolate! Now why didn't I think of that?? The ice-cream doesn't melt into the chocolate sauce either because the ones used for the fondue are extra frozen. It's almost like a work of art, trying to see how thick a layer of chocolate you can apply to the ice-cream.
You have to eat it fast though. The ice-cream does eventually realise it is no longer in the freezer after a while, I think about 10 — 15 minutes? Haagen Dazs ice-cream tends to melt faster than other ice-cream from cheaper stores. This is not a bad thing at all. This means that there have been no unnatural additives added to the ice-cream to make them stay solid for longer. I just hate eating ice-cream that doesn't melt. It makes me wonder if I'm eating some chemical concoction that would not have have existed naturally in this world.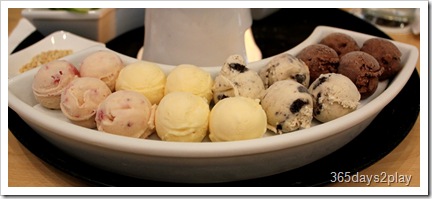 Every fondue comes with 4 mini scoops of Belgian Chocolate, Strawberry, Cookies & Cream and Vanilla. These are the only flavours available for the fondue because they have to be frozen longer. This little indulgence will set you back by about $42. Great fun when you're with a bunch of firm friends.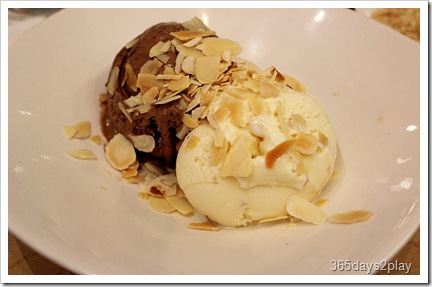 However, this is what I like to have at Haagen Dazs when I'm not in the communal mood (very often almost always). Macadamia Nut ice-cream and Belgian Chocolate ice-cream with almond flakes. One of my favourite ice-cream combinations. The almond flakes are a must. It's like having rice during a Chinese meal. It gives more texture to the ice-cream and brings out the ice-cream flavours even more. Yummy!!!
Despite the number of ice-cream shops that have sprouted in Singapore in recent years, Haagen Dazs remains, by far, my most favourite ice-cream brand. Other places may offer unique flavours or cheaper prices, but they just don't hit the spot. In my opinion, to find the best ice-cream in Singapore, go to Haagen Dazs!

Hí¤agen-Dazs @ Hilton
581 Orchard Road
Singapore, 238883
Tel: 65-6734 3321
Fax: 65-6732 0412
More Hí¤agen-Dazs shop locations in Singapore: http://www.haagendazs.com.sg/shops/shoplocator.aspx
Hí¤agen-Dazs website: http://www.haagendazs.com.sg
Hí¤agen-Dazs Menu: http://www.haagendazs.com.sg/files/pdf/menu/Singapore_Menu.pdf (large file, click only if you have fast internet access)