Now that Valentine's day is but a week away, I thought I'd share with you some of the best romantic restaurants in Singapore I have dined at that you may want to consider for impressing your Valentine. Of course, there's no rule that says that one can only celebrate Valentine's day on February 14, so if I were you, I'd rather still go to one of these romantic restaurants for an early or belated Valentine's day for a romantic meal out, than to choose a not so suitable restaurant. Always go for the best, that's my rule.

---
1. Au Jardin at Singapore Botanic Gardens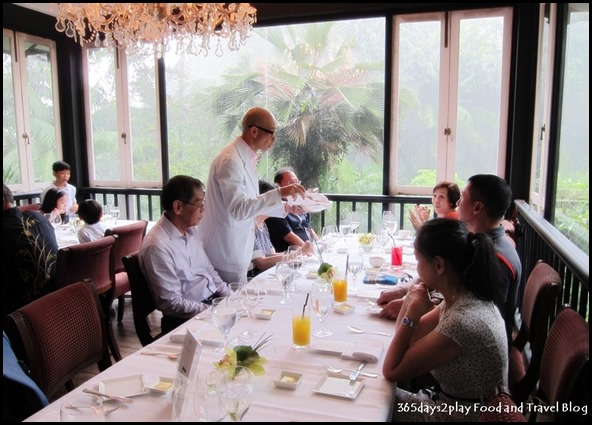 Restaurant in the heart of the Botanic Gardens, need I say more? Lovely venue for weddings too. This photo was taken at a friend's wedding in fact. Most importantly, Au Jardin will be closing down come April, so it's your last chance to savour this romantic place before it's too late.
Au Jardin
EJH Corner House, Singapore Botanic Garden Visitors Centre
Cluny Road, Singapore 259569
Tel: 6466-8812
Luncheon: Tuesdays to Fridays only 12pm
Dinner : Tuesdays to Sundays 7pm
Sunday Brunch : Sundays only 11 — 1pm (1st seating) 1 — 3 pm (2nd seating)
https://365days2play.com/tag/au-jardin/
---
2. Absinthe Restaurant Francais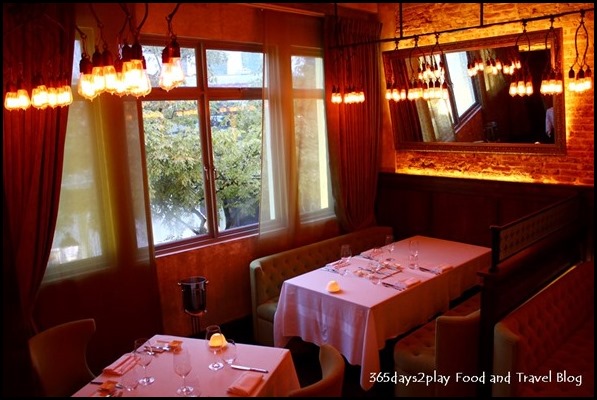 My 2nd pick for a good restaurant for Valentine's day is Absinthe. It's also a French restaurant, and what can I say, the French do romantic so well! After a great meal here, you can go for an evening stroll by the Singapore River, hand in hand.
Absinthe Restaurant Francais
71/72 Boat Quay  049860 Singapore
Tel: (65) 6222 9068  Fax: (65) 6225 6207
Email: reservations@absinthe.sg
Opening Hours
Lunch : 12pm — 2:30pm (Mon — Fri)
Dinner : 6:30pm — 11:00pm (Mon — Sun)
https://365days2play.com/2014/01/23/absinthe-restaurant-francais-at-boat-quay/
---
3. Pantry at the Stables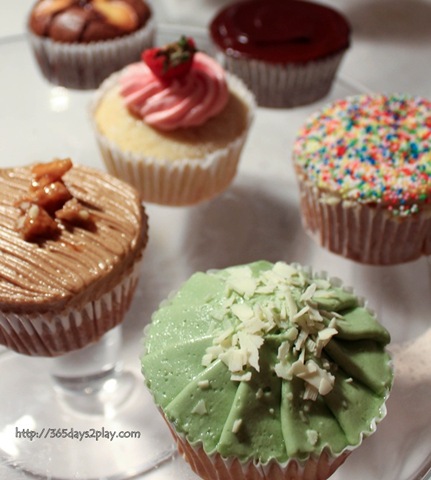 Whenever anyone asks me for an affordable romantic restaurant, I almost always tell them to go to Pantry at the Stables. It's located within a forested area next to the Bukit Timah Saddle Club, and is pretty much pitch dark except for the street lamps once you leave the car park area. What better way to ensure your date stays with you even if you are boring?
Helps too that Marmalade Pantry has a huge array of cupcakes, the favourite of many a girl.
Pantry at the Stables
55 Fairways Drive Singapore 286846
T: +65 6467 9328
F: +65 6467 1608
Reservations: +65 6467 7748
Tuesdays to Fridays : 3.00pm to 11.00pm
Saturdays and Sundays : 10.00am to 11.00pm
Closed on Mondays
https://365days2play.com/tag/pantry-at-the-stables/
---
4. The Pelican Seafood Bar & Grill
This is probably my favourite Western restaurant for seafood mainly because the seafood here is so fresh, and they have quite a number of interesting seafood dishes such as the cod's tongue casserole. Lovely decor, ambience and also, the possibility of a riverside stroll after dinner. That's always a must I think. Oh, absolutely DO NOT forget to order that whoopie pie.
The Pelican Seafood Bar & Grill
Address #01-01 One Fullerton, 1 Fullerton Road, Singapore 049213
Tel +65 6438 0400
Email enquiry@thepelican.com.sg
Operating hours Lunch: Monday to Friday, 12noon to 3pm (last order 2.30pm)
Dinner: Monday to Saturday, 5pm to 1am (last order 10.30pm)
(Closed on Sundays)
https://365days2play.com/2013/04/08/the-pelican-seafood-bar-grill-one-fullerton/
---
5. Zafferano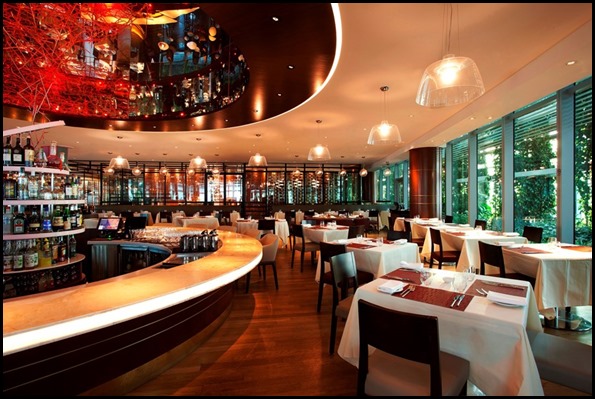 Roof level / top floor restaurants are a great option for Valentine's day for obvious reasons. My favourite roof top restaurant has been Zafferano of late. Absolutely love the steak and burrata here, and their ice creams and desserts are great too.
Zafferano
Address Ocean Financial Centre, Level 43 (Top Floor!)  10 Collyer Quay, Singapore 049315
Reservations Tel: (65) 6509 1488  Fax: (65) 6509 1565
Email: info@zafferano.sg
Opening Hours Lunch
Monday — Friday 11.30am — 3pm
Dinner
Monday — Wednesday 5.30pm — 11.45pm
Thursday — Saturday 5.30pm — 1.00 am
Closed on Sundays
https://365days2play.com/2013/10/27/zafferano/
---
6. Museo at Quayside Isle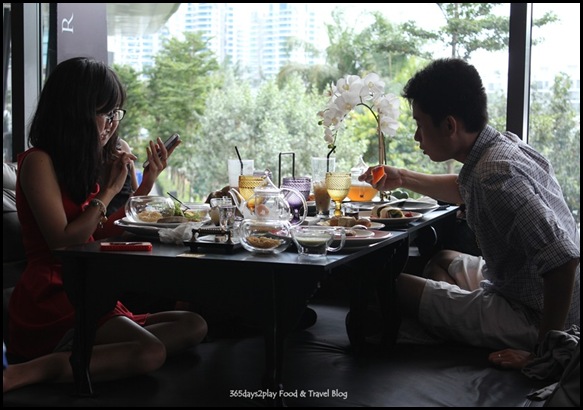 If Valentine's day dinners are beyond your budget, and I'll be the first to agree that the prices on this special day are so inflated, you really should start thinking out of the box. I think afternoon tea with your significant other would be a really romantic and cosy way to spend the afternoon! The idea of having a long afternoon over tea, nibbles and conversation, that IS the essence of a romantic meal, don't you agree? I choose Museo as one of my top picks because of the vibe here. You can cuddle up with your partner if you snag one of these sofa seat tables, and it boasts a great view of the waters at Quayside Isle!
MUSEO — Art on the Isle; Restaurant; Barroom
Quayside Isle
31 Ocean Way, #01-22
Sentosa Cove, Singapore 098375
Tel : 6734 8066
Email : quaysideisle@mu-se-o.com
Sunday to Thursday: 1.30pm to 1am
Friday and Saturday: 1.30pm to 2am
https://365days2play.com/2013/03/27/museo-high-tea-buffet/
---
7. Afternoon Tea at a Hotel
I love afternoon tea and I think I've been to all of the best ones in Singapore. Like I said above, conversation over afternoon tea is the perfect way to bond. Plus, the pretty cakes and desserts will help you score points. Here are some of the best places for afternoon tea in Singapore.
St Regis Brasserie Les Saveurs
Fullerton Hotel Courtyard and Fullerton Bay Hotel Landing Point
---
8. Brasserie Les Saveurs at The St. Regis Singapore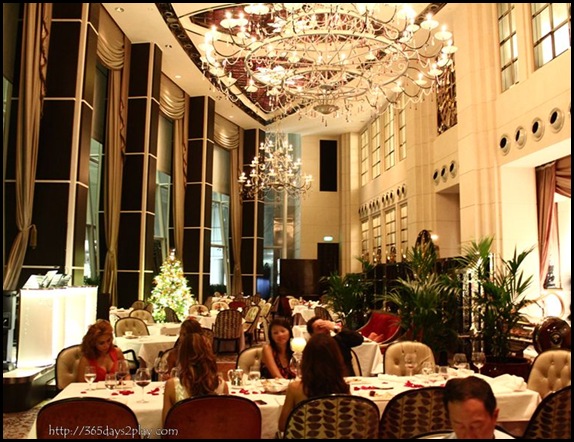 Speaking of Brasserie Les Saveurs, this is also one of my favourite romantic restaurants of all time. Love the chandeliers and the floor to ceiling glass windows. The service here is really exquisite. If you have the moolah, this is the place to go.
Brasserie Les Saveurs at St Regis Hotel
29 Tanglin Road Singapore 247911
Telephone : (65) 6506 6888
https://365days2play.com/2012/12/08/brasserie-les-saveurs-christmas-dinner-at/
---
Add me on Facebook, Instagram and Twitter if you want to be kept up to date with the latest happenings in the food and lifestyle scene in Singapore!