The other day, thanks to a conference I had to attend, I finally made my maiden trip to Marina Bay Sands. The Marina Bay Sands Convention Centre was just awesome. It was as grand as can be. Everything looked so polished, the whole place looked so humongous and spacious, and even the doors looked 3 times my height.
On the 4th floor where my conference was held, you could look out onto the Singapore River and at all the buildings along Shenton Way. For the 1st time in my life, I could actually see Singapore from an angle that just 1 year ago did not exist! It was just a very awesome and inspiring feeling, and if I as a Singaporean can feel this way, imagine what it would be like for all the foreign delegates. I have no doubt that we now have one of the finest convention centres in the world.
A friend who works at MBS went to London for a holiday recently. He commented that Big Ben was not as impressive as MBS. I'd thought he was joking because how can something so steeped in history be compared to MBS? I may still disagree with him but I can certainly now understand why he felt so.
I have one advice for MBS though, do something to the noisy doors! Every time a delegate leaves the conference, the door slams shut loudly. If there were a bad speaker, half the room would leave in boredom, the other half would leave in irritation at the noise from the slamming doors.
Anyway….that was the Convention Centre. After the conference, we tried out the Rise Restaurant. There was the buffet going on, but after all the canapes I had at the conference, I wasn't too keen on a full fledged buffet, at $70+ no less! Decided to go local in the end.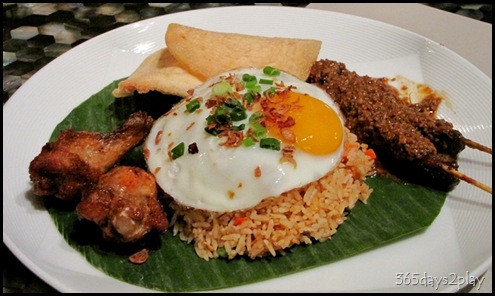 Nasi Goreng — It was not bad, but I think the hawker centre nasi goreng is far better. Only the satay was good enough to have to pay hotel prices for local food. The peanut sauce was also very flavourful and crunchy.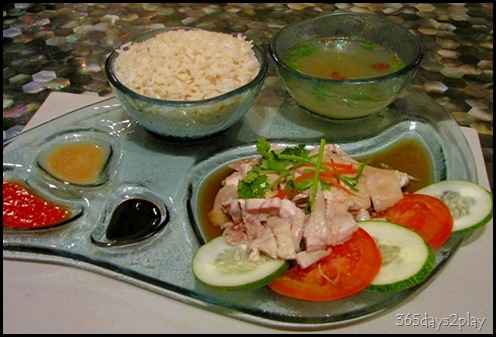 Hainanese Chicken Rice — Shockingly, this was quite bad. The rice was only warm, and it felt mushy. There was no fragrance to the rice, the type you'd expect when eating chicken rice. The chicken fared only slightly better. It's a disaster if you ask me. The only thing good there is the soup and the sliced cucumber. Hotels always charge an arm and a leg for local food, so at the very least, I expect them to deliver a pretty good meal. If you had me blindfolded, I would not have guessed that this was produced by a chef working in a hotel.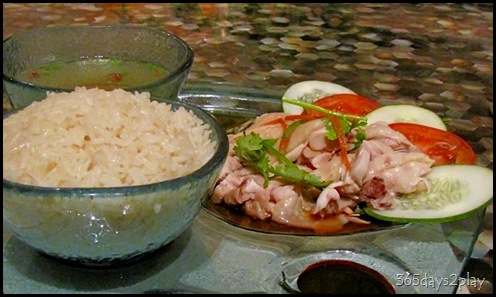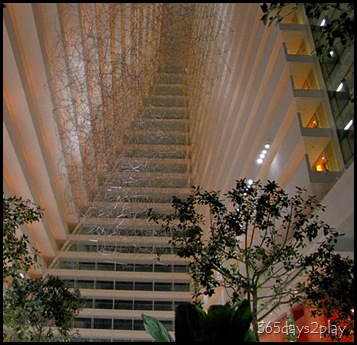 Conclusion: I was awed by the Convention Centre, and brought back to earth by the Rise Restaurant.
RISE Restaurant
Marina Bay Sands
10 Bayfront Avenue, Singapore 018956
Tel: +65 6688 8868