I think anyone who has seen the Marina Bay Sands Swimming Pool will surely agree that it must be one of the most beautiful looking hotel pools in the world! It's quite long, which is really good for serious swimmers, although I think most people will be here just to gawk at the scenery. Many other older hotels have really tiny and unshapely pools, which is a pity. I think there is a trend nowadays for hotels to make a statement for themselves via the design of their pools.
Then there's the red deckchairs, which make for good contrast in photos. This must be like one of the best places to sun tan, cuz there's no other tall building to block the sun's rays. Just don't book a stay here on one of Singapore's public holidays, or you'll be wading in a sea of people.
The use of the swimming pool facility is only available for hotel guests from 6am — 10pm, although visitors are obviously able to view a portion of it. Visitors can only access the SkyPark from 10am onwards, so shy swimmers should try to make use of the magic hours between 6am — 10am to have their swim if they don't want their every move scrutinised. And I can tell you, there will be photographs galore. There is no way anyone with a camera or iPhone would leave without snapping some pictures of the pool.
These photos were taken at 3pm on a Friday afternoon.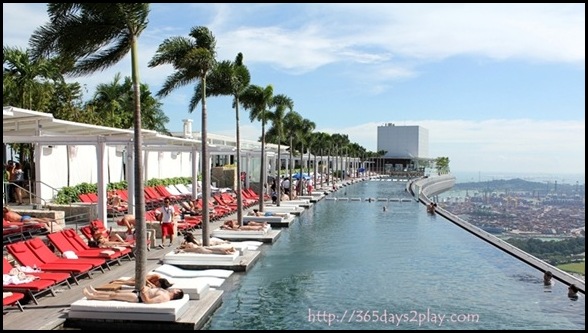 Did you know the infinity swimming pool is 150-meters long and is the world's largest outdoor pool at that height?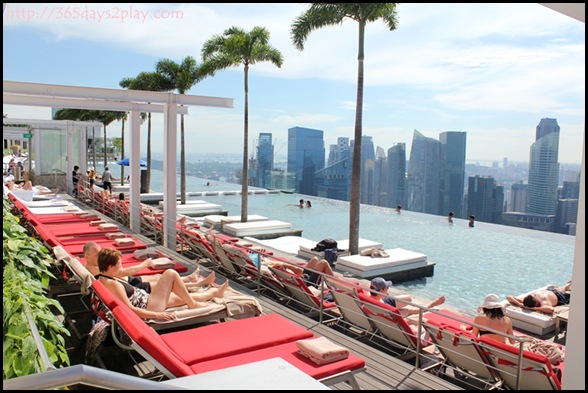 I like how they've thought of everything by putting out the flat beds for people to sun tan in.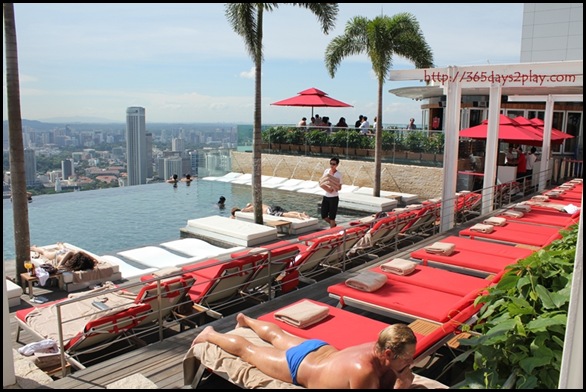 I personally find that it's usually to bright to read out in the open like this even though it's such a relaxing idea to do so.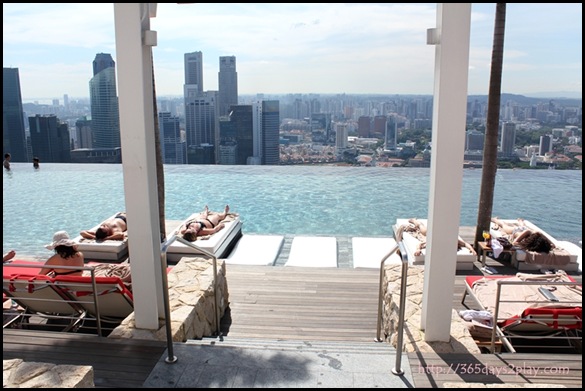 This photo makes me feel like the city is just a step away.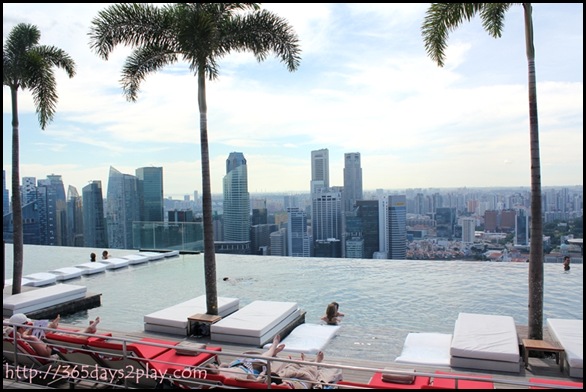 Damn romantic at night!
Check out 365days2play's other posts on Marina Bay Sands
Daniel Boulud DB Bistro Moderne
Photos of the Sands Pool during the day
Photos of the Sands Pool at night
Photos of Marina Bay Sands during the day
Photos of Shenton way in the day and Shenton Way at night. Photos are taken outside Marina Bay Sands Shoppes.