More pictures of the Marina Bay Sands SkyPark Observation Deck as well as what was observed.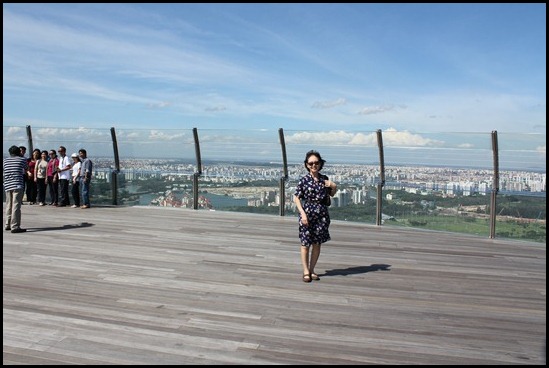 Notice my mother is a distance away from the edge of the observation deck. And notice that I am even further from the edge. Actually the part I am standing on is already protruding out of the 3rd tower, but this is how the mind plays tricks. It is super windy up here, which adds to the amazing feeling. Try not to wear loose caps or you probably won't see it again.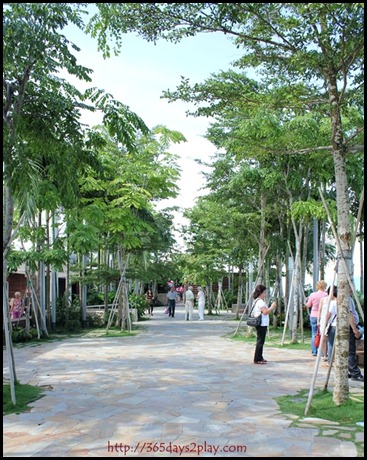 Pathway leading to the pool. Isn't it crazy that this picture was taken 57 floors above ground, when it looks just like a normal park, trees and all?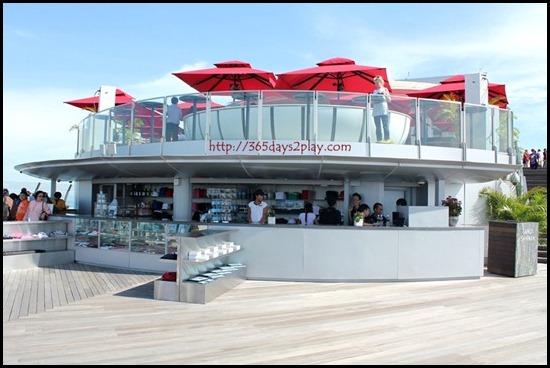 The mandatory souvenir shop, so you don't leave empty handed. Ku De Ta's just above the shop.
Those shades hide the swimmers from view, but really, you just have to poke your head between those shades to enjoy the visual feast.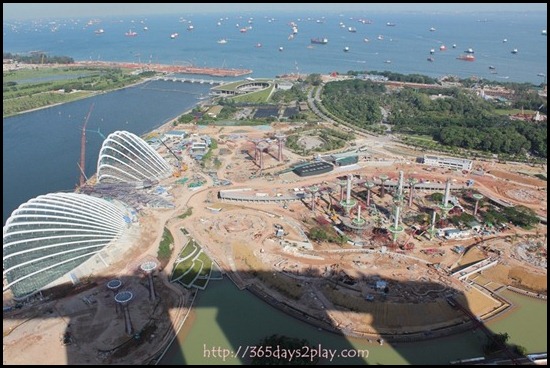 Now you've seen many photos of the iconic 3 towered Marina Bay Sands. Have you seen the SHADOW of Marina Bay Sands? That construction going on down below is the new Gardens by the Bay. Really looking forward to its opening. And those clam shell structures will be the climate controlled greenhouses. It seems they will be planting and showcasing plants from temperate countries in there.
If you've been to temperate countries like NZ and UK, they have climate controlled greenhouses to replicate a tropical rainforest climate, horrid humidity and all. I suppose people living in cold countries may be curious to know how it feels like to be in the tropics, but really, I much rather visit a cold greenhouse rather than a hot one!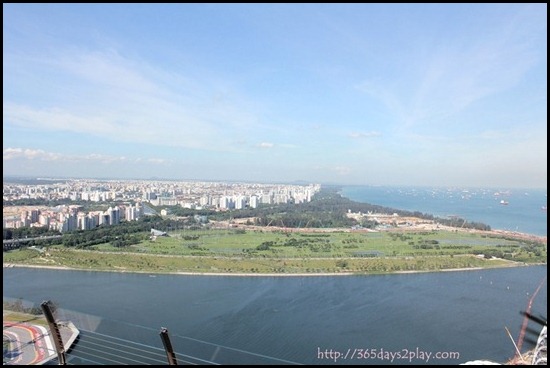 You can literally "see" how windy it is. Singapore looks so flat from up here. There is a little lump of a mountain right at the very eastern end of Singapore. It looks like it is in Singapore, but I don't think so.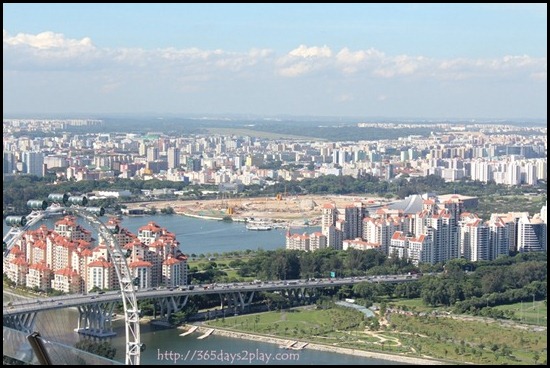 Can you see the huge bit of land that is forested on both sides and totally cleared in the middle? I wonder if that is the Paya Lebar Airbase. I had no idea it was that huge and taking up so much space.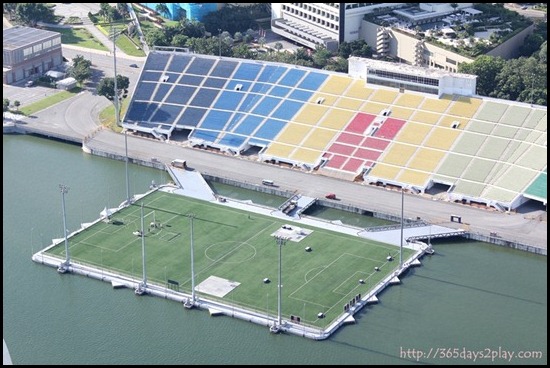 Did you know the Floating Platform has been transformed into a football pitch? It kind of looks very cartoony from up here.
Click on "more" to see more photos.
Check out 365days2play's other posts on Marina Bay Sands
Daniel Boulud DB Bistro Moderne
Photos of the Marina Bay Sands SkyPark Observation Deck
Photos of the Sands Pool during the day
Photos of the Sands Pool at night
Photos of Marina Bay Sands during the day
Photos of Shenton way in the day and Shenton Way at night. Photos are taken outside Marina Bay Sands Shoppes.
Photos of Atrium Deluxe Hotel Room at Marina Bay Sands