It seems that most people who go to Mandarin Gallery in Orchard road mainly do so to dine at  these 3 restaurants: Jones the Grocer, Ippudo Ramen and Wild Honey Cafe. I was there on Monday at 2pm and guess what? There was a 45 minute queue at Wild Honey Cafe and a 20 minute queue at Ippudo Ramen. There was no queue at Jones the Grocer but nearly every table was occupied. Don't people have to work? Yeah I know it's December and just after Christmas, but stilll!
We were originally going to go to the Wild Honey Cafe but 45 minutes was too ridiculous so we forced ourselves to join the Ippudo queue. But a few paces down was this atas looking restaurant called Thai Thai. The waitress was standing there calling out to everyone who would walk by. There was a set lunch going on for $18 where you can get an appetiser, noodle mains and a drink. We though hey why not since that's about the price we were going to spend at Ippudo anyway and of course we didn't have to queue at all.
We jumped out of the Ippudo queue and entered the serenity that was Thai Thai. Instantly, I felt as if I'd just been plucked out of the noise from the unwashed masses to be planted in a peaceful and pretty palace. Okay maybe palace is an exaggeration but it was just great to be able to plop ourselves onto the seats with cushions all around and attentive waitresses at my service.
We both ordered the $18 noodle set. I took the Phad Thai while the Partner opted for the Laksa with green curry. There were also other choices such as beef kuay teow etc.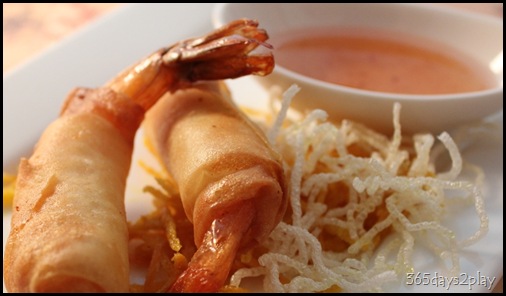 Appetisers of prawn fritters with sweet chilli sauce — The fritters were crispy and tasty, however the chilli sauce seemed diluted and was more sweet than spicy.
Laksa with Green Curry — As you can see, the presentation was quite unique. The partner said the dish was very tasty. The chicken was tender while the curry was fragrant and had just the right amount of spice. The laksa noodles were springy and paired very well with the curry. Only grouse is that while there were lots of ingredients in the curry, it would have been nice if there had been just a little more curry to slurp at the end.
Phad Thai — If I may say so I think Thai Express' Phad Thai is better! The noodles seems a tad too soggy, there was not enough egg and whatever egg there was was clumped on the left side of the noodles. The peanuts that came in a tiny glass container looked like there was some peanut rationing going on. It didn't taste bad, it just didn't taste good.
Nice seating area makes us want to return again to give Thai Thai another chance. Ordering via the Ala Carte menu isn't cheap though. Be prepared to pay about $15 or more per dish ordered.
Thai Thai
Daily noon-10pm
#04-08 Mandarin Gallery 333 Orchard Road
Tel: 6737 9107