*Bloggers' Invite*
When I stayed at Holland Village, I used to like to go into the Da Paolo Gastronomia outlet at Chip Bee Gardens. I would sneak in, sniff around and quickly snap some shots of the lovely food displays, pizzas and cupcakes. Those were the days before I started food blogging seriously, and I always thought the displays looked so pretty. But I was always afraid that the chef would come at me with a butcher's knife since I didn't buy anything.
So I was so glad to be invited down for a sampling session lately at the Da Paolo Gastronomia myVillage outlet. Finally, a chance to snap snap snap to my heart's content! I really loved the Gorgonzola Pizza with Caramelised Onions that we had there. The sweetness of the onions paired so well with the gorgonzola. When I get the chance, I'm going to order myself an entire portion of it, as well as a latte. A latte costs only $3.50! Even my favourite standalone cafes charge more than that! See the last photo for the price list of the drinks.
Did you know, all the ingredients that Da Paolo uses are sourced from Italy? You can purchase the cooked food and eat it right here on the premises.
Whenever I see things like these, I always imagine buying the lot and throwing a party. Half the job done for you already and everyone will be none the wiser.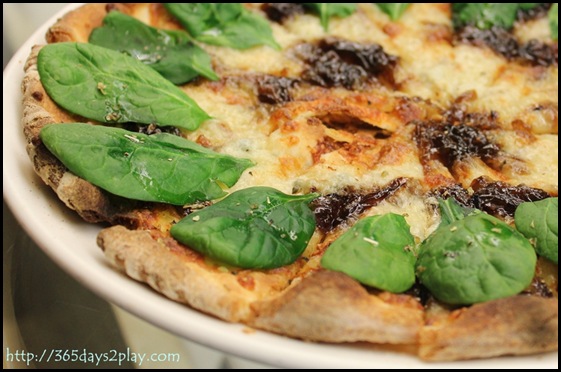 Mmmmm the best "dessert pizza" I've had in a long time. The Partner doesn't think it tastes sweet enough to be called a "dessert pizza", but I think it does!
Spinach Tagliatelle. There's also herb pasta and a few more if you look at the 1st picture. I love the different variations!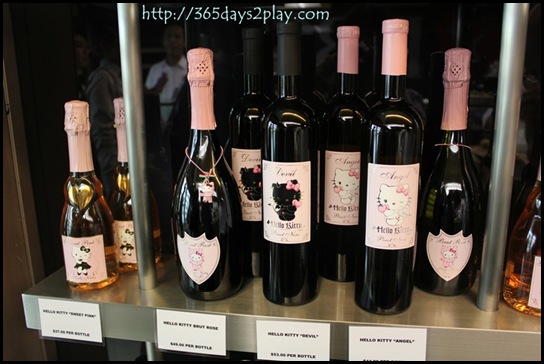 Well who would have thought of all the places to get Hello Kitty memorabilia, it would be here, and wine to boot!  .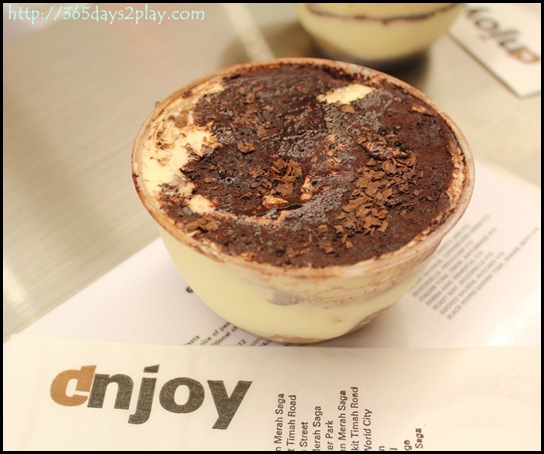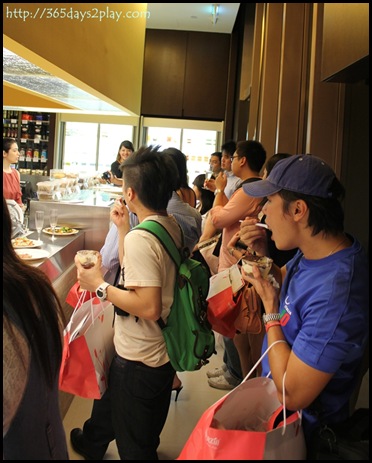 Mmmm… tasty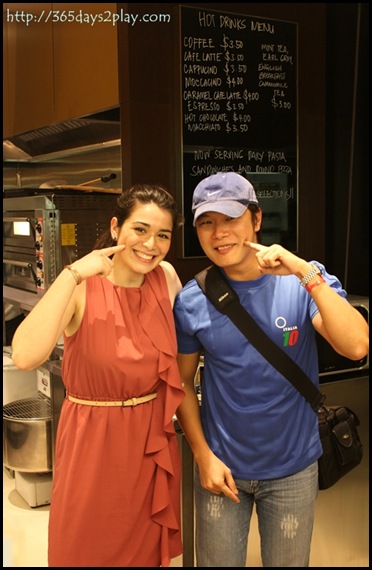 I love this picture! Martina of Da Paolo is from Italy and she demonstrates how the Italians show their appreciation for delicious food. And there's Darren of CelebrateLah showing his approval of the food at Da Paolo.
Hey the Cafe Latte is only $3.50 and the Hot Chocolate is only $4! I was kind of expecting something more expensive. Will have to try out the drinks some day. Click on the photo to see the drinks price list.