This is a post showcasing the Partner's cooking, my way of showing my appreciation for his hard work. In this way, maybe I can escape doing the dishes…. But seriously, I love it when he cooks because firstly, this means I get to enjoy healthy home cooked meals tailored to our tastebuds. Secondly, cooking is always cheaper than eating outside, if you know how to cook properly and don't waste ingredients. 3rdly, I get to enjoy all these in the comfort of the house, without having to travel outside, endure crowds and inefficient service!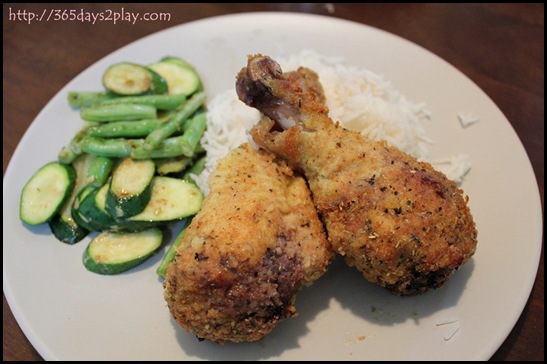 Grilled crumbed chicken with veges and rice. Very tasty and juicy even though it's grilled, meaning it's very healthy! Don't you think the chicken looks like it's from KFC? That's a good thing cuz I love KFC. Now I just need him to crack the 11 herbs and spices secret.
Bruschetta. Toppings courtesy of my cooking class at ToTT. Bread courtesy of Bakerzin at myVillage! I realise, I don't like vinegar in my bruschetta toppings.
Garlic Bread for lunch. Yes it's healthy as long as you put lots of garlic and don't overload on the butter. I know you can already see distinct garlic bits on this garlic bread, but for me, I think I need double the amount. I love the zing of the garlic when it comes to garlic bread!
Click on Recipes at the top of the screen to see the good stuff that the Partner has been dishing up and stay tuned for more! BTW, he does the hot kitchen stuff (ie main course). I do the cold kitchen stuff (desserts).