*Media Invite*
If you have been following my blog, by now you should have known about the newest mall in Singapore, the Greenwich V. It is a small little mall, only 2 storeys high, located in the Seletar / Jalan Kayu area. About half of the establishments are eateries while the other half comprises the "daily living" type of stores such as Laundromat, supermarket, video rental and even an English language school. BTW, Greenwich is pronounced as GREN — NICH, same as the Greenwich of Greenwich Mean Time.

When I first learnt of the existence of Greenwich V, and this was before any official media invite, my immediate reaction was "What a quaint little mall"! I want to get a condo apartment right above Greenwich V!!!! I was so attracted to it that the next day, which was Chinese New Year DAY ONE(!!), I took my parents to Greenwich V for a cup of tea and cakes at Toastbox! I even grabbed a brochure on the condo, but sanity prevailed eventually as Greenwich V is just way too far from my parents place in the Eastern part of Singapore.
Surprise surprise, a few weeks later Greenwich V "came to me" via an OMY blogger's invite to check out Greenwich V via an Amazing Race style competition. 15 bloggers were selected for the competition, and divided into 3 groups. I was part of the Urban Team, along with bloggers Jesslyn, Grace, Melvin and Hazel, with Janet from OMY to ensure that we did not cheat (as if we would ever…).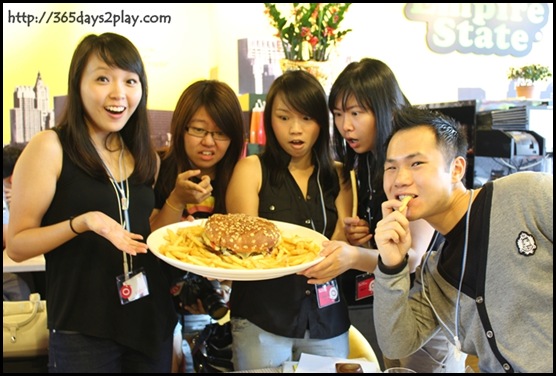 The Urban Team : Grace, Hazel, Jesslyn, Myself and Melvin!
Our task was to guess the answers to 10 questions, which would then lead us to 10 respective Greenwich V outlets. We would then have to complete the challenge by either Eating, Learning or Doing. It really was a great way to learn more about the mall even if we had to rush rush and rush!
These were the outlets we visited:-
1st – Empire State
2nd – Cinta Manis
3rd – Hockhua Tonic
4th – Mai Thai Restaurant
5th – Paradise Inn
6th – Berrylite
7th – VideoEzy
8th – Toastbox
9th – Cedele
10th – Rosabelle Launderette
11th – Phoenix Medical Group
For my reviews on Mai Thai Restaurant, Paradise Inn and ToastBox, click on the respective links. You can also read more about the other outlets, which my team members have written about here. Or you can check out Greenwich V's Facebook and Website. Check out our crazy Amazing Race day video on Youtube!
Alas, we didn't manage to win the Amazing Bloggers Race competition. I thought the photos we submitted were of top quality (click on Urban Team!). Oh well, next time then. To my fellow Urban team members, we did our best and we have no regrets!!!
* Thanks Far East Organization / Greenwich V and OMY for the wonderful afternoon and great hospitality!