In total that is! At the Singapore Book Fair held at the Suntec Singapore International Convention and Exhibition Centre. It's ongoing from 25 May 2012  – 3 June 2012.
Incredible right? If you know who Nigella Lawson is and if you follow her cooking shows on Starhub's Asian Food Channel, you'd know that her cookbooks don't come cheap! Each alone I believe would have cost in excess of $50 I believe. Yet I got them for a total of $20! It's crazy! I mean I've been wanting her cookbooks for so long but the prices always put me off. Jamie Oliver's too.
If you want to get cookbooks at massive discounts, you can check out the Singapore Book Fair. I bought mine at the Times Bookstore booth, and it's just 2 shelves worth of cook books. The rest of the booths are mostly Chinese books or Educational booths.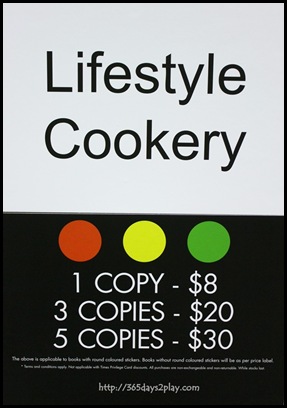 See, I'm not lying!!!
Some books don't have stickers, so they are sold at the sticker price, which is about $10 – $15. Still damn cheap! I said I would swear off buying cook books until I've cooked/baked a significant amount of dishes from the books I've bought, but this is an exception right??? Don't buy sure regret right????? Even my mother SMILED when I brought back the 3 books. Only the Partner frowned, because he had to carry them. 🙂 🙂 🙂