This place is amazing. Every time I pass by Nakhon during dinner hours, it always has a snaking queue! The Bedok Nakhon is located at the left end of a HDB block. Once, I tried to get a seat at 9pm on a Sunday night, and I had to wait at least 20 minutes! This is despite there being a coffee shop on the opposite end of the HDB block. A couple of my friends have eaten at the Nakhon Hougang/Kovan branch and they like the food due to its home-style cooking and very affordable prices.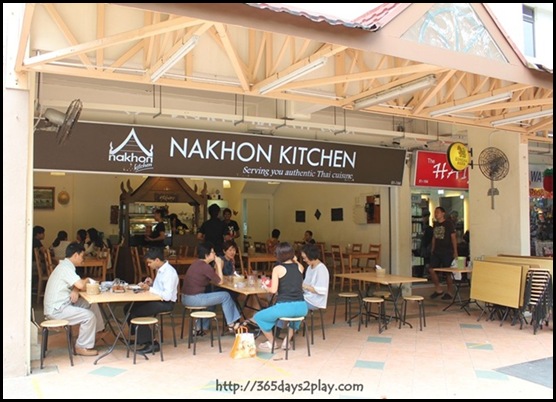 There is not much seating, which is partly the reason why the dinner queues are so long. I was here on a Friday afternoon for lunch at 1.30pm and the crowd was pretty manageable. We got a seat immediately. The food was also served surprisingly fast, especially for my beef noodles. Like within 2 or 3 minutes after ordering.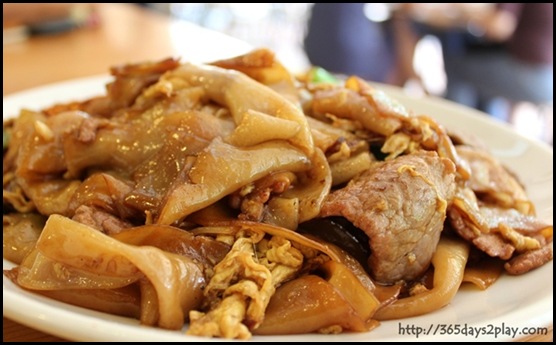 Beef Kuay Teow $4
I'm not very adventurous when it comes to Thai food. I usually stick to my favourites like Beef Kuay Teow, Phad Thai or Green Curry with Rice. I don't mind the taste of Tom Yam soup but it is usually too spicy for me, not just at Nakhon, but at Aroy Thai and Thai Express as well. Beef Kuay Teow is so super safe, I don't even think it's Thai! You can get this dish at Chinese Cze Char stalls!
This beef kuay teow  was pretty tasty, as all fried kuay teow are apt to be. It wasn't overly oily, the noodles were firm and had a nice bite. There were numerous slices of beef which were tender, not overcooked, but I thought could do with a bit more flavour. Eggy bits dotted the dish. For $4, I thought it was a steal, considering the fact that it could actually cost more at Cze Char stalls, not to mention that Nakhon's environment would be at least 1 notch higher than a coffee shop. They also have chicken or pork kuay teow, also $4.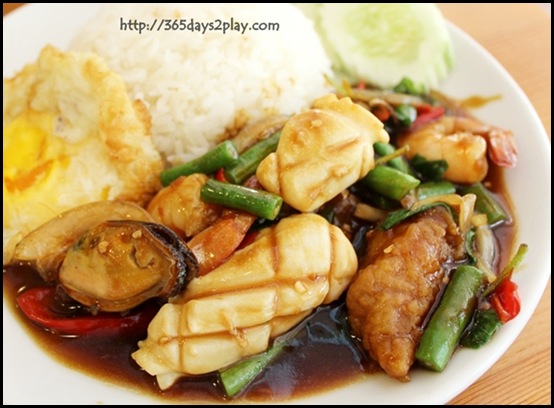 Basil Seafood Rice $8
My father was going to order the Seafood Fried Rice $6 when the waiter recommended the Basil Seafood Rice. This one I thought was quite expensive for a setting like Nakhon. Granted they gave 2 huge pieces of squid, 1 mussel along with some prawns and fish, but for $8 I would expect double the value of the Beef Kuay Teow!
My father said the dish was acceptable. I tried the squid, and I found it to be kind of soft on the inside. I wonder if it was because it was undercooked. I did like the slightly sweet gravy that was provided though.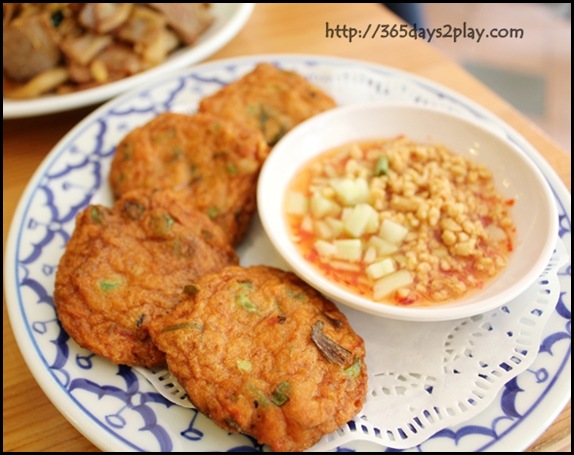 Fish Cakes $6
A friend once told me he would not ever order such fish cakes as they are more flour than fish. I have to agree with him on that, there are no slivers of fish, nor a texture of minced fish. It really is more cakey than minced fish. Maybe Thai fish cakes are meant to be just normal fishcakes with a stronger fish essence? I'd actually tasted Nakhon's fish cakes before but because I wanted something to nibble on, I insisted on ordering this even though my father asked me to take the salad. So I guess you could say that for a fishcake of this sort, it was enjoyable for me. Didn't try the sweet sauce with diced peanuts as my father had walloped the entire thing. Blah.
These were the dishes I had 2 days ago. On a separate occasion, when accompanying a gluttonous friend, I ordered the Thai Red Ruby dessert on his recommendation just to be sociable since I'd already had dinner. That was way below expectations. While the red rubies were delightful to the eyes and pretty enjoyable as they were crunchy on the inside yet sticky on the outside, the milky liquid they sat in was severely diluted. Also, I was expecting a generous amount of the red rubies, but it was not to be.
I think Nakhon is still worth a try since it is on the whole pretty affordable. There are hits and misses but if you stick to the safe dishes, you shouldn't be disappointed. I'm quite keen to try out more of their dishes soon so watch this space for more updates.
Nakhon Bedok Branch
Address: Blk 136 Bedok North Ave 3, #01-166 Singapore
Tel: +65 6245 5548
*If you've enjoyed this post, please vote for me at the Singapore Blog Awards. I'm a finalist! Voting ends 30 June 2012, but you can vote once per day!