I recently had the privilege to try out the Restaurant JAG, which is helmed by Jeremy Gillon, located along Duxton Road. Since opening its doors on October 2018, it has within that short span of time managed to snag an impressive number of awards including T Top 20 2019/2020 Singapore Tatler Wine & Dine Singapore's Top Restaurants 2019/2020 and most notably a One Michelin Star in 2019.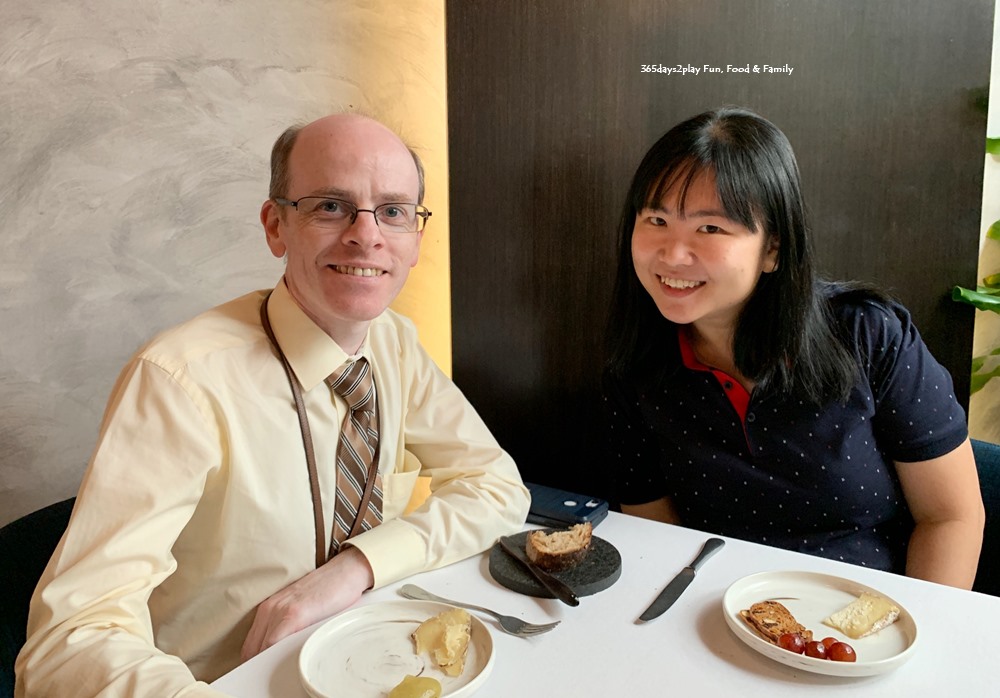 At Restaurant JAG, more than 40 naturally foraged in the wild herbs from the Savoie region of France are the highlight of the menu. They have pride of place along the kitchen wall where they are never out of sight from the chefs. These herbs feature in every single dish, but in a creative and beautiful way. A limited ala-carte menu is available, however diners are encouraged to opt for Chef's omakase menu, which will feature the freshest seasonal ingredients in dishes specially designed to highlight the distinctive trait of used herbs. Should you have any dietary restrictions, there is no need to inform days in advance, it can be done upon arrival, thanks to the cooking techniques employed and the way the menu is curated.
Scroll down further to have a sneak peak of what we sampled last week during my media tasting. You will see in the multiple courses below that herbs and vegetables take center-stage. The meat or fish is not the feature in itself, but acts more like a staple (think rice, potatoes and other starches), where upon flavour is built using said herbs and vegetables. Each dish comes as a beautiful surprise, literally, because quite often you might be hard-pressed to identify some of the ingredients used because they have been artfully transformed.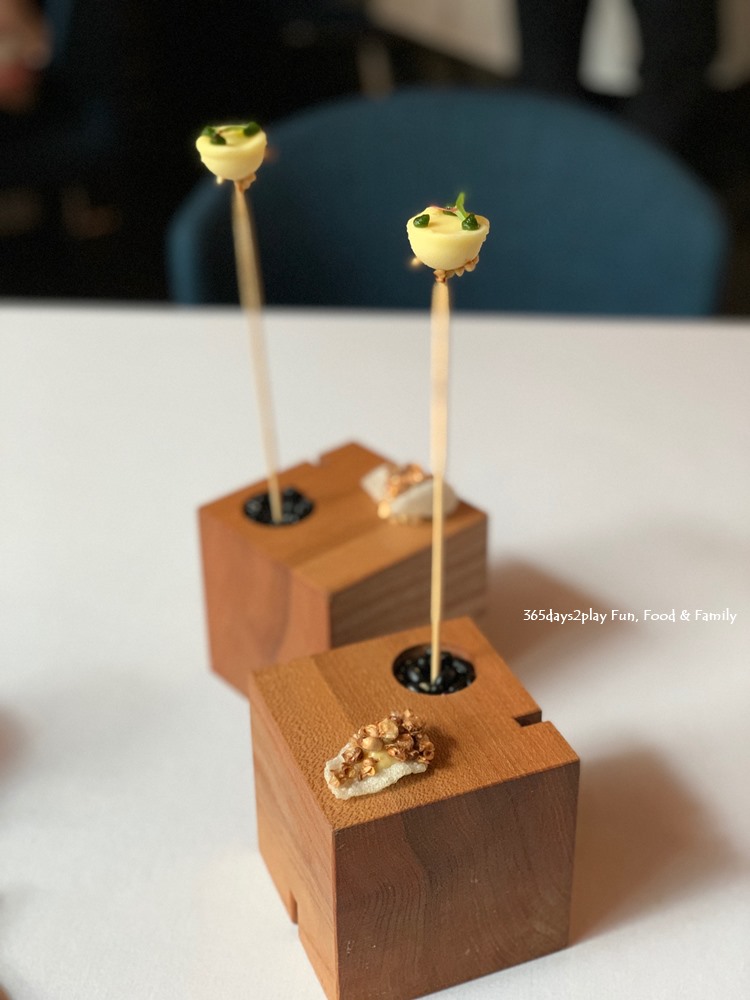 Canape – Sariette, Corn aspérule odorante, parsnip
Take for example this canape dish. Would you be able to hazard a guess where the parsnip is? You will be forgiven for not knowing that perched on top of the stick is parsnip puree with roasted buckwheat. And have you ever seen polenta served up as a crisp, adorned with corn puffs no less?
Amuse Bouche – Sage, pumpkin velouté
Rich pumpkin soup to whet the appetite.
Pre-Mains – Absynthe, Heliantis, Foie Gras
Foie gras  with the heliantis done in 3 ways. You have raw leaves on the top, in chip form, and lastly in mousse form. Very creative, although this is one of the dishes where I would have dearly loved for the foie gras to stand out instead, as I could hardly taste it amongst all that competition.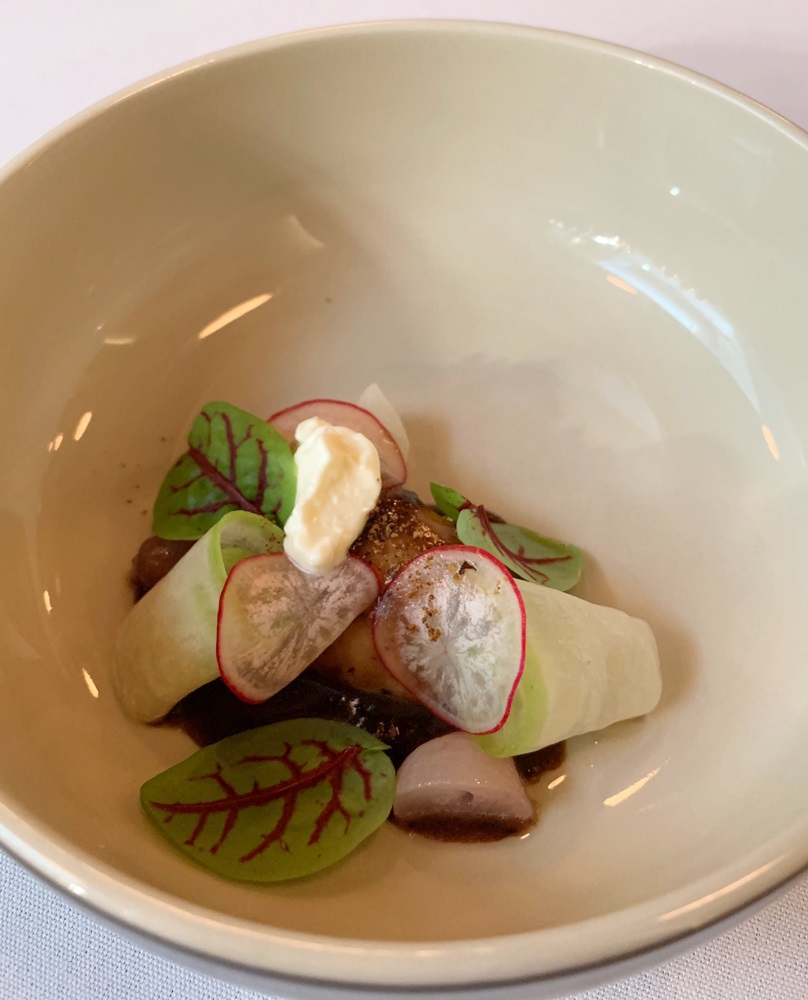 Pre-Mains – Juniper, Radish, Oyster
Different textures of radish are featured here. Glad they don't overwhelm the oyster though, but instead complements the potentially strong tasting oyster.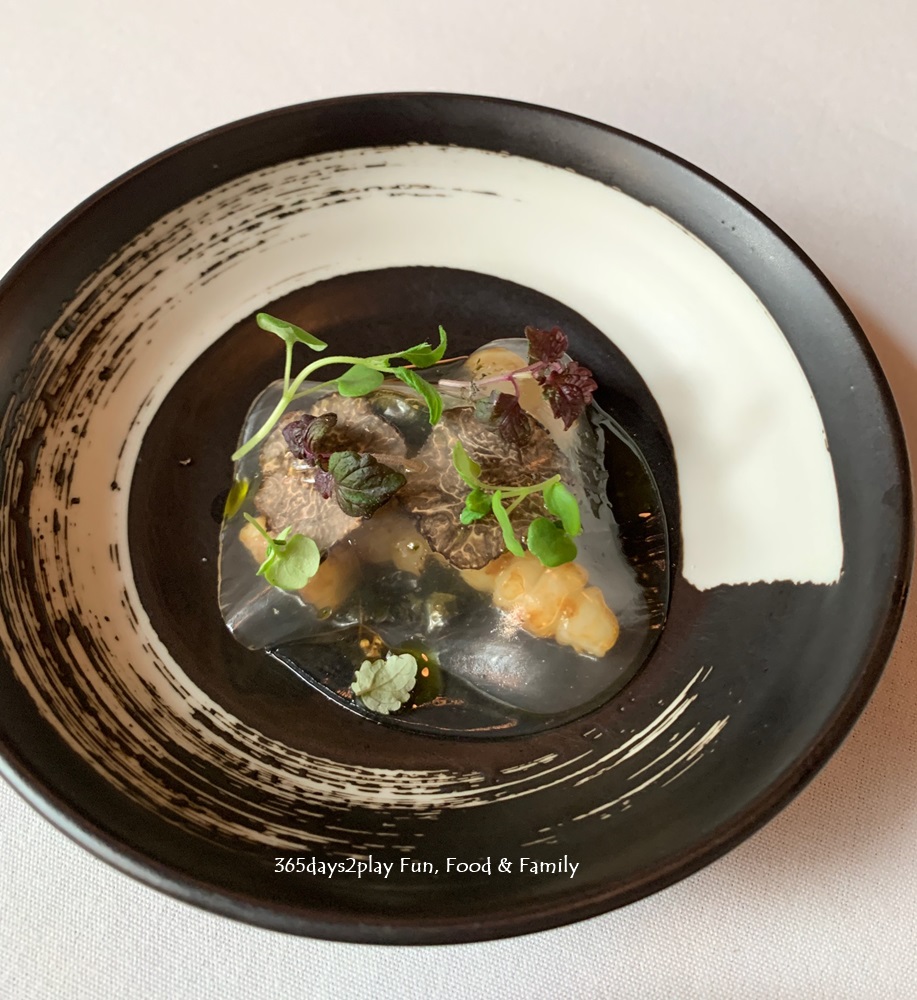 Pre-Mains – Sureau, Curry Leaves, Crosne
Just when you thought you've seen it all, I have to admit I've never seen the Crosne before, at least not up close and personal in whole form. The Crosne is a vegetable from the south of France, and is also known as the Chinese artichoke. It has a root vegetable / starchy type of flavour and texture and I'm very glad to have finally made its acquaintance in this beautiful dish. And the thin jelly enveloping and bringing together the whole dish is made from vegetable consomme. So much effort, polished off in seconds. My favourite of all the vegetable dishes served at Restaurant JAG.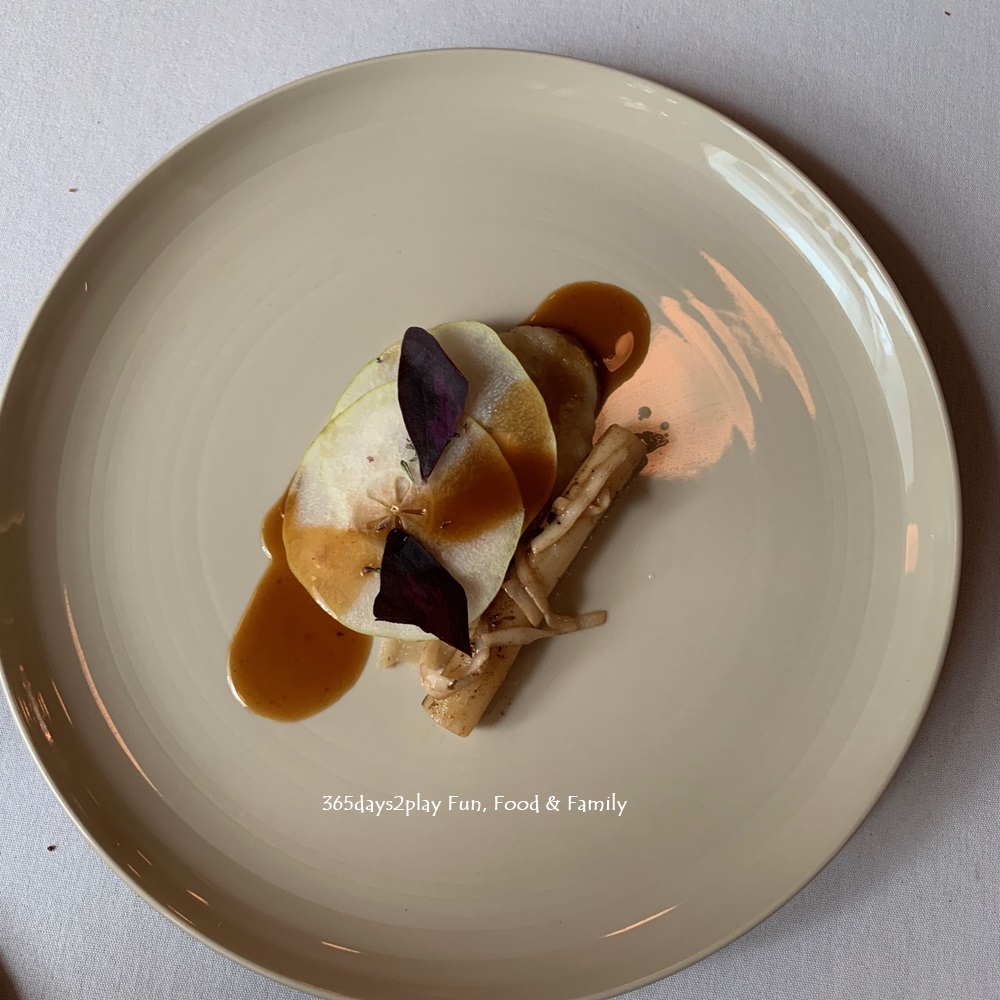 Pre-Mains – Serpolet, Salsify
Another dish with a lot going on including coconut and comice pear. Various herbs from Savoie region, finishing off with fish jus. You almost forget that you're having fish here.
Achilee, Capucine, Duck
Smoked duck, which is first presented to you unsliced in a box, for you to savour the beautiful smoky accents. It doesn't quite taste as smoky as it smelt though, but nevertheless a very enjoyable dish with succulent slices of duck. I only wish there was more of it.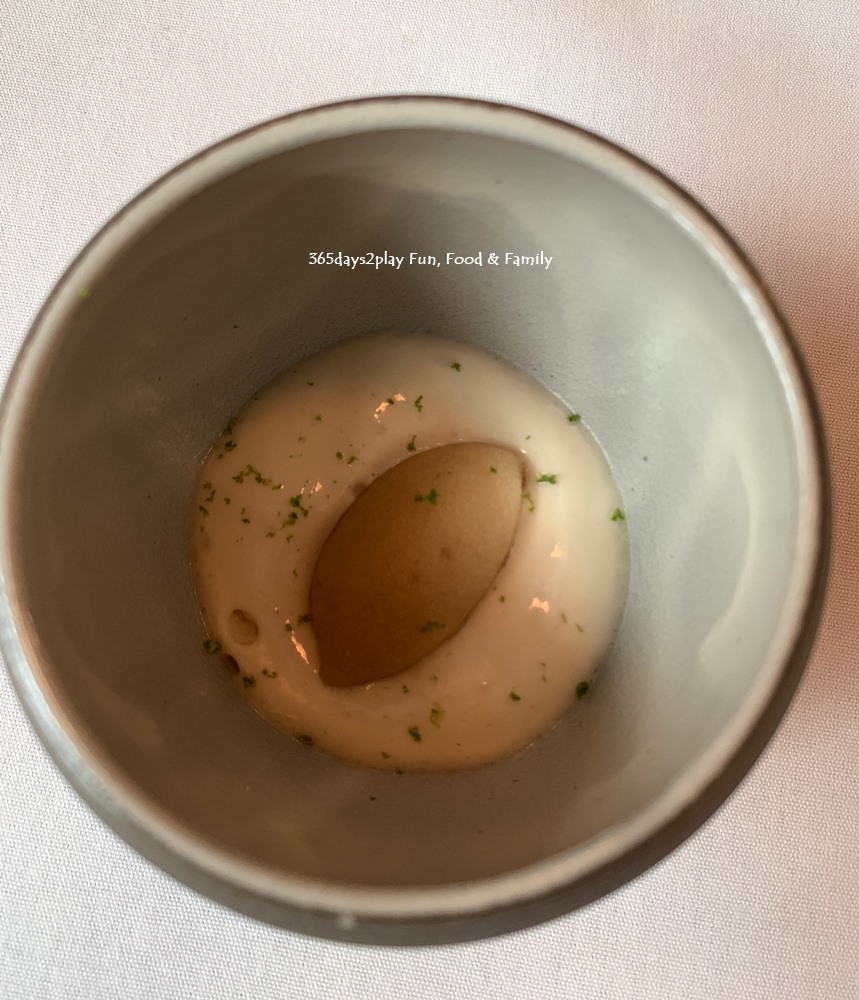 Pre-dessert : Sapin, Coconut
Would you say no to two desserts?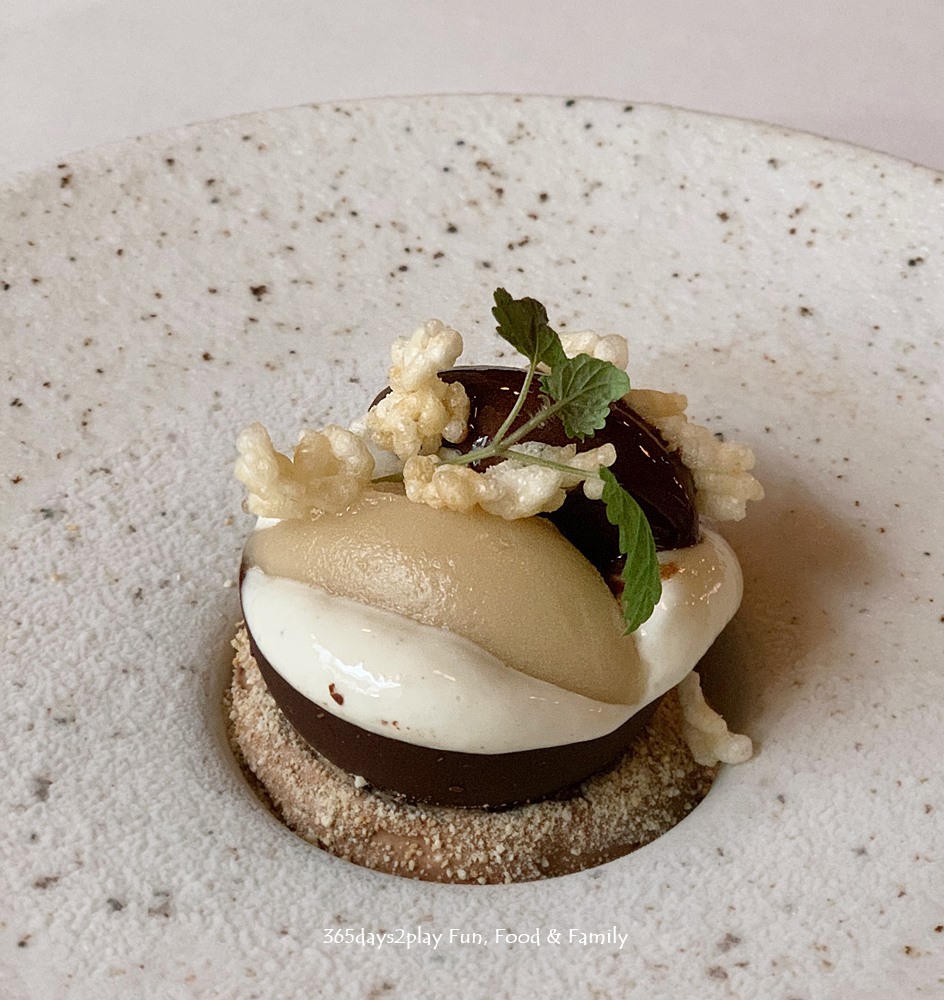 Odorite, Rice, Chocolate
And lastly, a dark chocolate ice cream dessert with multiple textures going on, including rice mousse and rice crispy puff. A beautiful dessert but I wish it were just a tad sweeter given the inherent blandness of rice, and bitterness of dark chocolate.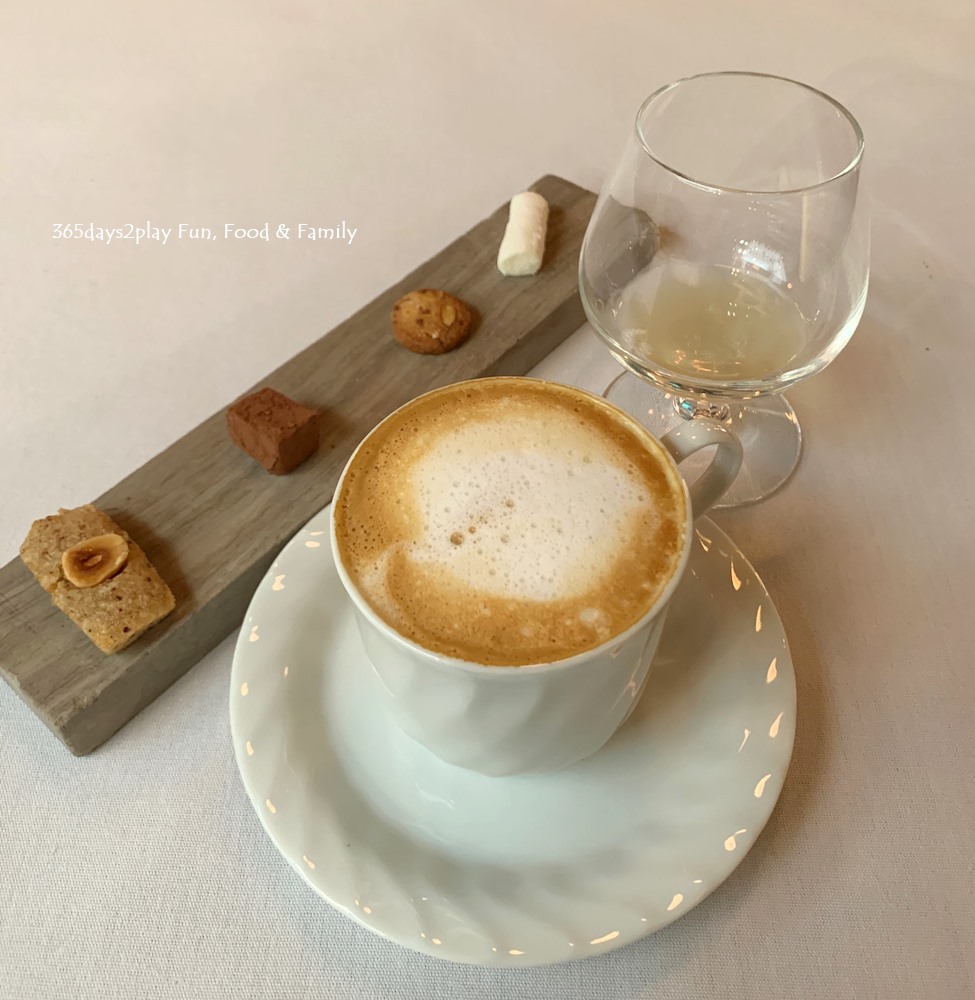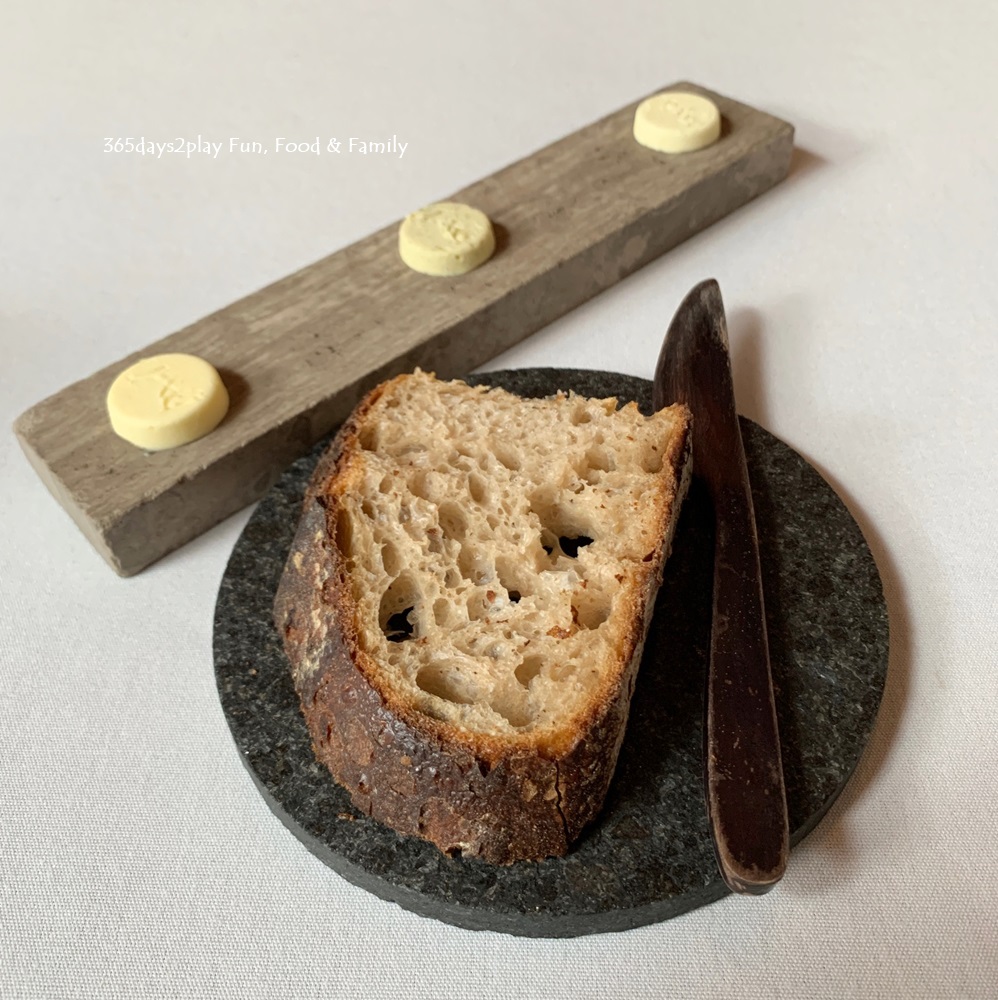 A couple of pictures of our petite fours plus the complimentary bread and 3 different type of butters.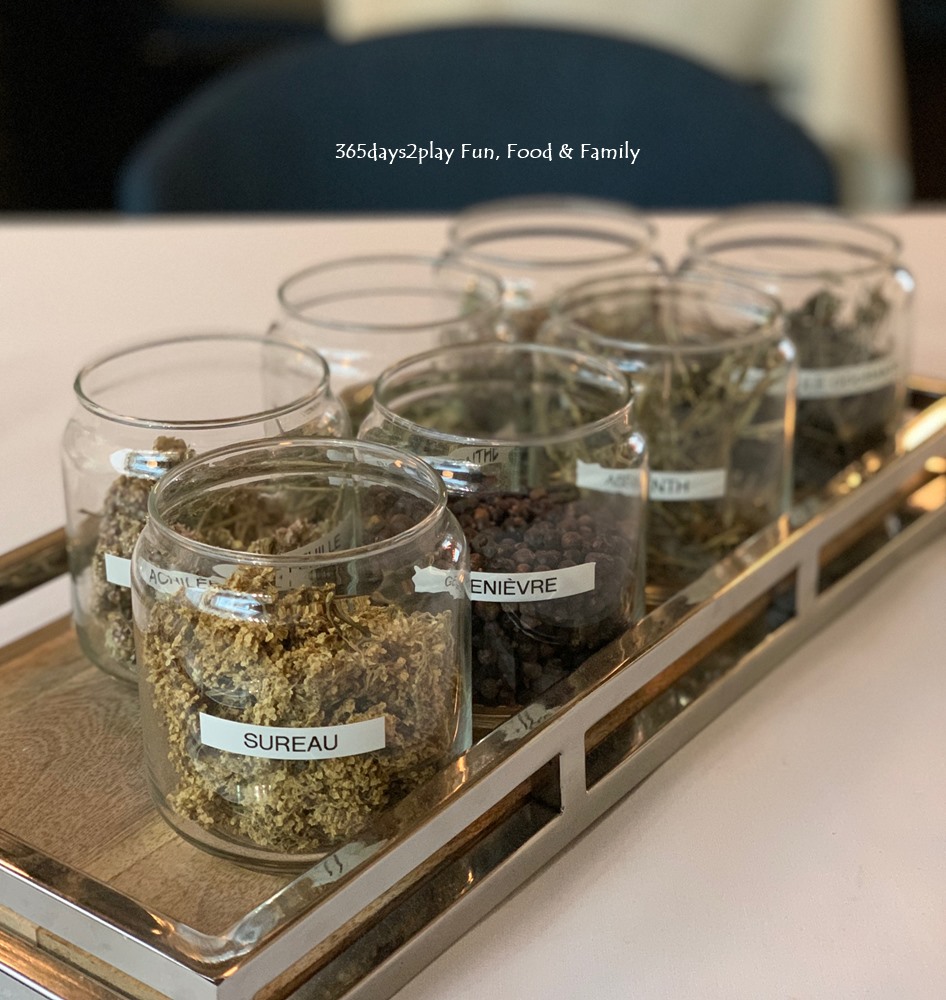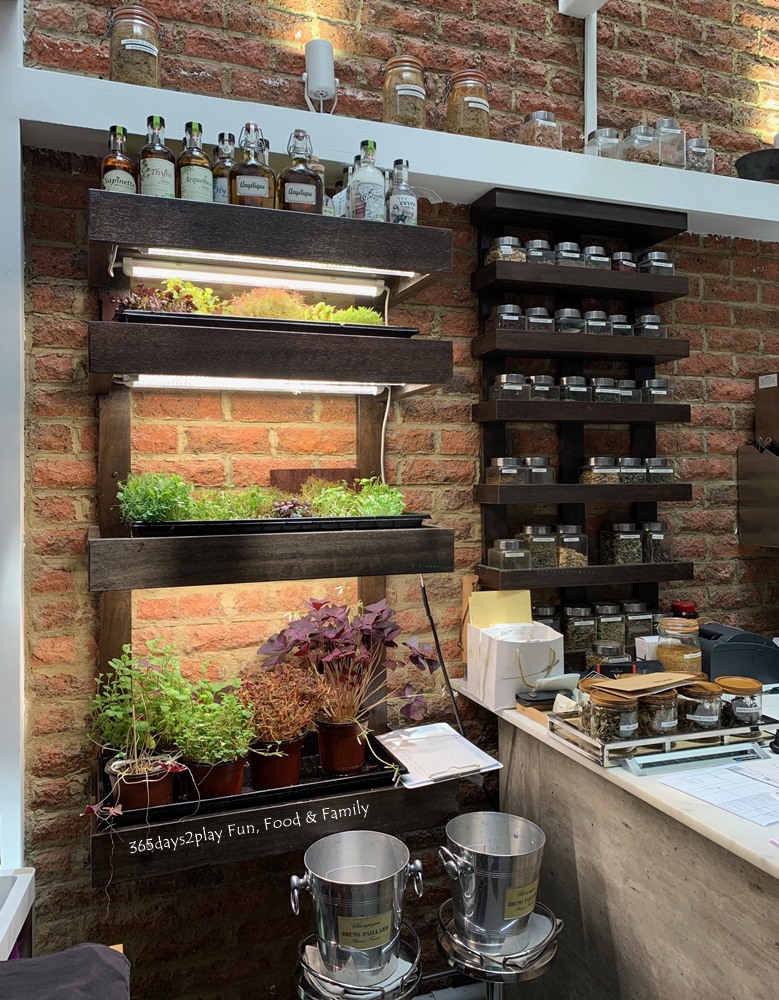 Can't complete my post without special mention to the Savoie herbs that featured prominently in all the dishes. The degustation meal was made even more interesting thanks in part to many of the herbs which we've never tried before. I would highly recommend the most jaded and fussy of palates to give Restaurant JAG a try. You might just be surprised!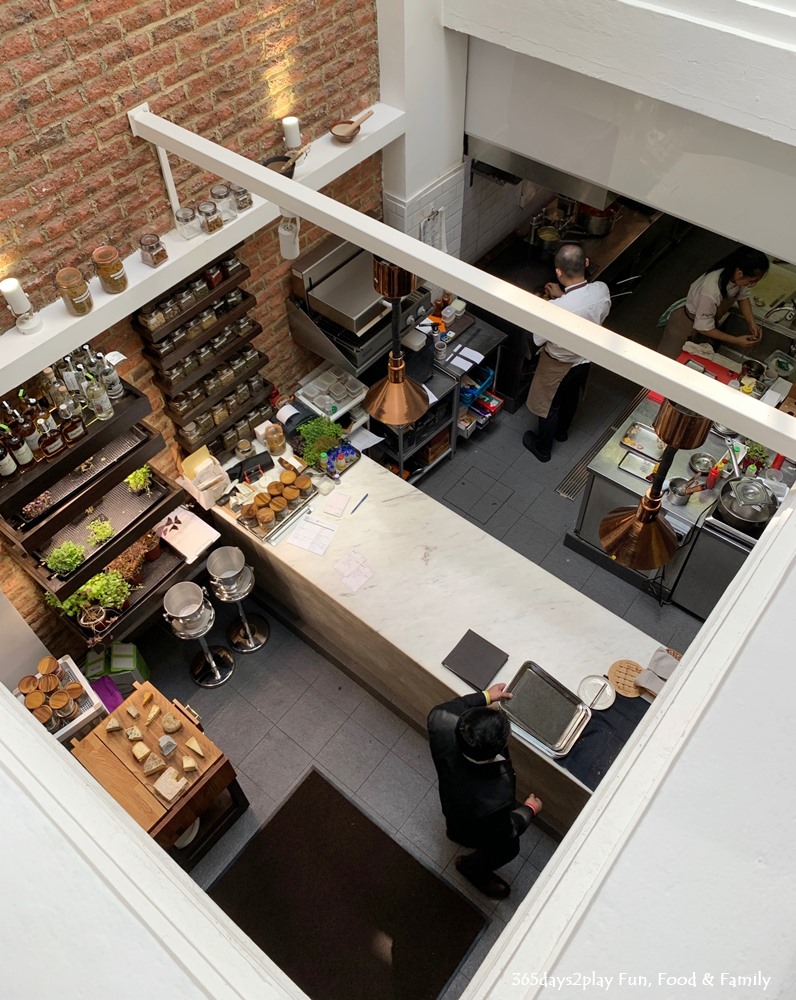 Sneak peek of the kitchen and Chef Jeremy Gillon at work.
Bonus fun fact: This shophouse has changed hands a couple of times prior to Restaurant JAG. The ground floor is vastly changed however the upper floor has not changed much and looked vaguely familiar, especially the oversized sofas. Could it really be….the same shophouse that I took my pre-wedding photos? Did a quick google and discovered that indeed, La Maison Fatien used to be housed here back in 2012! What are the odds? If I hadn't gone upstairs to do a bit of exploring, I would never have known. Well if you want to reminisce with me, this is the link. https://365days2play.com/2013/06/13/my-dream-wedding-pre-wedding-photos/
Thank you to Restaurant JAG, Chef Jeremy Gillon and PR Bespoke for the kind invitation and hosting.
---
Add me on Facebook, Instagram and Twitter if you want to be kept up to date with the latest happenings in the food and lifestyle scene in Singapore!
Other restaurants in Tanjong Pagar to check out
---
Restaurant JAG
76 Duxton Road, Singapore 089 535
Tel : +65 3138 8477
Website : https://www.restaurantjag.com
Facebook : https://www.facebook.com/restaurantjagsg/
Instagram : https://www.instagram.com/restaurantjagsg/
Opening Hours:
Lunch: Tuesday — Friday | 12:00 pm — 2:00 pm
Dinner: Tuesday — Saturday | 6:00 pm — 10:00 pm
The Lounge Bar: Tuesday — Saturday | 6:00 pm -11:30 pm
Closed on Sundays, Mondays and public holidays except for those that fall on Fridays and
Saturdays, the following Monday will be closed.