Hands up how many of you out there think of Pubs as a place to merely have a drink? Did you know that they can be good places to get good meal too? I recently checked out Molly Roffey, an Irish Pub chain with 3 pubs. The one I visited was in Bras Basah while the other 2 are in Market Street and another upcoming location. This wasn't the 1st time I'd been to Molly Roffey. In fact, I'd been once before roughly one year ago, for dinner. Never got round to blogging about it so I'm quite happy for a second opportunity!
Even though I've been to several Irish Pubs in Singapore over the years, I still found it quite amazing to be served proper restaurant food with nice cutlery. The dishes served didn't look like what you would expect of "Pub Grub". And best of all, the prices are really reasonable!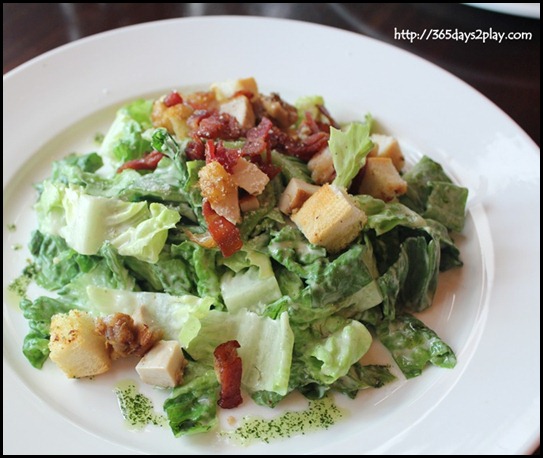 Chicken Caesar Salad- $9.80
Tasty. Lettuce was very crisp and the salad had just enough dressing not to be an over kill.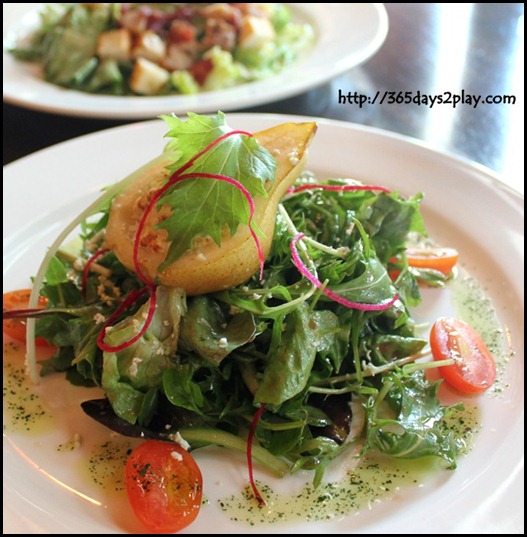 Irish Salad with Packham Pear- $11.80
This was a very interesting salad. You have to try the blue cheese on top of the sweet pear!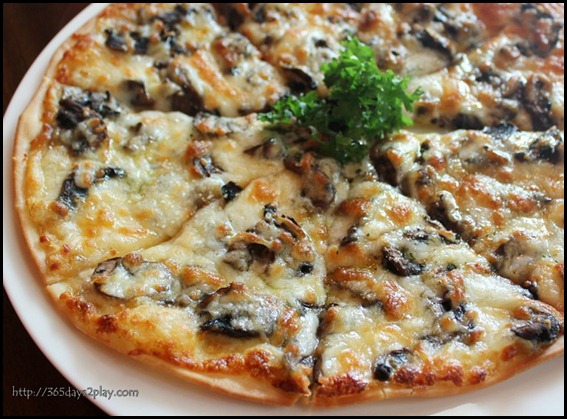 Mushroom Medley Pizza- $13.80
This was very very very very delicious! I really wasn't expecting to find such a delicious tasting pizza here because I normally only like pizzas from authentic Italian restaurants! This pizza had a rather crispy base, but not as crispy as that of Skinny Pizza. The toppings were the highlight. I don't know what went into the mushroom medley, but it tasted so fragrant and heavenly. I will definitely order this when I'm back at Molly Roffey again! This is a MUST ORDER guys!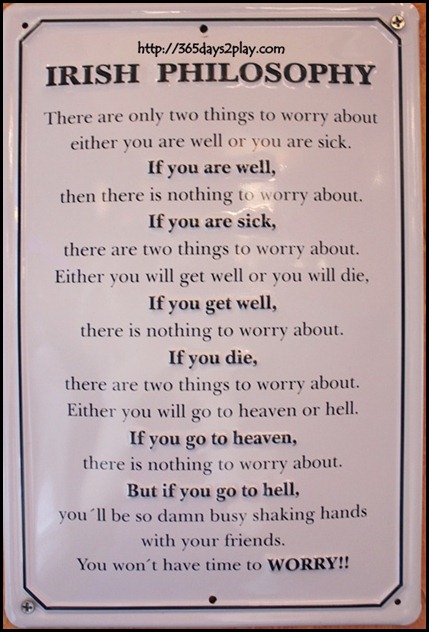 Found hanging on the wall…….not a bad way to live eh..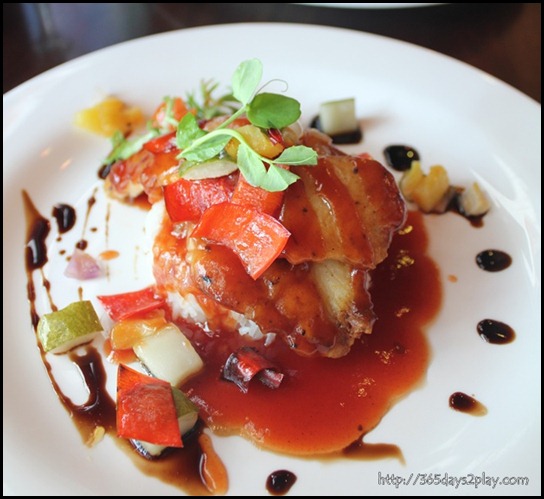 Sweet & Sour Fish- $9.80
Never thought you'd be able to get an Asian dish in an Irish Pub eh…. This is part of the Lunch Specials' Asian Flavors, which changes every week and is available from 12nn-5pm. For the price, you get a soft drink and a dessert too.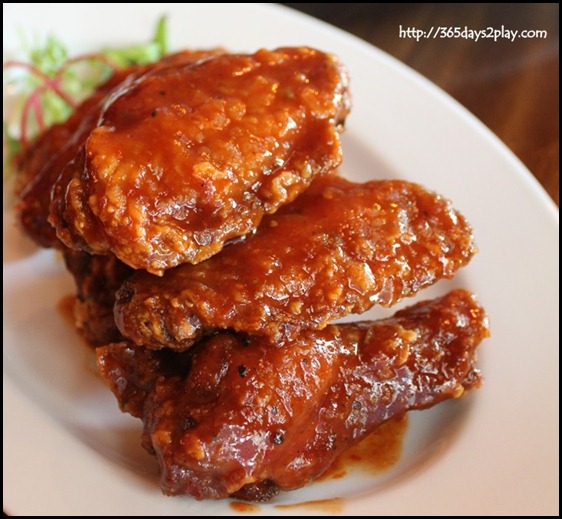 Buffalo Wings- $7.80
Really crispy buffalo wings. A little too crispy for my liking actually, because it felt as if I was eating pure fried skin. I did like the sweet sauce that went with the wings. Don't get me wrong though, it didn't taste greasy.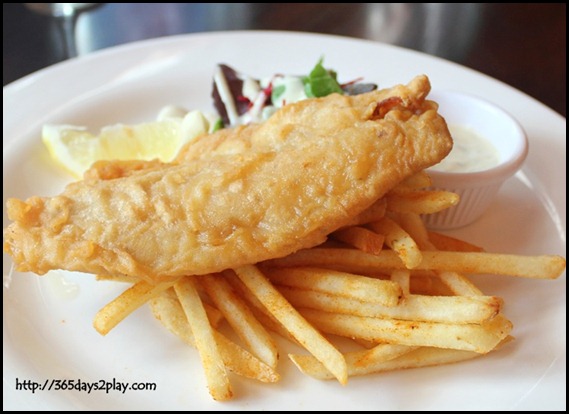 Fish & Chips- $10.80
Very nice Fish & Chips! It was a little on the small side, given that there was only 1 piece of fish. However, I liked that it wasn't oily tasting and that the fish was very tender. Nice fries too.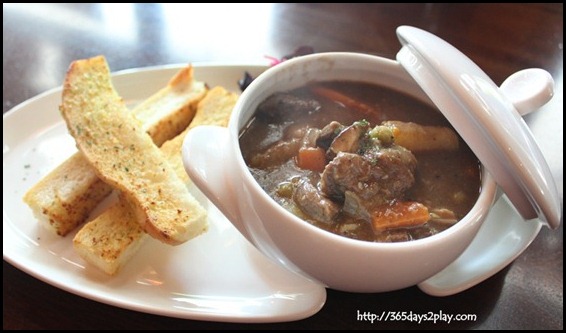 Irish Stew- $15
Most of the diners who were there with me for this food tasting found the stew to be rich and delicious. I only tried one piece of the meat and was put off by the really tough and stringy meat.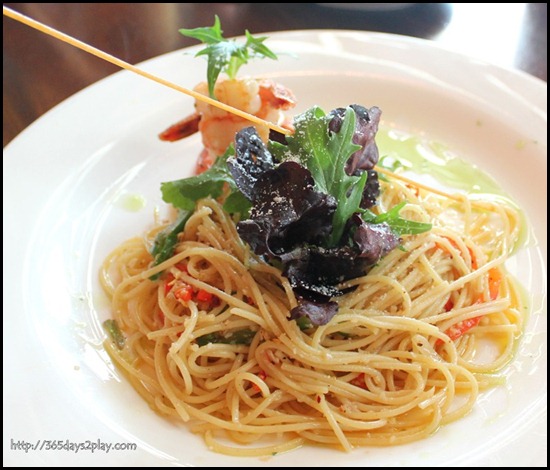 Prawn Aglio Olio- $13.80
The prawns were stacked up behind the pasta, in case you aren't able to spot them. Nice pasta, and pretty affordable, for a prawn aglio olio.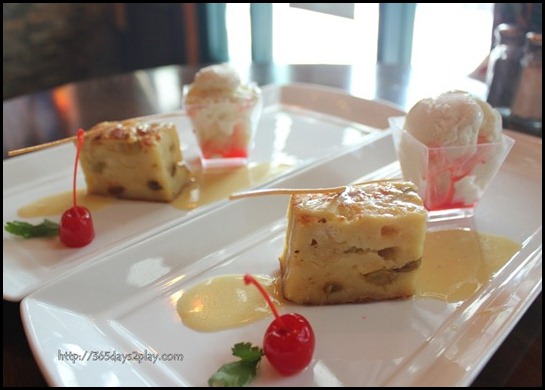 Irish Bread Pudding- $7.80
Bread pudding was thick and heavy so I didn't like it very much. The vanilla ice cream was rather nice though. It had a gritty texture for some reason, which wasn't necessarily a bad thing.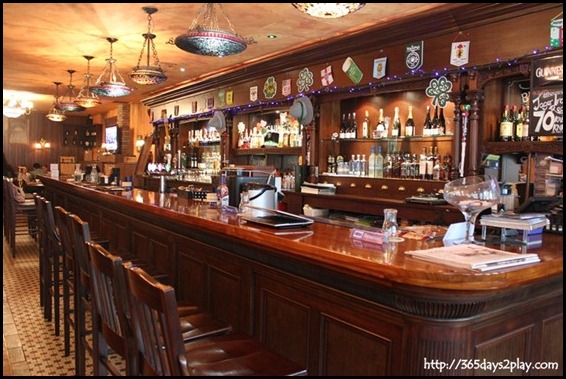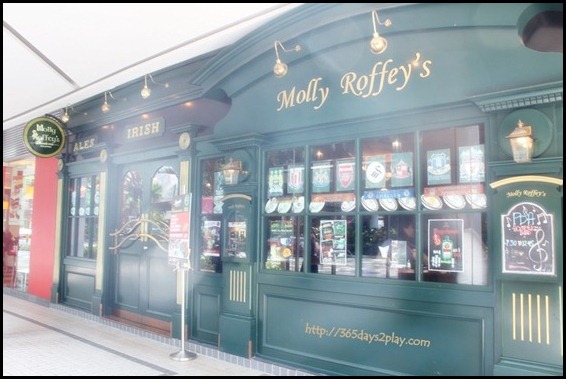 A big thank you to Adeline of So.Moo.Food for extending the invitation to me, and to Streetdirectory.com and Molly Roffey for hosting the session.
~~~~~~
Molly Roffey's Irish Pub — Bras Basah
51 Bras Basah Road #01-02A Manulife Centre, Singapore 189554 (Smack opposite SMU)
Tel: 62380989
Molly Roffey's Irish Pub — Market Street
141 Market Street #01-01 International Factors Building
Singapore 048994
Tel : 62222671