A reader mentioned that Food for Thought serves up one of the cheapest breakfasts in town so of course I had to go check it out. For the record, I still think that Epicurious serves the the most value for money breakfast, but yeah, the queues can be frustratingly long on weekends.
There was not a soul when I went to Food for Thought on a Tuesday morning, although a few months back, it was jammed packed on a Saturday, which resulted in me having to dine somewhere else. I like the spacious feel of the place, and the glass walls which let lots of light in. They have a little corner with some stationery stuff for sale.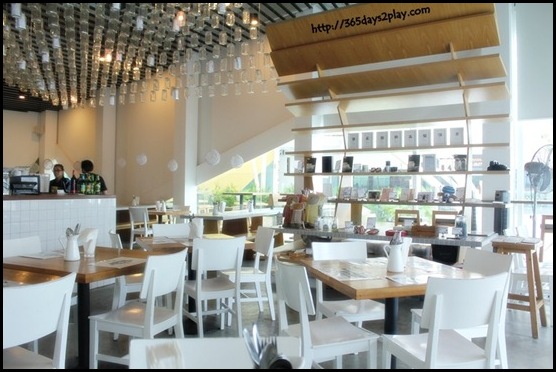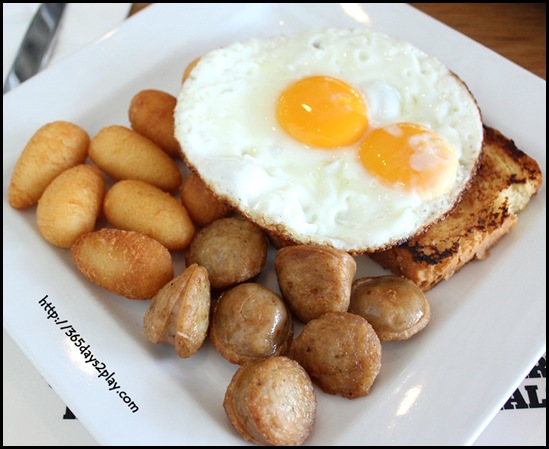 There are a few breakfasts to choose from, but basically you can customise whatever you want by choosing a basic set first and then adding on items, or simply customising from scratch. Do spend some time deciding on the best combination because sometimes it's better to customise from scratch and some times it's better to start with the basic set! Yours truly spent 10 minutes calculating the various permutations, mainly also because I was flexible with some of the dishes, which resulted in more permutations of course to get the best value for money breakfast!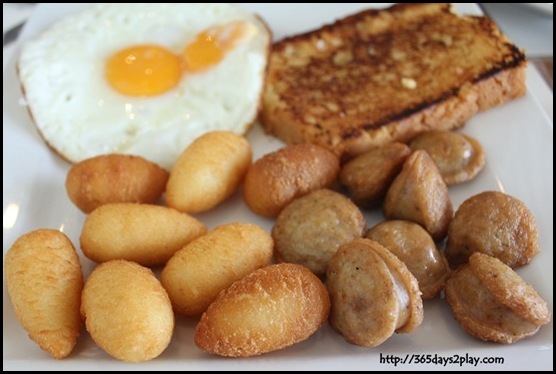 As you can see, ordering the sunny-side-up is definitely a must for me. I also ordered the sausage, brioche, and hash browns. The hash brown was the most interesting thing on the dish because I'd never seen hash brown made in this way. Each little lump was crisp on the outside, yet contained fluffy airy potato on the inside! i really liked it! Could have done away with the brioche though. I didn't like it that it was so crumbly and it didn't taste like brioche either, more like some flavoured bread. Sausage and eggs were normal, so I won't elaborate on them. Believe my combination amounted to about $13. Not really that cheap considering it's just 4 items.
My father ordered a breakfast combination too, also costing about $13. I originally wanted to order mushrooms too, but after trying his, I didn't. Don't get me wrong, the mushrooms are quite nice, but they tasted quite rich and a tad oily so I thought better not overload on mushrooms.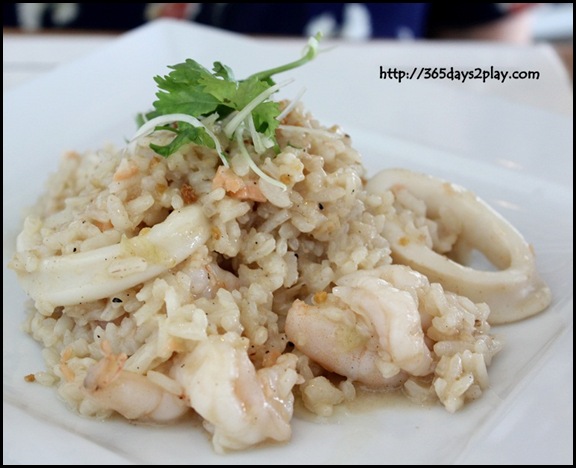 Calamari, Prawn and Salmon Risotto $18
My mother ordered this. The portion seemed a little small, although there were lots of prawns, squid rings and shreds of salmon in the risotto. It was nice overall, but I think it was just lacking a bit of kick. Wonder what broth they used. Also, I think they should at least put in some diced capsicums or some colourful thing to the dish because when the risotto was first served, we were all slightly disappointed that it seemed to look so bland.
Food for Thought
8 Queen Street
T: +65 6338 9887 F: +65 6338 1080
Opening Hours: Mon – Sat 9am  to 10pm  (Last orders from kitchen 8.50pm)
1 Cluny Road, Singapore Botanic Gardens,
Tanglin Gate, #B1-00, S259569  
T: +65 6338 4848  F: +65 6479 1080
Opening Hours: Mon – Sun 8am to 10pm  (Last orders from kitchen 9.00pm)