*Media Invite*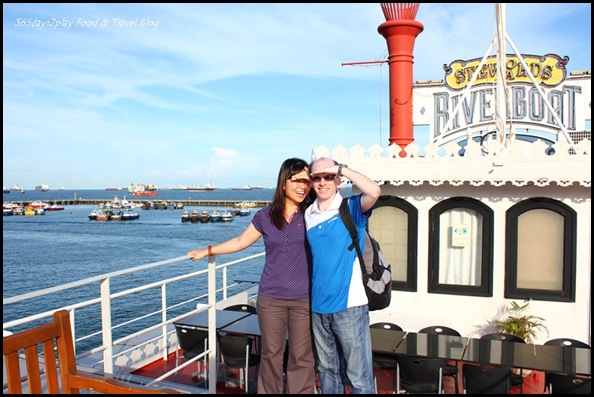 This has got to be one of my more unique media tasting locations, how many times does one get to dine on-board a boat? It was fun looking through all my pictures again and I wish I was amongst the sea breeze and blue-skies again!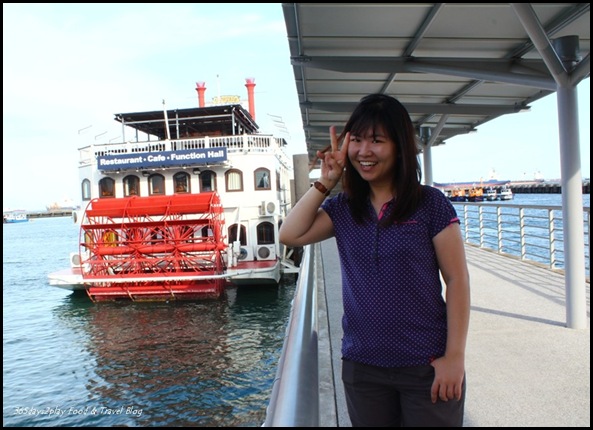 My food blogger turned bimbo beauty blogger pose for a second before we boarded the ship!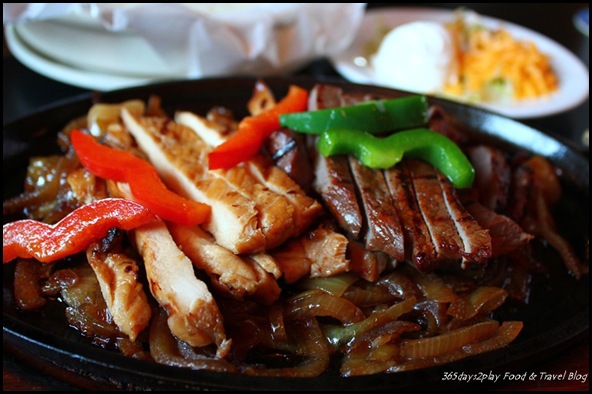 Chicken Beef Fajitas Half-Pound $27
Have you tried Tex-Mex food in Singapore? Apparently it's not all that common here according to our host for the evening, Daryl Saw, the Business Development Manager and also son of the owner of Santa Fe and Stewords Riverboat. Santa Fe was amongst the 1st to introduce Tex-Mex cuisine in Singapore when they first established in 1999. I tried to throw up a couple of names such as Chili's and Planet Hollywood, where I recall I had Fajitas and quesadillas. It seems those are not really authentic "Texan Mexican", as "Tex-Mex" isn't as spicy. Ah well, I'm really not an expert in the area of Mexican cuisine or Texan cuisine and their variations so I will just leave it as that.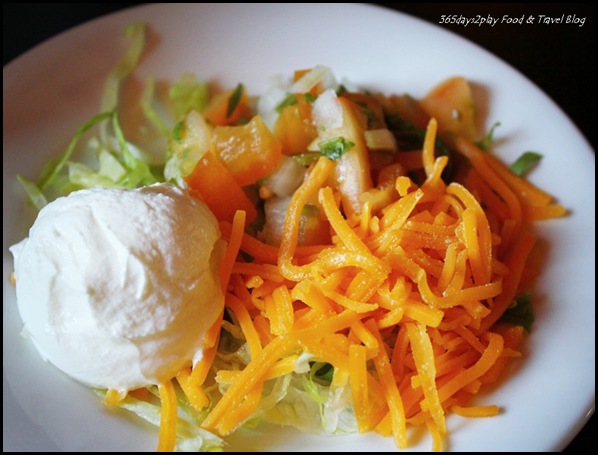 The Chicken Beef Fajitas above are served on a hotplate together with this side dish of fresh salad. One thing I like about Tex-Mex dishes is the substantial use of raw vegetables in their dishes, be it in the fajitas, quesadillas or tacos. Not only do they add sweetness to the dish, they help to cut through the heaviness from the meat, resulting in a very balanced and juicy bite.
Mushroom Rib-Eye Steak $34
The Partner ordered the Rib-Eye steak, not exactly the most Tex-Mex dish on the menu, but he had totally no regrets because the mushroom sauce was really delicious! The steak was cooked perfectly, with a nice char-grill flavour. If anything, a little bit more veggies would have been appreciated.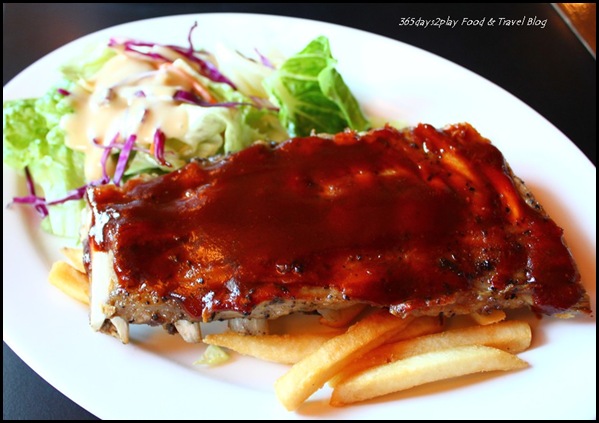 Santa Fe BBQ Ribs $22 Half-Slab $29.50 Full-Slab
I ordered the BBQ Ribs. Ok, also not the most Tex-Mex selection, but hey, I love ribs! It was a pity the ribs were only mildly warm, but otherwise, I did enjoy the ribs thanks to the deliciously sweet BBQ sauce.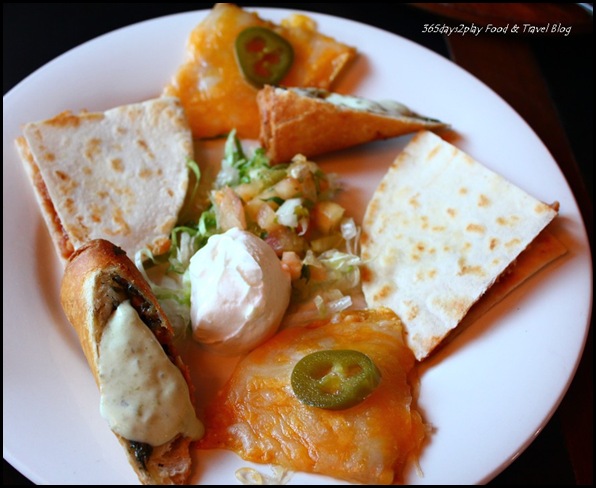 Cheese Nachos 4 pieces $7.90 — Crispy corn tortillas spread with refried beans and covered with melted cheese.
Chicken Chimichangas 4 pieces $8.50 — Diced chicken, beans, vegetables and Jack cheese rolled in flour tortillas and deep fried
Turkey Quesadillas 4 pieces $8.90 — Flour Tortillas packed with smoked turkey slices brushed with BBQ sauce and garnished with sautéed onions and melted cheese
After ordering our main courses, we did feel as if we hadn't really been properly introduced to the Tex-Mex cuisine, so Daryl helped us solve our dilemma by asking the chef to specially prepare some authentic Tex-Mex starters for us to try. Above picture is a selection of the starters available but if you're ordering off the menu, it will be on a per dish basis.
I think no one needs any introduction to nachos, but nachos slathered in that much cheese until you can't see the nachos is something I haven't seen in a long while, and a dream come true for a cheese lover like me! Just don't think about the calories when you're chomping down on the gooey cheesy goodness.
The Turkey Quesadillas were also very good, but really, the highlight for me, even more so than the cheese nachos, was the Chicken Chimichangas. I've never heard of chimichangas up until that point, but ever since, I've been having this word in my mind every time I step into a restaurant that is remotely Texan/Mexican. So far, Santa Fe seems to be the only place I know that serves them. These were fried crispy, and full of good stuff like chicken, beans, more cheese, and a good dollop of cream to tie it all together. DELICIOUS.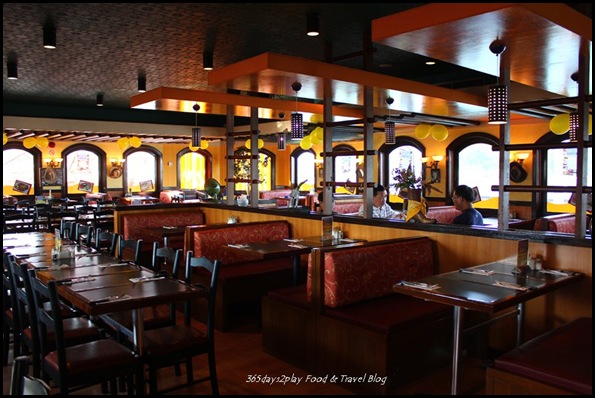 We also got to take a quick tour of the Stewords Riverboat. If this boat looks familiar, it's because it used to be the one sitting at the ferry terminal of Sentosa Island! That was before the Saw family bought over the boat and established the Santa Fe Restaurant back in 1999.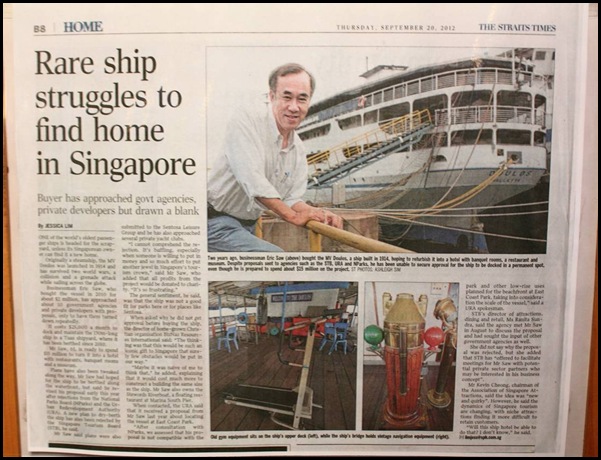 It is apparently not that easy to just set up a restaurant in a ship. First, you need to find a "parking lot" for the ship! We're talking about the 2nd ship that the family has bought, which is now stranded somewhere out there…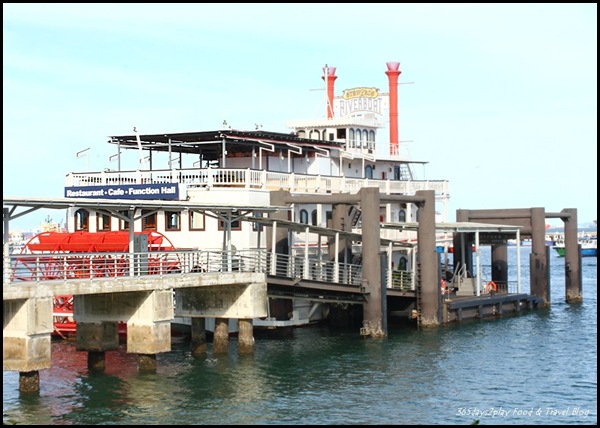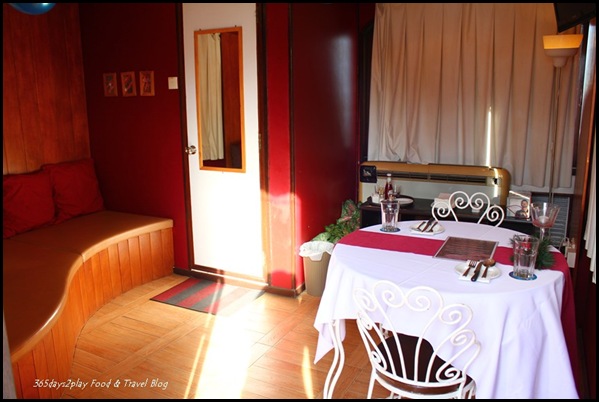 There is a private room, if you so wish to have your very own romantic time.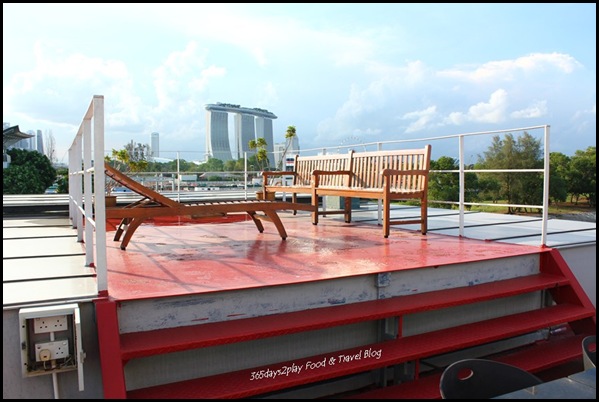 This is the topmost deck of the ship. We were told that there are plans to convert this area into a sheltered area and start a cafe concept of sorts, maybe already in progress as I write this. I think it's a brilliant idea and a very unique location to boot. The view of the waters would be better too from this height. Can't wait to see their concept come into fruition.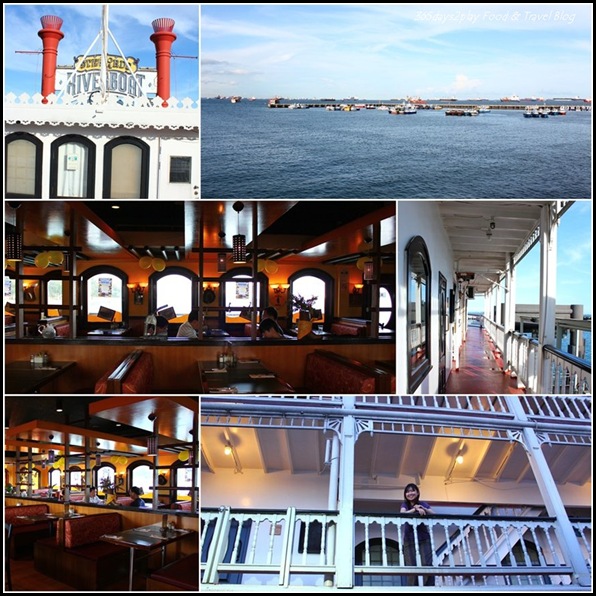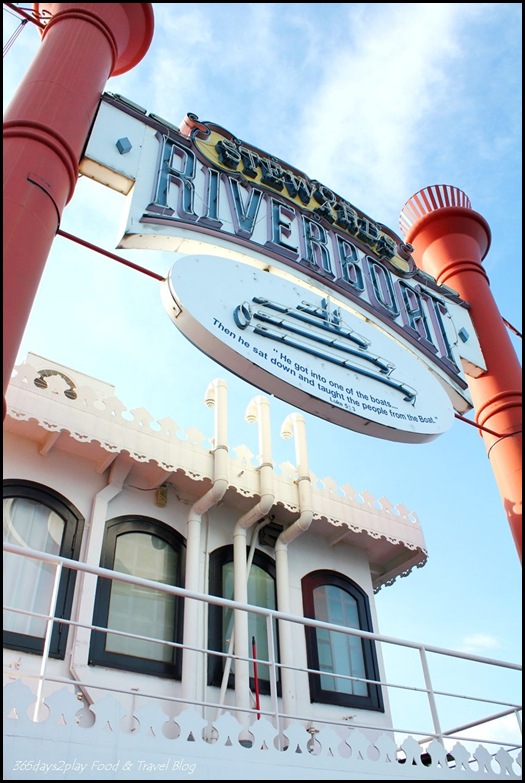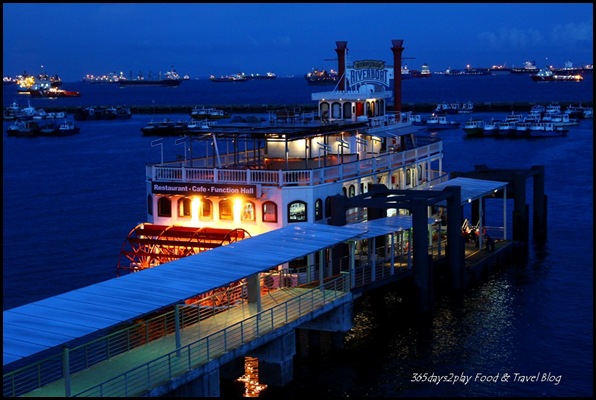 View of the Stewords Riverboat at night.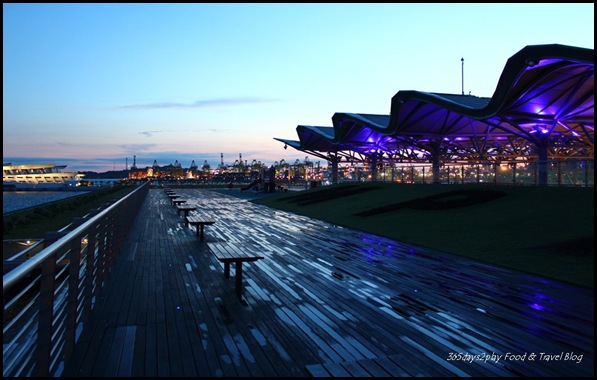 No one knows of this secret ulu yet romantic location that overlooks the seas. I've been here several times but I've never once seen any smooching couples.
Thanks Daryl for hosting the dinner and for the great conversation.

---
Add me on Facebook, Instagram and Twitter if you want to be kept up to date with the latest happenings in the food and lifestyle scene in Singapore!
---
Stewords Riverboat, Santa Fe Tex-Mex Grill
31 Marina Coastal Drive
Berth 1, Marina South Pier
Singapore 018988
Tel: 6278 5775
Fax: 6273 5775
Email: enquiry@riverboat.com.sg
Operating Hours
Tuesdays-Sundays 6-10pm
(Closed on Mondays)