*Media Invite*
Jalan Riang is another of those up-and-coming laid-back type street lined with cafes and cool restaurants. I've been meaning to check it out for the longest time, but being an Eastie, Serangoon has always been so called off my radar. Well, I finally made it there for lunch on the Saturday just before Christmas at the kind invitation of Rokeby Cafe Bistro.
I was told I could bring a guest, but because it so happened that my parents were with me, I lugged them along for the tasting session well prepared to share everything, and thank god I did because Rokeby was so generous with the food, there was no way the Partner and I could have finished the feast!
Rokeby Cafe/Bistro is an Australian inspired establishment serving delectable gourmet food and artisan coffee with unique latte art. Coffee beans are freshly roasted from Western Australia and gourmet teas imported from Melbourne. Staying true to its roots, Rokeby serves Australian wines and offers a variety of Australian beer.
I really like the woody tones used in the decor at Rokeby, and of course a pretty Christmas tree during the Christmas season is never a bad thing.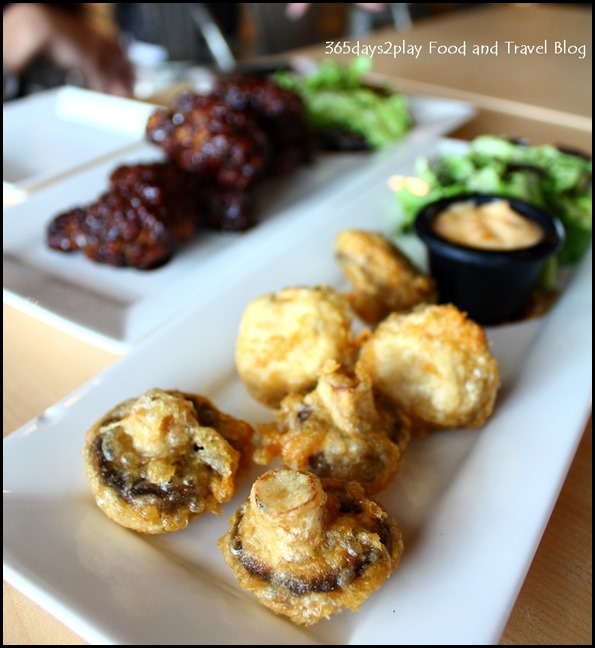 Mushroom Fritters $9
We left it to Denyse Janz, co-owner of Rokeby to recommend us dishes to try. Rokeby has been reinventing and upgrading itself ever since their opening earlier in 2013. You will find that even the colour theme as change, not to mention tweaks to the menu. Quite a number of dishes we tried were only just introduced into the menu.
First up on the menu, mushroom fritters. This is always a crowd pleaser and hard to go wrong. Love that the mushrooms were served really piping hot, which is the best way to eat fried food. I did think we could have done with more mushrooms for $9, but I guess the pricing is because of the inclusion of a fresh garden salad on the side.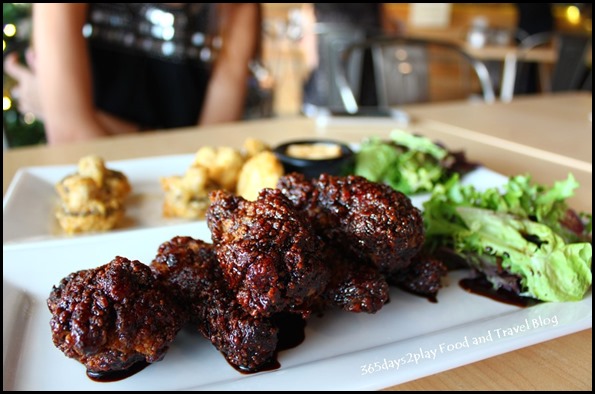 Vegemite Glazed Chicken $11.90
Those who miss their uni days in Australia can relive them again with this vegemite glazed chicken. A very generous amount of vegemite is used so there's no escaping it's strong and malty flavour. For me, I think I can conclude that I will never be a fan of vegemite. If YOU are a fan, you can also get your dose of vegemite here, via these vegemite sandwiches!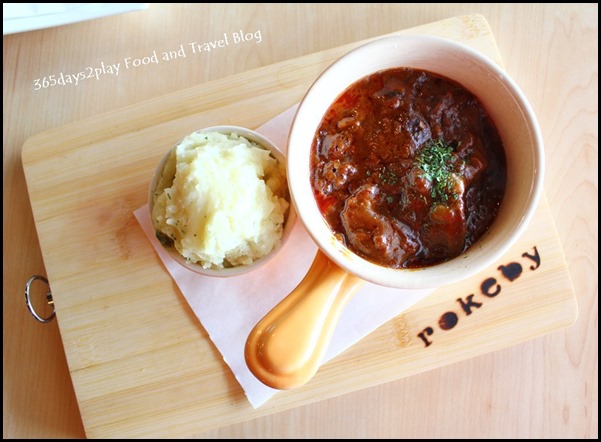 Braised Ox Cheek Stew served with mash on the side $20
The ox cheek stew served was superb, and supremely tender like what the menu had described it, The stew was full-bodied and with a meaty flavour but not overpowering, making each mouthful a savoury yet slightly tangy experience. The beef used was also of good quality and wasn't stringy. We quite forgot about the mash on the side as we were too busy shovelling the ox cheek stew into our mouths.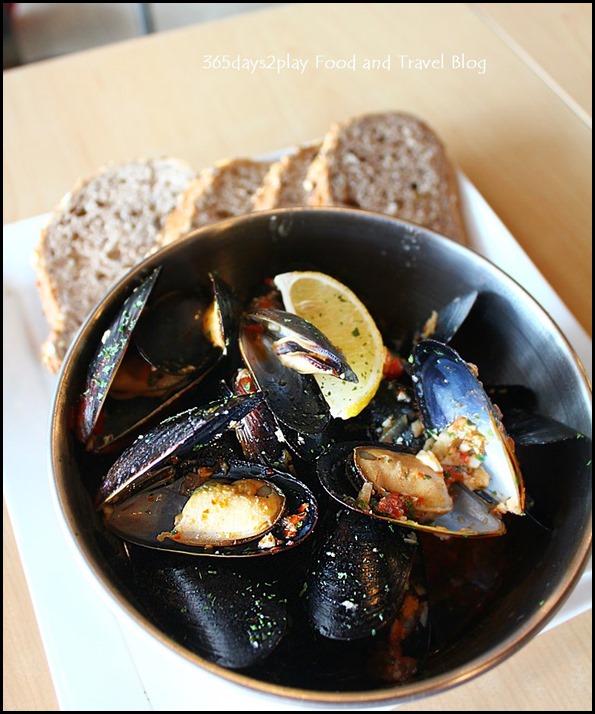 Chilli Mussels served with toasted multigrain bread $19
The Chilli Mussels is one of the dishes specially created by Denyse and her husband. They had tasted a fantastic version of these mussels back in Perth and have recreated this dish here after many rounds of trial and error! The wonderful thing about this dish is that it is great for sharing or as a mains on your own. The broth is a tad spicy but that's what gives this dish such a kick. Definitely a comfort food especially on rainy days, with bread to mop up all the broth!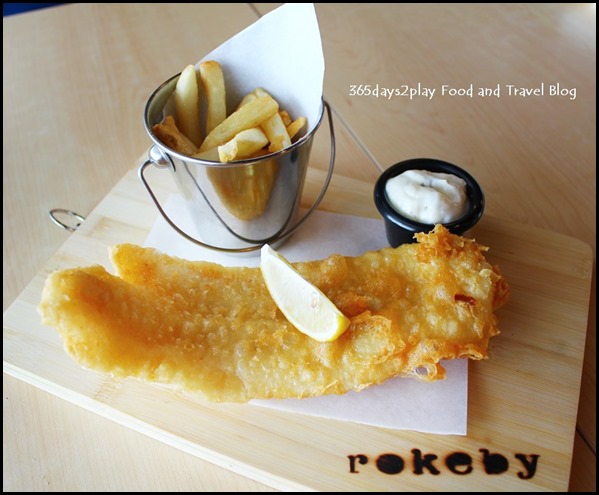 Fish & Chips $16.90 (beer battered pacific dory)
One of the nicest fish and chips we have had at this price range, or any price range for that matter. In a lot of places, the fish tends to be pretty tasteless, with the taste coming largely from the batter. At Rokeby, the dory had a discernable taste. Bonus points that the batter tasted of beer too! I definitely detected a mild beery taste to the batter, which I liked very much.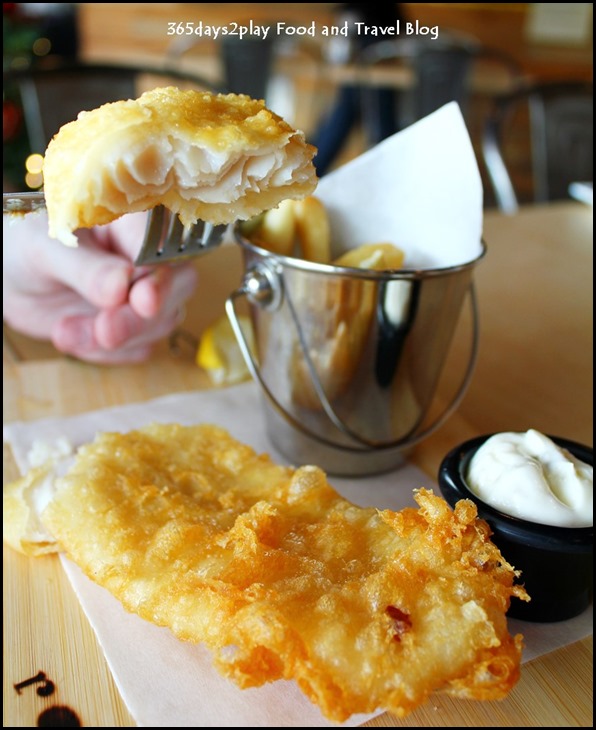 Here's another picture of the delectable value for money fish.
The Kangasaurus (120gm grilled kangaroo loin sliced on toasted sesame seed bun, with spicy cranberry mix) $22
All of us didn't like the Kangaroo burger unfortunately. It's hard to cook it right because Kangaroo is such a tough meat, but if done well, it's actually a healthy meat and a good source of protein. Unless you love Kangaroo meat whether tough or not, I would say skip this.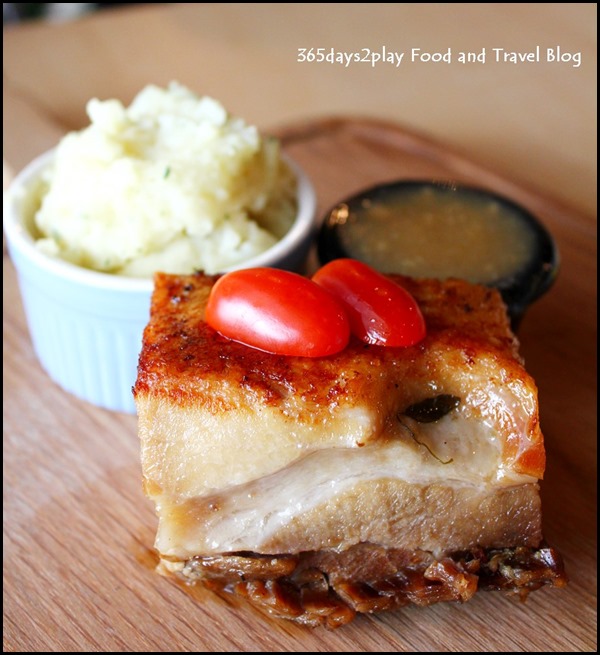 200gm Kurobta Pork Belly served with apple sauce and mash $25
Kurobuta pork was very nice and tender. Juicy piece of meat, perfectly cooked with a nice crust, with just the right amount of fat. However, this would be one of the rare occasions where I think a little bit of extra salt would have made it fantastic. Apple sauce on the side was very nice. I know it says that it tastes like siew yoke on the menu, but I think if you were really expecting siew yoke, you would be disappointed because the cooking methods and the accompaniments really shouts "Western" more than "Asian".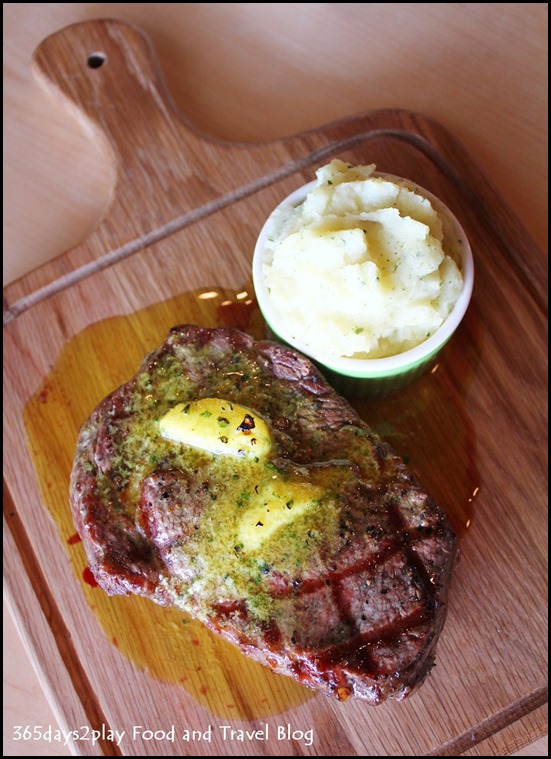 500 grams grilled Aussie Ribeye Steak with special home-made compound butter (mixed herb or curry butter)
And finally, the talk of the town, the 500 grams of grilled Ribeye Steak. Finish this all by yourself and you get a half-pint of draught beer on the house! Not sure how you'd still have space for the beer after this, but yup that would be your prize, and bragging rights of course. No time limit by the way, so go for it! I was told that even ladies have won the competition!
Denyse's husband doing the honours of torching the butter over the meat.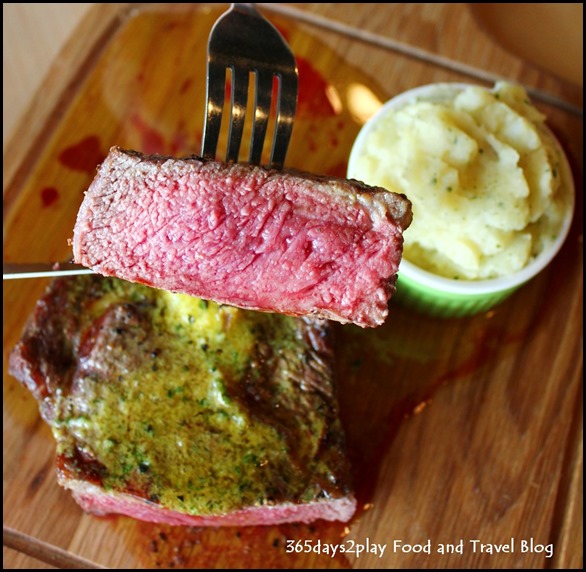 And voila, the ribeye steak cut into half. Medium rare is how you should eat and savour beef (or else don't eat lah!) This was a really good piece of meat, with every piece of meat being so juicy and flavourful. The curry butter that we chose had hints of curry and garlic, and was actually quite mild tasting, contrary to it's name. For $53 for 500gm, this is a really value for money dish. Two people could even share this and have money left over for desserts!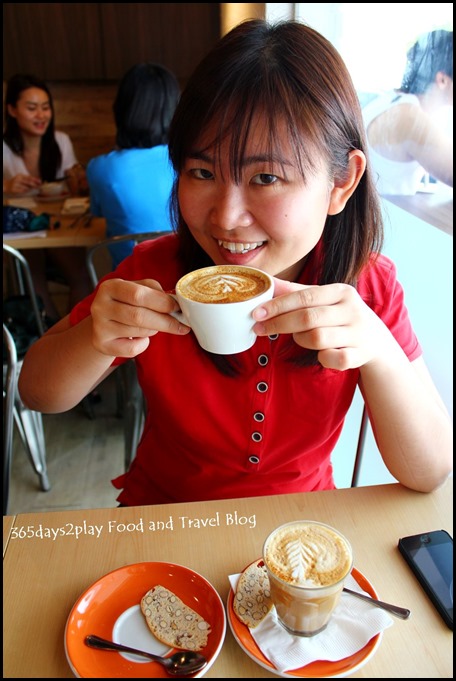 Flat White $5 Cafe Latte $5
And of course, what's an Australian cafe without coffee?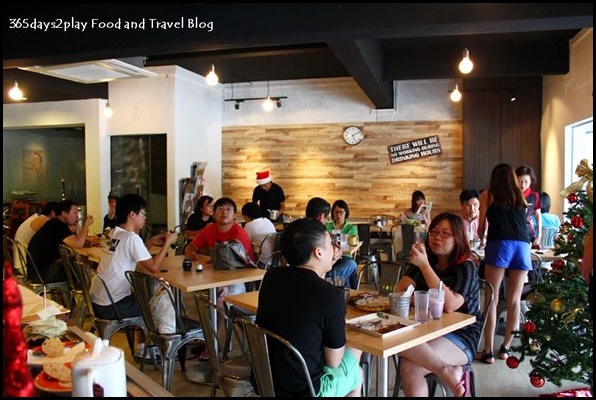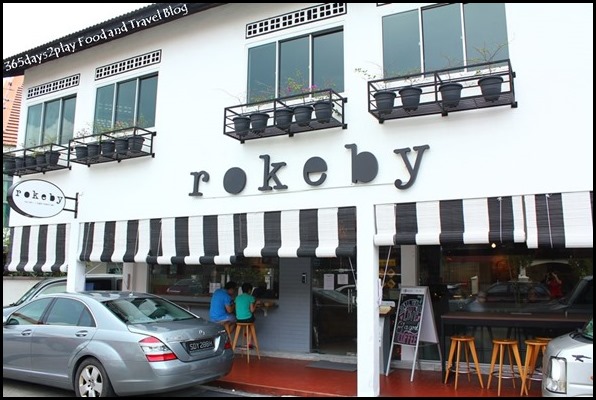 On the whole, it was a really good meal at Rokeby. If you're in the vicinity of Jalan Riang / Serangoon, and even if you're not, you should check out Rokeby for their affordable prices and good food! Great conversation with Denyse and her husband on the trials in setting up an F&B business after quitting their full-time jobs to follow their passion.
---
Check out Intrepid Gastro Bar, another Australian-Inspired eatery, located in the CBD.
Add me on Facebook, Instagram and Twitter if you want to be kept up to date with the latest happenings in the food and lifestyle scene in Singapore!
---
Rokeby Cafe Bistro
15-9 Jalan Riang Singapore 358987
Email : info@rokeby.com.sg
Tel : 65 91060437
For reservations, please call us at 65 91060437
Opening Hours
Tue-Sun from 9.00 am to 10.00 pm
Closed on Mondays