When it comes to thinking of great places to go for dinner, Orchard Road hardly comes up tops in my mind. Of course there are some good restaurants around this area, (my favourite being Lawrie's Prime Rib Restaurant) but you have to wade through a sea of generic restaurant chains to get to the gems. I'd rather go to the Club Street area or Robertson Quay for a restaurant with more "character".
But of course, it's a totally different story if you've just traipsed through the whole of Orchard Road for the last 5 hours. Then the last thing you want is to have to travel somewhere else for dinner! That's when I go for my fool proof option, Oriole Cafe & Bar. Technically speaking, it's address is listed as being located at the Pan Pacific Serviced Suites, but it is right next to 313 Somerset shopping mall, and more importantly, Oriole Cafe & Bar is located a few paces from the Somerset MRT underpass, which will mean less walking and a quicker rendezvous with the bed who misses you.
For a location such as this, the menu is surprisingly affordable, especially if you were to compare this with places like say P.S Cafe or Wild Honey nearby? This is what we had for dinner a couple of Mondays ago.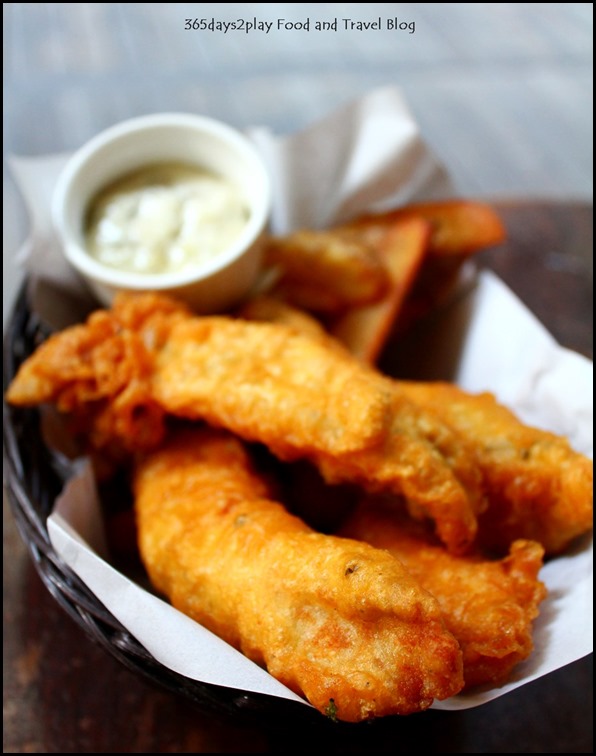 Fish and Chips (Battered snapper fillets, hand-cut chips, tartare sauce or malt vinegar) $19
$19 for 3 or 4 huge pieces of fish, can you beat that? The fish and chips from Oriole Cafe & Bar has been touted as one of the best, and I do so agree myself. Batter is nicely crisp and thin, which means what you get is largely fish. The fish itself is flavourful and moist, and piping hot too. Supposed to be god-given but it is not uncommon to receive luke warm fish and chips elsewhere. We never did get the malt vinegar come to think of it but we survived well on the tartare sauce and chilli sauce provided. The hand-cut chips were really moreish too!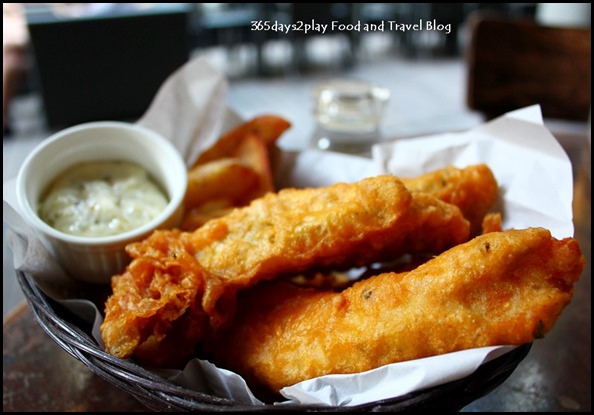 Here's another picture of the fish and chips.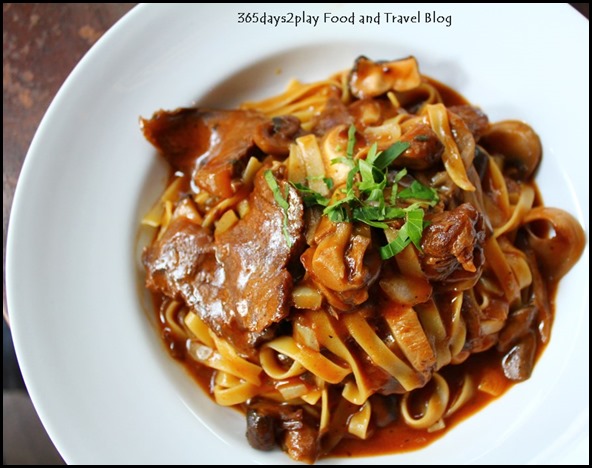 Beef Cheek Tagliatelle (red wine and citrus braised beef cheek, mushroom, shallot oil) $22
I ordered the beef cheek tagliatelle and I have to say, AMAZING DISH. The beef cheeks were SO SO SO tender, it's hard to believe and better still, they were so generous with the beef cheek there were like at least 10 slices of it in this pasta dish! It's almost a secret I don't want to share, that the most value-for-money beef cheek / pasta dish can be gotten here in Orchard Road for $22!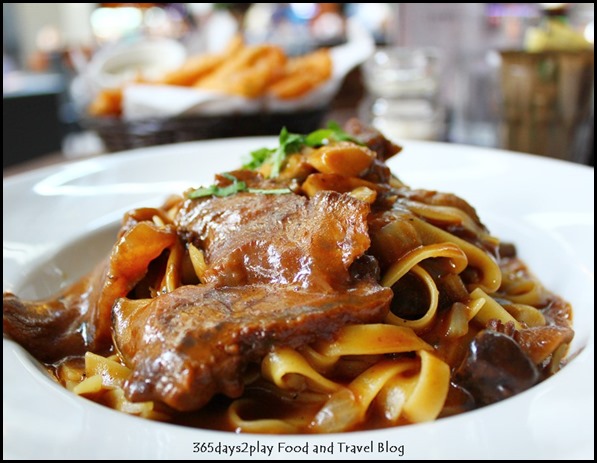 Another picture of the beef cheek tagliatelle. You can see it is chock a block with meat.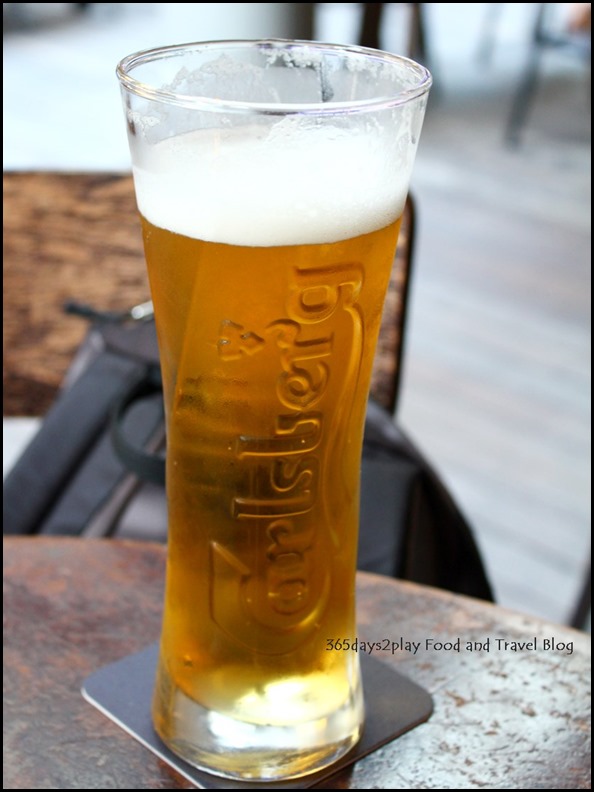 They were having a happy hour buy 1 pint get 1 pint free. 1 pint costs $15 while half a pint cost $10. Because we were so full, we ended up just getting half a pint although the pint deal would have been so much better.
So now you know where to go if you're in Orchard Road and you want a value for money meal. Sit at the al-fresco area, which is still shaded, to watch the world go by. Oriole Cafe also has great scones. Prices have increase to $9+ though.
---
Add me on Facebook, Instagram and Twitter if you want to be kept up to date with the latest happenings in the food and lifestyle scene in Singapore!
Read about other good restaurants in Orchard Road
---
Oriole Cafe & Bar
96 Somerset Road #01-01 Pan Pacific Serviced Suites Map
(It's just opposite Brotzeit when you come out of the Somerset MRT station)
Phone: 6238 8348
Operating hours:
Mon-Tue 11:00 am – 10:00 pm  Wed-Thu 11:00 am – 12:00 am 
Fri & Sat 11:00 am – 1:00 am Sun and PH 10:00 am – 10:00 pm