*Media Invite*
I haven't had English Afternoon Tea for the longest time. It was a pleasant surprise when Ms Christina Tan, Marketing Manager of Rendezvous Grand Hotel Singapore after reading about my Afternoon Tea exploits, kindly kindly extended an invitation to me and to fellow blogger PXDKITTY.
Having afternoon tea always puts me in a good mood. One gets to delight in the beautiful chinaware used, the exquisite little morsels of cakes and finger sandwiches, and the girly company. For some reason, I cannot imagine 2 men having afternoon tea together.
It was particularly delightful to learn that the English Afternoon Tea at Rendezvous Grand Hotel costs only $18.90. Compared to the approx $32 Afternoon Tea at Regent Hotel or $38 at The Knolls Sentosa, the one at Hotel Rendezvous is a steal! Rendezvous Grand Hotel does not provide free flow of coffee or tea (just the 1 cup), but it's still good value!
You may not know this but Rendezvous Grand Hotel has recently undergone a major Renovation, including a name change from the previous Hotel Rendezvous. The Palong Bar, located on the 1st floor of the hotel and where we had our Afternoon tea, looks sleek yet comfortable.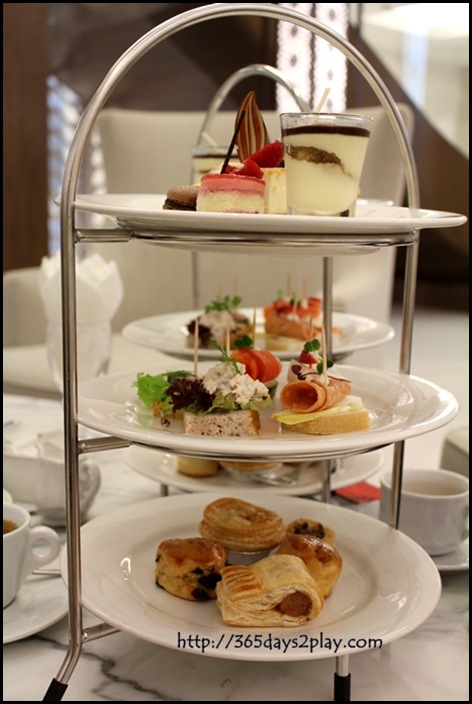 Three tiers of finger sandwiches, savoury pastries and desserts!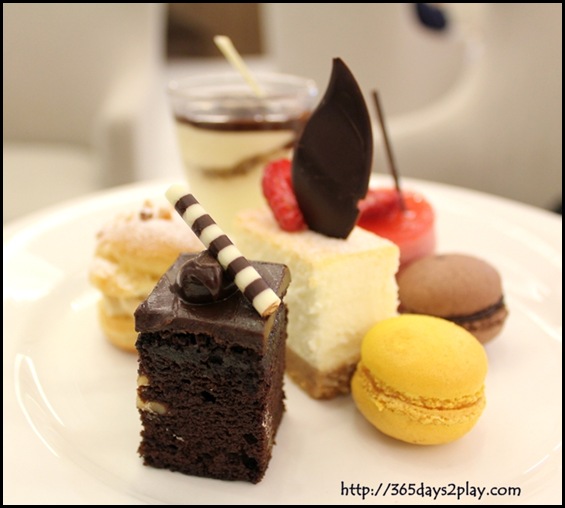 Dessert was my favourite tier so I shall start talking about the dessert items first!
Paris Brest (hazelnut cream)
Macaroon (chocolate, orange or lemon)
Cheese cake
Tiramisu
Raspberry mousse
Those chocolate and lemon macaroons were fantastic. I wish there were more of them. The sweet filling sandwiched by 2 crisp layers of wafers, they were almost melt in the mouth. They are smaller than usual so I crunched them up whole. Delicious!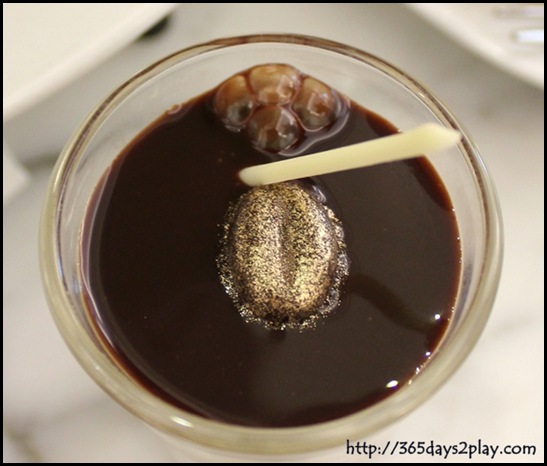 The other notable items were the raspberry mousse cake, the chocolate cake and the tiramisu. I like my tiramisus to be as moist as possible with more cake rather than mousse. I don't mind if it's swimming in the liquor actually! The tiramisu at Hotel Rendezvous had just the right ratio of liquor, cake and mousse.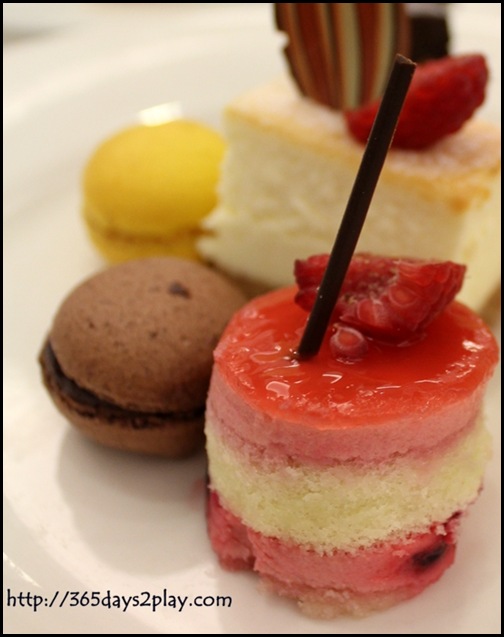 The raspberry mousse cake was light and sweet without being cloying. Once again, there was more cake than mousse, which is really how I prefer it.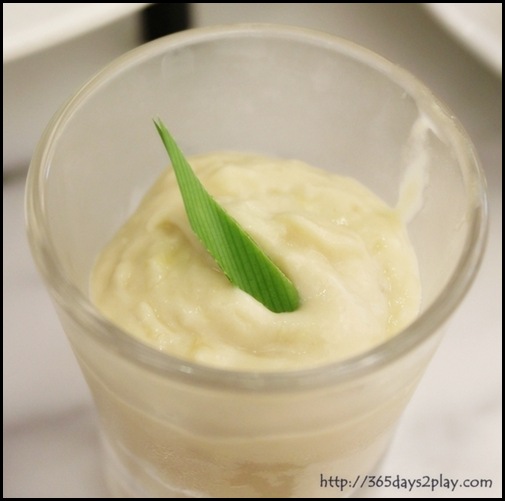 Christina is a huge fan of durian. After she got us on that topic, and we realised that Hotel Rendezvous makes its own Durian Pengat, we just had to try it even if it wasn't included in the Afternoon Tea Set! It was smooth and tasty with just the right amount of sweetness. I wouldn't mind a more intense durian flavour if that could be possible.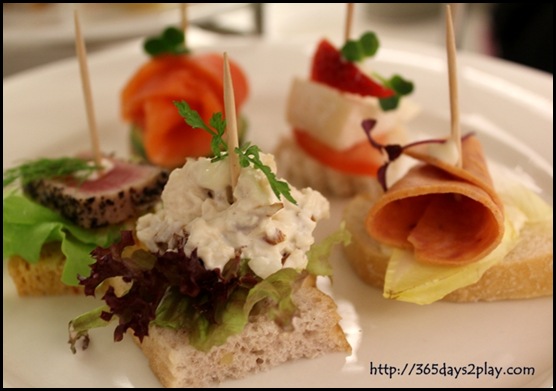 The second tier comprised of
Smoked salmon with walnut

Smoked chicken with ciabatta bread

Seared tuna with wholemeal bread

Tuna flakes in mayonnaise

Cheese and strawberry on tomato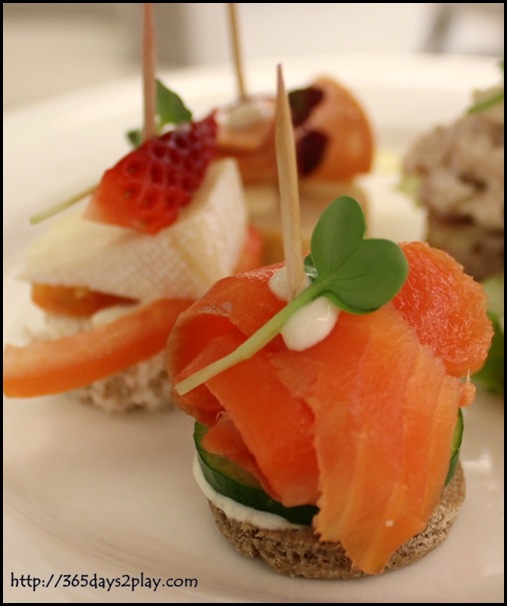 My favourite has got to be the smoked salmon on walnut bread!!! I really love smoke salmon so it was a treat to have so much of it piled on top of a slice of cucumber. There's just something about the smokiness of the salmon that goes so well with the cucumber. The seared tuna was also very good with just the right amount of red in the middle. The slice of smoked chicken on ciabatta was a let down as there was very little of it as compared to the bread. Tasted like plain old chicken ham slices between bread that you could cobble up yourself in a jiffy.
It was an interesting way to hold the finger sandwiches together with toothpicks. Personally I felt this to be a bit cumbersome as I had to either nibble around the toothpick (very unladylike) or take the toothpick out and risk the items spilling all over.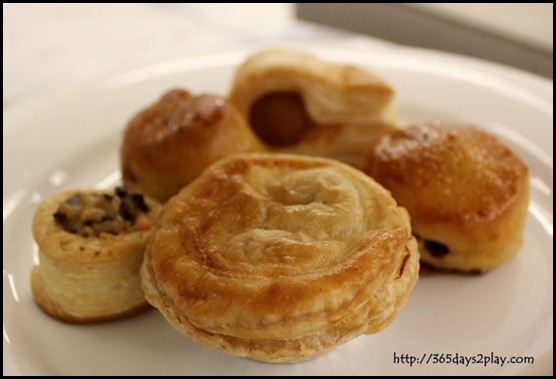 And lastly, the bottom tier comprising of the following items:-
Butter scone
Home-made mini chicken pie
Home-made sausage roll
Puff pastry with mushroom in creamy sauce
My favourite item on this tier was the home-made mini chicken pie. It may sound simple but it was so satisfying. The filling was moist, chicken bits were tender and tasty. There was enough filling for the size of pie too. No complaints at all. The mushroom in creamy sauce in the puff pastry was also delicious, but the puff pastry itself was dry. Same case for the puff pastry used in the sausage roll.
The scones were a bit of a let down I have to admit. I was so looking forward to the scones, especially when the first thing that was laid down on the table were these wonderful and appetite-whetting dishes of strawberry jam and whipped cream. Unfortunately, the scones were bready in texture and oily tasting.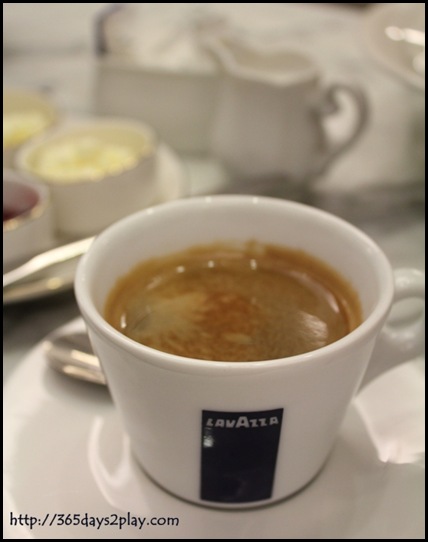 Lavazza coffee or Premium tea to round off the afternoon tea
$18.90 is a very good bargain, and while there were some misses, I attribute that to the newness of the menu as Rendezvous Grand Hotel Singapore only started offering its English Afternoon Tea in November (only 2 weeks before my visit). For those of you who have never had the chance to try English Afternoon Tea, here's a good opportunity without resorting to robbing a bank. Singapore Management University students just across the road, you can give yourselves a treat while discussing project work!
Rendezvous Grand Hotel Singapore Palong Bar
9 Bras Basah Road
Singapore 189559
Tel:  65 6336 0220
Fax: 65 6337 3773
Email: fnb@rendezvous.com.sg
Read about my reviews on other excellent Afternoon Tea places in Singapore
Ritz Carlton Chihuly Lounge — Part 1 (Sweet)
Ritz Carlton Chihuly Lounge — Part 2 (Savoury)
Hotel Intercontinental Lobby Lounge
Check out 365days2play's review on where to find the Best Scones in Singapore
Check out Sister Hotel Fullerton Bay Hotel's Lobby Lounge known as Landing Point.