I like visiting Marina Bay Sands. For one, I love the spaciousness and natural lighting of the place. Even on crowded weekends, there are stretches of the mall which are still quiet. And even though I hardly buy anything from the stores because most of the stores are high-end stores, I do frequent the F&B outlets quite a bit. There's also the Art-Science Museum, which gives a vibe unlike any other museum in Singapore. I feel like I'm visiting an overseas museum whenever I'm there. It certainly helps that there's a cafe at the Art-Science museum now, because I always like to have a cuppa after a visit to the museum when I'm overseas. I could tell you more about it but that's another story for another day.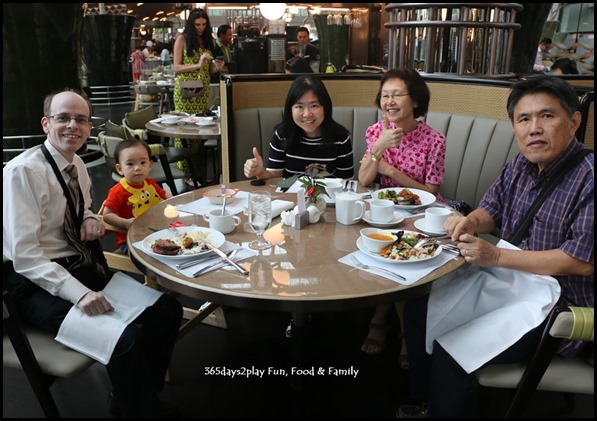 Today, the story will be about the recently revamped RISE Restaurant buffet that we visited to celebrate my mother's birthday. Oh this is not a media invite, if you were wondering. If you've been to the previous iteration of RISE, you'll realise from the pictures that the decor has all changed. The restaurant looks even more spacious now, thanks to a better seating layout. Yet despite the size, many tables are round booth seats, so you feel cosy and cocooned off from the rest of the restaurant. You will also see hues of emerald blue, jade green, light ash timber and bronze for a touch of elegance. Spend some time to look at the hand-made tiles on the buffet counter facades, which pays homage to Southeast Asian culture.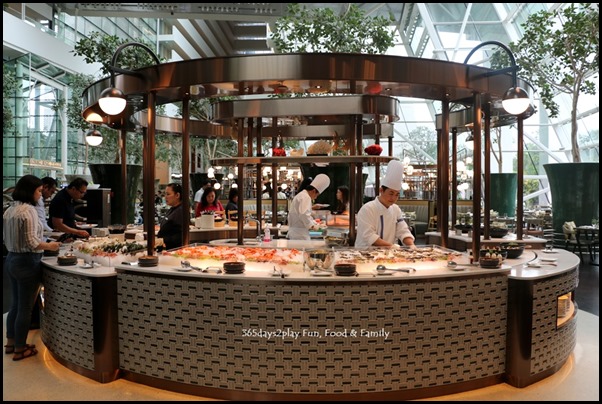 A total of 8 open-concept kitchens, with "live cooking stations" so more food can be served up fresh.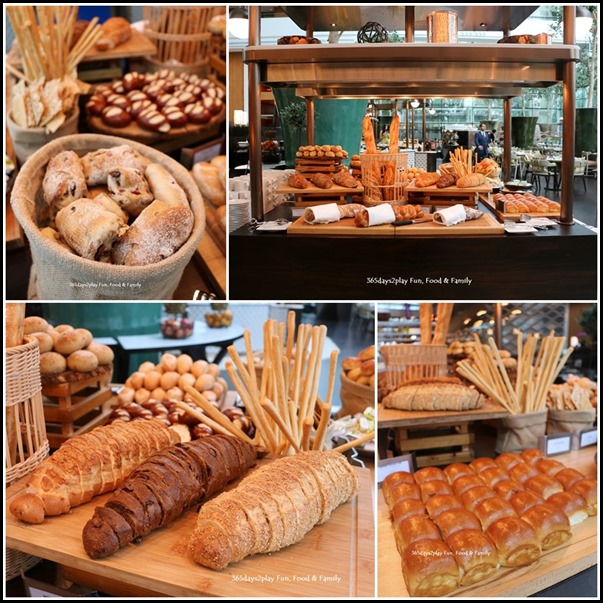 The bread station is really impressive, not just for the variety of spread, but for the fact that many of the breads, I have never seen or heard before. So it's not just your usual baguettes, and whole wheats, but many many more.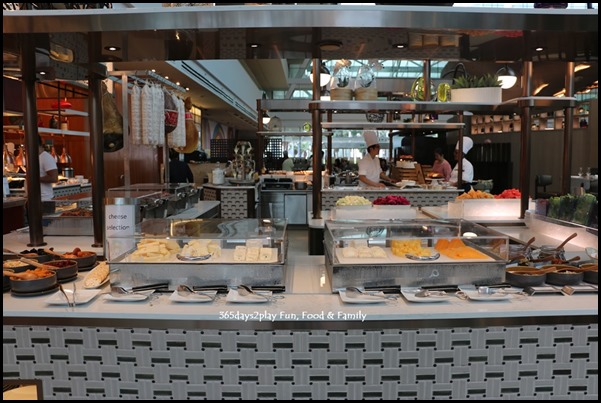 I like the nifty looking display cases. You know when you're holding a heavy plate in one hand, the last thing you need is for the lid of the serving display to slam shut on you. These are so "technologically advanced", they will stay open at whichever angle you leave the lids at. I don't think I've ever seen them before at any Singapore buffet restaurant.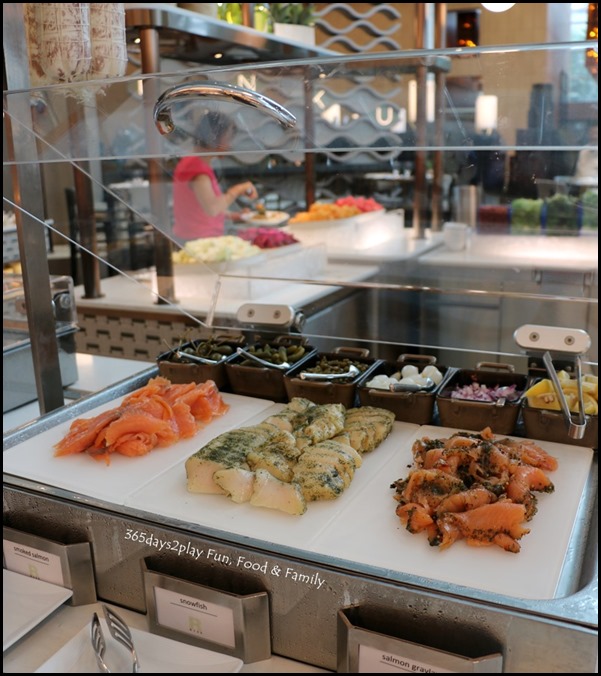 There, I've open up one of them for you to get a better look.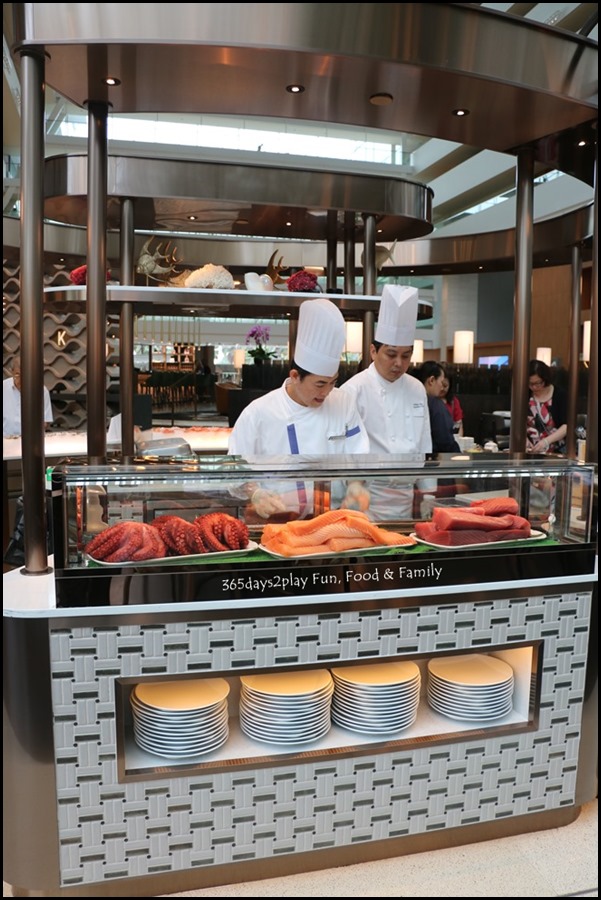 Sashimi counter will be where you'll see me going back for seconds. I like it that RISE sources their seafood from sustainable sources.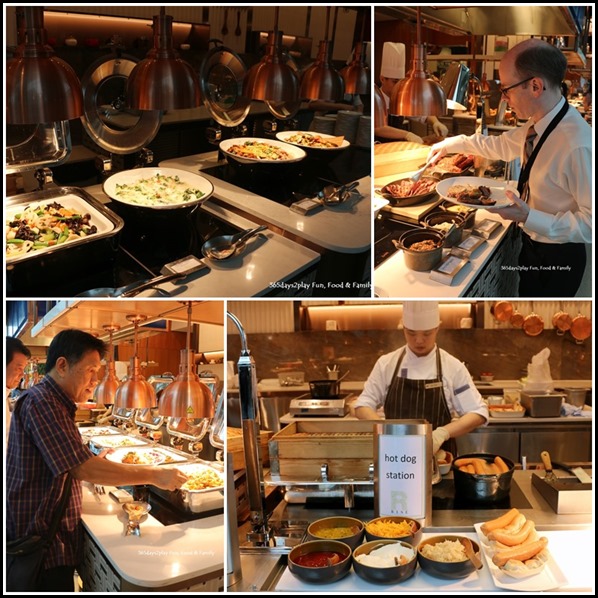 The hot stations. My favourite hot station is the Indian food station. Indian food, thanks to the curries, lends itself well to buffets and airplane food. They have a strong American theme going on, with the hot dog station, as well as another station with things like BBQ Beef Brisket and meatloaf.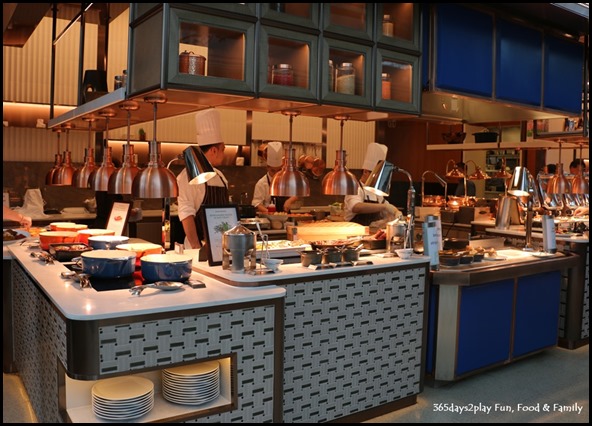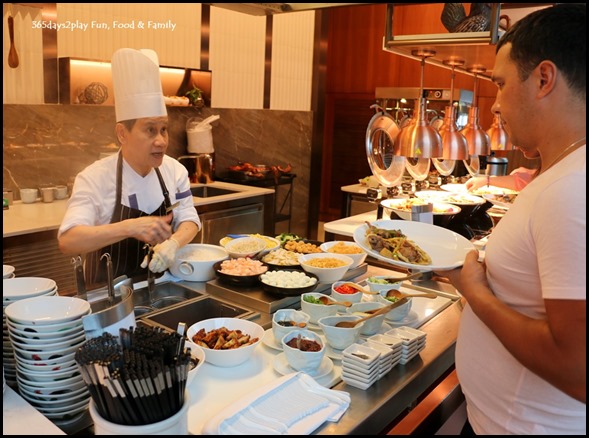 Asian noodle station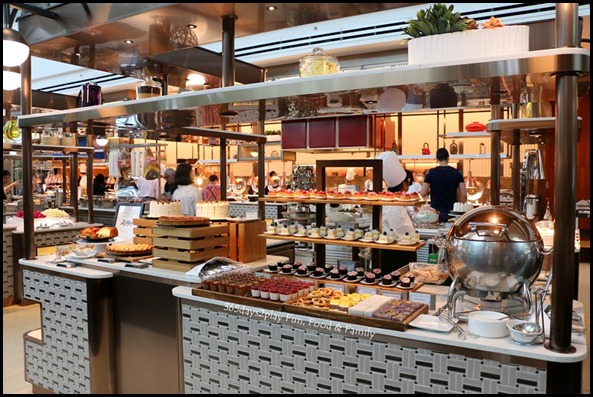 Love the dessert counter. From this angle, don't you find it looks like some place out of New York?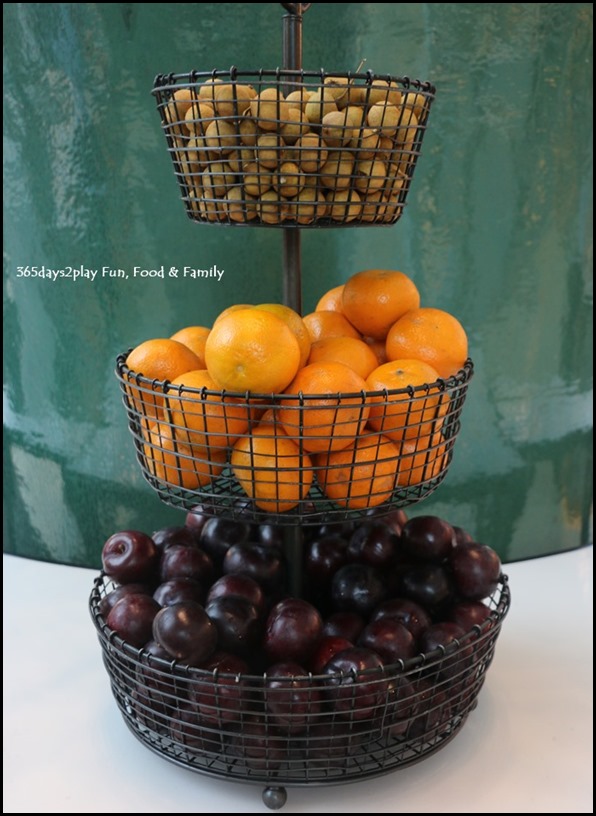 Glad to find whole fruits at the buffet, because that's where you can find more variety rather than those that can be sliced into triangles or rectangles aka watermelon and honeydew.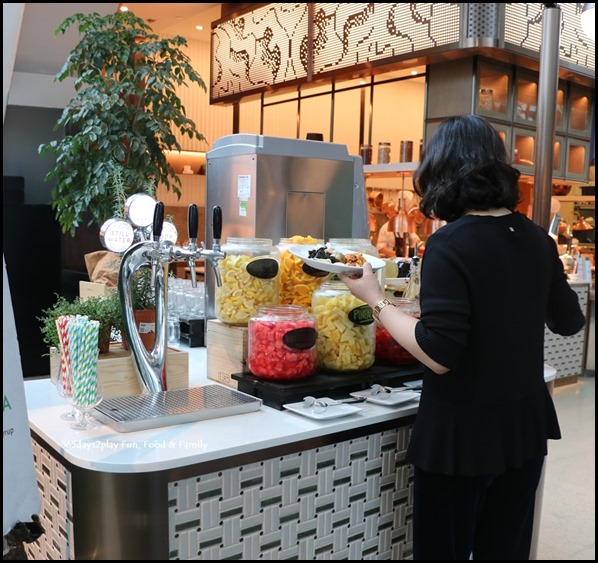 They have this make your own fruit spritzer station which I didn't manage to try out because I was already so full. Looks like an instagram-worthy place!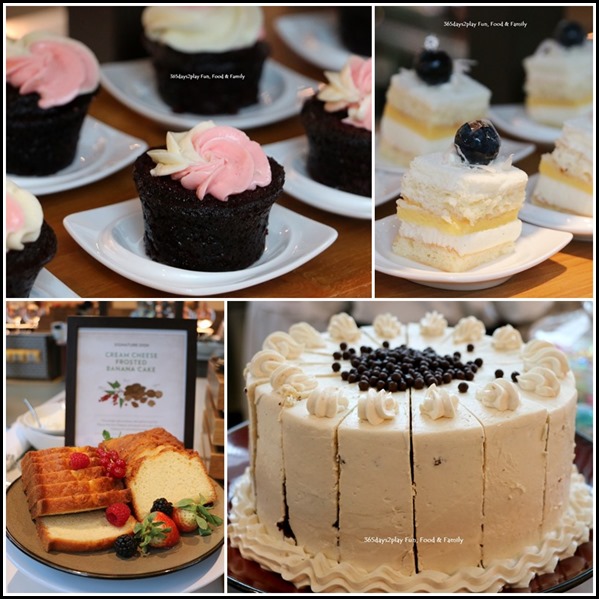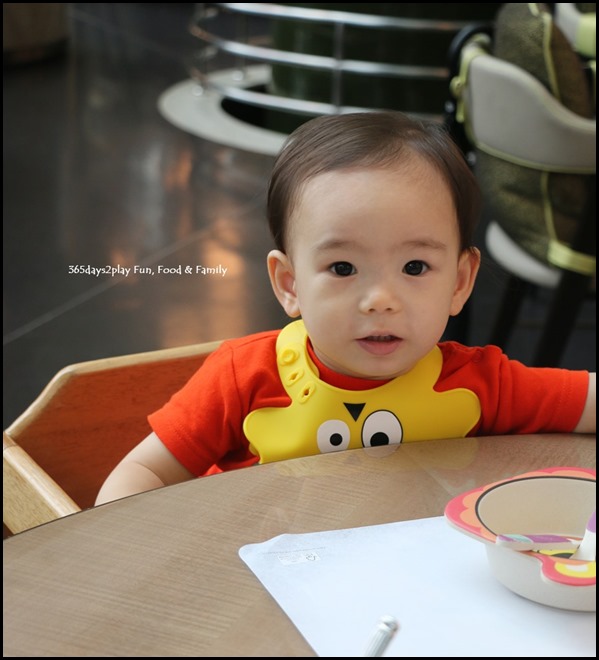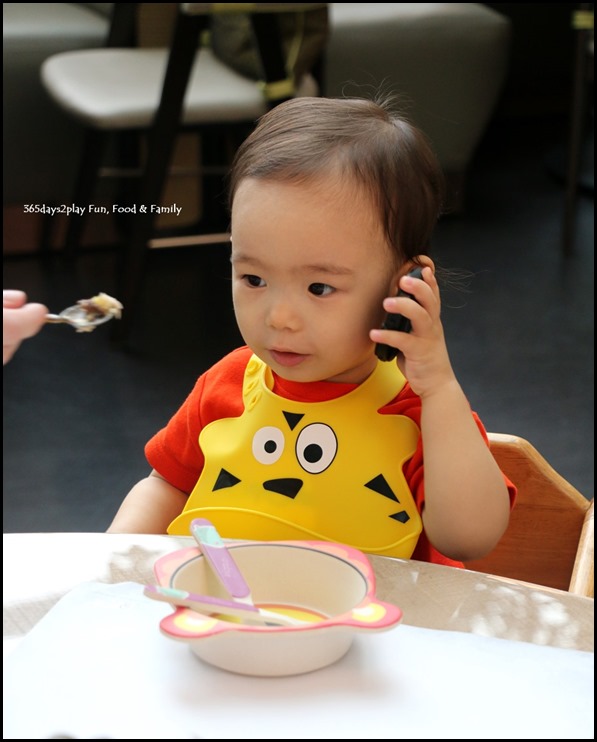 Stop! Feed me after my important phone call!
Ending off with 2 pictures of Edward. No celebration is complete without him!
---
Add me on Facebook, Instagram and Twitter if you want to be kept up to date with the latest happenings in the food and lifestyle scene in Singapore!
What to eat at Marina Bay Sands
Long Chim (Thai cuisine Celebrity restaurant)
Goubuli (Tianjin Cuisine)
What to do at Marina Bay Sands including the SkyPark / Observation Deck, Infinity Pool and Art-Science Museum
Staycation at Marina Bay Sands 
---
RISE Restaurant
10 Bayfront Ave, Singapore 018956, Marina Bay Sands Hotel Lobby Tower 1
+65 6688 5525
Rise@MarinaBaySands.com
http://www.marinabaysands.com/restaurants/buffet/rise.html
Daily breakfast buffet:
6:30am – 11:00am
S$45 per adult | S$22 per child
Lunch buffet:
12:00pm – 2:30pm
Mon to Fri
$S56per adult | S$25 per child
Sat & Sun
S$62 per adult | S$25 per child
Dinner buffet:
6:00pm – 10:30pm
Sun to Thu
S$72 per adult | S$38 per child
Fri & Sat
S$80 per adult | S$38 per child
No charge for children under 5 years.
Enjoy 30% off* lunch or dinner buffet on Mondays — Thursdays with the free Sands Rewards Card