The partner and I were invited to visit the latest exhibit at Marina Bay Sands' ArtScience Museum — Dinosaurs, Dawn to Extinction. The partner has been fascinated with Dinosaurs since he was a kid and given the chance would have enjoyed spending all day wondering around.
Occupying over 3,700 square meters of floor space, the exhibition will feature more than 400 fossils and models, as well as over 50 original artworks. This first-of-its-kind exhibition combines four exhibitions from the renowned American Museum of Natural History, San Juan National Science Museum, SCI! Expo at Monash University and artist Peter Trusler. "Dinosaurs: Dawn to Extinction" will take visitors on a journey from the Precambrian, Triassic, Jurassic and Cretaceous time periods. The highly interactive exhibition will also feature some of the oldest dinosaurs fossils ever discovered on the planet and many little-known species, some never before seen by the public.
While Dinosaurs are the main attraction there is a lot more to this exhibition than just some old bones and big teeth; although there are plenty of these to be found. Instead the Curators have strived to explain the rise of many types of animals and mass extinctions that have occurred in Earth's history and how these have shaped the evolution of Dinosaurs and ancient reptiles through to mammals and birds. You get see how changing continents and weather patterns lead to huge changes in evolution. To me this adds a great deal more to the Dino story than just displaying life size skeletons and telling us that these creatures were very big.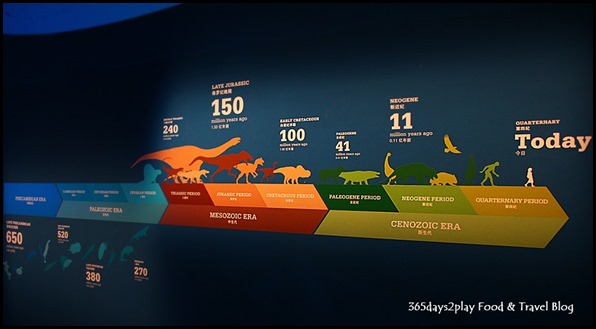 For those with children there are plenty of additional activities to keep them occupied but are also educational. Another interesting add on to the exhibition is the free App for iPhone and android phones called Dawn2extinction. This app provides additional information about the exhibition and Dinosaurs but it is also interactive. Throughout the display there are strategically located icons that you scan with your phone and unlock new features including a T-Rex game! The app is free but just like the Dinos it is BIG! About 150mb so you may want to download it at home before venturing into the Museum.
Scroll down further to see more pictures of the exhibition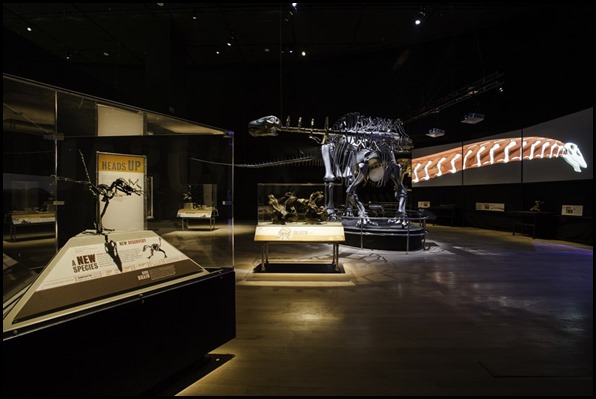 Apatosaurus at Ancient Fossils, New Discoveries gallery (American Museum of Natural History) There are no such things as Brontosauruses. They are actually Apatosauruses.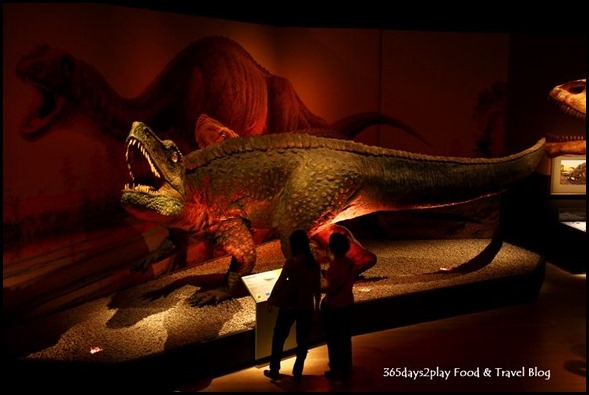 Fasolasuchus, pronounced fas-sole-oh-SOOK-us, was actually a reptile found in Argentina. It stood on its hind legs, not in the same way as dinosaurs, but with legs positioned like pillars. Fasolasuchus was without a doubt the largest predator in Triassic times, although it was more of a passive hunter/scavenger. You will see throughout the exhibition that what looks like a dinosaur may actually be classified as a reptile, even if fearsome in size and look. Despite the classification, if you saw a reptile this size, RUN AWAY is the only thing you need to know.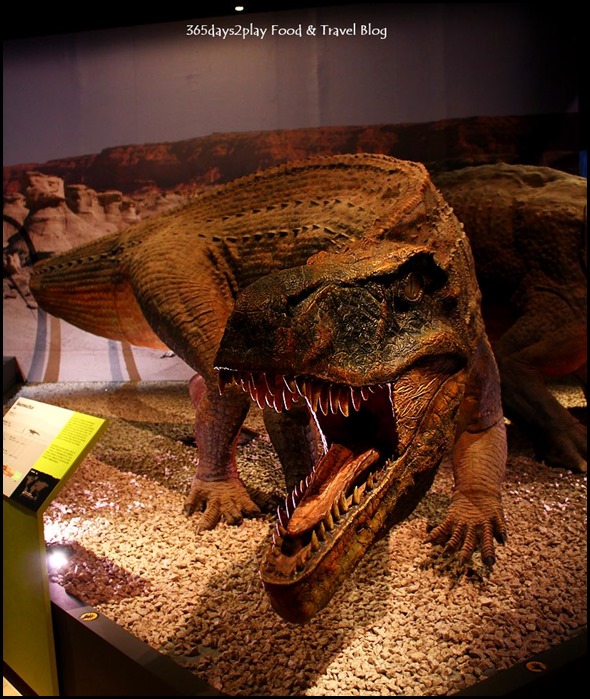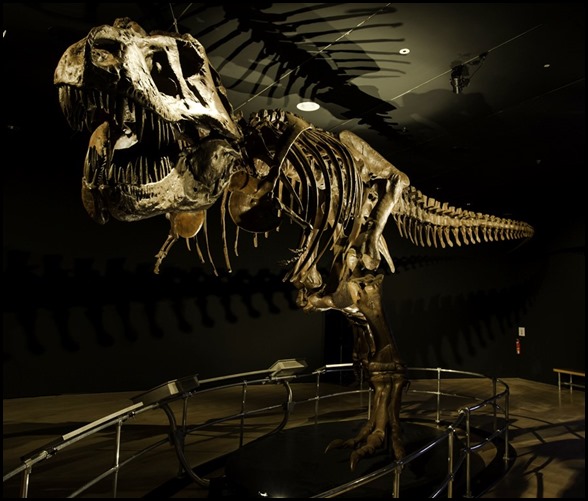 Everyone's favourite dinosaur, the Tyrannosaurus Rex, also fondly known as T-Rex. This reminds me of my favourite T-Rex joke…..

The question is not whether T-Rex could reach the toilet paper, but a question of what to do with it even if he could?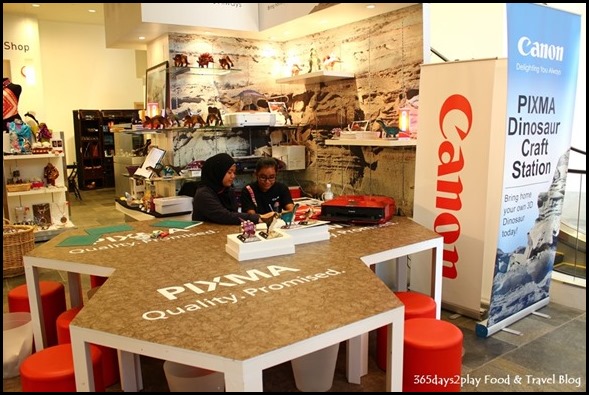 Don't forget to create your own souvenir takeaway at the Canon Pixma Dinosaur Craft Station.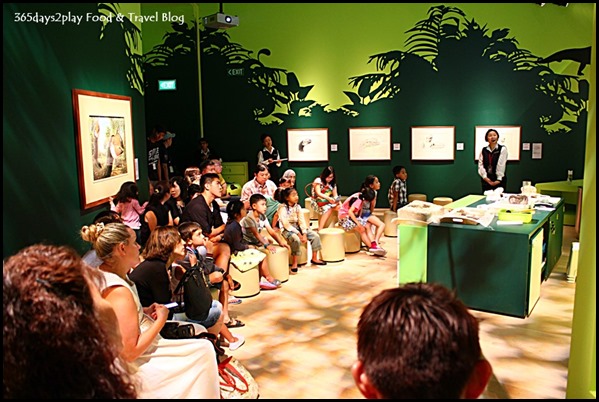 The museum has crafted a unique exhibition that merges the amazing exhibition displays with engrossing programmes, interactive workshops and special guided tours that complement and engage visitors of all ages. Specially developed by ArtScience Museum, the activities aim to deepen visitors' knowledge of dinosaurs and their ancestors.
Stop Motion Dinosaur Wipe-out!' — Film and dinosaur enthusiasts can create their own stop motion animation based on one of the main theories of mass dinosaur extinction: asteroid impact, climate change or volcanic eruptions.
Dinosaur Tale" – Presented by local puppet theatre company, Paper Monkey Theatre, visitors will be taken on a journey of how animal life adapted over 600 million years, presented through magical puppetry.
Sketch-a-fossil'- A drawing workshop conducted by Isabelle Desjeux, a scientist turned
artist, who brings fossils to life by having visitors draw them in detail and placing the art
piece in a pre-historic landscape.
Sculpture Fun' – Visitors can try their hands at carving their own sculpted fossil, be it a shell or bone, out of soap to bring home.
---
Add me on Facebook, Instagram and Twitter if you want to be kept up to date with the latest happenings in the food and lifestyle scene in Singapore!
---
The exhibition is on daily until 27 July 2014. There are guided tours for adults too:
English : From 22 Feb: Saturdays and Sundays | 11.30am & 5pm
Mandarin : From 8 Feb: Saturdays & Sundays | 2pm & 4pm
For more information on "Dinosaurs: Dawn to Extinction" including listing of dates and times with all ArtScience Museum programming, click here.
Past Exhibitions held at ArtScience Museum
Essential Eames : A Herman Miller Exhibition
Andy Warhol : 15 Minutes Eternal Exhibition
Very important information! Where to eat at Marina Bay Sands!