D'Bell, a contemporary Indian-inspired restaurant and bar located in the heart of Singapore's trendy North Canal Road has opened its doors. Diners can look forward to a chic and modern dining experience of light Indian-influenced offerings and classic cocktails amidst D'Bell's stylish and luxe interiors.
I must say, my 1st impression of D'Bell was that it struck me more as an upmarket Western restaurant as most Indian restaurants that I am used to are rather traditional looking or casual looking. Prices seem quite reasonable in comparison to the other Indian restaurants.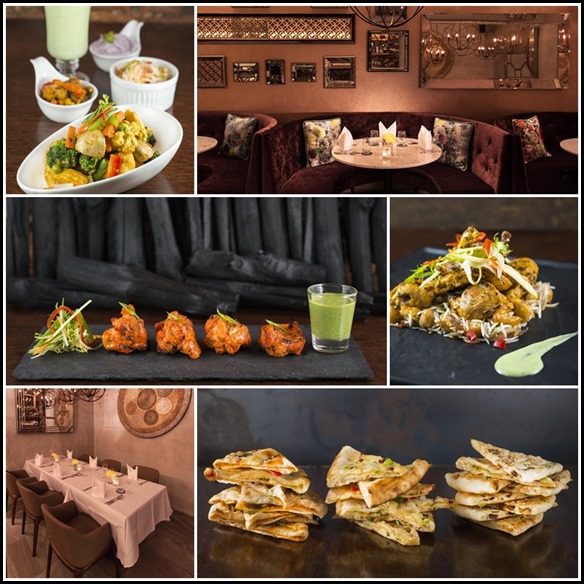 D'Bell prides itself on using modern recipes that aren't as heavy on the palate. For example, dishes do not contain butter, which I'm sure is an appreciated fact for many ladies, as long as the taste is maintained.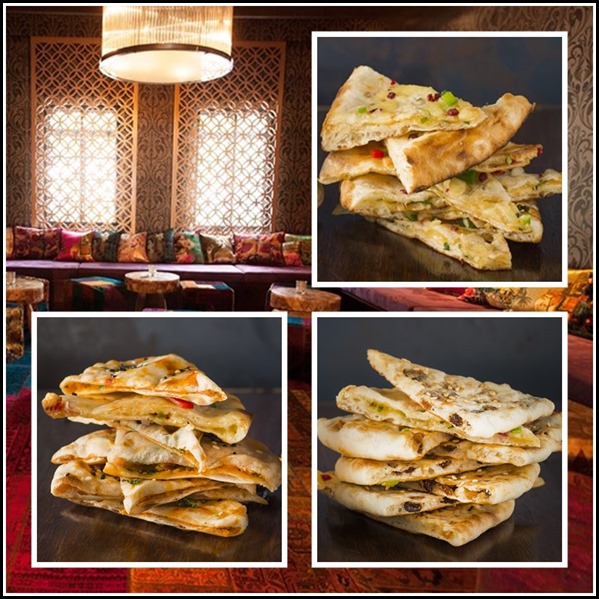 D'Bell's naans are a must order when it comes to creative dishes. I think we are all familiar with the cheese naan, butter naan and garlic naan, but have you heard of these : Chili Cheese Naan, Kashmiri Naan and Masala Naan? It was almost a meal in itself, us trying out each flavour of naan that was available. My personal favourite was the chilli cheese naan, as you get the gooey cheese with flecks of chilli to spice up the interest level. The others are not bad too, although ultimately, a plain naan is best as a delivery vehicle for the curries and dishes.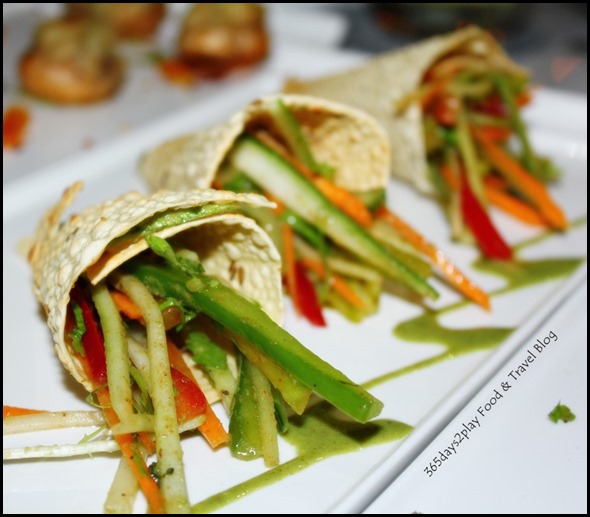 Crispy Pappadum cone filled with veggie relish
We also tried this crispy pappadum starter. A little difficult to eat, as the crispy and stiff pappadums were not able to hold on to the julienned vegetables although it's a delicious way to get some greens into the diet.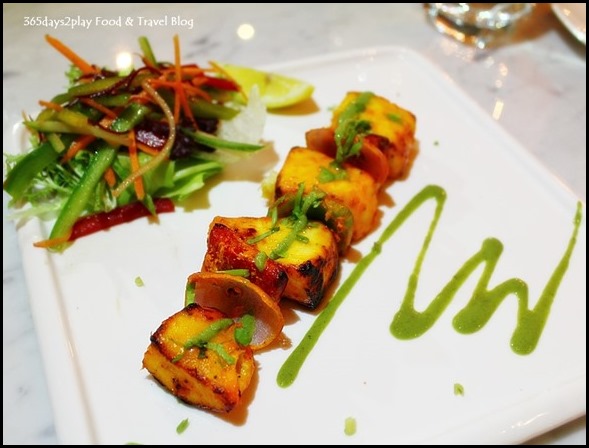 Butter fish cubes glazed with coconut and curry leaves paste and grilled on Hot plate
I quite enjoyed this grilled butter fish dish which had a creamy and mild charred taste.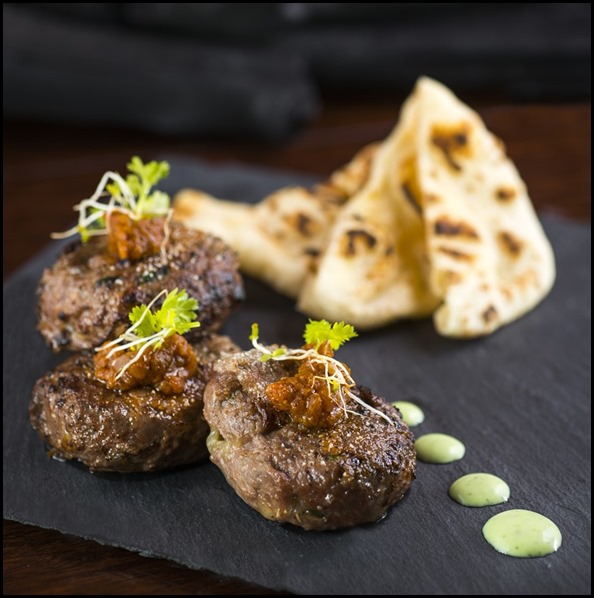 Beef Croquette filled with Cheddar Cheese, Prunes and dusted with Semolina
Although our favourite meat starter has got to be this beef croquette, which is more meat than croquette actually. The meat itself was tender and deliciously enhanced with the sweet prune paste.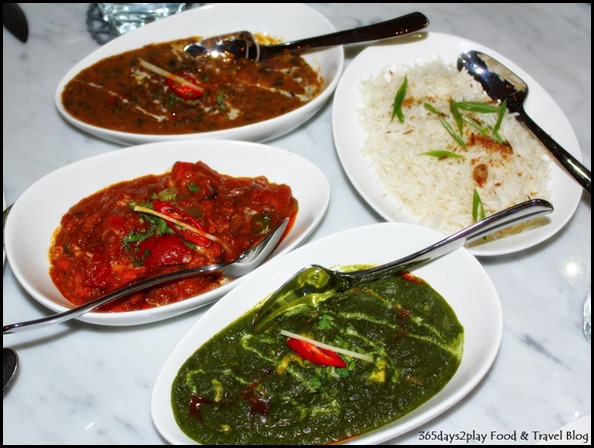 Amritsari Dal – Black and Bengal gram beans simmered overnight on charcoal flame in authentic village style
Chicken Tikka Masala – Tandoor chicken cubes tossed with peppers and flavourful masala sauce
Palak Paneer — Farmer's cottage cheese cubes perfectly cooked in smooth spinach sauce
We tried 3 mains, two of which were non-meat based. I've always been a fan of Palak Paneer, so I loved the spinach puree with surprise pockets of cottage cheese cubes. I have no problems eating just this with fragrant steaming basmati rice. The Amritsari Dal on the other hand, was not really a favourite of mine. It felt a little heavy and in need of something a bit more exciting. Perhaps I'm not a fan of pureed beans like I am of spinach. As for the chicken tikka, it was of course a crowd pleaser, with the tender chicken cubes tossed in a wonderfully sweet and aromatic masala tomato based sauce. Once again, I could just eat this one dish together with a bowl of steaming hot basmati rice.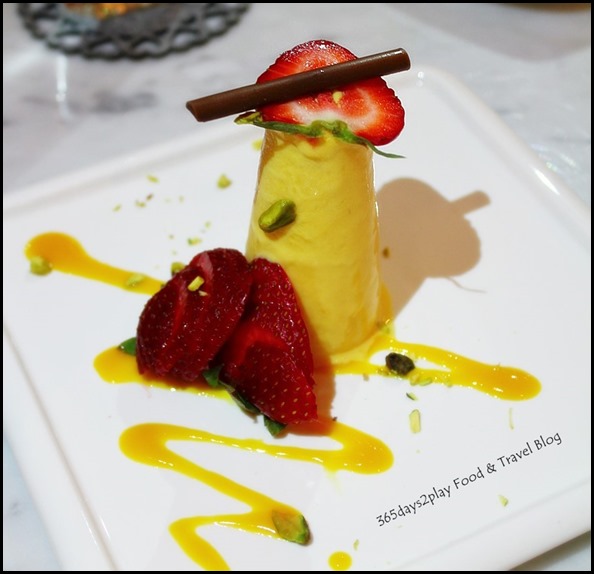 Indian ice-cream prepared with Alphonso mango
For desserts, the Partner chose the mango ice cream, which does remind you a little of lassi except in ice cream form.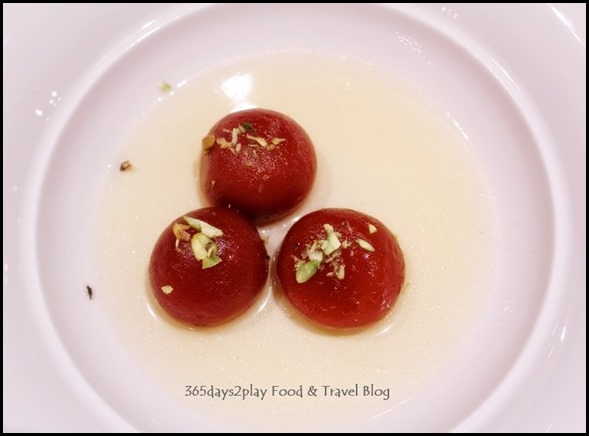 Gulab Jamun – Reduced milk balls; soaked in rose flavoured syrup
My favourite Indian dessert of all time, not that I claim to know that many, is the Gulab Jamun. Most non-Indians can't stand the super sweet taste of these fried milk balls in sugar syrup, but I just ADORE them. It's probably as fattening as desserts go, but really, if you like the idea of eating sweet fried milk curds, this is the dessert for you! One day I'm going to learn how to make these! Feeling hungry again looking at these.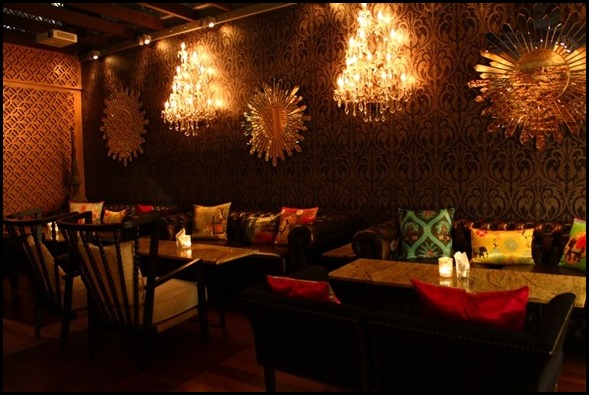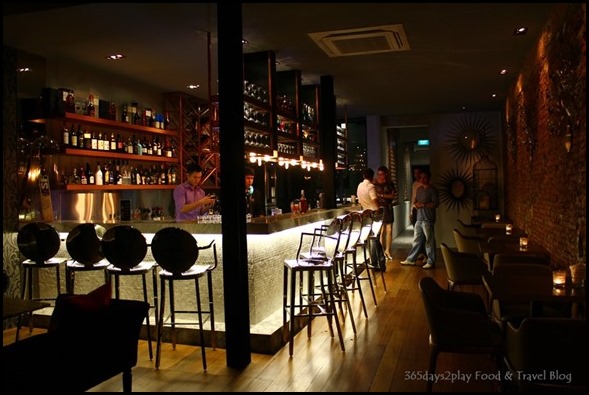 D'Bell isn't just a restaurant, it also boasts a bar and intimate lounge seating areas that are punctuated by oak-coloured leather couches. Classic cocktails from the bar are complemented with the restaurant's light dishes and can be enjoyed both in the restaurant and bar.
---
Add me on Facebook, Instagram and Twitter if you want to be kept up to date with the latest happenings in the food and lifestyle scene in Singapore! 
---
D'Bell
43 North Canal Road
Singapore 059299
T: +65 6536 4046
Opening hours:
Lunch: Monday to Friday 11.30pm — 2.30pm
Dinner: Monday to Thursday 6pm — 11pm, Friday — Saturday 6pm — 12am
Closed on Sundays