My office is located just outside the Orchard area, which makes it sound like it's in an excellent location. It is indeed but 5 minutes for those blessed with cars, but without one, it takes 1/2 hour to get to Orchard! So when my parents were in town and available to pick me for lunch, I had to select a restaurant befitting of the occasion. It wasn't a difficult choice, given that it was Restaurant Week. Took the opportunity to check out Yan Ting, which is in one of my favourite hotels, the St Regis Singapore.
Yan Ting owes its inspiration to the Ming Dynasty, when authentic Chinese culinary art flourished. The words 宴 (Yan) 庭 (Ting) translates as an Imperial courtyard for a lavish banquet, where royalty and influential diners meet for a feast befitting their importance and stature.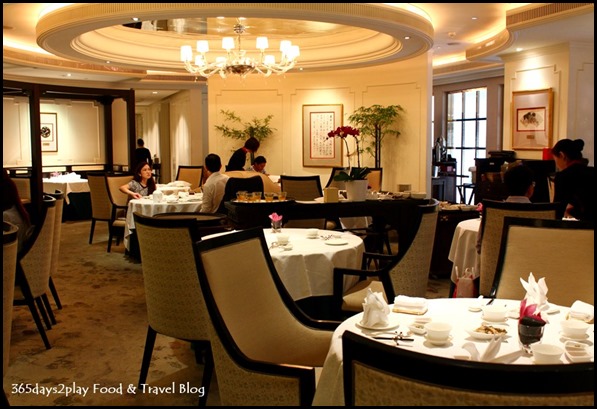 I think Chinese restaurants can sometimes have decors that are a bit garish, if you know what I mean. I love Yanting's elegant and refined look using pastel colours, with black rimmed chairs to accentuate the place. Can't help but keep an eye on what makes for a pleasing look, now that I'm redecorating my house.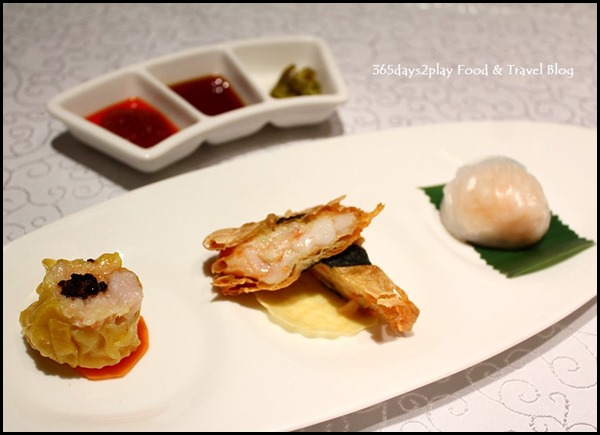 Trio of Appetisers – Steamed pork and shrimp dumpling with black truffles, crispy beancurd roulette with shrimps and seaweed, steamed crystal shrimp dumpling with bamboo pith
Yan Ting boasts a weekend dim sum brunch starting from $108, but the price tag has so far kept me away. In fact one of the main reasons why I decided to dine at Yan Ting for Restaurant Week was because of the trio of appetisers on the set menu, which seemed like a good strategy instead of having to fork out the full $108. Personally, I thought the dim sum looked a little on the small side, perhaps they were going for the exquisite look. Taste wise, the pork and shrimp dumpling and the crispy beancurd roulette delivered, but the crystal shrimp dumpling seemed rather ordinary and a little dry..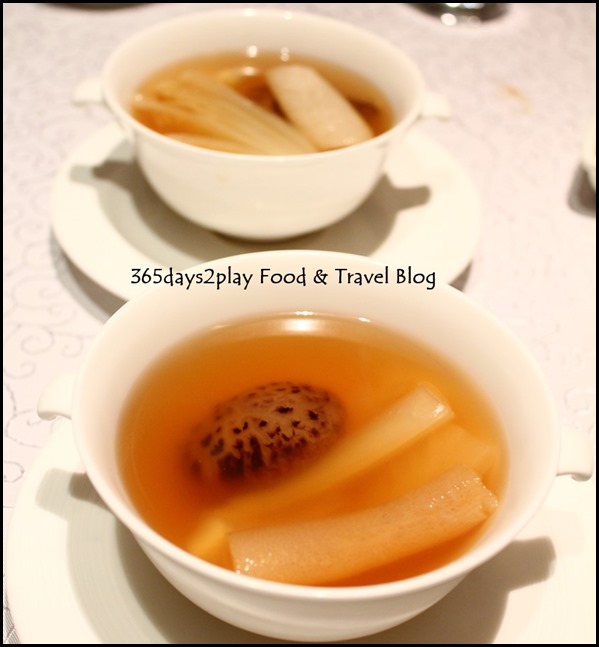 Double boiled bamboo pith consomme with chinese cabbage and mushroom
I've never been a fan of consomme as I find such soups too light for my palate. On the other hand, my parents both loved the consomme, proclaiming it to be full of flavour. I did like the delightful slightly springy texture of the bamboo pith.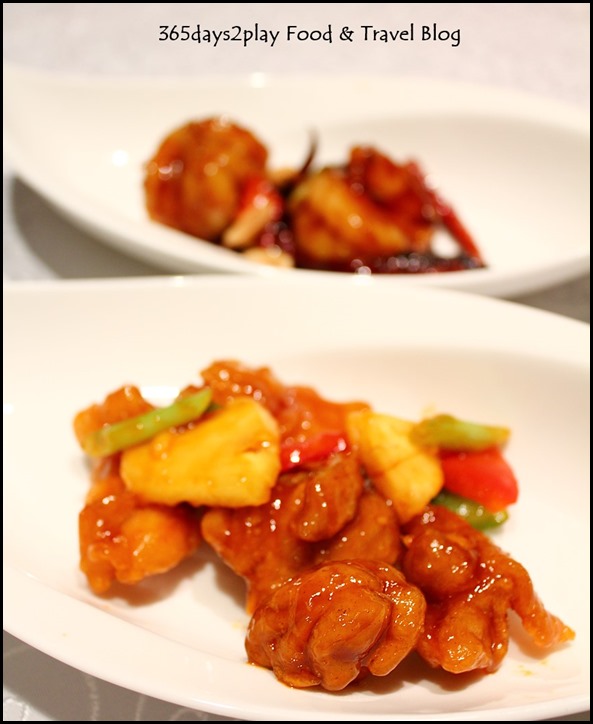 Sweet and sour chicken with tri colour pepper and pineapple
Next up was the chicken. Although it sounded a wee bit ordinary on the menu, the flavours were by no means ordinary. The sweet tang from the orange sauce was particularly bold, but it went so well with the crispy chicken. Peppers and pineapple were sweet and crisp.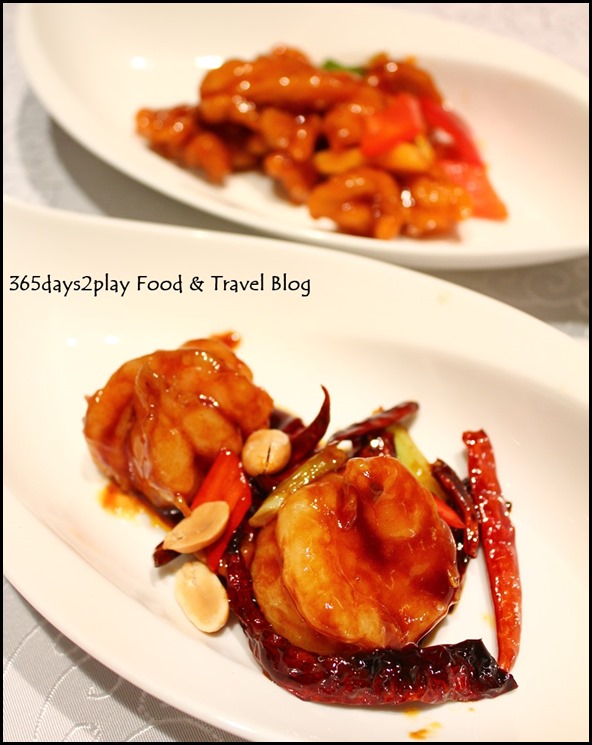 Kung Bao Prawns
While we were still having the soup, I suddenly remembered that my father doesn't eat meat. He usually just gives the meat dishes to us and skips the course, but I thought I'd try my luck with Yan Ting. We were pleasantly surprised that they were able to accommodate by offering this Kung Bao prawns at no additional charge. My mother and I were a little jealous that we hadn't thought to have our sweet and sour chicken changed to these voluptuous prawns at first. My father said the dish looked better than it tasted though.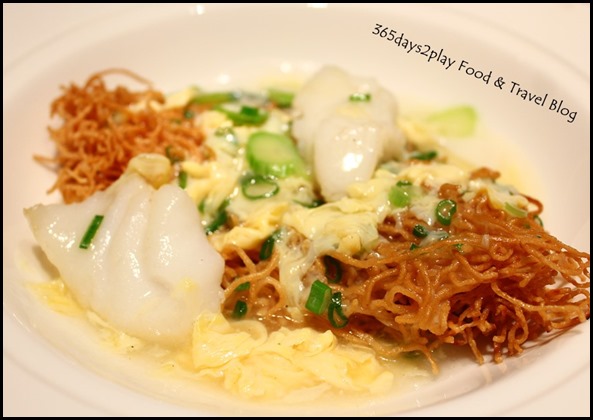 Cantonese style crispy egg noodles with sliced fish
All 3 of us unanimously agreed that this was a great tasting dish. Although you can easily find crispy egg noodles with gravy from most cze char stalls, this version was really well executed, from the super crispy noodles, to the silky smooth egg curds, to the fork tender fish. Not a strand remained after we were done.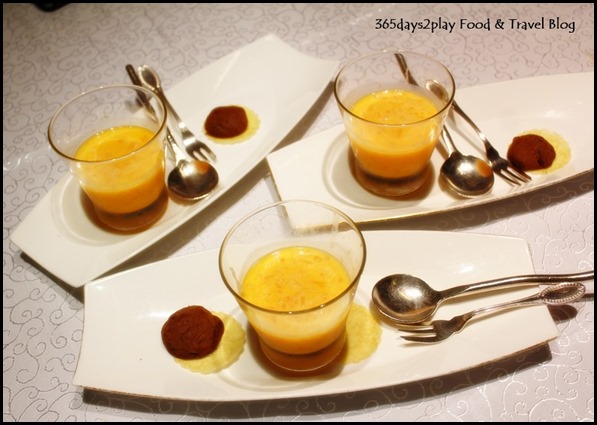 Chilled mango sago cream with pomelo served with mini chocolate biscuits
Always a crowd pleaser, this mango sago cream was not overly sweet and had generous amounts of mango pieces and pomelo bits. A great end to the wonderful set lunch at Yan Ting. The chocolate cookies seemed out of place in Chinese restaurant but they were surprisingly delicious. I polished one off when I was back in the office.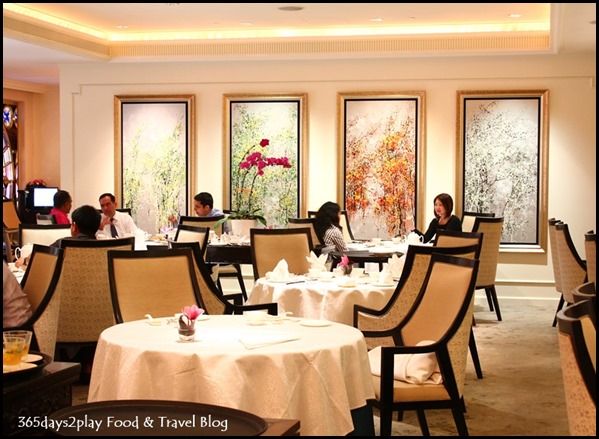 We had a really enjoyable time at Yan Ting. Although the dishes weren't "state of the art" dishes, the chefs delivered in terms of presentation and taste. The fantastic ambience also helped. I find it worth it to spend a little more to be able to dine in a comfortable and refined ambience, taking the time to enjoy each dish and all its details. What about you?
---
What is Restaurant Week : Restaurant Week happens twice a year, usually around March and October. Participating restaurants will serve a special 3-course set dinner for a fixed price of S$35++* and 3-course set lunch for S$ 25++*. There is an additional charge of $15 for lunch and $20 for dinner for restaurants with a DiningCity Star. Reservations for the Singapore Restaurant Week are ONLY possible via www.restaurantweek.sg.
Seats are hard to come by for Restaurant Week. If you've ever tried to book a table for Restaurant Week at the hotly sought after restaurants, you will know that it's literally a fastest fingers' first game. But, if you get the American Express Platinum Credit Card, you will enjoy having priority booking slots over the general public for Restaurant Week.
Other American Express Platinum Credit Card Dining Privileges
The American Express Platinum Credit Card offers free membership to two dining programmes, namely the Classic Far Card Membership and the PALATE programme. Under these two programmes, you have the opportunity to eat at over 80 fine dining restaurants, and enjoy drinks after, in Singapore at great discounts.
Over and above the above two aforementioned programmes, you can enjoy additional dining privileges under the Platinum Private Deals.
Lucky Draw Promotion (exclusively for Platinum Card Members): From now till 9 Nov 2014, you can also be one of the 5 lucky winners every day to win S$100 worth of dining vouchers (TungLok dining vouchers for Monday to Saturday draws and Fairmont dining vouchers for Sunday draws). Every receipt above S$50 earns you one chance to win.  Enjoy double the chances when you spend S$50 or more in a single receipt at any The Far Card or Palate establishment.
---
Add me on Facebook, Instagram and Twitter if you want to be kept up to date with the latest happenings in the food and lifestyle scene in Singapore! 
Check out my reviews of other Restaurant Week participating restaurants.
---
Yan Ting – Fine Cantonese Cuisine 
The St. Regis Singapore · Level 1U · 29 Tanglin Road, Singapore 247911  ·
Phone: +65.6506.6887 ·
Email: yanting@stregis.com
http://www.yantingrestaurant.com