I seldom visit the same restaurant twice, at least not twice in quick succession, so that I can try more restaurants.
Last month, I visited Singapore Marriott Tang Plaza Hotel to check out their latest Citrus themed afternoon tea. I'd actually visited back in late November as well, to enjoy their Belgian Chocolate themed afternoon tea, amidst the Christmas festivities.
Wish they provided clotted cream instead of normal cream for the scones.
Not consistent?
The experience in March was not as good as that of November's experience. Frankly, the food items are nothing to shout about, especially the savouries. The tart and the puff pastry were particularly stiff and dry, with fillings that were forgettable. Visually, they looked ordinary too, which leaves much to be desired in a time when hotels are falling over themselves trying to produce ever more instagrammable morsels for their afternoon tea service. The sweet items were better, and we managed to polish off nearly everything.
I recall the food to have been much better back in November. At least I enjoyed every single sweet item, so it was a bit of a surprise that the March menu was below par.
The 1 for 1 pricing makes it quite enticing
While the food may not be the pull factor, I am far from writing off Marriott's Afternoon tea. For one, the pricing is really enticing to me. The afternoon tea is priced at $48++ on Mondays to Thursdays and $58++ on Fridays to Sundays, with a glass of champagne thrown in for the extra $10. If you happen to have the Entertainer App, it allows you to enjoy the afternoon tea at 1-for-1 pricing! So my friend and I paid a grand total of $28 each after the discount. In some average restaurants along Orchard Road, you might have to pay more than $28 for just a main course, so I'm sure you will agree afternoon tea for $28 is a good deal! You'll be hard pressed to find a place to spend 3 hours that offers the spaciousness, and hospitality that the Lobby Lounge at Marriott offers. Check out what other Afternoon Tea promotions there are in Singapore.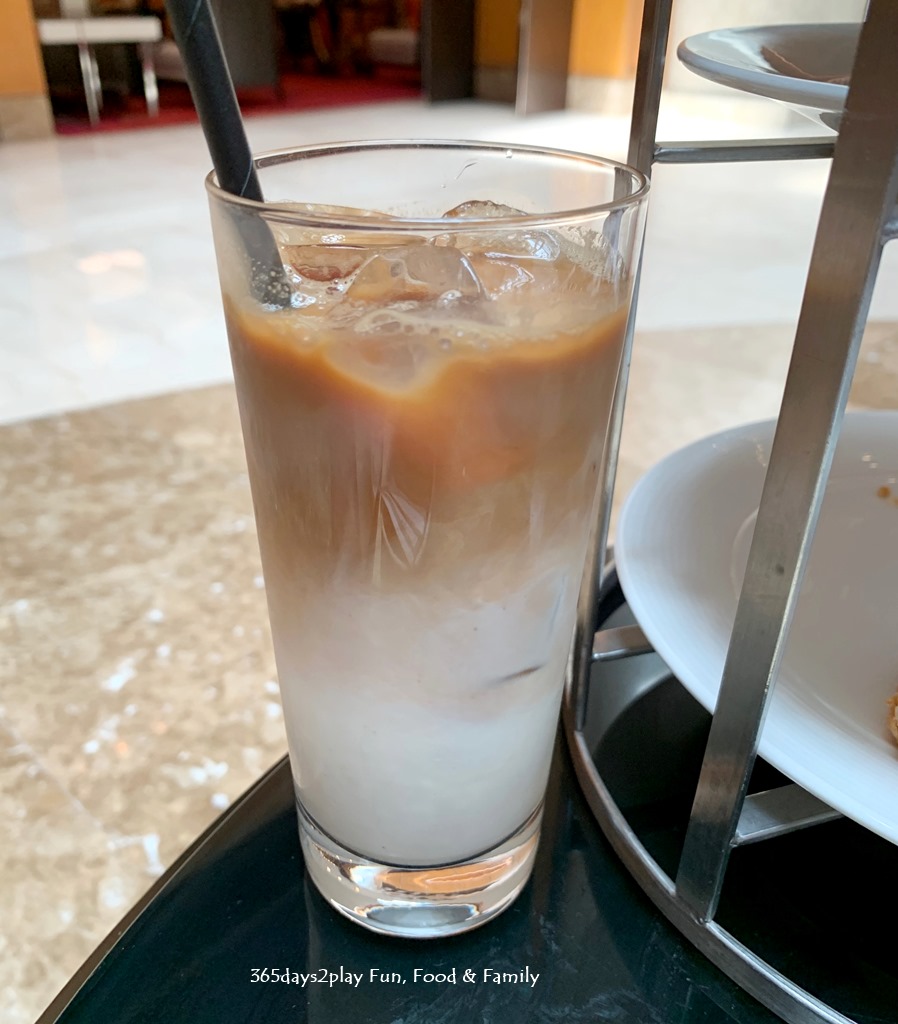 Iced cafe latte. This did hit the spot and they even managed to make a decaffeinated version for me.
Love the unlimited changes of tea/coffee
Also, Marriott is one of the few afternoon tea places that offers unlimited changes of tea/coffee. I had an iced latte and an iced coffee during my afternoon tea session. An iced beverage at a cafe would have set you back by $6 at least. If I need a quiet space to catch up with friends, I actually wouldn't hesitate to recommend Marriott again. Oh, might I mention that it's just a stone's throw away from Orchard MRT station? So convenient when coming by public transport. It's just a pity the March menu wasn't up to expectations. If it were similar to the one I experienced in November, that would be much better.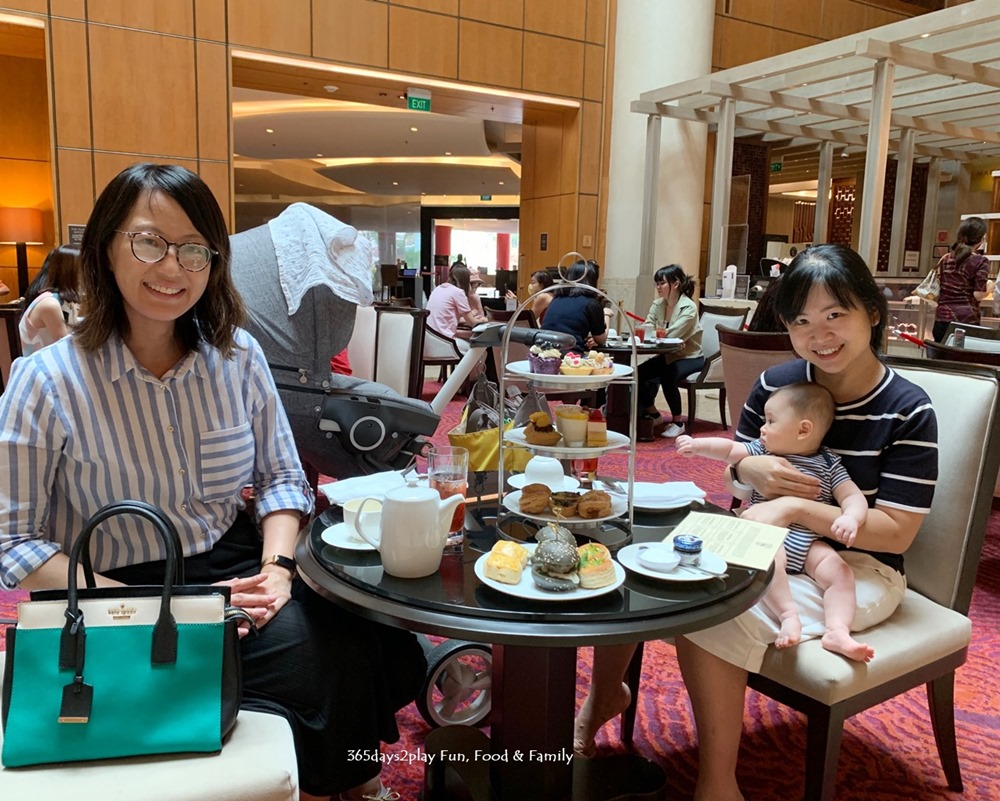 Alas, baby was not very cooperative and only napped for 1/2 hour during the entire 3 hour afternoon tea session! The rest of the time I had to hold her or bounce her, not to mention change her diaper as well as feed her!
If you want some place peaceful with unlimited tea and coffee and a couple of nice nibbles (or more if you're lucky), and especially if you have the Entertainer App, afternoon tea at Singapore Marriot Tang Plaza Hotel is worth considering.
Scroll down for more pictures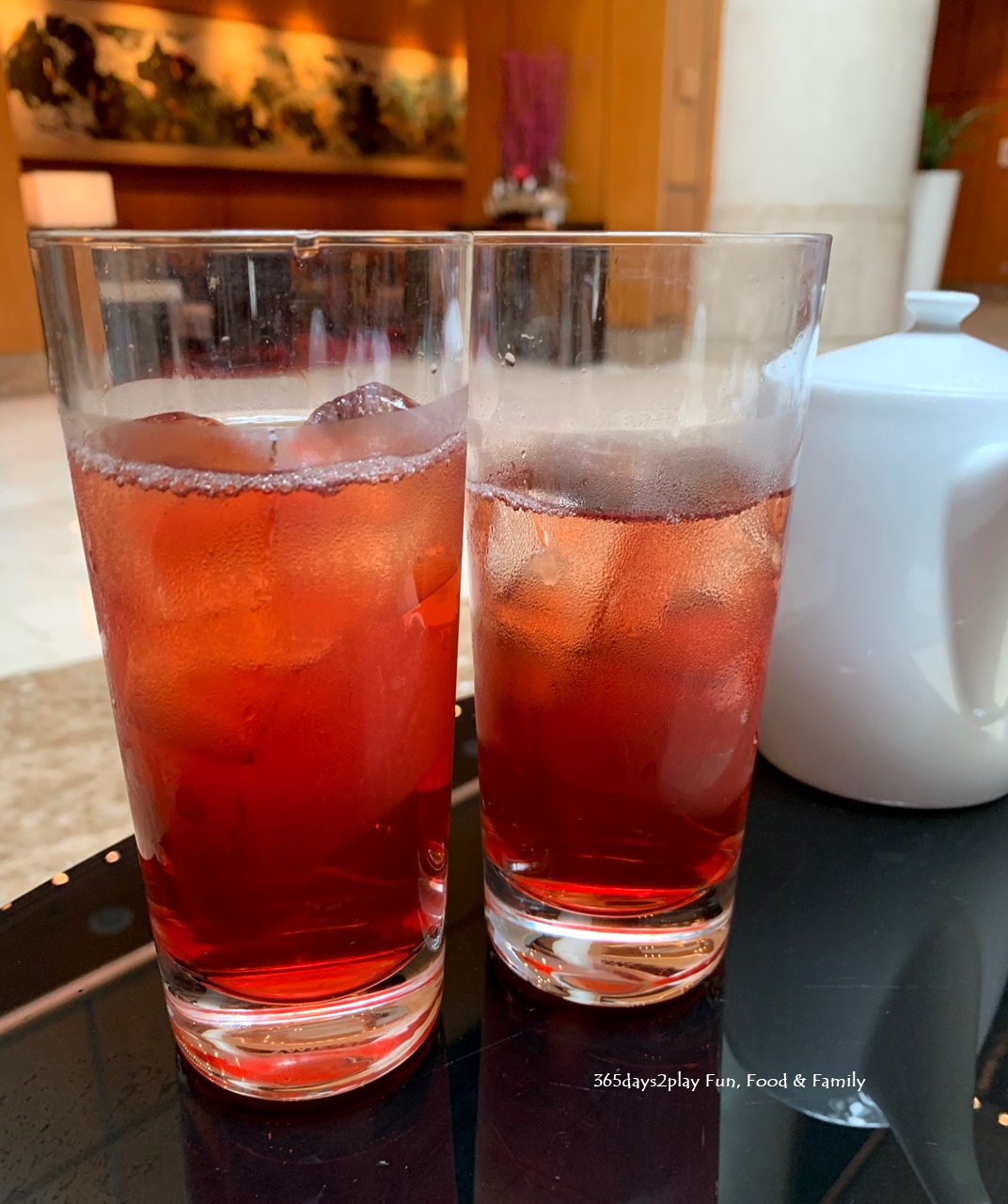 Welcome iced tea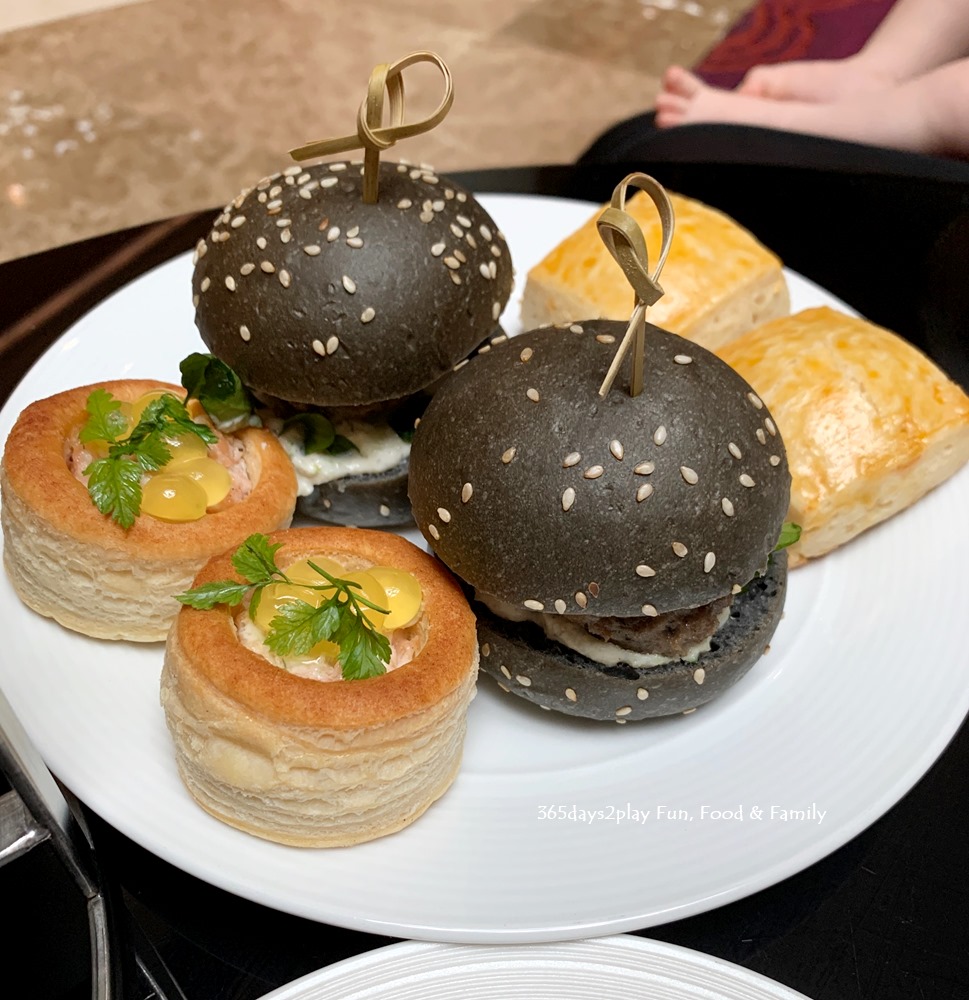 The savouries : Hot Smoked Salmon Rillettes Vol au Vent | Minted Cumin Lamb Sliders with Garlic Lemon Aioli & Pickled Cucumbers | Quiche of the Day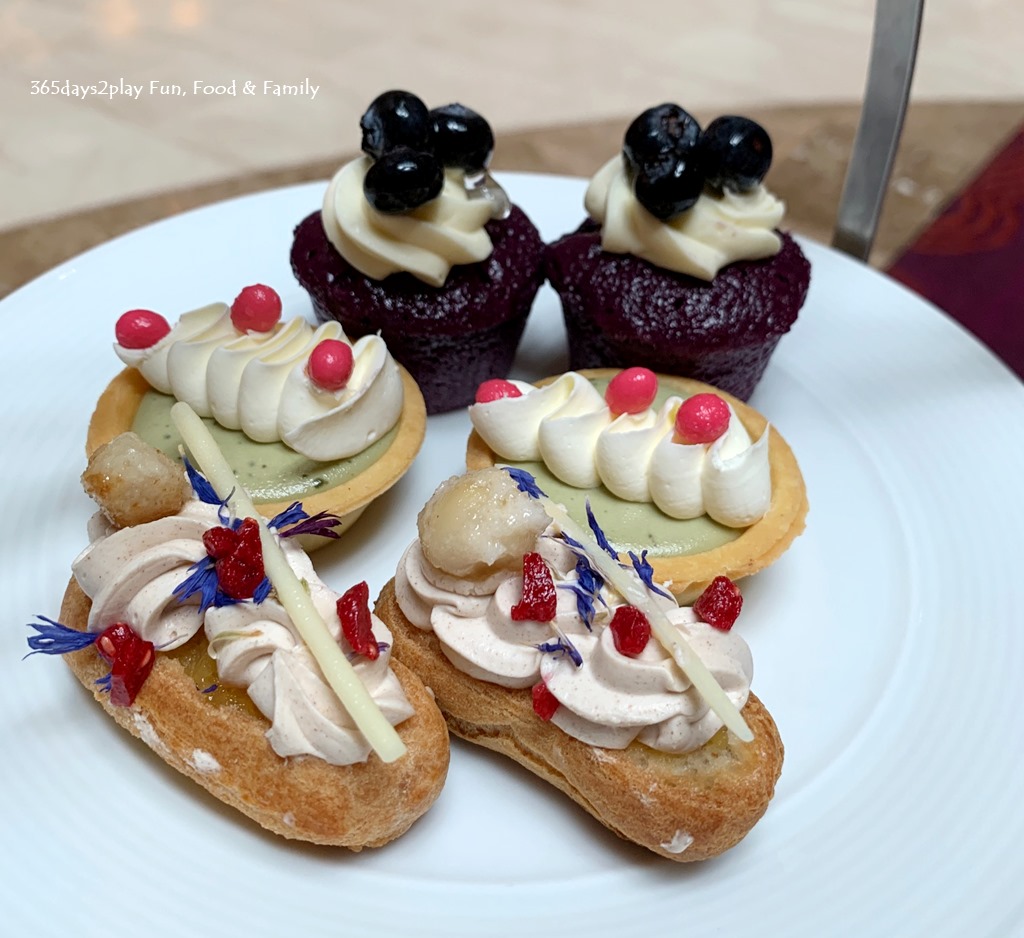 Champagne Panna Cotta with Mango & Pomelo | Yuzu Green Tea Cheese Tart | Sesame Madeleine with Kumquat | Jasmine White Chocolate Mousse Sandwich with Mandarin Orange Compote | Bergamot & Blueberry Pound Cake | Osmanthus Scented Pineapple í‰clair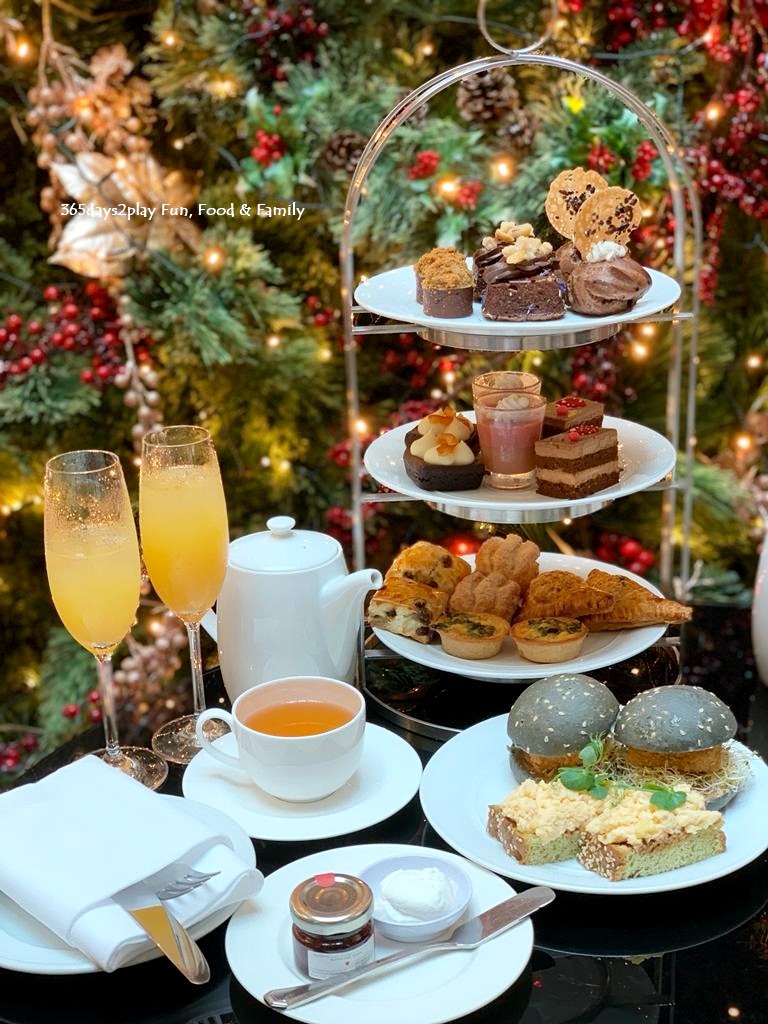 This was what we had during the festive season last year. We got the best seat in the house next to the humongous Christmas tree!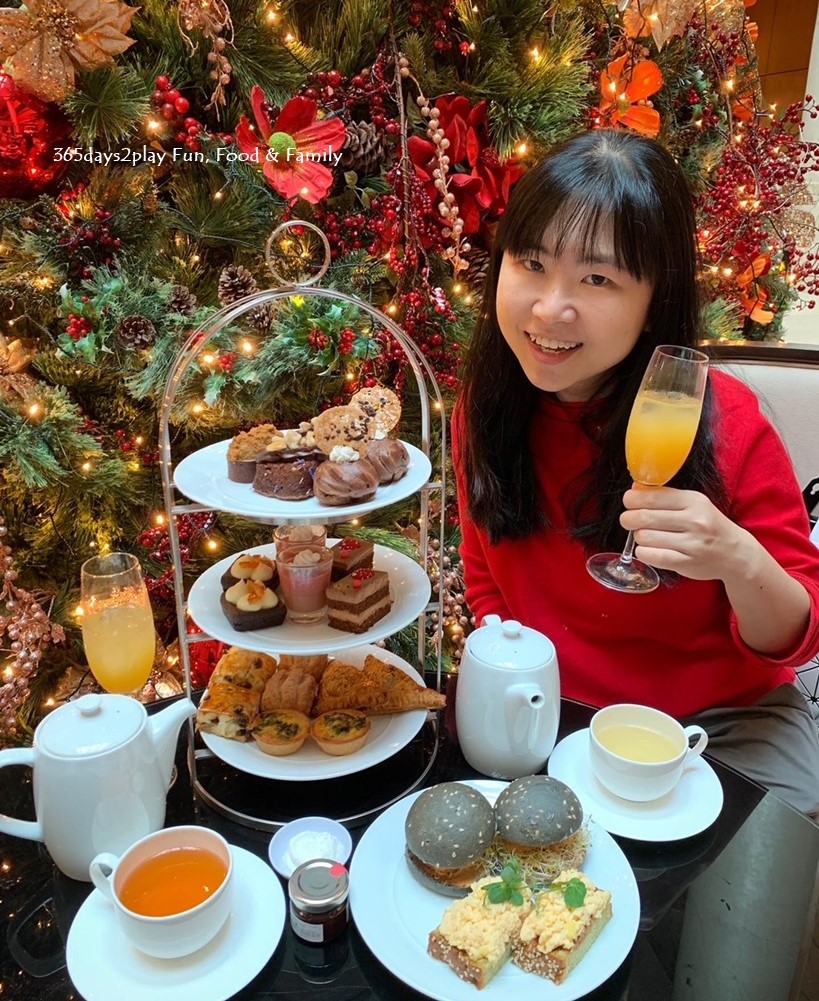 Cheers!
Check out other reviews of Afternoon Tea places in Singapore and Afternoon Tea Promotions
Lobby Lounge at Singapore Marriott Tang Plaza Hotel
320 Orchard Rd, Singapore 238865
Tel : +65-6831-4605
Website, menu and reservations: https://portal.marriott.com/sindt-singapore-marriott-tang-plaza-hotel-dining/lobby-lounge