After our lunch at Real Food at South Beach, we decided to look for a cafe to have some dessert and coffee. Even though South Beach looks sprawling, it actually has only 2 cafes specialising in coffee! Dimbulah was closed so the default option was Caffe Vergnano.
Lots of charging points for those who need juice for their devices
Thanks to the super high ceilings at South Beach, Caffe Vergnano looked very inviting. They made good use of the extra height by installing a historical timeline of their business. Very interesting I must say. I had no idea of Caffe Vergnano's illustrious background. This is a cafe run by Italy's oldest family-owned coffee roasters, and the roasting business started all the way back in 1882! They source and procure the finest quality coffee beans from around the world which are then slow-roasted to a time-honoured tradition. The Singapore outlet is the 100th outlet that they have opened!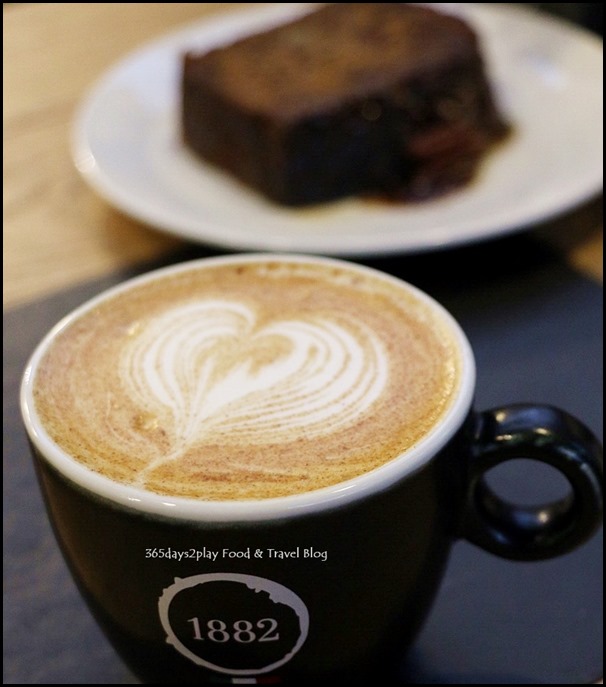 Chai Tea Latte $5.50
Caffe Vergnano offers coffees, hot chocolate in several variations as well as tea. The drink prices look pretty reasonable, eg $5 for a flat white. They also serve some hot food such as all day breakfast (but the selection is limited eg scrambled eggs with smoked salmon $12.90 or waffles with bacon and egg $12.90), and they have a selection of cakes and pastries at their counter. The cakes and pastries are on the high side. I was shocked to find out that a small slice of pecan pie or chocolate salted cameral pie costs $12.90!! In the end, we settled for a sticky date loaf $6.90, a chocolate muffin $4.50 and a slice of apple pie $12.90 which came with a scoop of vanilla ice cream.  Not cheap, but cheaper and hopefully more value for money than a small slice of pecan pie.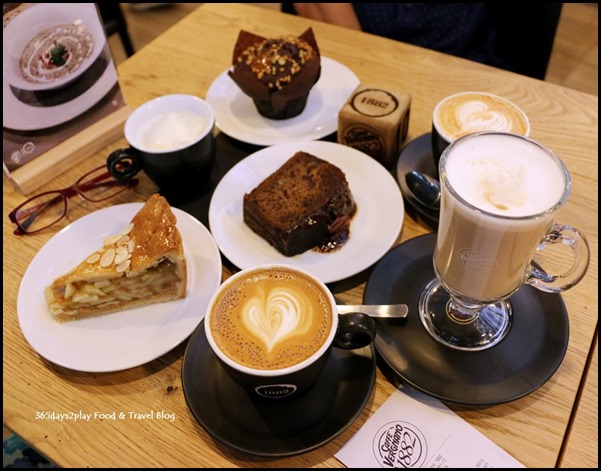 Our desserts and drinks shared amongst 4 people cost us about $37! And lunch cost us only about $45 at Real Food. But such is the reality of life. You have to pay if you want to enjoy life. The good thing is that everything we ordered was good! The coffee drinks were full-bodied and had oomph. My chai tea latte was pleasant, although I could definitely do with a spicier drink. According to my parents, the apple pie was fabulous and worth every calorie. They have chocolate drinks called choccolata $5.50 (think Angelina type thick), but they also have choccolata con latte $5, which has added milk and is less thick. I was almost going to go for this but went for the chai tea latte in the end.
The vanilla ice cream was really nice and according to my mother, tasted very similar to vanilla ice creams she had in her childhood and had been hankering for all these years. Everyone loved the date loaf I ordered, it had a strong date flavour, and wasn't too sweet. I personally liked the chocolate muffin that the Partner ordered, because it was chocolaty and more moist than the date loaf.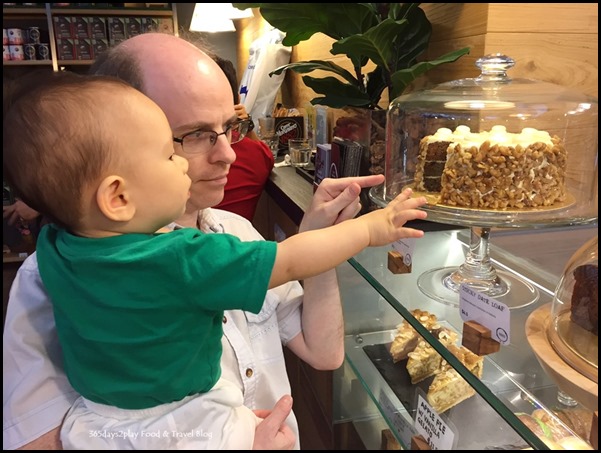 Starting him young. Food critic in the making… Some say all toddlers are born food critics…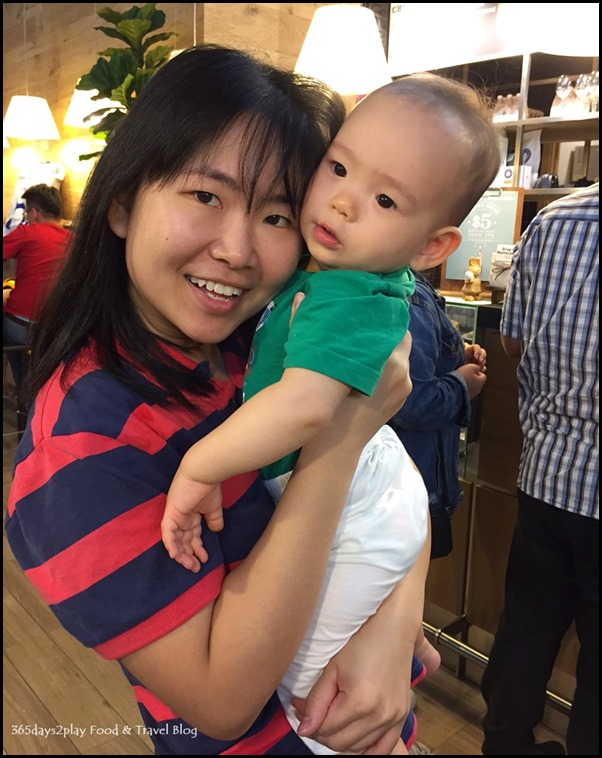 Come on, give Mama a hug….do I have to bribe you with a piece of cake?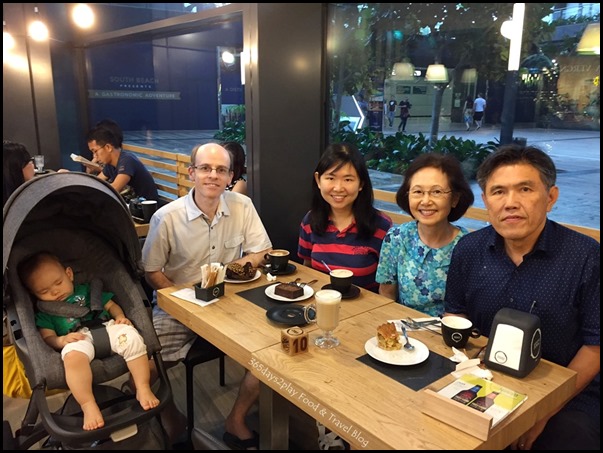 Everyone's smiling because the baby is asleep and we finally can have some adult conversation. The area behind us is where the alfresco seating is. However, despite there being a huge roof above, due to the design of South Beach, the rain still poured down so nobody could use those tables. Same case for many other eateries too.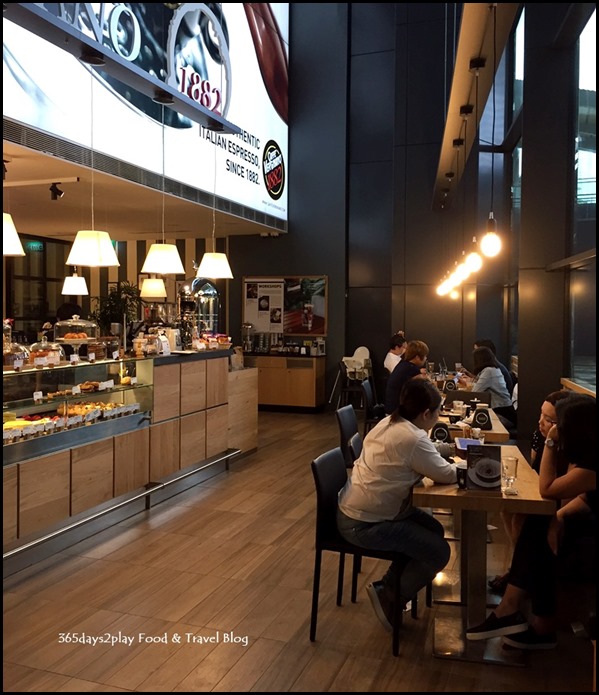 ---
Add me on Facebook, Instagram and Twitter if you want to be kept up to date with the latest happenings in the food and lifestyle scene in Singapore!
---
Caffí¨ Vergnano 1882
26 Beach Rd #B1-17 Singapore 189768
Tel : 6385 5579
MON — FRI : 7AM — 8PM (Last Order: 7PM)
"‹SAT — SUN 10AM — 7PM (Last Order: 6PM)
https://www.caffevergnano1882.com.sg/
https://www.facebook.com/caffevergnanosg/