[Media Invite]
Having lived in the East all my life, I've always wondered why something similar to Holland V isn't available in the East. The Siglap area has always struck me as an area with very good potential, but after decades, it still hasn't grown or changed much from what it was years ago and it still maintains its laid-back and quiet feel. There aren't that many outlets open past midnight, so it doesn't have the buzz that Holland V brings. But I suppose there's some good in that too because it means it isn't that crowded, crazy and pretentious?
But anyway, with the recent opening of IZA, a casual Izakaya bar nestled in the heart of Siglap, us living in the East have a new outlet to go to if we want to dine out late. IZA is open daily from 6pm — 1am, with last order of food at 12.30am. IZA has paired up with The Skewer Bar, which first opened an outlet in Geylang, to offer a mix of kushiyaki skewers as well as Japanese-inspired classic dishes. Japanese-inspired meaning the food is local, with Japanese elements to it. Or you could think of it as Japanese food that has been localised. Again, not a bad thing if you're craving for Singaporean comfort food.
Prices are pretty affordable, especially if you go for the rice bowls and noodles, which cost around $7.90 — $12.90. Table treats, starters and skewers seem reasonably priced too. Not a bad place to go if you want drinks and a variety of bites.
Let me start off with the items I enjoyed the most during my tasting session. I actually enjoyed the rice bowl and noodles very much, even though the skewers are supposed to be the highlight.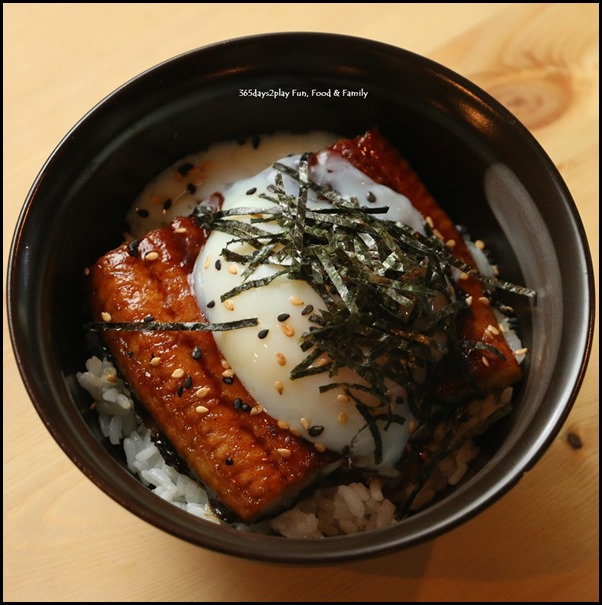 Unagi Don $12.90
This unagi don comprises a huge slab of unagi and is topped with a wobbly onsen egg. Really, for egg and unagi lovers, this dish needs no introduction. If anything, I wished that the unagi had had a bit more of the sweet sticky sauce.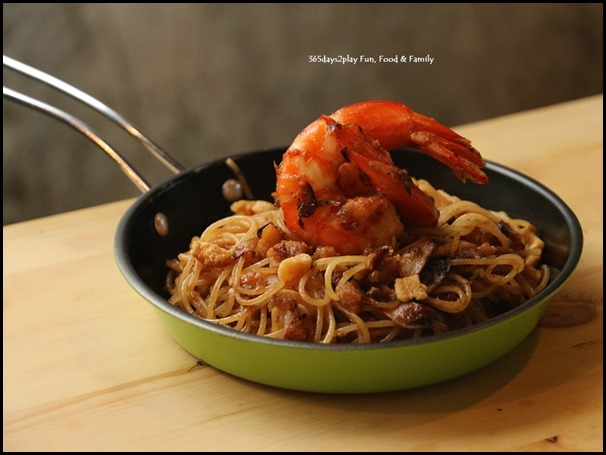 Hae Bee Hiam Spaghetti $11.90
Love this East meets West spaghetti that just hit the spot. I love the savouriness of the hae bee hiam sauce or spice mix if you will. Think Singaporean Aglio Olio. A very interesting version of spaghetti as compared to familiar favourites at Italian restaurants.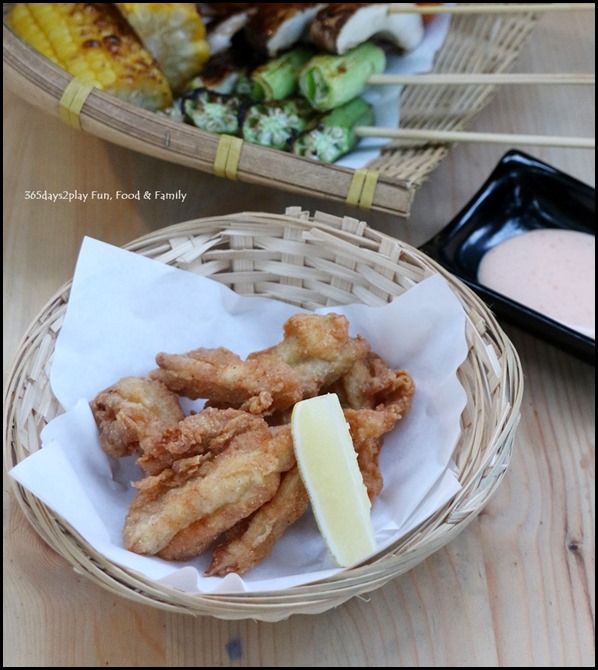 Deep fried chicken soft-bone $6
Another one of my favourites for the evening. Kept on chomping on these, I think I finished the entire bowl myself while the others were busy with their own favourites.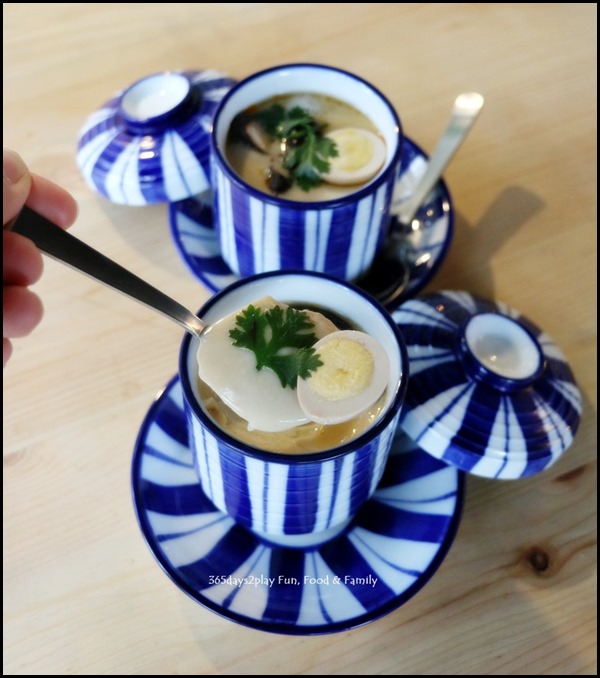 Four Ton Chawanmushi $4.50
A blend of 4 eggs : chicken, century, quail and salted. Come to think of it, why hasn't anyone created this before? Like a salted egg chawanmushi. I think I would love that. 4 is a bit too much for me though, too many flavours going on and personally I find century egg a bit bitter some times.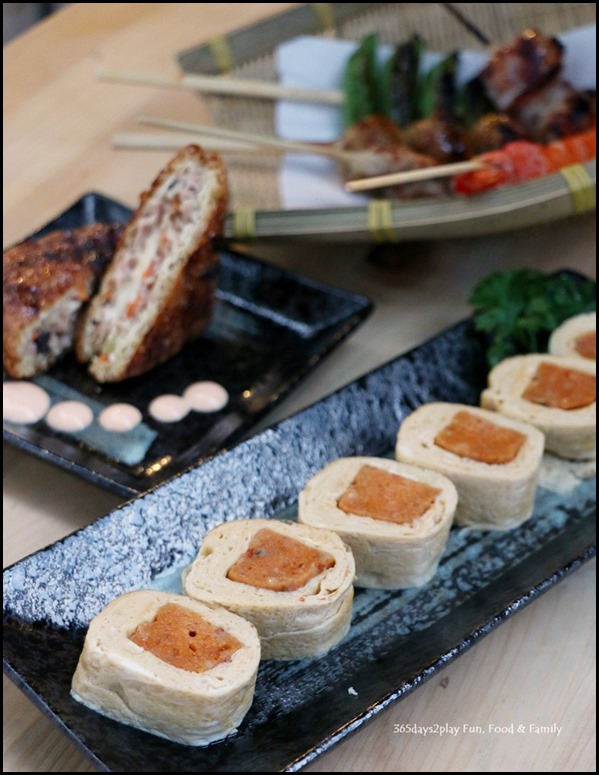 Otah Tamago (Japanese-rolled omelette filled with otah goodness) $6.90
Sad to say, these were a little rubbery tasting, both the otah as well as the omelette. It has so much promise though. I would most certainly try this again if the otah were a bit more soft and paste like. I think that would go very well with the omelette.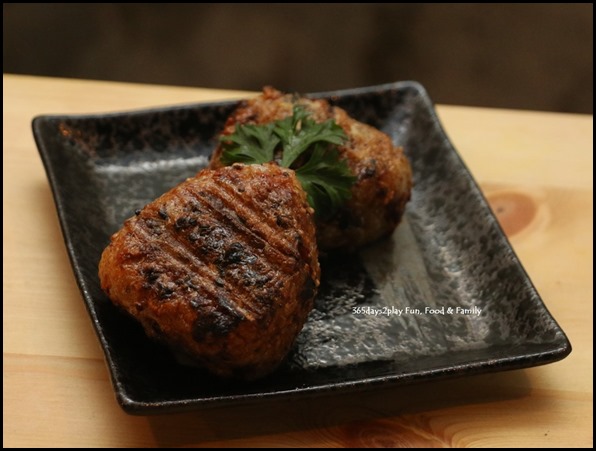 Special Yaki Onigiri mixed with hae bee hiam $5.90
I was told that a celebrity journalist loves these and often comes by to tarpow these. At first bite, I wasn't so sure. Just seemed like a compact bit of grilled rice. But as I ate several more mouthfuls, the hae bee hiam flavour came through, and the texture of the rice became quite moreish.
Stuffed Taupok Special (Taupok stuffed with minced chicken, mozzarella, onion, carrot, mushroom) $3
I'm a fan of tau pok, so I enjoyed this stuffed tau pok with its accompanying mayonnaise.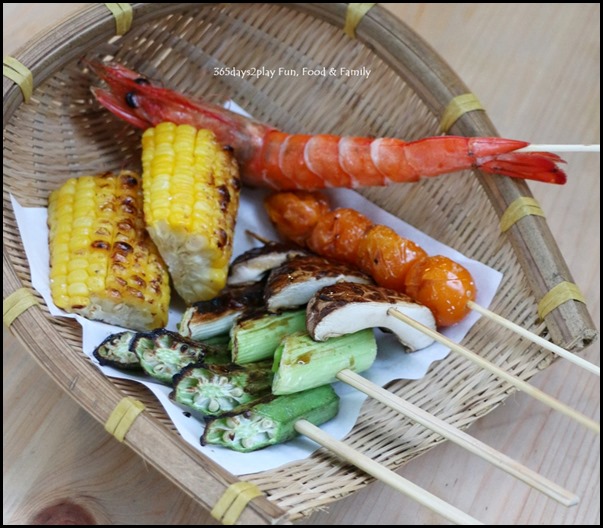 Skewers (Bacon wrapped lychee, hand-made chicken & pork meatball, lady's finger, prawn)
Quite an affordable selection of skewers, starting at $1.90 for things like chicken, lamb, chicken heart and veggies, and going all the way to $3.50 for scallop and unagi. If you take the innermost table next to the kitchen, you can even watch The Skewer Bar guys in action, grilling the food right in front of you.
Like so….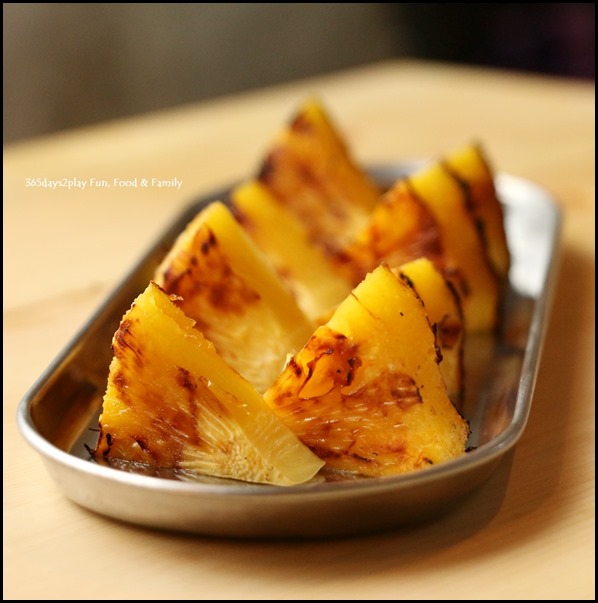 Grilled Pineapple $2
And last but not least, grilled pineapple for dessert! Actually very good, tasted very sweet after the grilling treatment.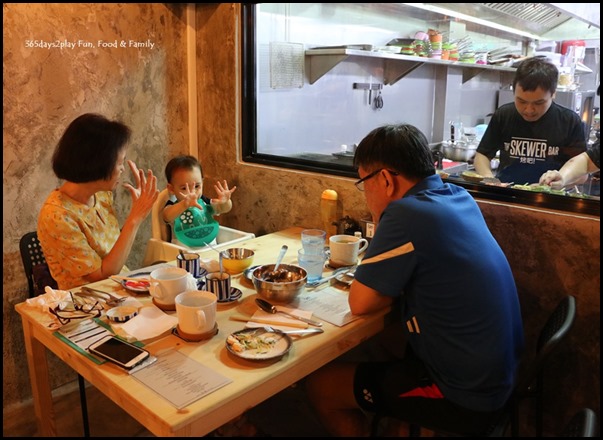 See our table right next to the action? Okay it kinda looks creepy with those two guys seemingly so close to our table, now that I look at the picture. But it didn't feel that way when we were seated there. Edward was really happy to be able to watch what was going on, and the guys kept waving and smiling to him too! Here's him doing twinkle twinkle little star or something.
---
Add me on Facebook, Instagram and Twitter if you want to be kept up to date with the latest happenings in the food and lifestyle scene in Singapore!
---
IZA | The Skewer Bar
695 East Coast Road, Singapore 459059
Tel : 6385 2883
Email: chillingatiza@gmail.com
Facebook : https://www.facebook.com/iza.bar.siglap/
Operating Hours  Monday — Sunday 4pm — 1am    Last Order (Food) : 12.30am