It's less than 1 week to Christmas! How's your preparations for Christmas, are you in a festive mood yet with all the malls and streets decked in Christmas baubles? Last week, the Partner and I went to check out Fullerton Hotel's Festive Afternoon tea and boy was the hotel ready for Christmas or what.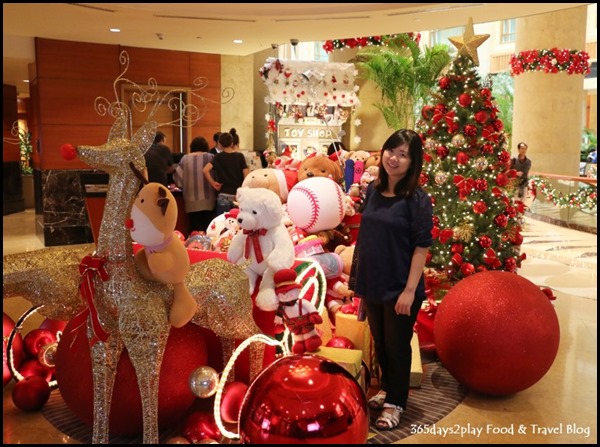 A huge Christmas tree and sleight spilling with presents and teddy bears had been placed right at the entrance. And every conceivable pillar had been plastered with red and green hued plants and Christmas Lights. A bubble machine was blowing bubbles from the second floor so it kinda felt like stepping into a winter wonderland with falling bubbles pretending to be snowflakes.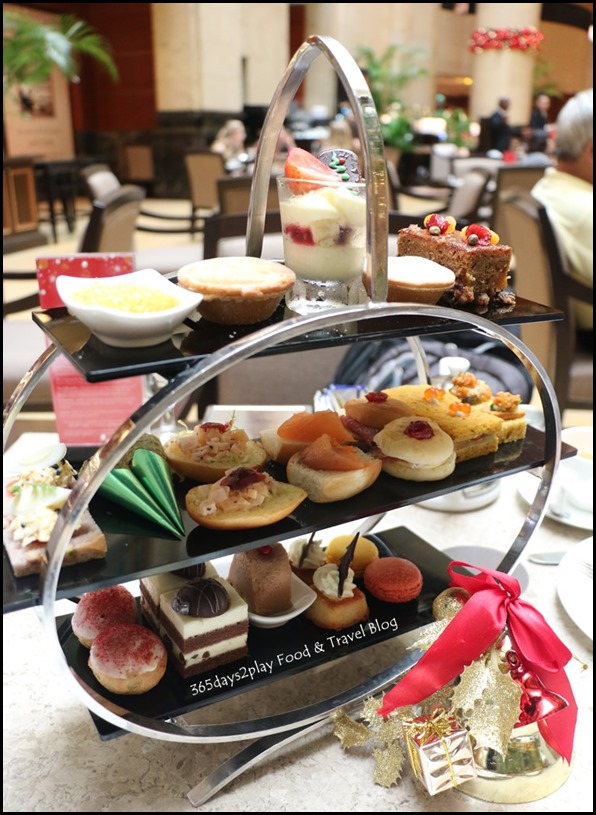 Anyway we didn't waste too much time with the Christmas decorations because we wanted to zoom straight for the food! Check out this 3 tier of afternoon delights, it's a feast for the eyes! And you know what, the best part is that you can have your favourites topped up as many times as you like!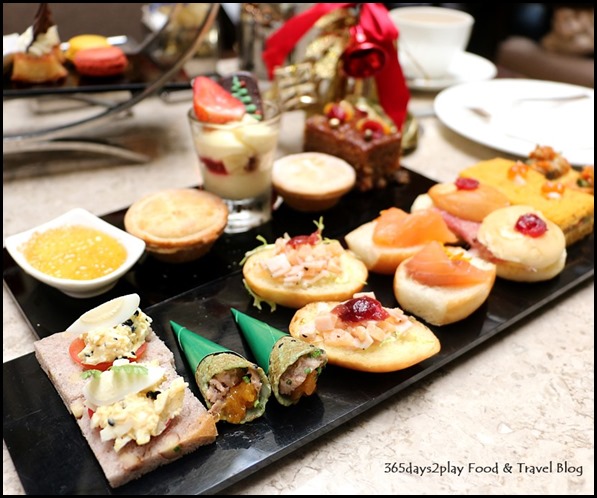 We took the trays out for easier access to the food. Ok I lied, it was to take more pictures.

I'm a savoury food person so I zoomed straight for all the savoury morsels. My ultimate favourite was the duck rillettes in the green cones. I think many people liked it too because the next table had ordered a plateful of them, like 10 on a plate!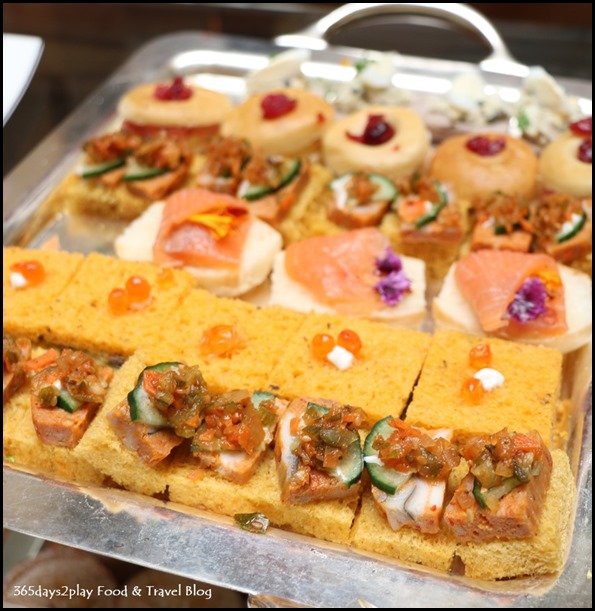 Another favourite of mine was the otak-otak with quail egg, which I believe I had 6. And of course the perennial favourites like smoked salmon and egg mayo caviar on whole meal.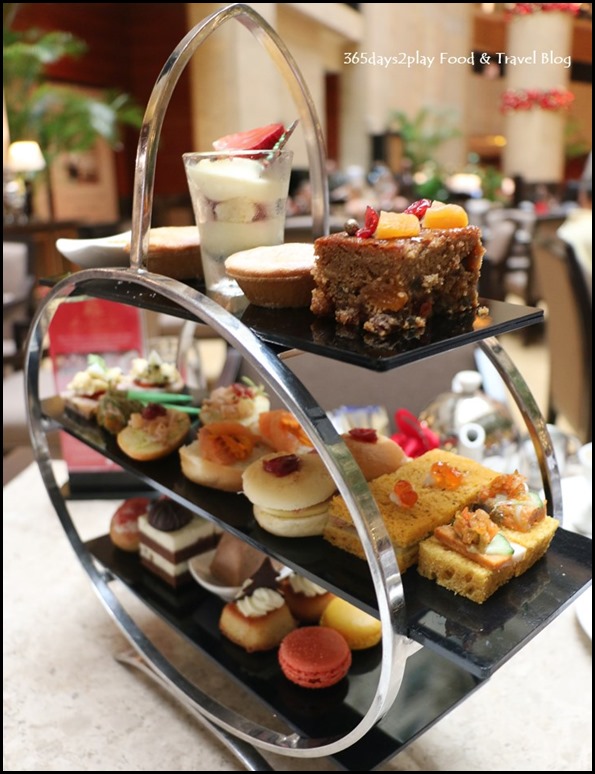 Here's another angle of the 3 tier afternoon tea set
Of course no afternoon tea can ever be complete without scones, and as I always say, put as much cream and jam on the scone as can be fit on it, that's really the only way to enjoy them!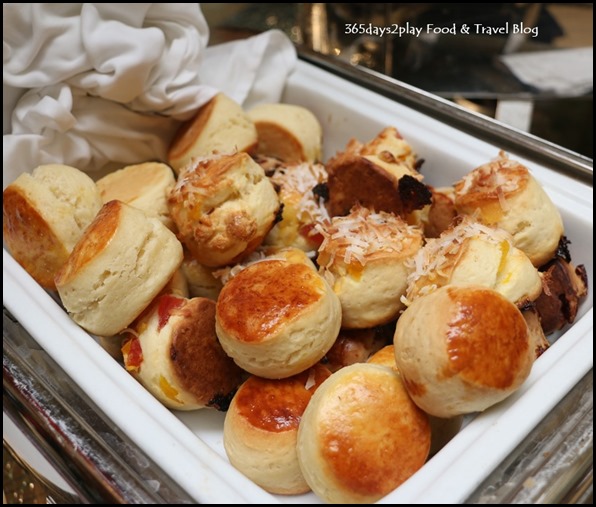 Snuck a shot of the scones tray (they will serve the scones to your table). We didn't get to try the coconut ones as that was for the 2nd sitting.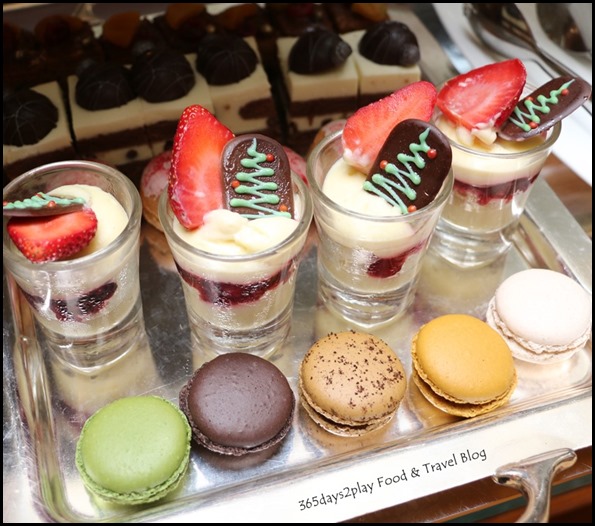 After all the savoury bites, we moved on to the sweet ones. But both the Partner and I are not super sweet teethed people so we exercised moderation on the dessert platter (after binging on the savouries…). But one thing you have to save space for are the Fullerton macarons. They are really nice! Crispy shell with chewy fillings, and not too sweet. Pretty consistent in standards too, if I remember my last visit to Fullerton's Afternoon tea correctly.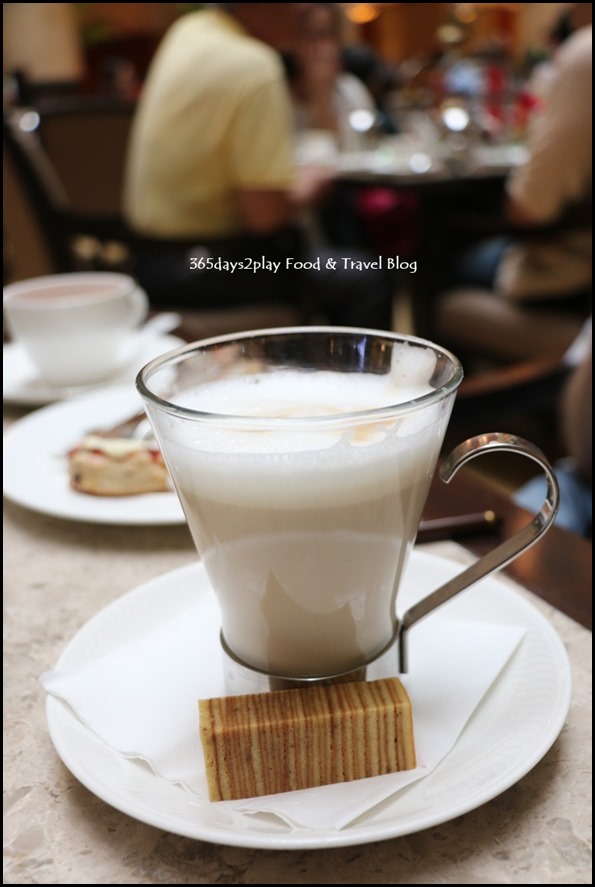 And what's afternoon tea without tea. Ok I forgot to take a shot of the tea I had, but here's the decaffeinated latte I had, which is probably the best decaf coffee I've had ever! It beats some of the normal lattes I've had too. And nice touch on the kueh lapis, that was delicious.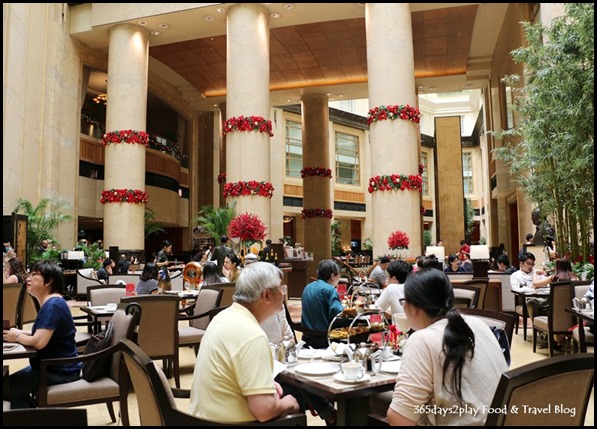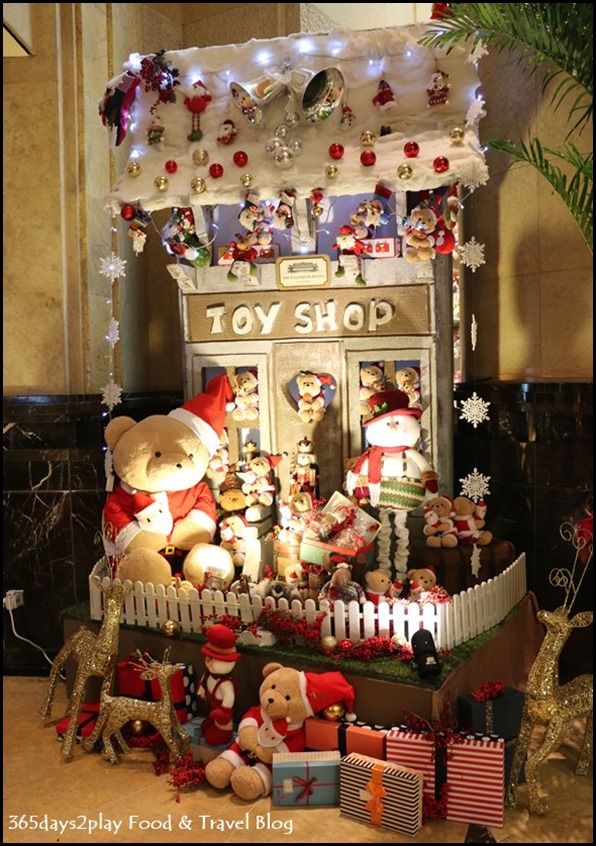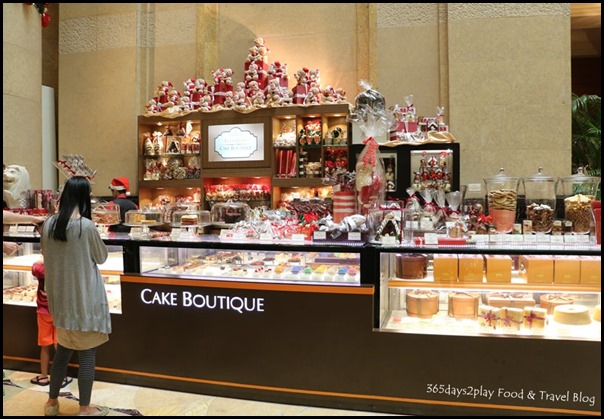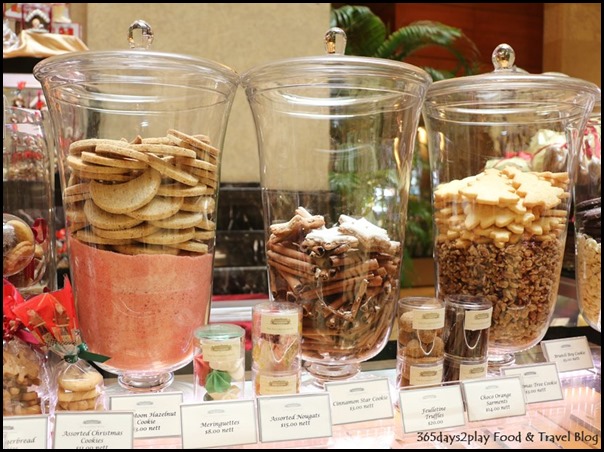 Took a walk around the hotel and I really love the cake boutique, it looks so festive! The cookie jars with all the Christmas cookies are amazingly huge! I'd love to have some of these jars in my house, don't you think they'd be eye catching?
Anyway, do check out Fullerton Hotel's Christmas Afternoon tea if you're looking for some more affordable festive bites but don't want to splurge on a full scale Christmas dinner buffet. Christmas Afternoon tea is my secret way of enjoying the festivities at a more affordable price!
Fullerton's Festive Afternoon Tea is available from 27 November 2015 to Wednesday 30 December 2015 and 1st January 2016 at $49. Comes with free flow of tea.
Festive Afternoon Tea Menu
Savoury
Whole Meal Egg Caviar
Tomato Cucumber with Pesto Mayo Sandwich
Duck Rillette Mini Sesame Cone with Apricot Chutney
Mini Bagel with Cheddar and Parma Ham
Otak Otak with Quail Egg Sandwich
Turkey and Sweet Melon on Saffron Roll
Smoked Salmon, Ginger May on Dill Roll
Sweets
Chocolate and Fromage Blanc Cake
Winter Chestnut Mousse Cake
Kerman Pistachio Choux Puff
Festive X'mas cookies
Tahitian Vanilla Red Fruit Trifle
Gingerbread Spiced Creme Brulee
Xmas Traditional Fruit Cake
Four-Spice Cranberries and Plain Scones
Yuletide Macarons
Minced Fruit Pie
Lavendar Flavoured Financier
Favourites can be topped up, and comes with unlimited teas.
---
Add me on Facebook, Instagram and Twitter if you want to be kept up to date with the latest happenings in the food and lifestyle scene in Singapore!
Check out other great places for afternoon tea in Singapore
Previous visit to Fullerton Hotel for their afternoon tea
---
The Courtyard at Fullerton Hotel
1 Fullerton Square, Singapore 049178
Tel : (65) 6877 8129 or email thecourtyard@fullertonhotel.com
http://www.fullertonhotel.com/dining/diningCategories_4-en.html