[Media Invite]
After a change in management, Tim Ho Wan has gone through a menu revamp. I am glad to report that you can now expect many new creations as well as improved classics. Tim Ho Wan is also on another expansion plan. The latest outlet to open is the 11th outlet in Punggol Waterway Point, which would be most convenient for people living in the far north as there is no other Tim Ho Wan outlet nearby.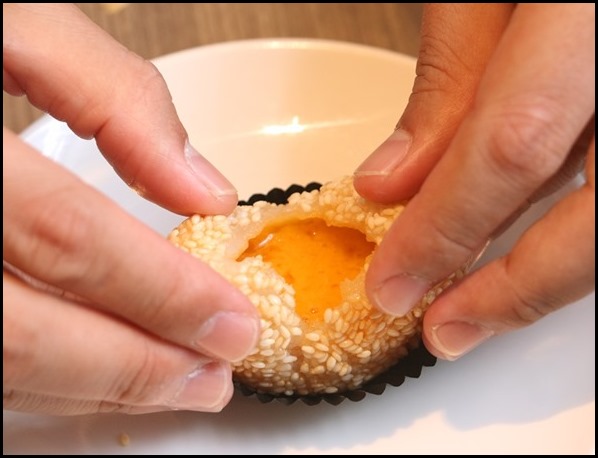 The last time I visited Tim Ho Wan was in late 2013. Since then, a number of outlets have opened and closed, such as the ones at Toa Payoh, Aperia Mall and Bedok Mall. To be frank, the food then did not impress me. It just didn't strike me as Michelin quality, and certainly not worth the 1 to 2 hour queues then. There were some hits, but there were numerous misses too. Thankfully, I think with this current menu revamp, there are now more dishes worthy of trying. And with numerous outlets dotted over the Singapore, the queues aren't as scary anymore. Scroll down to see which dishes I thought were great, and those that were not so. These were all tried at the new Punggol Waterway Point outlet.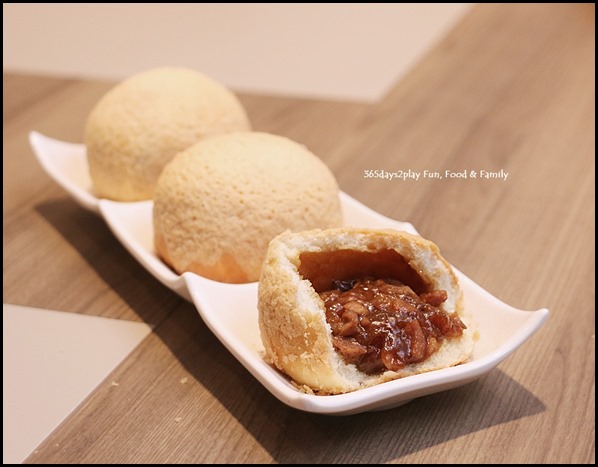 Baked BBQ Pork Buns $6.30
This is Tim Ho Wan's signature dish and one they pride themselves on. You haven't really been to Tim Ho Wan if you haven't tried these Baked BBQ Pork Buns. Glad to report that these tasted much better than the ones I tried years ago. The crust had a crisp exterior with a fluffy interior, and the fillings were generous and meaty. I liked the sweetness level although some dining companions commented that they preferred the sweeter earlier version. In any case, this is definitely worthy of at least one try.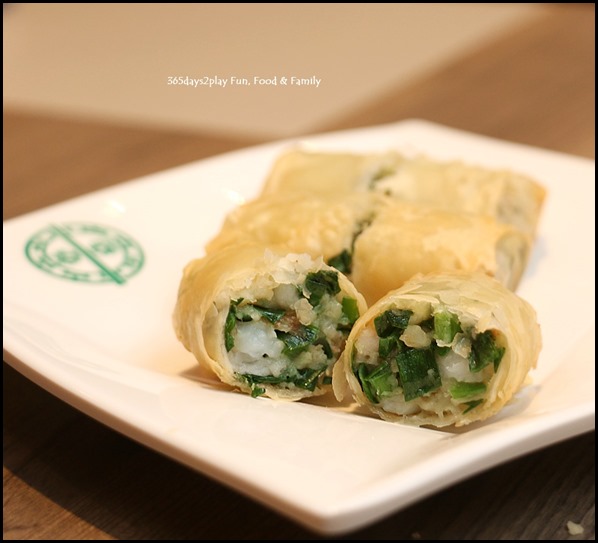 Shrimp with Chives in Filo Pastry $5.50
You don't normally find filo pastry being used for dim sum in Singapore. What is more commonly used is a spring roll type covering, which gives a very crisp but slightly harder texture when deep fried. This filo pastry here was very light and delicate and actually quite an interesting change. I also liked the fillings. Despite not being a chive lover, I found the shrimp to chive ratio to be just right such that it was not bitter for me.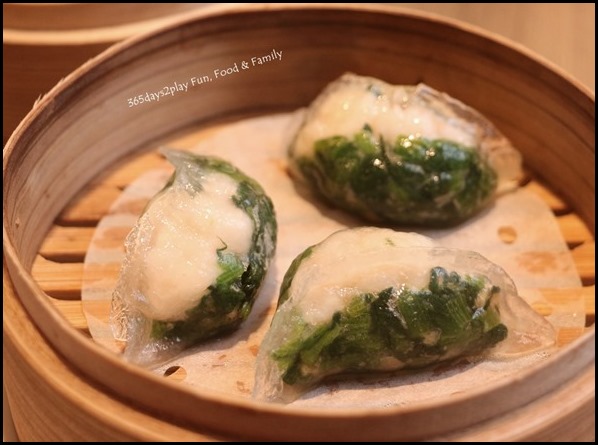 Spinach Dumplings with Prawn $5
Everyone unanimously agreed that this dim sum was delicious. Again, voluptuous fillings, huge shrimps and delicate spinach, a very good flavour combination. I am told this is a hot favourite at the restaurant, especially with women. Perhaps the health factor of the spinach appeals to women, but men should not miss out on this delightful dish.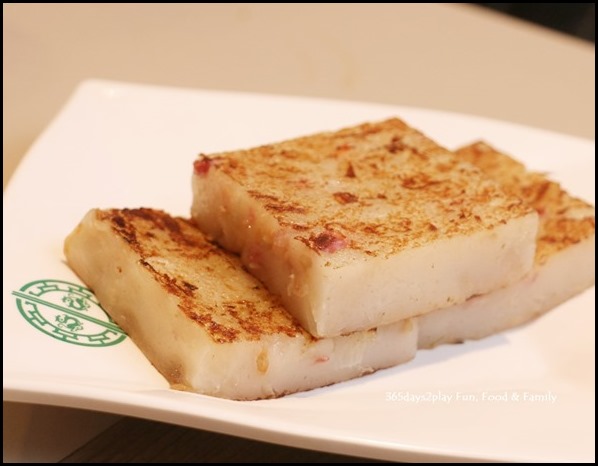 Radish Cake
Not something I usually order at restaurants because I find it to be just starchy cakes of carbohydrates. But Tim Ho Wan's version, you can actually taste the slivers of radish, which not only imparts a nice texture but also makes the cakes juicier.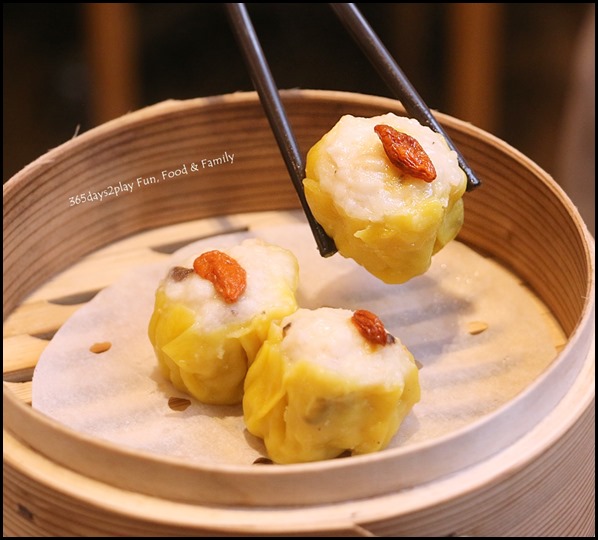 Prawn & Pork Dumplings (Siew Mai) $5
Can't really go wrong with this dish, although goji berry is used as a topping instead of the traditional roe.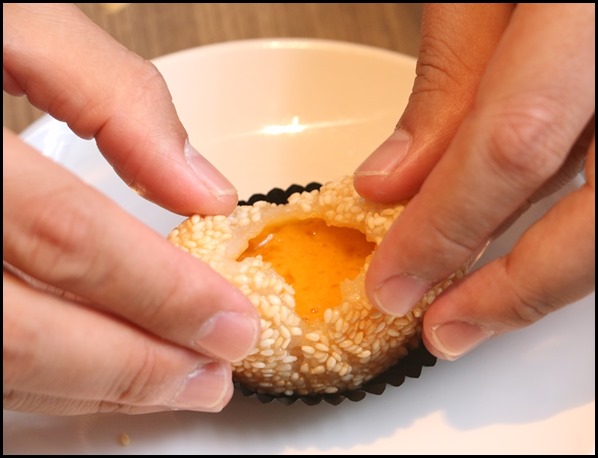 Sesame Balls with Molten Salted Egg $4
Instead of the molten salted egg buns (liu sha bao), they have created a version using sesame balls instead. Very innovative of them and I loved this dish. There was a huge amount of molten salted egg in the sesame balls and they were so piping hot that we had to use scissors to snip open a crack or we might end up with burnt lips! Some dining companions commented that they preferred thicker salted egg lava, but I thought this was just fine for me and I enjoyed it very much.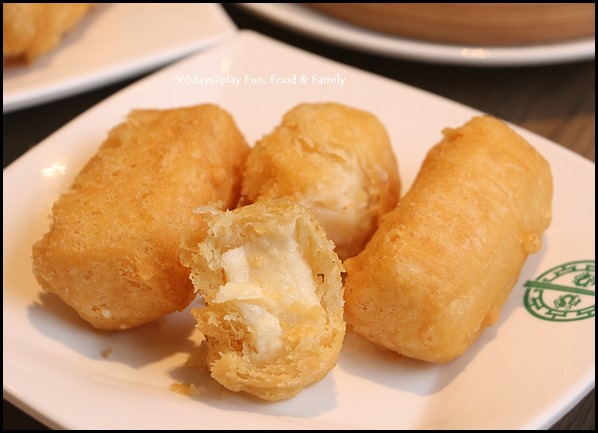 Deep Fried Milk Custard
I don't think I've ever tried deep fried milk custard before. Anything dairy based always gets my attention so I requested for this special order. I must say the milk custard itself is quite pleasant with a mild and milky taste. However the exterior felt overly fried and greasy, which just didn't seem to go well with the delicate interior.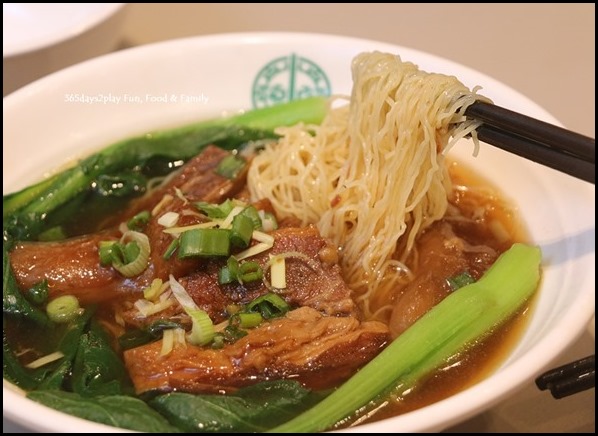 Hong Kong Braised Bee Soup Noodle $9.50
You can skip this too unless you really love Hong Kong Style noodles. The alkaline taste of the noodles was really strong. I am told this is how it is in Hong Kong, but unfortunately, I didn't like it.
---
Add me on Facebook, Instagram and Twitter if you want to be kept up to date with the latest happenings in the food and lifestyle scene in Singapore!
---
Tim Ho Wan (Various Outlets)
Waterway Point : #01-62, 83 Punggol Central, Singapore 828761
Opening Hours : Monday — Friday 11am — 10pm | Saturday & Sunday 10am — 10pm
Tel : 6243 7088
Website : http://www.timhowan.com