I am so smitten by these Man-Cakes that I had to just mention them upfront. Now is this creative or what? Mini pancakes served in beer mugs, with generous dollops of clotted cream. And did I mention bacon, because bacon just makes things taste better. You will laugh when ordering it, and it will be fun to eat too.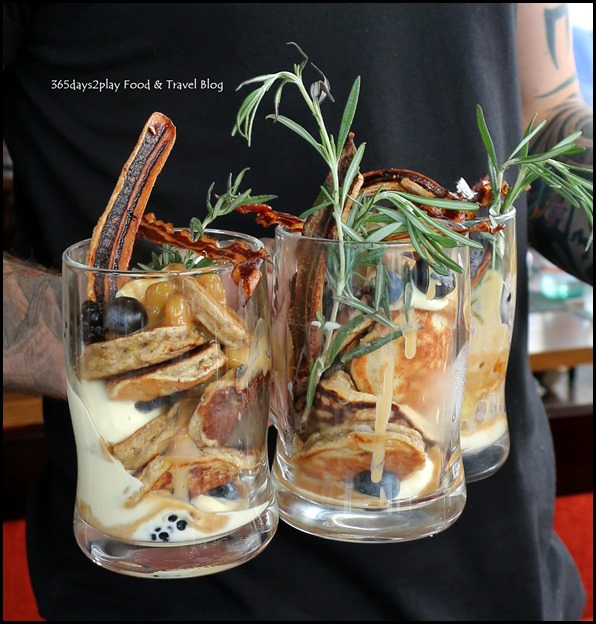 Bacon Man-Cakes (Banana, Maple, Clotted Cream) $15
And I think the Man-Cakes epitomises the philosophy of LeVel33, which is to establish itself as a relaxing and fun place to dine at, especially on the weekends. There are so many items on the menu I want to try just because they sound so interesting! Btw, the person holding the beer mugs is Executive Chef Jimi Tegerdine himself. Chef Jimi has been working in the culinary world since 2001, and has had experience in numerous locations such as The Relais de Coche in South of France, Wagamama and Cho Gao in Australia. At Cho Gao, his role was to give a fresh interpretation of traditional Asian dishes from Thailand, Vietnam, India, China, Indonesia and Japan. And you will see these Asian influences again in the dishes that are served at LeVel33.
Scroll down further for our review of the recently revamped Saturday lunch menu.