Yes, Man Man Japanese Unagi Restaurant and Uya Japanese Unagi Restaurant are both Singapore brands, but Unagiya Ichinoji is the first unagi restaurant hailing from Japan to open in Singapore! If you are a fan of unagi and simply can't get your fill, you might just want to check out Unagiya Ichinoji.
Unagiya Ichinoji is opened by Miyagawa Honten, which is one of Tokyo's most well-known unagi restaurants, with a history spanning 125 years. Miyagawa Honten operates 20 outlets in Japan, and its outlet in Meguro-ku Tokyo has recently been awarded Bib Gourmand in Michelin Guide Tokyo 2018. Unagiya Ichinoji is its first foray overseas.
So what's the difference between the unagis? According to the media release, the unagis aka eels are first steamed then grilled. The sweet basting sauce (tare) is from a recipe that has been passed down for 4 generations.  I personally have not tried Uya, but I have tried Man Man Japanese Unagi. I would say that Man Man's unagi have a crisper exterior, and a light and flaky interior. Unagiya Ichinoji's unagi is firmer to the bite and less crispy.
The following are the various preparation methods we tried. You should go for the preparation method which best suits you. Ie, go for the Seiro Mushi if you want something really light, and go for the Mamushi Donburi if you want something with stronger flavours. The Hitsumabushi is kinda like the all-rounder to me.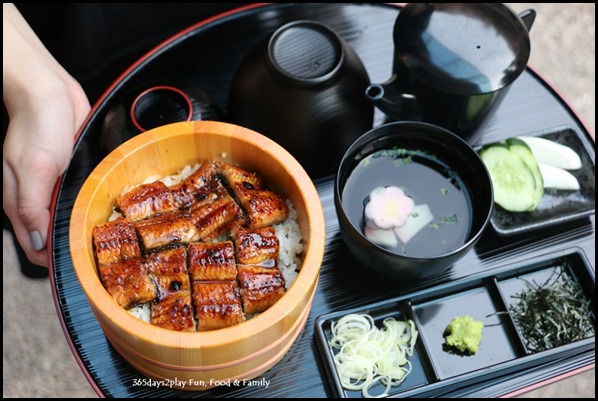 Hitsumabushi (L) $32.80