The elusive Black Earth Restaurant. It is true what other bloggers say, this place doesn't have a big sign board at all, and you could very easily walk past or drive past it without noticing its existence.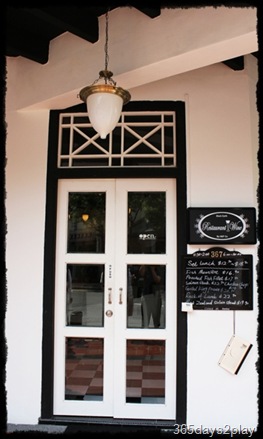 It's easy enough to come here. It's along Joo Chiat road, and if you're taking the bus, the bus stop is just a few shops away. And if you're driving, there is a car park right beside it, since Black Earth Cafe takes up the corner unit. While Joo Chiat is famous for the variety of local food available here, Joo Chiat is not really known for its western restaurants, mainly because people don't really know that there are western restaurants here. But I see in the last year or so, several new western eateries have sprung up, such as Black Earth, Obolo and Everything with Fries. It is quite nice to walk down Joo Chiat street, marvelling at the old architecture and savouring the old and new.
Back to Black Earth Restaurant. I really like it's black and white decor. Makes the place look so European. Black Earth Cafe serves mainly western dishes. They had a set lunch going on, even for a Weekend. For between $12.90 to $18.90, you get a soup of the day, a main course of your choice, and dessert of the day. There were 4 choices for the main course:-
Poached chicken roulade served with assorted vegetables and mango sauce – $12.90

Poached Snapper fillet served with assorted vegetables and dill lime sauce – $15.90

Sirloin Steak with Salsa served with Assorted Vegetables and Honey Mustard Sauce – $17.90

Pan-seared Lamb Rack with Salsa served with assorted vegetables and mint vinaigrette sauce— $18.90
The set lunch is really worth it because ordering the same dish from the normal menu can be even more expensive. For example, the poached chicken usually costs $14.90.
The partner tried the Pan-seared Lamb Rack, while I tore my eyes away from the set menu and chose Chicken Chop instead. For some reason, I had a craving for not just chicken, but specifically chicken chop.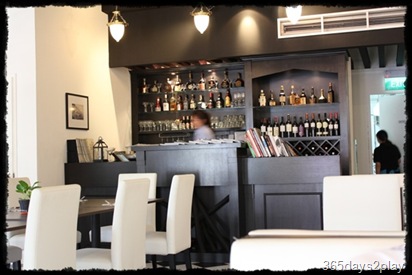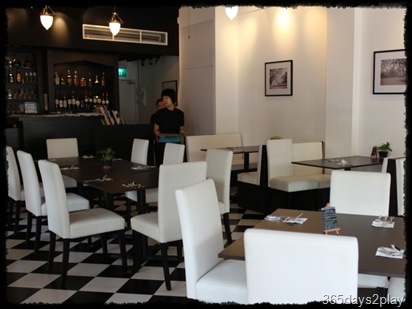 Interior of the Black Earth Cafe with French music playing in the background. The place looks posh but the prices are very affordable.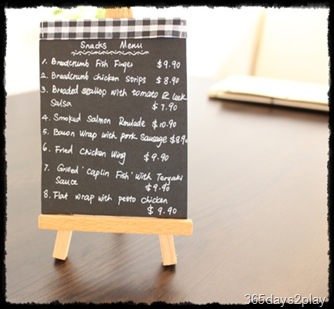 Their snacks menu offers some pretty interesting food over the mundane. The bacon wrapped with pork sausages, smoked salmon roulade and breaded scallop sounds good. Maybe next time.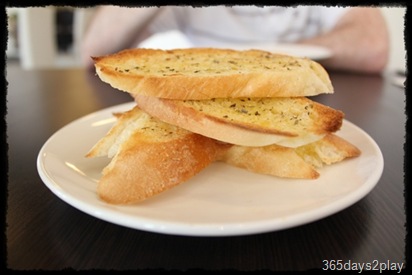 4 generous slices of garlic bread to accompany the soup! It was lovely to be able to indulge in 2 slices each.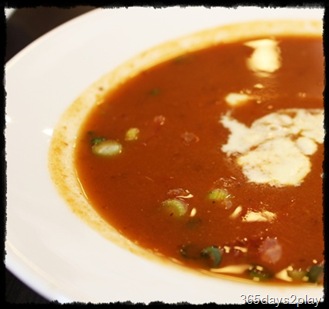 Tomato soup. This is the first place we have tried that includes bits of fresh tomatoes in the soup. A simple yet delicious touch.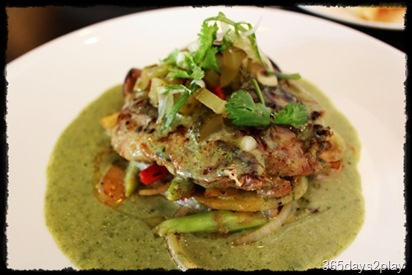 The Chicken Chop on an asparagus, capsicum, pickle and sliced potato bed. They certainly aren't stingy with the sauce. I wonder if they are French inspired. The chicken was very flavourful but just a tad too tough. The vegetables were done very nicely and al dente.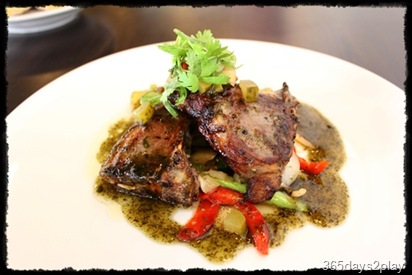 The lamb chop was also served on a the asparagus, capsicum, pickle and sliced potato bed. It was fantastic, only wish there were more pieces! We really loved the mint sauce and the generous amount given. Non-mint lovers may want to ask for less of it.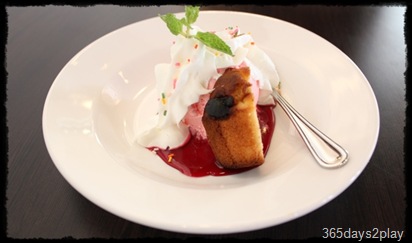 Dessert of strawberry ice cream laced with whipped cream and rainbow sprinkles plus a slice of cake. Visually, it looked a bit kiddish. The whipped cream also came from a can instead of being freshly prepared by the chef. Well I suppose this is better than 2 slices of watermelon?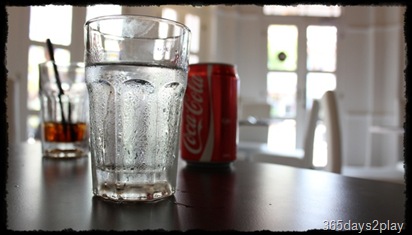 Coke to quench the midday heat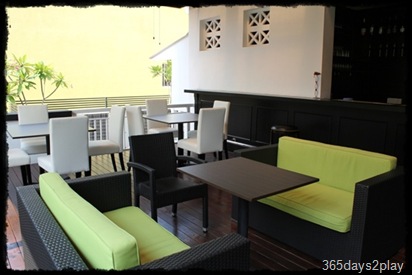 Black Earth Cafe also has a 2nd floor for alfresco dining.
Obviously there is nobody in the afternoon, but come evening, it would be a lovely place to sit back and sip an alcoholic drink, watching the world go by.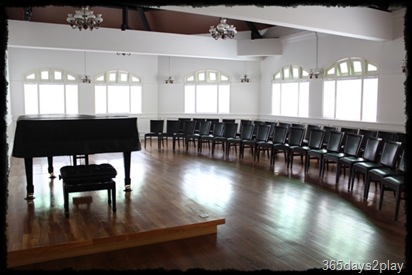 It seems they have auction events on selected days. You can book this 2nd floor room for $150 an hour or guarantee $1500 worth of food and drink. This would be an interesting place to have a wedding solemnisation or a private birthday party?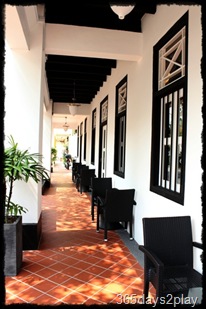 More al-fresco seating along the walkway downstairs. I can just imagine sitting here with a cold drink watching the world go by.
Black Earth Restaurant & Wine
367 Joo Chiat Road
Singapore 427612
11.30 — 2.30 lunch
6.00 — 10.00 dinner
Closed on Mondays
Tel: 6346-4558