The Riders Cafe was almost empty when we arrived at 4.30pm. Only 2 other tables were occupied. We thought we could have our pick on where to sit, but no, the girl told us most of the tables were reserved. When were the other guests arriving we asked? 7pm? We had to assure her that we would be leaving within the hour before she reluctantly gave us the table that we wanted.
That settled, we perused the menu looking for something nice for tea. The place is indeed very like a tranquil country place, or as country as Singapore can get anyway. If you get a good spot by the window, you can watch the horses trot by in the car park once in a while. Or if you sit by the Verandah, you can watch the horses being groomed or hosed down. Despite Riders Cafe not being air-conditioned, it was cool inside the cafe thanks to the numerous fans.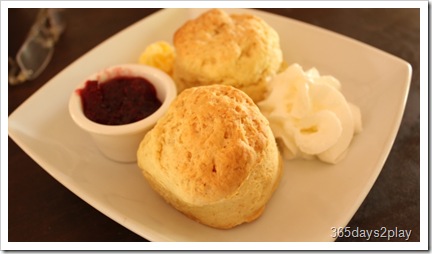 We ordered the Tea Scones set for $8. It comes with 2 humongous scones, plum jam, butter and whipped cream. These are the most humongous scones I have ever seen in Singapore. They are of the doughy variety rather than the crumbly variety.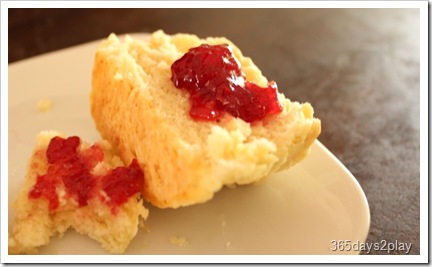 Everybody loved the plum jam and couldn't get enough of it! I just wish we could get clotted cream in Singapore rather than whipped cream or butter. It just isn't the same without clotted cream! And as far as I know, there's only 1 place in Singapore that serves scones with clotted cream, and that is Regent Hotel.
I ordered a coke. When I am thirsty, no other drink can quench my thirst as well as coke. Was as tasty as any coke can be and for $2, it was a huge glass of coke. The Partner ordered a vanilla milkshake. It was nice but a little too sweet.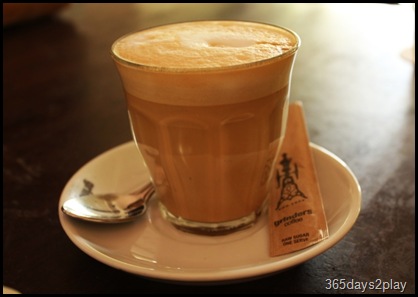 The Cafe Latte was nice and strong. But, just not as good as Papa Palheta and Highlander. I probably will be saying these words for all other coffees I try from now on. Just can't get over how good Papa Palheta and Highlander were. But don't read this wrongly, the Riders Cafe cafe latte was still good in its own right.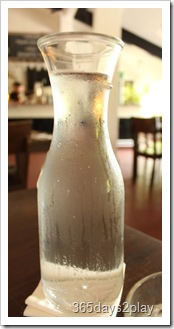 Free flow of iced water
Many nice spots in the cafe, just as long as the dreaded "reserve" sign is not put there. Well better make sure you call in advance for dinner because there was a "reserve" sign on practically every single table. This place must be packed to the gills at night, judging by the "reserve" signs.
Speaking of tables, we found the tables to be quite sticky. I wonder if they have had a good scrubbing lately, or at all? I could almost see a layer of grime on the table, which wasn't noticeable at first because the tables are dark brown. Better bring your own wet cloth the next time?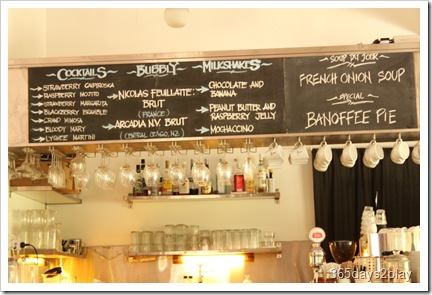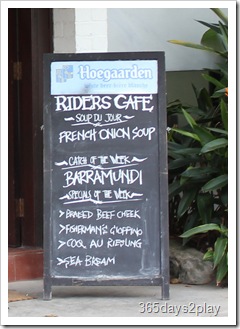 It may call itself a cafe, but the Riders Cafe also serves restaurant type dinner. When I went there, the specials of the week were Braised Beef Cheek, Fisherman's Gioppino, Coq au Riesling, Sea Bream. Now those don't sound like cafe food to me, don't you agree? They also serve wines. The Partner was very keen to come back for dinner and enjoy the night settings. It must be very dark at night here so don't come at night without private transportation.
Mimolette is right next door. When I come back here the next time, I would like to try Mimolette.
Riders Cafe
51 Fairway Drive Singapore 286965
Tuesday — Sunday
8am — 10pm
Tel: 6466-9819
Map of how to get to Riders Cafe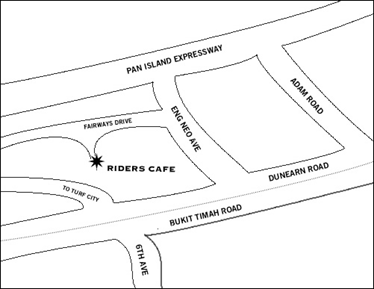 As you drive along Fairways Drive, the slip road into riders cafe is very narrow. Drive slowly or you might just miss it. The signs for the Bukit Timah Saddle Club are bigger so look out for that instead.