The Kyoto Weekend Afternoon Tea is back at the Four Seasons Hotel Singapore One-Ninety Bar and Garden! If you missed it back in September last year, well here's your chance so don't miss it again! My review below is based on my dining experience last year. There are some changes to the menu for 2023 to reflect seasonality, but looking at the new menu I would say 70%-80% still look the same.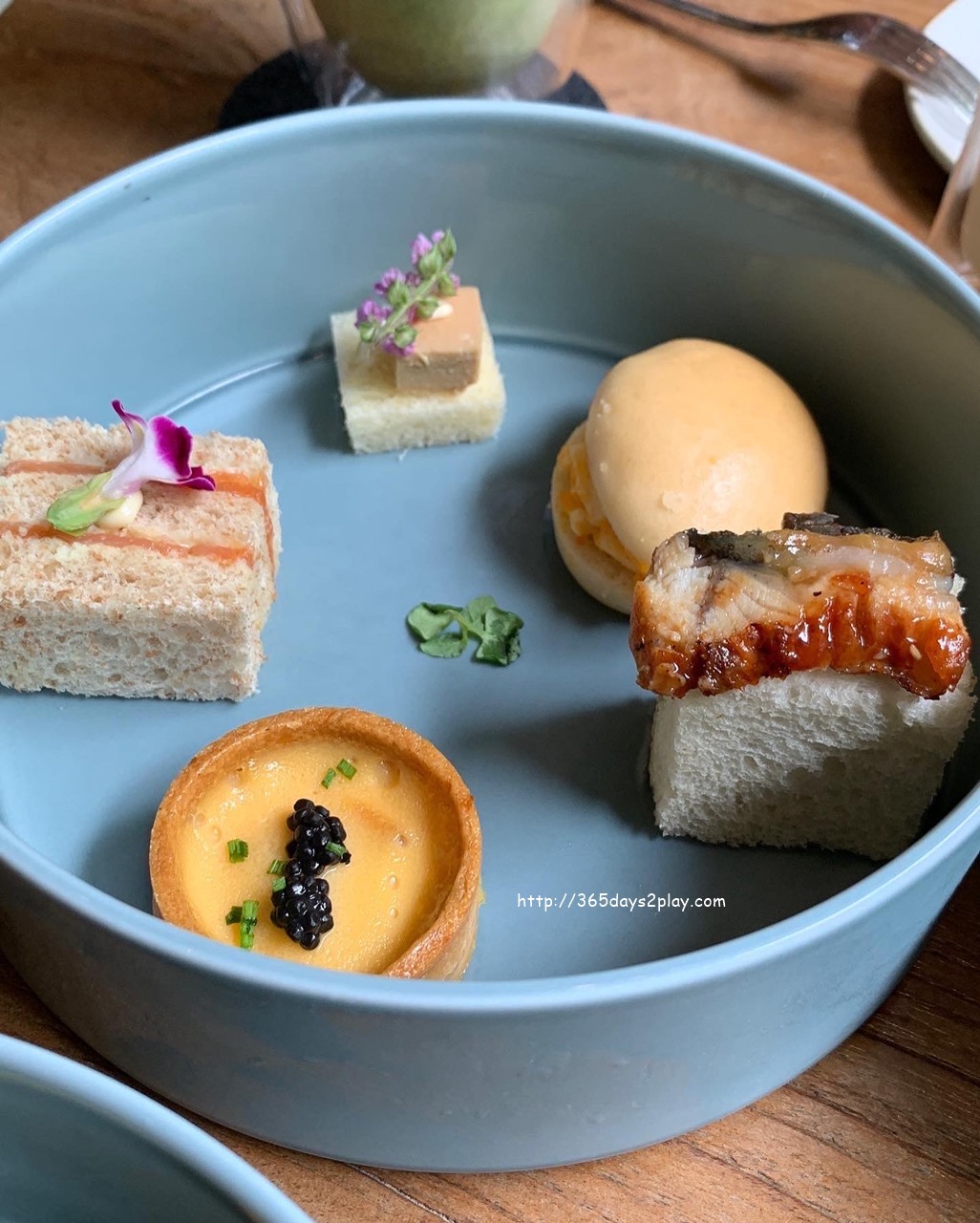 Did you partake in the previous botanical themed afternoon tea (the one in mid 2022)? That afternoon tea made a grand entrance on a bed of dry ice smoking away. Although the current Kyoto Weekend Afternoon Tea by guest Pastry Chef Reiko Yokota of Four Seasons Hotel Kyoto makes a much less dramatic entrance (not even a 2 or 3-tier stand which is a little anti-climax to be frank), it's a very well curated set of nibbles. The afternoon tea is presented in specially crafted chinaware inspired by bento boxes. Nibbles include King Crab Chawan Mushi (Prawn Chawan Mushi for 2023), Saikyo Miso Foie Gras Terrine, Japanese Strawberry Mochi and Sweet Soy and Ginger Mousse.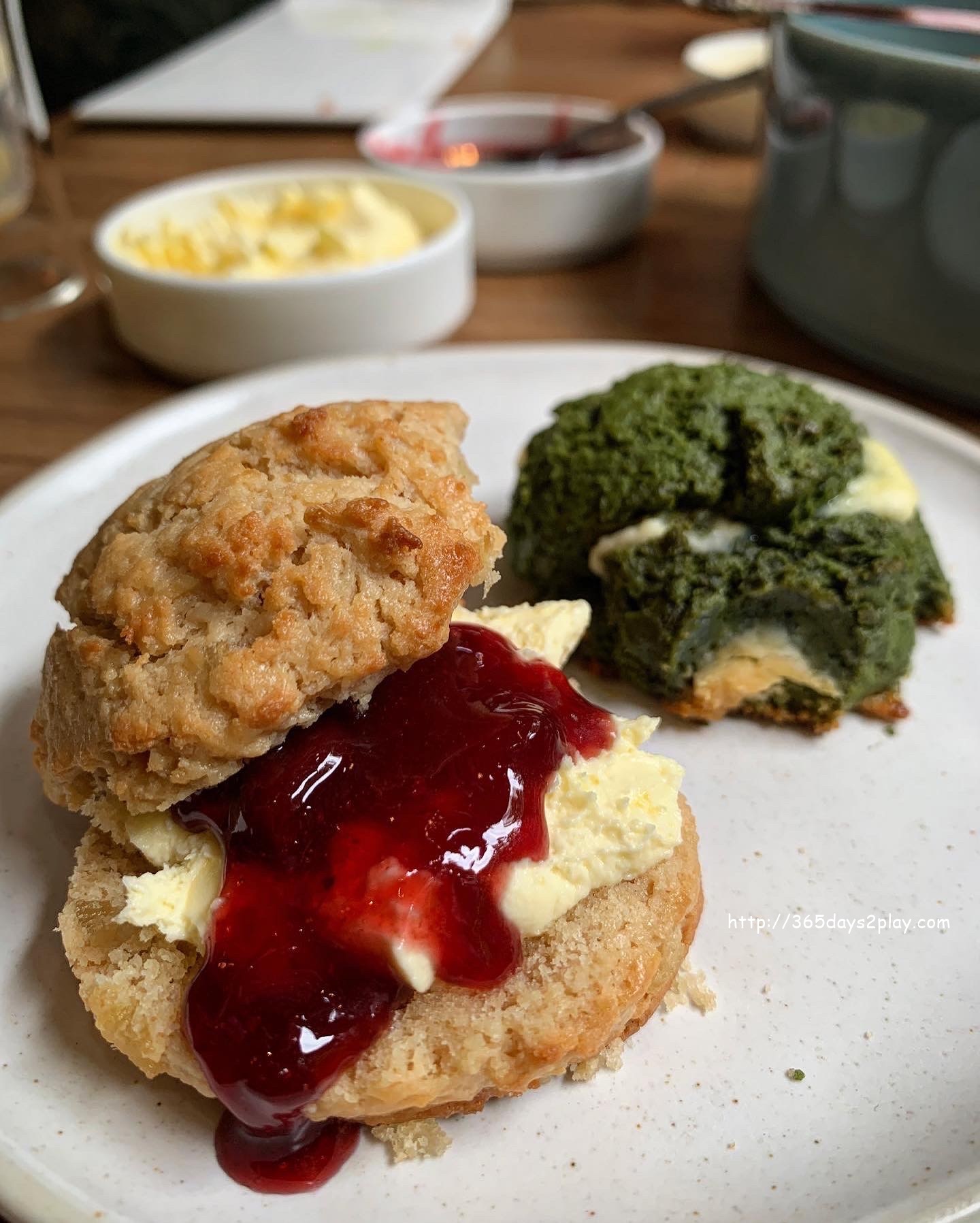 A special shout out goes to the scones. You don't get plain or raisin scones here. In line with the Japanese theme, Matcha White Chocolate scones and Ginger Confit Scones (Vanilla and Sakura scones for 2023) are served instead. They are accompanied by not just Devonshire Clotted Cream and housemade Cherry Jam, but a fabulous Yuzu Posset (something like a curd). The sweetness and tartness was really refreshing on the palate and I wished I had several more pots of those. It really ought to be the norm that the accompaniments be of the same volume as the scones….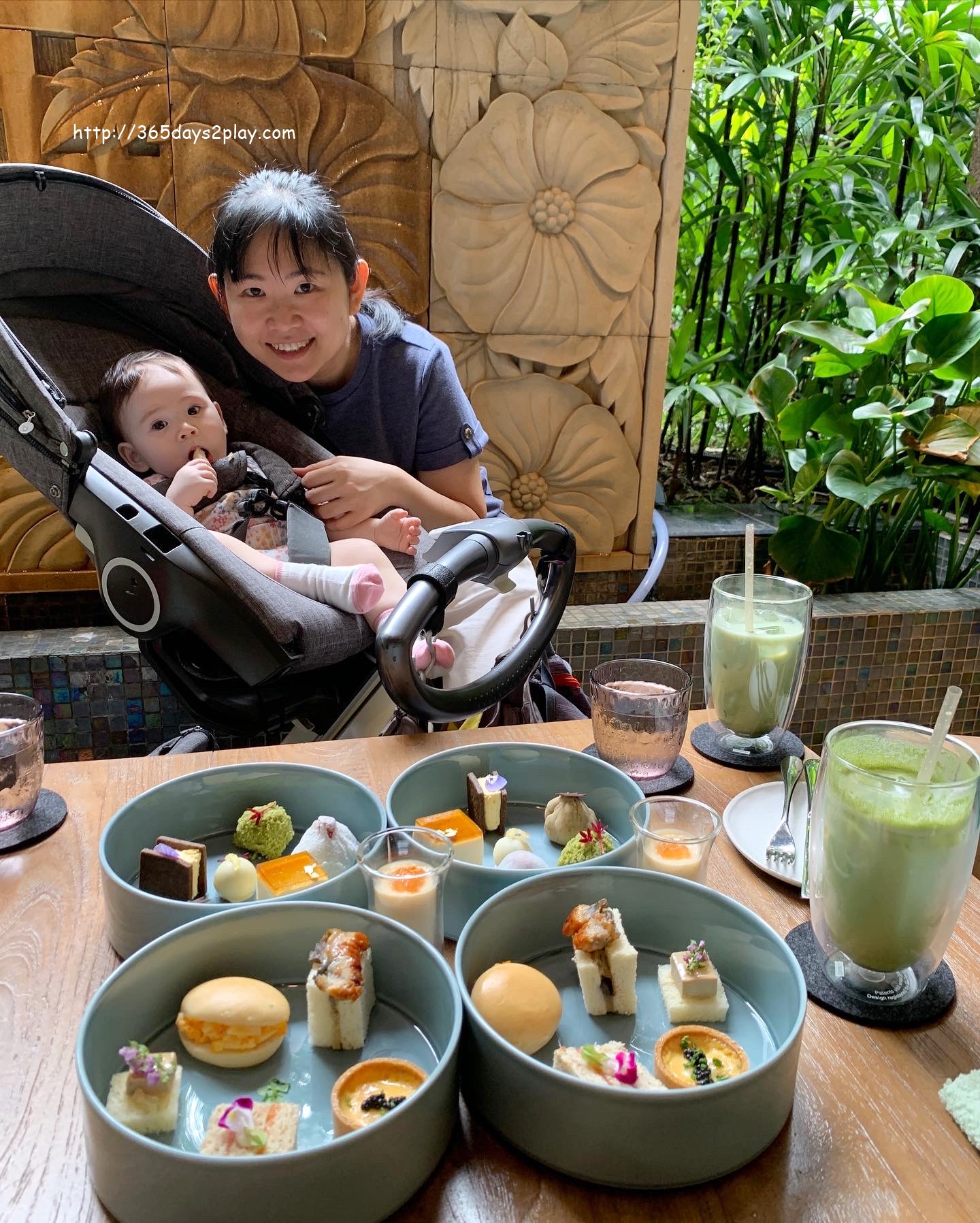 Matcha Latte on the right
After having drunk so many pots of tea over the years, I no longer feel as excited when choosing a beverage to have. Glad to report that a number of interesting beverages caught my eye, namely the Lemon Latte and the Matcha Latte. There is even an 8-hour Cold Drip Coffee as well as Hot Drip Brew Coffee. Yes these are of course not difficult to find at specialty cafes, but not so common at afternoon tea places and I appreciate being able to have a Matcha Latte instead of a plain old cafe latte. Other Japanese beverage options include Sakura Sencha, uji Sencha, Osmanthus Sencha, Yuzu Kukicha and Hojicha.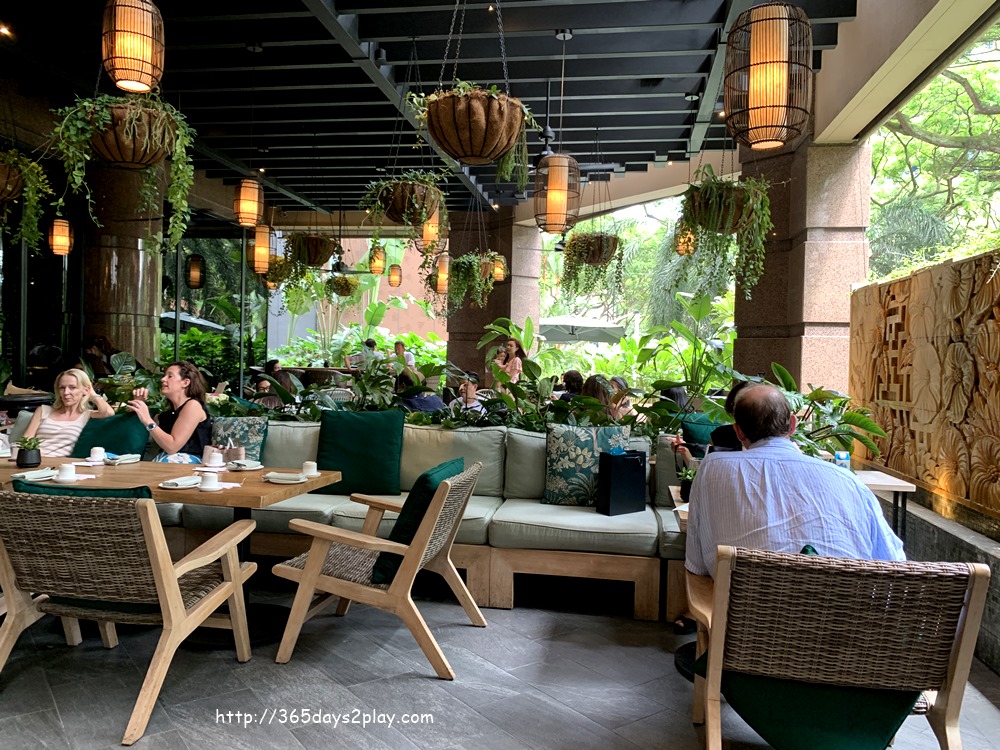 A lush garden setting perfect for afternoon tea
Take a bit of time to enjoy the surroundings of the aptly named Four Seasons Garden @ One-Ninety. The inspiration is taken from the Singapore Botanic Gardens, Singapore's first UNESCO World Heritage site and the only tropical garden in the world on that list. Lush and bathed in natural sunlight, it's the perfect place to luxuriate in a garden setting without actually stepping outdoors. A note to dress comfortably as the area isn't air-conditioned. I believe you can choose to sit indoors at the bar area which is kind of dark, but then you won't be able to enjoy the garden setting.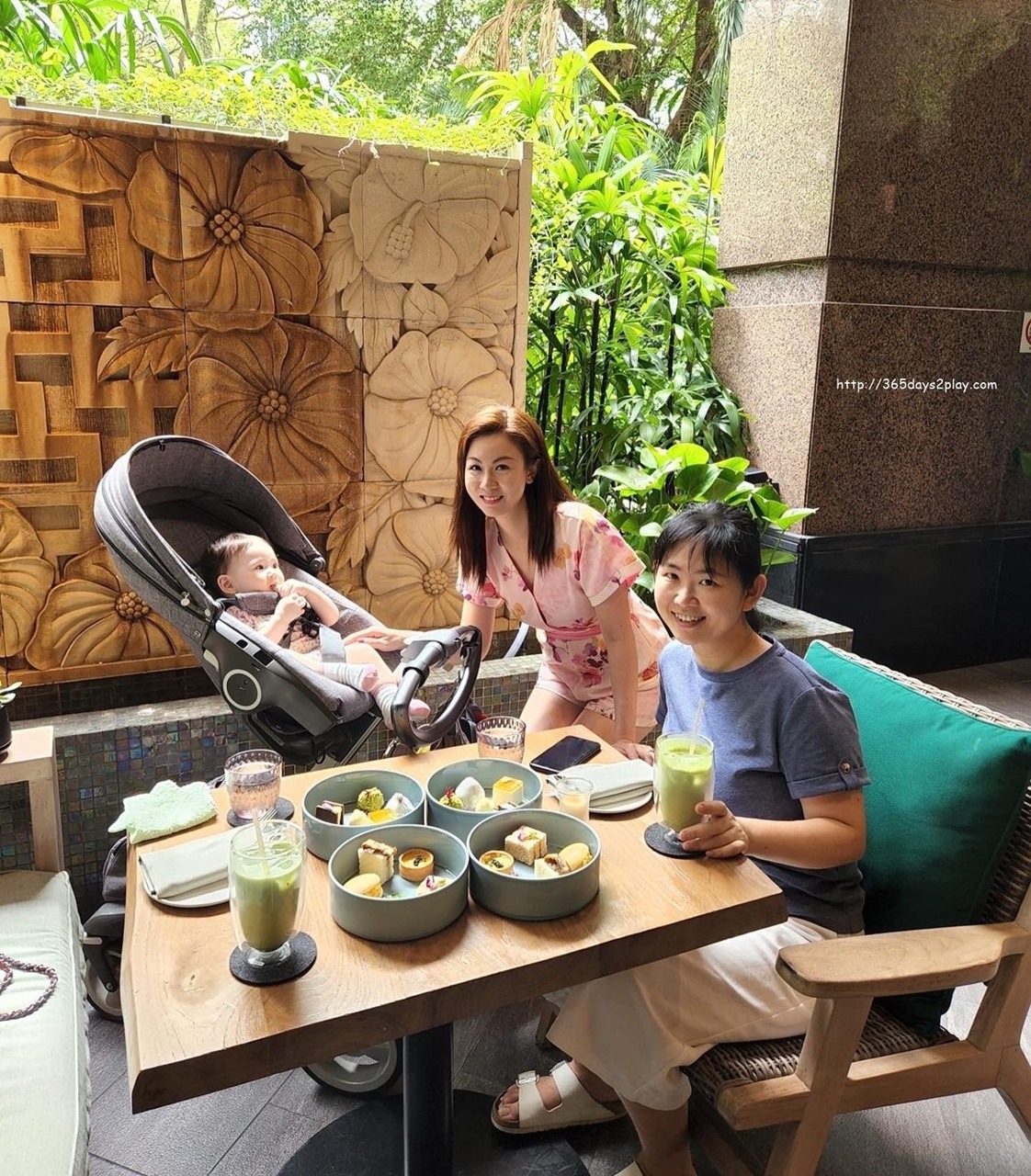 Really lovely and pretty setting. The only downside is it is not air-conditioned and the sun's rays may come in at certain hours. Also, beyond the wall is the driveway. If there are many cars idling nearby you might get a whiff of the petrol fumes.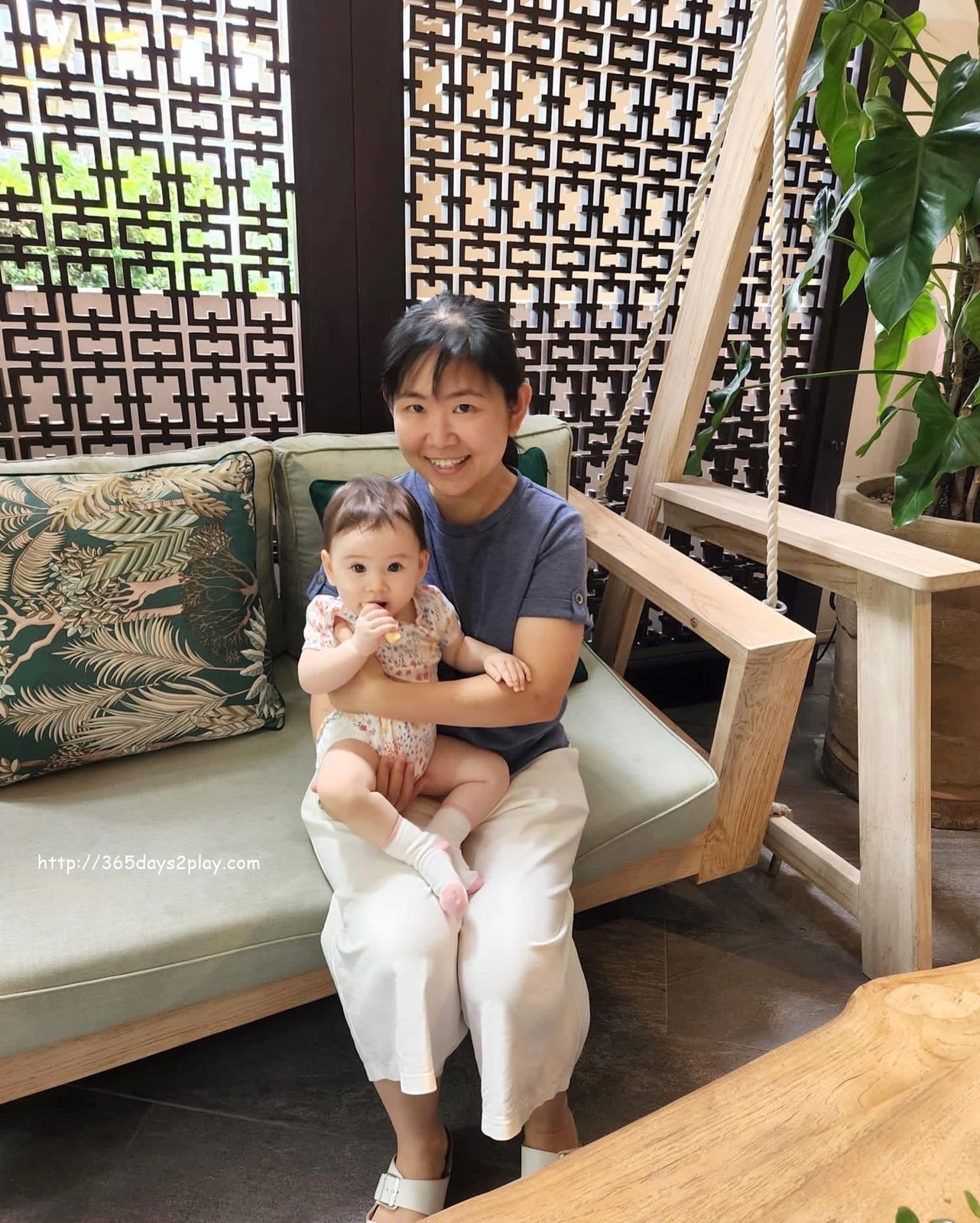 A couple of the tables have swing seats. I'm sure the children would love this, and it's great for photos. But a bit inconvenient to reach the food as the swing swings when you lean forward.
Check out other reviews of Afternoon Tea places in Singapore and Afternoon Tea Promotions