Football can be useful after all. During the World Cup, 2 colleagues decided to make a bet on who would win the Holland vs Brazil match. The loser would have to pay for dinner at an expensive restaurant. I didn't bet at all, but I quickly stuck my head in to be counted as one of the recipients of the eventual dinner. After all, what fun would it be if just the 2 dined together? So, Brazil lost and we all got to go to Absinthe, the French restaurant located at Bukit Pasoh Road near Outram.

You know how it is with atas (fine-dining) restaurants. They lay out all the empty wine glasses, and then when you tell them you're not having any alcohol, they give you the look before taking the wine glasses away?

I've always found those empty glasses pretty much an obstruction on the table. I mean like why on earth do I need so many, and why can't they be put there only AFTER I order wine? Anyway, the answer is that first you have a glass of champagne to calm your nerves from the day's stresses, then you progress on to a white wine and a red wine for the appetisers, and then another red wine specially chosen for the meat dish, and then finally a dessert wine.

Everyone's spirits was high. We managed to secure a nice table behind the full length wine cabinet, so we were nicely hidden from  most of the restaurant. The couple, seated nearest to our table could still see us. Their hopes of a romantic dinner were utterly squashed by the noise generated from our table and they kept giving us the evil eye. So, if you ever go to Absinthe, make sure never to get a seat near to the wine cellar.
Ceviche of Marinated King Fish with Lime and Coconut, Mesclun Salad
This was so good. King Fish isn't that easily available in Singapore, and I just love the firm texture and sweet taste of the fish.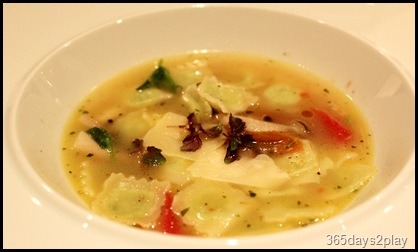 Cheese Ravioli with pesto and sundried tomato soup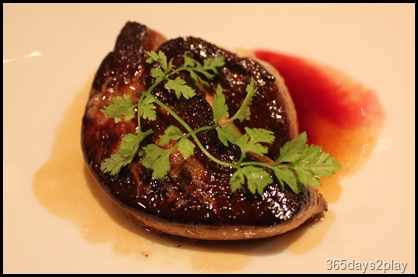 Pan-Fried Foie Gras with Warm Blinis and Morello Cherries
I hate to say this but this was superb too!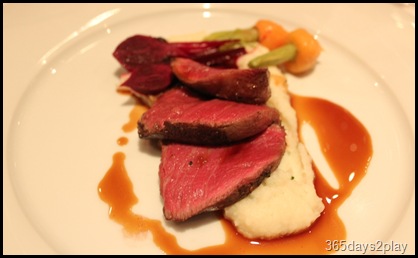 Grilled Beef Tenderloin on mashed potato bed
(you have to say "medium" in French restaurants to get what is "medium-rare" in other restaurants)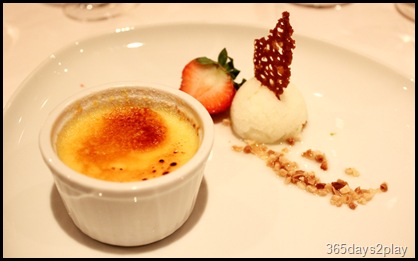 Coconut Creme Brulee with Coconut Sorbet
Absinthe Restaurant Français
Phone: 6222-9068

Mon – Fri: 12:00 pm – 2:30 pm, 6:30 pm – 10:30 pm

Sat: 6:30 pm – 10:30 pm