And what a feast it was! If you think tackling a buffet requires skill, think again! It's nothing compared to the Gastromania Feast at Far East Square organised by OMY! The makan session lasted FOUR AND A HALF HOURS and saw us chomping through EIGHT restaurants and eateries! I ate enough for breakfast, lunch, dinner and the next day's breakfast! Seriously, I don't think I'll be thinking about food for the next few days….
Far East Square has come a long way. The 61 shophouses that made up most of Far East Square date back 170 years when Telok Ayer Street was a landing site for Chinese immigrants arriving in Singapore by boat. Yes, the river used to come much closer back then. Opened in 1999, it is now a heritage conservation project with a vibrant mix of restaurants, cafes, and pubs, as well as shops, pushcarts and kiosks.
These are the 8 eateries we covered!
First Stop : Zhou's Kitchen
One of Tung Lok's numerous restaurants, Zhou's Kitchen is designed to replicate the experience of dining at home. The place feels casual and features all-time Chinese favourites such as Clam Soup with Cabbage, Beancurd with Dried Shrimps and Curry Fish Head.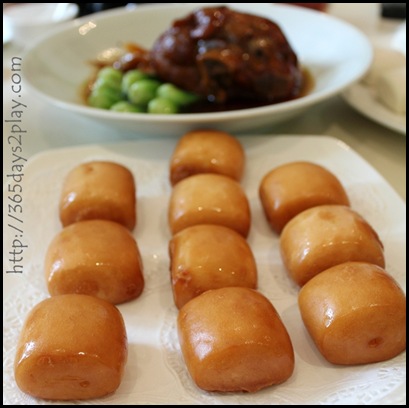 For our Gastromania Feast, we were served 2 humongous platters of pork shank together with piping hot steamed and fried mantous (buns). I can never resist fried mantous and yesterday was no exception! The mantous were pretty good, with a crispy exterior and a fluffy inside.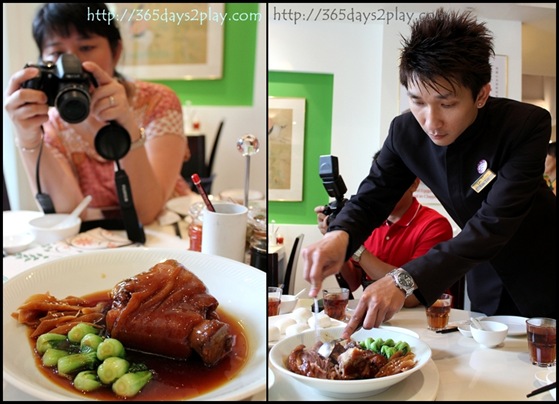 Of course, this being a blogger's meal meant that we all had to have our fill of photo taking first, (almost 5 minutes worth I think!) before the patient waiter could start dividing up the meat for us.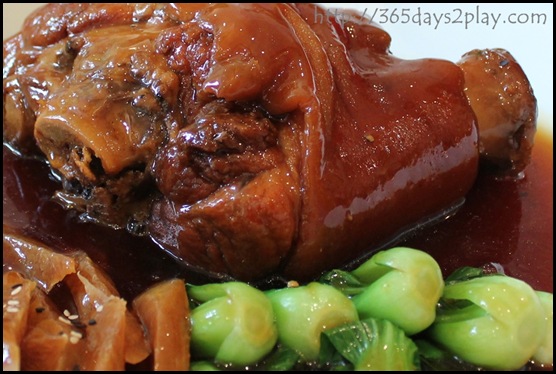 Close up shot of the pork shank. I took slices from different parts of the shank. Some bits were really flavourful and tender, almost melting in my mouth. However, other parts were rather tough. It was lucky I took more than one slice because quite a few bloggers had complained about the same thing too.
2nd Stop : SPRING JuChunYuan 聚春园

Next, we hopped across the walkway to SPRING JuChunYuan, which is housed in the building of the former Chui Eng Free School, one of the first chinese free schools in Singapore, established more than 150 years ago. To be frank, I have passed that historic looking building many times over the years, but I hadn't paid close attention to it so I was quite shocked to find that a restaurant now resides in it!
JuChunYuan itself is brand name with an equally rich heritage, dating back to 1865. Did you know that Fo Tiao Qiang, aka "Buddha Jumps over the Wall" was created at JuChunYuan in Fuzhou China in 1876???? When the restaurant manager told me that, it kind of sent goose pimples down my arm to realise that I was dining at restaurant with such a historic legacy!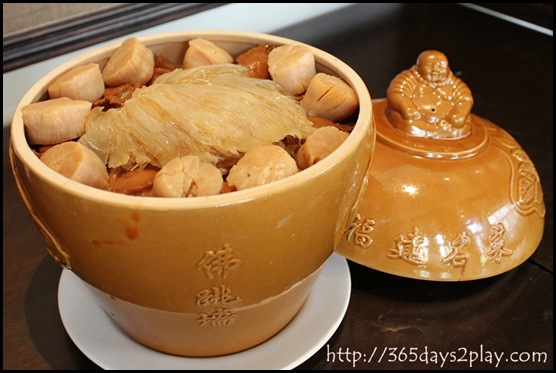 This huge tureen of shark's fin, abalone, scallop, sea cucumber, fish maw and more costs a whopping $1288!!!! The waiter carrying this must be really careful, or else…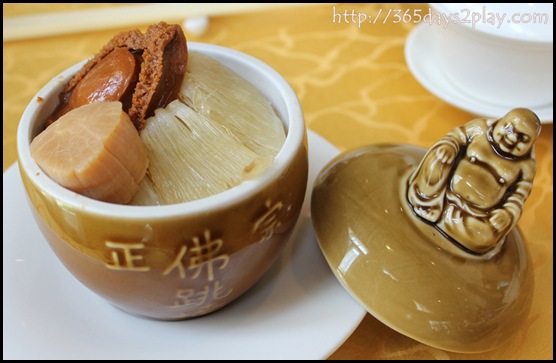 And this here costs $128 since this is 1 person's portion out of a possible 10.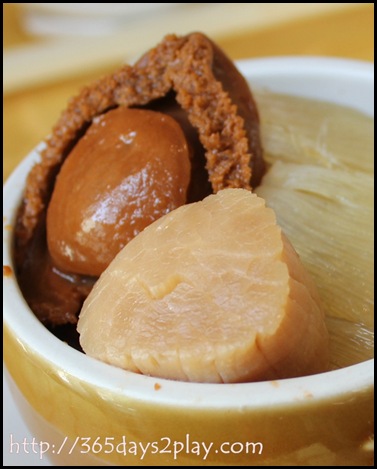 Gotta have a closer shot of the abalone, scallop and sharks fin….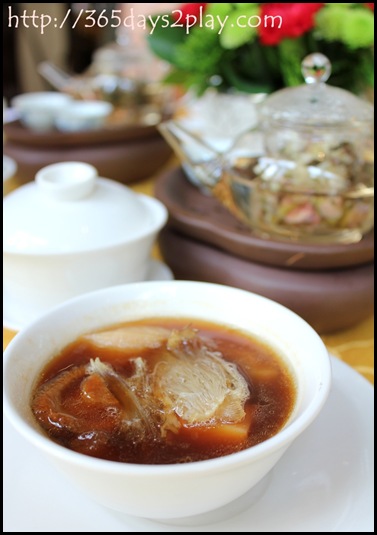 Ok we didn't get to sample the $128 portion. We did however get to sample some of the renown Buddha Jumps over the wall. There is so much goodness in there that even the blogger sitting next to me who had a sore throat joked that it had been cured. Notice the pretty teapot with the dainty tea cups in the background. I think I drank more than 20 cups of tea in the short span of time because they were oh so dainty!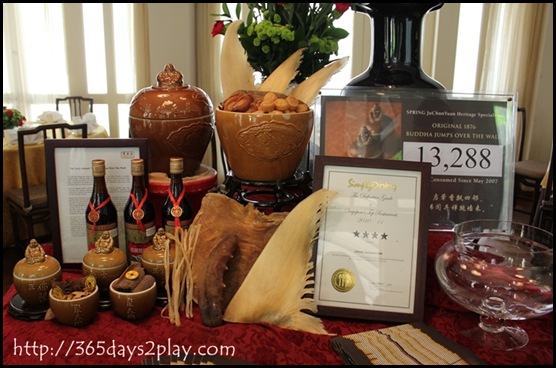 3rd Stop : Garuda Padang Cuisine
Garuda, established in 1976, is supposedly the most successful and one of the largest Padang cuisine restaurants in Indonesia. Together in a partnership with TungLok Group, they have now expanded into Singapore as well.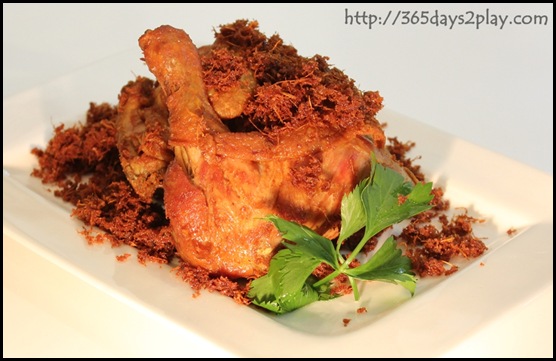 We got to sample their signature Fried chicken with blue ginger floss. Each portion usually goes for about $5, but the picture above shows 2 portions. I found the chicken to be average. It was slightly salty, but I suppose if we had tried it with rice, it would be just nice. I liked the blue ginger floss, which had a nice crunchy texture to it and gave the chicken quite a unique flavour.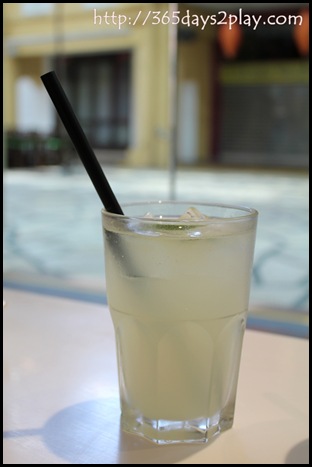 You have to try their lime soda if you go to Garuda. I love the zing that the lime gives to the soda. It was really refreshing!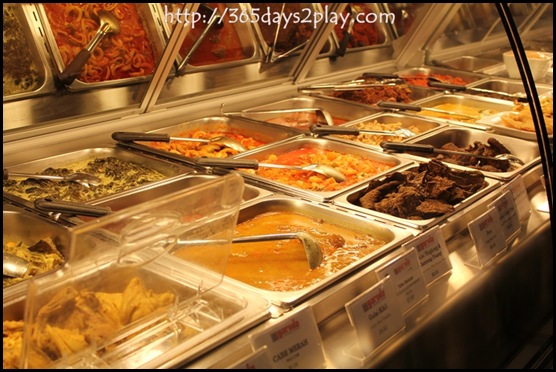 Many other dishes to choose from…
4th Stop : Shin Kushiya
I am quite well acquainted with Shin Kushiya, having had the opportunity to be invited to the myVillage Shin Kushiya branch some months back. Shin Kushiya is famous for its Kushiyaki. Prior to October 2006 when they first started, there was no other restaurant featuring the Kushiyaki dining concept. Kushiyaki by the way is the Japanese term for "Charcoal-grilled skewers". Some might ask, what then is Yakitori? Well that refers specifically to charcoal-grilled chicken skewers.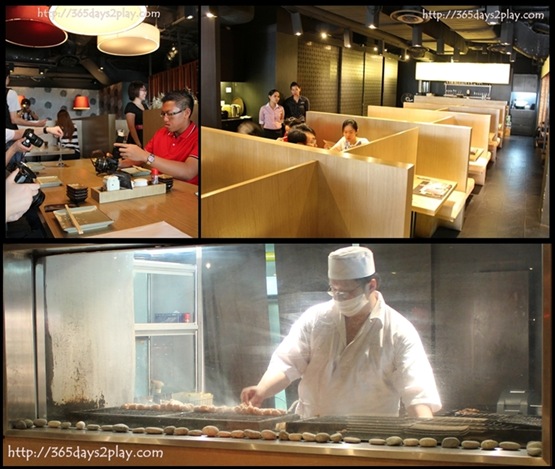 If you visit the Far East Square Shin Kushiya branch, you get to watch the chefs hard at work. Top left photo: Bloggers checking to make sure that their tools of the trade are still working alright…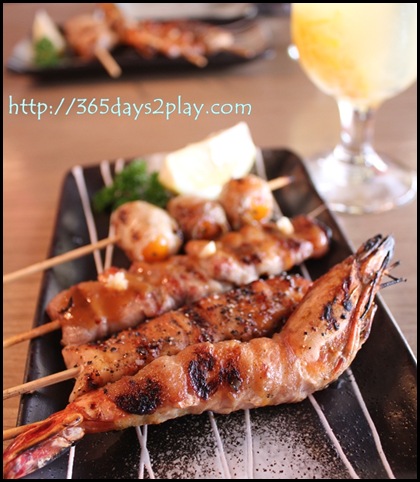 Ebi Shiso Maki (Prawns), Buta Bara Yaki Miso (Pork Belly), Black pepper yakitori (chicken), Tomato Maki. The experience this time round was not as fantastic as at myVillage. The yakitori in particular I felt was tough and dry. I still love the tomato maki though. Every mouthful is indeed a burst of sweet flavour and goes so well with the salty bacon wrapped around it.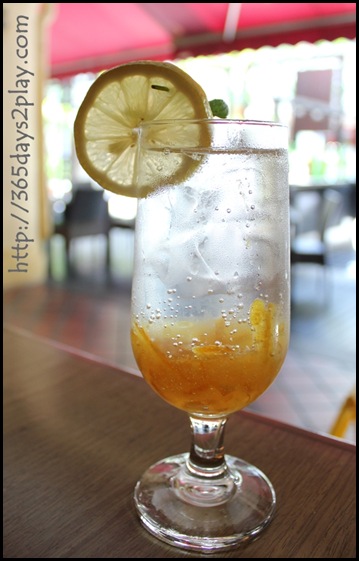 We were served Shin Kushiya's signature drink, the Yuzu Cooler. It was as good as the previous time and is a definite must order! I just love the citrusy yuzu with the soda water. Makes you feel as if you're having something healthy…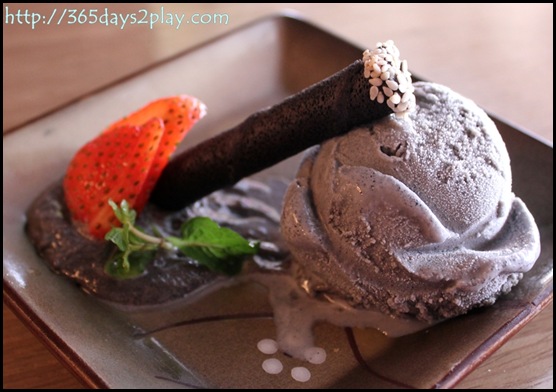 Kuro Goma Heaven Black Sesame Ice Cream – I am not that big a fan of black sesame fillings when it comes to Chinese desserts. Surprisingly, I loved the flavour of this ice cream. It's like eating green tea ice cream, you either love it or hate it. You are supposed to pair the ice cream with the black sesame paste on the side to get a more intense flavour. But I think, green tea ice cream is still my favourite.
5th Stop : Mont Calzone Pizza & Pasta
Are you still with me at this point??? We were all asking ourselves the same question by the time we reached the 5th stop! But plod on we must!!!
Next up was Mont Calzone Pizza & Pasta restaurant. You can enjoy hearty Italian cuisine at reasonable prices in this laid-back pizzeria. Apparently, all pizza selections can be made into calzones. I've only ever tried the calzone once in my entire life and that was in the US. A calzone is like a humongous curry puff, with pizza filling instead of curry of course.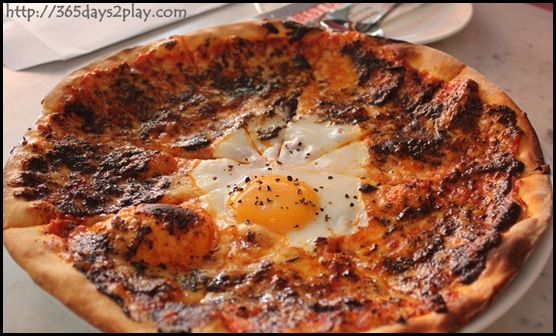 The Black Truffle pizza. As I've said time and again, anything that has an egg looking like that will get me weak in the knees. I was quite glad to be sitting closest to this pizza heh heh heh! Unfortunately, this isn't the best version of black truffle pizza I've eaten. The texture of the pizza was pretty hard such that at one point when I was slicing it, the pizza slice nearly flew off my plate! Also, I could hardly detect the truffle flavour.
After the black truffle pizza, I had to rest a while so I didn't try out the other dishes. They do look good I must say, especially the sambal marinara pasta, which must be quite unique!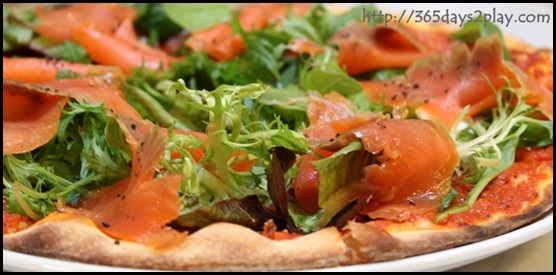 Smoked Salmon Pizza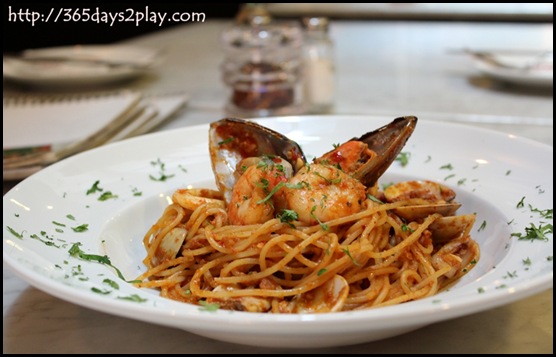 Sambal Marinara Pasta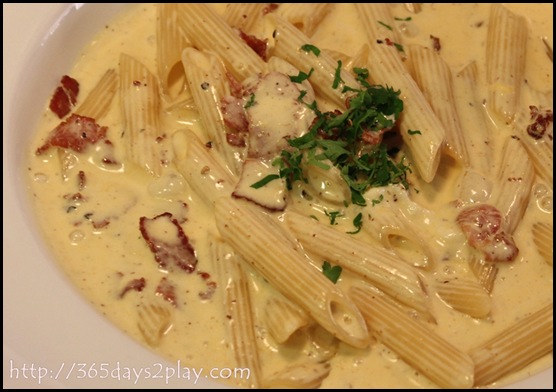 Pasta Carbonara
6th Stop : Mirchi — Taste of India
With renewed vigour, we moved on to Mirchi — Taste of India. Mirchi is owned by the Harry's Group, and specialises in authentic Northern Indian cuisine, both vegetarian as well as non-vegetarian.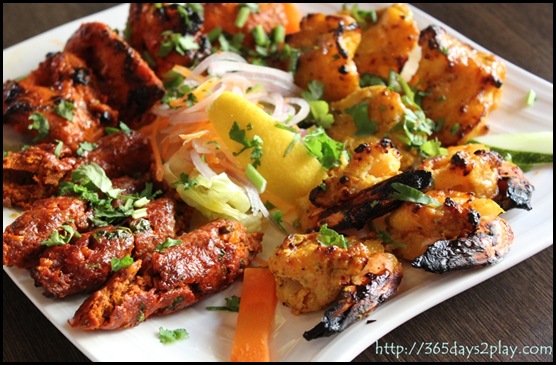 We got to sample the Tandoori Non-Vegetarian Kebab Platter which comprises of an assortment of fish tikka, chicken tikka, lamb kebab and prawns spiced with tandoori masala. Of the 4 meat items, I am surprised to say that I actually liked the fish tikka the most! As you know I am so fussy with fish, but this fish here was tender to the bite and tasty! I would have gobbled it all up if I hadn't had to save space for the other items. The prawns were quite good too. I liked the succulent texture and the spices. The chicken was so so. The lamb was not so good. It tasted dry and lacked flavour. I tried to enhance it by adding some mint sauce to it, but the improvement was only marginal.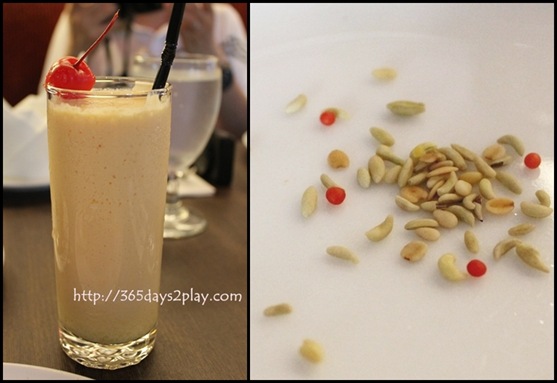 Not a fan of lassi so I shan't comment further. We were offered some seed looking things that had a minty flavour. Apparently you eat this to cleanse your palate.
7th Stop : The Original Hock Lam Street Beef Kway Teow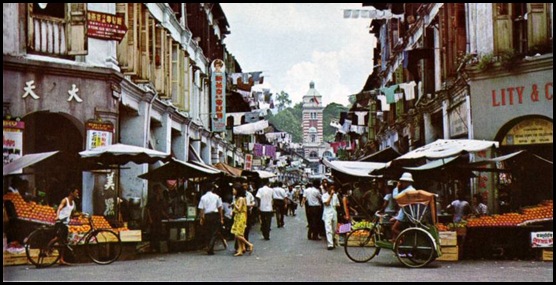 Hock Lam street used to be where Funan Centre is now. Can you see the red fire station right in the middle of the picture? That fire station still stands along Hill street to this day, but sadly, Hock Lam street exists no more. In fact, before the Original Hock Lam Street stall was located in Hock Lam Street, 98 years ago it Tina Tan's great granddad used to sell his delicious noodles on foot around Chinatown, carrying the heavy pots of soup on his back!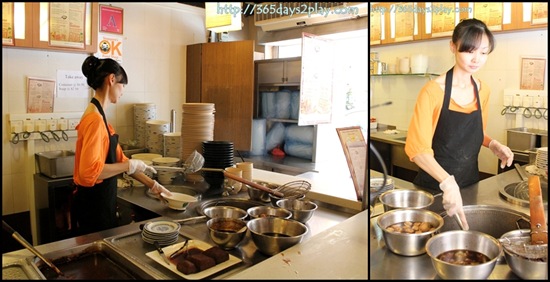 Think most people know of this famous Beef Kuay Teow place, especially if you've worked in the Shenton Way area. Did you know that it is now being run by the 4th generation? That's Tina Tan, the 4th generation carrying on her family business. Several years ago, Tina Tan quit her $10k/month job just so that she could continue running the family business. That's testament to how much love she has for the business, which must have been a huge part of her growing up years as well.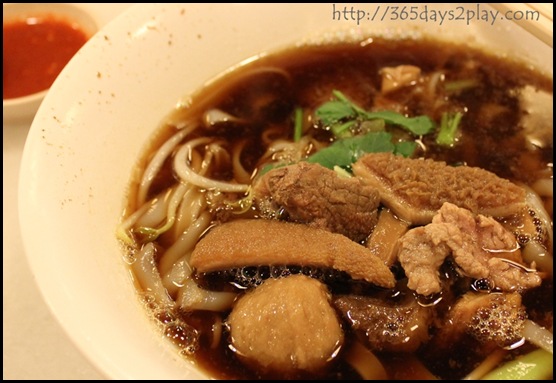 We got to sample a smaller version of the Mixed Beef Kuay Teow with soup. I have to agree, the soup is damn flavourful! The soup is boiled for 24 hours, and the beef is hand sliced and not machine cut so that the fats are all adequately removed! The soup is therefore flavoured from the meats and not from the fats. Everything is done by them with the exception of the Kuay Teow, which is bought from a special supplier. I just love it when food is cooked the old fashioned way and with love. I don't mind having to pay more if I know I'm getting quality and not something that is machine made and mass produced.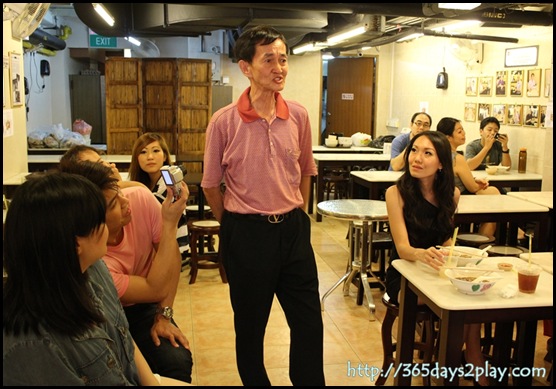 Mr Anthony Tan, Tina's father explaining the intricacies of his business.
8th Stop : Oni cupcakes
And finally, the last stop!!!
Oni cupcakes was set up in 2008 and offers cupcakes specially designed by in house bakers.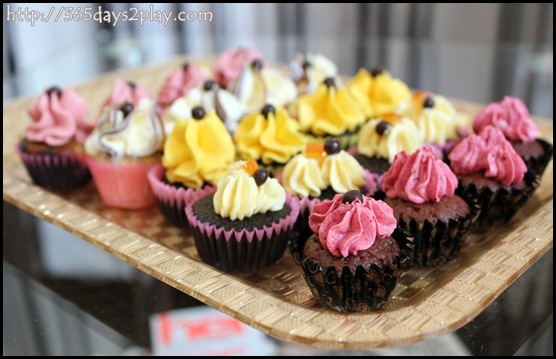 The pretty cupcakes elicited excited squeals from many of the bloggers. Don't you agree they just look so cute?? I couldn't decide which flavour to choose so eventually I took the chocolate one with the pink frosting. Unfortunately, I thought the cup cake was pretty average, bordering on dry to be frank. After that, I didn't want to try anymore.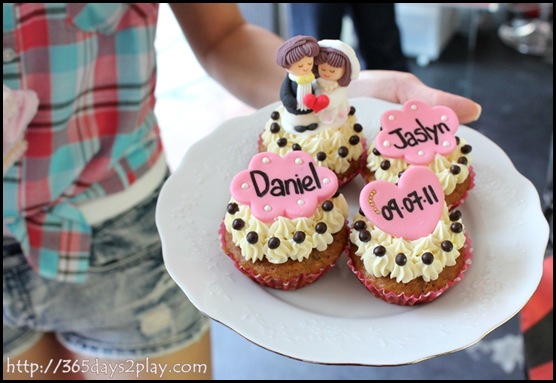 I can't get over the fact that they look so darn cute! Whoever Daniel and Jaslyn are, congratulations on your wedding! Maybe I should come back again for a second try.
The End!!!
AND AT LAST, we ended our culinary feast at Far East Square. Special thanks to the OMY team for putting this all together. I had a lot of fun sampling all the food and making friends with the other bloggers. It was definitely a well spent Saturday afternoon. Thanks OMY!
Now excuse me while I recuperate from a bulging tummy and from writing this long post!
Oh Please remember to vote for me at http://contest.omy.sg/let-the-feast-begin-gastromania/. I'm picture number 5, aka 365days2play! You stand a chance to win $50 and you will help me to win $500!!!