It seems that nowadays, it's not enough to open a simple cafe. Not only must the cafe serve good food and drinks, it's also imperative to have an interesting theme to keep the visitors coming!
Egg3 Cafe has done just that by incorporating a furniture store into it's cafe. Or, more accurately speaking, Egg3 used to just be a furniture store, but its owner really wanted to open a cafe as well, and voila, Egg3 Cafe was born!
When we visited last week, we managed to snag the last available table. It's laudable for a cafe that has barely opened for 2 months, and for one that is located off the beaten path. Egg3 Cafe is tucked away in a spot so hidden, it's easy to get lost if you don't already know the area well, as was what happened to us. Scroll down for more directions on how to get there.
Meanwhile, let's get back to the food.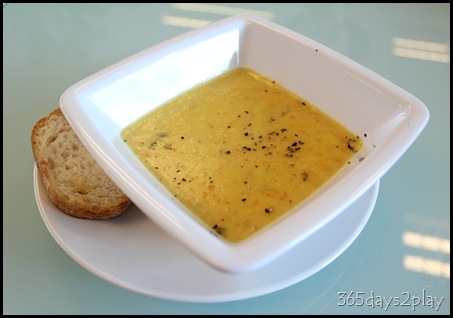 Soup of the day — Carrot Soup – $4.90  We found it to be very flavourful. You could even see crunchy bits of little carrot swimming around in this creamy soup. I just wish there was more soup for that price since it was so tasty!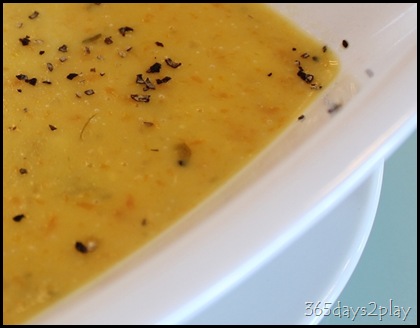 See the orangey bits of carrots?
Given that I am not a fan of tuna, I must say that the Tuna Sandwich was also wonderful. The thick crusty bread really carried the flavours of the tuna well. And for $8.90, I thought it was  reasonably priced. For $8.90, you can also get chicken or egg & bacon sandwiches as well.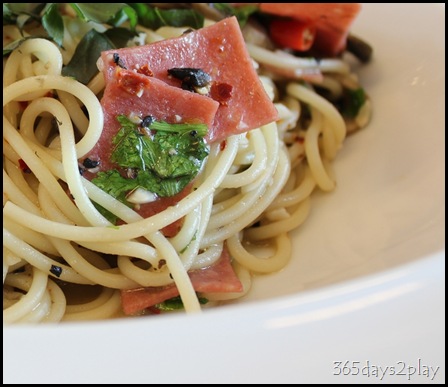 On the other hand, the ham and mushroom aglio olio pasta I ordered seemed a little pricey for $15.90. The dish tasted good. The pasta was al dente, light and not too oily, as aglio olio can sometimes be. They even spiced it up with some chilli flakes for some fiery zing. However, despite it all, I thought it just seemed a little too ordinary. Perhaps the tomato sauce or the cream sauce version (which they do offer for all their pasta options) may have been more interesting. Apart from spaghetti, fish and chips is the only other main course type of dish they offer.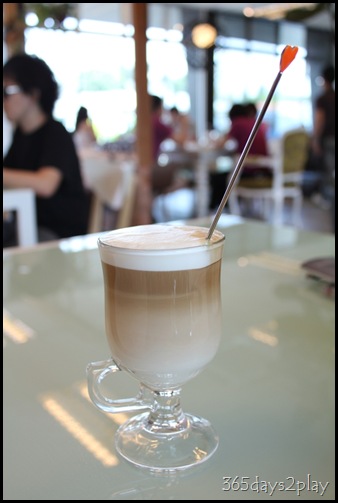 The whole meal still ended well thanks to the lovely cafe latte $4.50 served. It was strong, and you could taste the coffee in it. (Don't you just hate the coffee flavoured milk that some establishments pass off as cafe latte?) There was a hint of almond essence too, a very nice touch.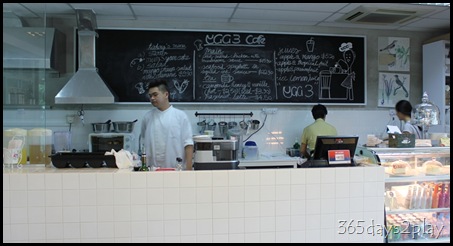 If possible, don't choose a seat next to the kitchen or your clothes and hair will smell of oil!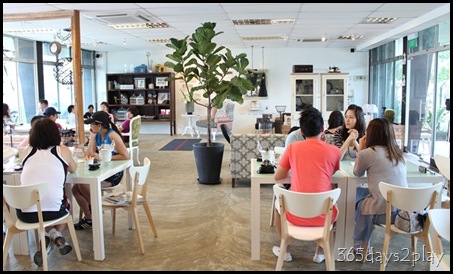 Bright and breezy dining area.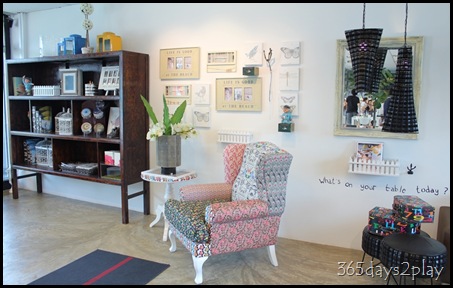 Wouldn't you love to sit on that big arm chair sipping an iced-cold latte?
Egg3 Cafe
Address: Block D, Mountbatten Centre, #01-06 231 Mountbatten Road
Tel: 6241-3823
Last order: 8.15 pm.
How to get to Egg3 Cafe: – Mountbatten Centre is the old Haig Boys School. You won't be able to find it if you drive along Mountbatten Road. Instead, drive along Guillemard Road in the direction of town. After Fatty Weng and the Old Badminton Association which is now known as Guillemard Village, turn left into Guillemard Crescent. You should then be able to spot Mountbatten Centre where Egg3 Cafe is located.