Realise that I didn't manage to post about The Highlander at Clarke Quay even though I went there several months ago during the World Cup.
Food-wise, I think the Highlander can sometimes suffer from inconsistency. The 1st time we went there and had their ribeye steak, it was so delicious and tender we swore to go back again soon. When we were there during the World Cup, the steak was just so so.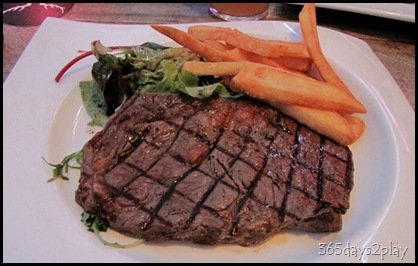 They were supposed to give a blob of herbed butter, but they forgot.
What I do like about Highlander is that you can get some interesting Scottish side dishes like tattie scones, scotched eggs and haggis. Also, it's nice to sit at their al-fresco dining area. Because the Clarke Quay central walkways are air-conditioned, we get to enjoy al-fresco dining minus the heat! Not many places to do that in Singapore and Clarke Quay is one such place to do it!
Highlander
Block 3B The Foundry #01-11 Clarke Quay River Valley Road Singapore 179021
Tel: 6235 9528
http://www.highlanderasia.com/main.php