Bedok Point, or Bedok Mall, as some would call it is finally open! Bedok is now civilized! This has got to be the smallest mall ever. From the back door, you can see through to the front door! Most of the shops aren't open, and there is a sickeningly strong turpentine smell there, especially in the basement and the 3rd floor. It's less strong on the 1st floor due to the air coming in from the entrances I suppose. I marvel at the people who are able to eat there. Still, the smell didn't deter the throngs of people checking out the Mall at 9pm at night.
We had a cup of coffee at the Killiney Cafe, but luckily that was near the back entrance so it was fine. While we were there, Killiney generated some kind of burnt meat smell, I hope it's not going to be a permanent thing.
At this point in time,  the restaurants that are already open include the following:- Killiney Cafe, NYDC, Pasta Mania, Mos Burger. I see that Gong Cha will be opening soon. I wonder if it will see snaking queues like their branch at Raffles City. My father is super excited about the Sushi Tei too. I'm just happy that finally we have a kopi place we can go to in Bedok without having to start up the car.
Click on the image below to see the full list of tenants and shops. Where is Bedok Point? You can see it from the MRT train while travelling to and from Bedok and Tanah Merah. It is at the former Changi and Bedok Theatre site. If you are at Bedok MRT, just follow the same direction as the trains going towards Tanah Merah and you will reach it in less than 5 minutes. Or click here to see directions to Bedok Point.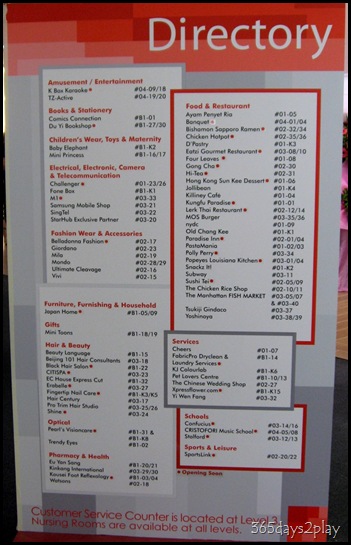 Latest Update as at 6 Jan 2011: Most of the shops and restaurants are now officially opened. The only 2 big businesses not yet opened are K Box Karaoke and Paradise Inn. There is no more paint or turpentine smell anymore. Mall feels clean and tidy, although ventilation can still be improved. You can sometimes get a whiff of the cooked food smell at certain restaurants, but given that the Bedok Point Mall is largely a mall of restaurants, this I suppose is to be expected. The Gong Cha here even has a small sitting area. click here for Frasers Centrepoint Mall's website for an official list of the shops, restaurants and tenants  at Bedok Point as well as phone numbers.
I asked the staff helping with the renovations when Paradise Inn will open. They told me Paradise Inn will officially open on 17 January 2010 at Bedok Point Mall.
Click here for my subsequent review on Bedok Point's Sushi Tei.