Warning, this is going to be a very long post with lots of pictures of food!
The other day, I met up with a long time friend for my early birthday celebration. I searched high and low for a good restaurant to go to that wouldn't require us entering the CBD area since it was a weekday. Somehow, I ended up on Dozo's website even though I'd never heard of it existence before. They have a 7 course dinner set going at $59.00+++ which seemed pretty reasonable considering that there were SEVEN courses. So just like that, I decided upon this place. Turns out, my friend had already dined there at least 3 times but she didn't mind going again as she'd enjoyed the previous occasions.
Dozo only serves this 7 course set dinner (6 course for lunch). For each course, there are about 5 choices to choose from. There is no ala carte menu available.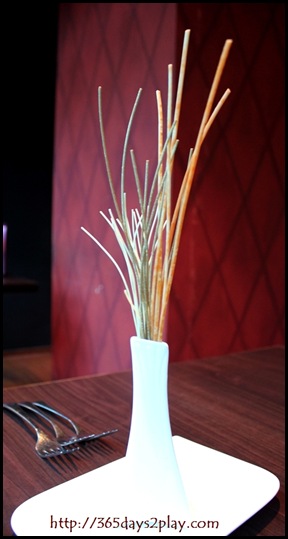 Complimentary crispy pasta strands — Quite nice, tastes like potato/corn chips.
1st Course — Chef Selection Assorted Platter — I absolutely loved the foie gras on bread puff. It was oh-so-melt in the mouth and slid down my throat way toooo quickly. I wish there was more of it instead of that tiny sliver! Foie gras just tastes so good it takes a bad chef to ruin it! The middle morsel was scallop and the last one was smoked salmon. All very tasty and were excellent as a start to the meal.
2nd Course –  Beef Tartare with Shaved Parmesan and Truffle Mayonaise — The Beef Tartare, which is basically raw beef was very nice. It had a very strong flavour to it, although I wouldn't call it a raw flavour. I didn't quite like the mayonaise though, it felt more like curry mayo rather than truffle mayo, and there was just too much of it, which I feel kind of cheapens the look of the dish. I still wanted to finish all the beef tartare so for the last few pieces, I scraped off all the mayo.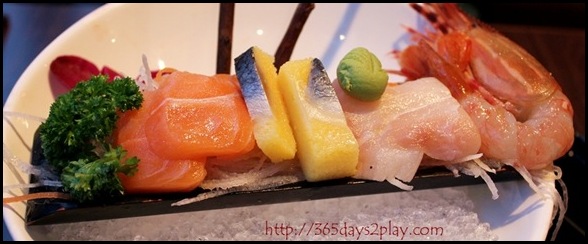 2nd Course — Sashimi — My friend had this. Looking at the huge slices of fresh fish and the huge amaebi, I was a little regretful that I didn't order this. But then, I had sashimi for lunch that day. The yellow fish in the middle ( i forgot the name) has a very very interesting texture. It's like biting into a firm raw fish egg sponge. I tried some and it had a tropical flavour for some reason.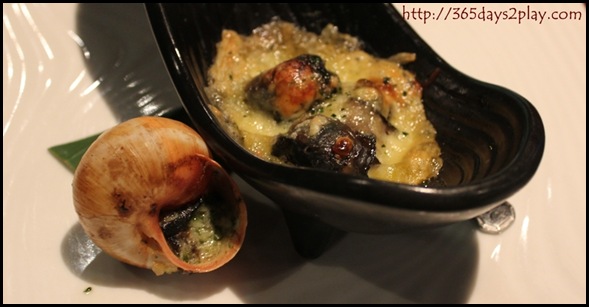 3rd Course — Gratinated Escargots with Yuzu Butter — My friend had this and said it was lovely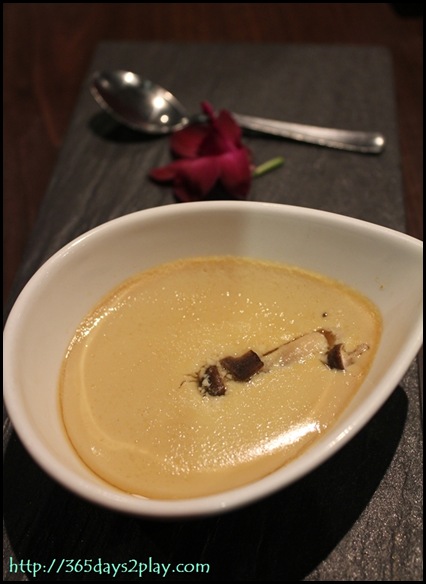 3rd Course — Foie Gras Chawanmushi with Truffle Slice — I had originally expected a foie gras slice on top of a normal chawanmushi. Instead, what they have done is to puree the foie gras into the chawanmushi. I love chawanmushi on its own, but what I can say is that foie gras mixed into chawanmushi is even better. I definitely could taste the distinct flavours of the foie gras in each scoop of the heavenly chawanmushi. Of course, had the dish come with a slice of foie gras instead, I wouldn't have been disappointed either.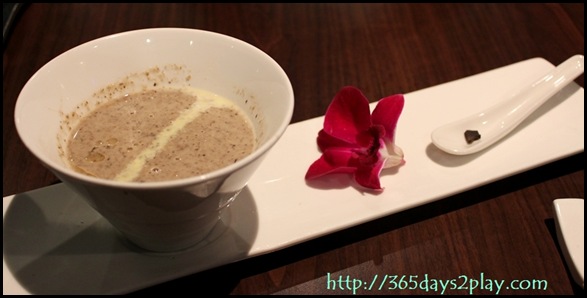 4th Course — Mushroom Soup with Truffle — Seems like Dozo really likes using Truffles to enhance their dishes! That little black thing in the spoon is a sliver of truffle.
4th Course — Clam Soup — I had this, which I thought was very ordinary after all the previous dishes. It was clear soup with clam flavour, but no solid pieces of clam in there. It also had a rather strong seafood taste, which some others may not appreciate. Didn't like it that the sides of the bowl were stained with the soup = failed presentation.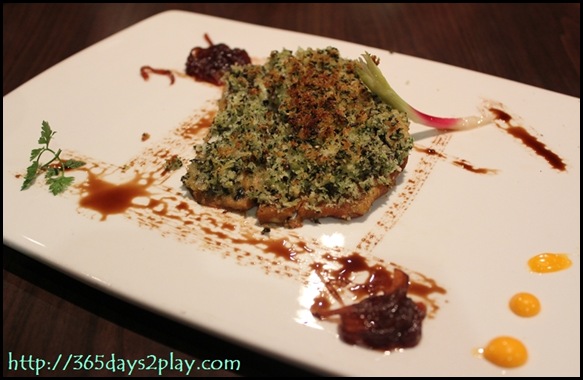 5th Course — Kurobota Pork Cheek with Onion Jam — The pork was very tasty and cooked just right such that it was very tender. Really loved the flavour of the meat. Didn't like the gratin that they piled onto the pork together with the mayonaise underneath the green gratin. Once again, way too much mayonaise to the point that I had to once again scrape off the mayo. I really liked the caramelised onions on the side. If only this was incorporated into the pork, perhaps that would be better?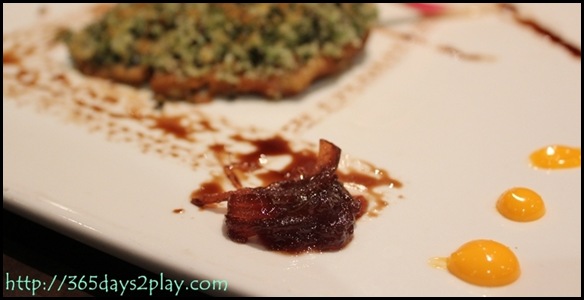 Here's a close up shot of the wonderful caramelised onion jam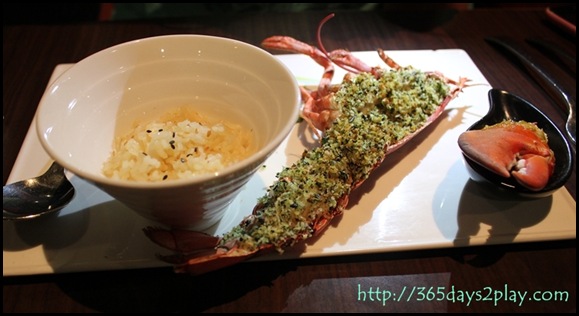 5th Course — Lobster Gratin, Pumpkin Puree and Asparagus Tips — Interesting to note that both the main courses had the same green gratin.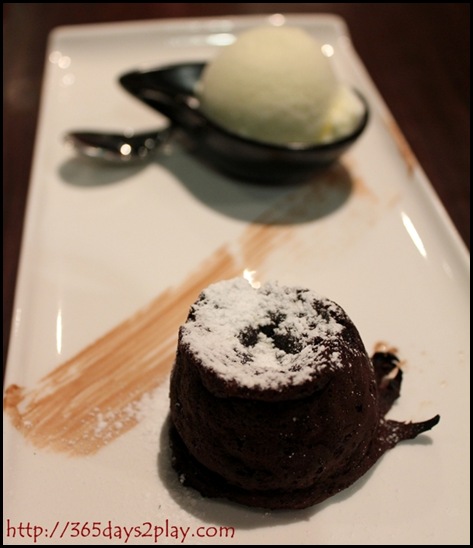 6th Course — Warm Chocolate Cake — Cake was average. Definitely not near the best that I've eaten.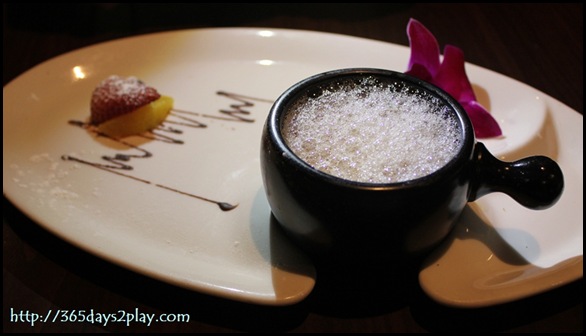 6th Course — Expresso Creme Brulee — I loved how this was presented. Was very tasty too, the scoop that I stole from my friend.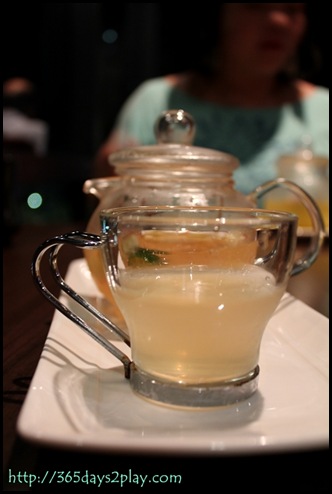 7th Course — Iced Fruity Refresher (above) and Green Apple Mocktail — I had the iced fruity refresher, and refresh me it did! I was even provided a fork to spear out the cubes of fruit in the drink. My friend had the Green Apple Mocktail which is her favourite in all the drinks that she's tried here.
Conclusions : At first it seems that $59+++ ($71 nett) is a great price for a 7 course meal, and I did think that the 1st few dishes were wonderful and worth the price. However, the soup was a let down. The main course and dessert while nice, gave me the feeling that I could also get these from any other restaurant or cafe. And the vibe of the place…I get the feeling that the restaurant wants to market itself as a fine dining/atas restaurant. But simple details like the presentation of the soup, scratches on the pillars and a totally atrocious toilet (worse than a Chinese restaurant's toilet!) lowered my impression. To conclude, $59 is not cheap, you get what you pay for.
Dozo — Fine Modern Japanesque
491 River Valley Road
#02-02/03 Valley Point Shopping Centre S248371
Tel: 68386966
Lunch: 11-2.30pm ; Dinner 5.30 —10pm