As you know, I've been baking so much lately. It's fun to bake but a huge problem always crops up after the baking's done. WHAT DO I DO WITH ALL THOSE CAKES??? Well most of them actually get devoured by my parents' colleagues, or offloaded to friends who happen to be in the vicinity. You know what, I thought I should spread the love by sharing my baked goods with my loyal readers!
This is what I baked today.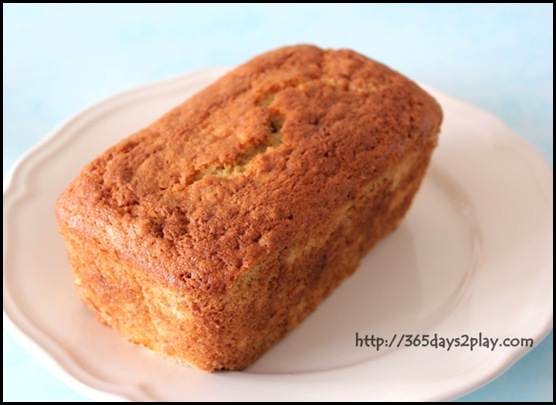 It's a Banana Cake in loaf form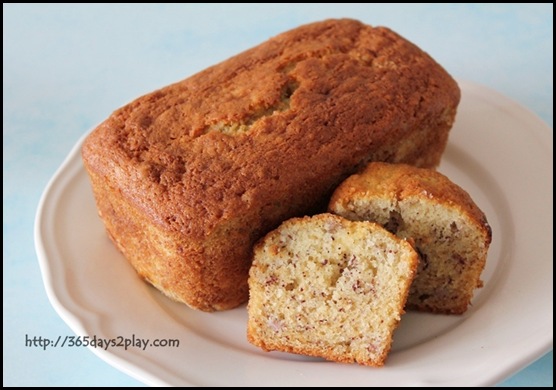 I made a small muffin for myself as well so here's what the inside looks like.
Here's the deal. I'm giving this banana cake for free to a random lucky winner. I have TWO banana cakes to give away! All you have to do is this:-
1. Go to my Facebook and SHARE or TAG the Banana Cake post. Also leave a comment in my Facebook that you've already done so. (You need to LIKE 365days2play Food & Travel Blog Facebook Page first, if you haven't already done so.)
2. At 6pm today, that's 6pm 12 April 2012, I will stop collecting names and do a random draw for a lucky winner.
3. AGAIN at 12 midnight today, that's 12 April 2012 11.599999pm, I will stop collecting names and do a random draw for another lucky winner.
4. Those whose names have been entered for the 6pm draw will also be submitted for the 2nd draw so get your A into G and get cracking!
5. Participants must be able to collect the banana cake from me at either Bedok MRT at 9pm tonight or Bedok MRT / City Hall MRT / Raffles Place MRT tomorrow around 3 — 6pm (timing to be reconfirmed)
6. Most importantly, don't sue me if you don't like the cake!! I've tried it already and it's good lah.