2 weeks ago, we gathered at this wonderful Italian restaurant to bid fond farewell and to celebrate the freedom of 3 of our colleagues. Pietra Santa is a particular favourite of one of the 3 who is leaving. After finally getting the opportunity to dine here, it's not hard to understand why. It's located in the really laid back area of Portsdown Road (just opposite Colbar). The al fresco area where we sat faced lush greenery, if you try to ignore the rows of cars parked just outside. It's as close to "countryside" dining as you can get in Singapore. We arrived in the evening when the sun was setting and I definitely want to come back again in the morning to enjoy my meal amidst the chirping of the morning birds.
The Tuscan-styled Pietra Santa looks like the type of restaurant where the budget conscious may think thrice about dining here. Actually, the prices are pretty affordable. The pastas go from $18 – $25 while the pizzas are only $17 – $23. It only starts to get pricey if you order the appetisers (above $10) and the desserts (starting from $6.90), but even then, it's not too bad.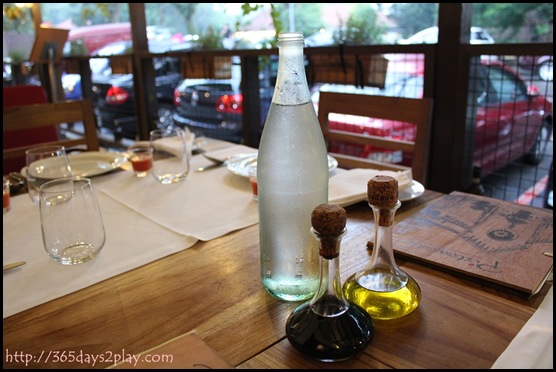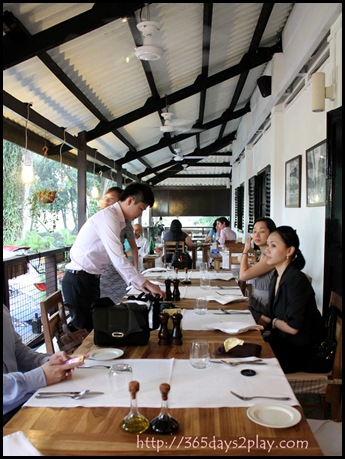 I love this pretty alfresco seating area. It sure would be nice to have a meal here over a lazy weekend.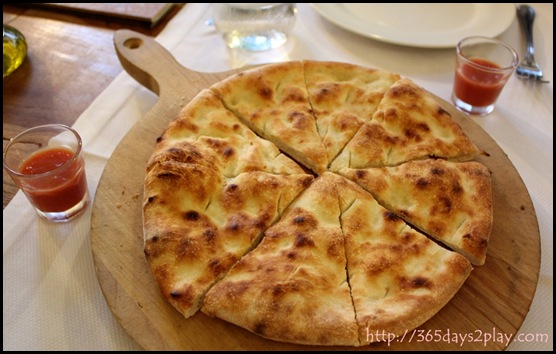 Some bread, which doesn't seem to be featured on the menu on their website. You take a slice and dip it either in olive oil or the tomato concoction provided in the shot glasses. It also goes very well with the cold cut meats if you're ordering that. It's very firm so those without teeth should not eat this. 🙂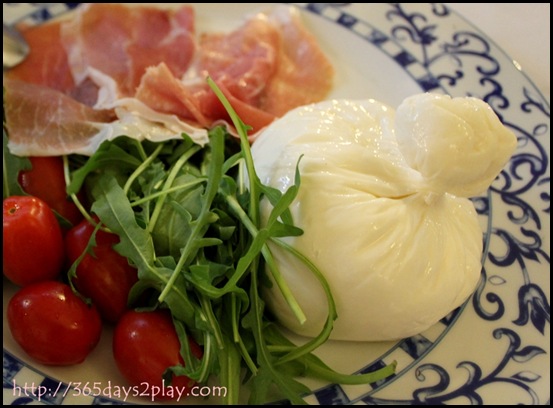 This, in my opinion, is just DIVINE. This is buffalo mozzarella at it's best. This is the BEST buffalo mozzarella I have EVER EATEN IN MY LIFE. I haven't been to Italy so I would say this is the best bufala mozzarella in the whole of Singapore. It was so creamy and had such a rich intense flavour. The outside was a little firm, but like a half boiled egg, the inside was softer and it made me feel as if I was eating milky clouds. SO GOOOOOOD!!!! Even the non cheese lovers at our table had to stamp their approval. Again, this doesn't seem to be in the main menu. Costs $40. I hear you can buy the mozzarella at Paragon MarketPlace for about $20. This weekend, I'm heading there and don't you buy the last one.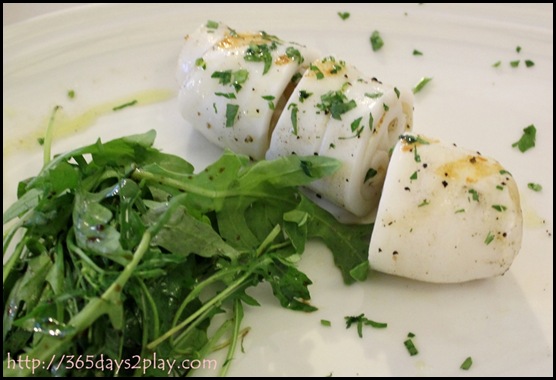 Insalata di Calamari alla Griglia $16.90 — Grilled squid. Had a springy bite to it and tasted very fresh. Delicious. This is from the appetiser section, but it can even act as a main course as there's 2 rolls of the squid.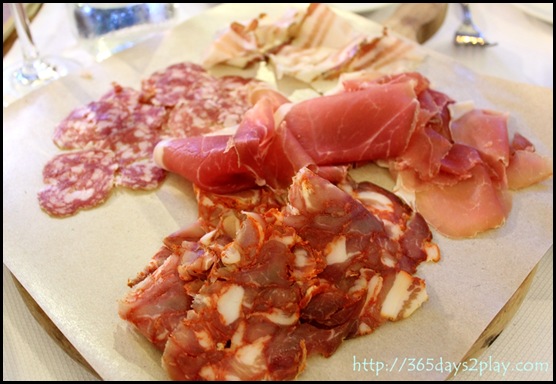 Piatto di Salumi $23.90 — Mixed platter of traditional Italian cold cuts, It all tastes very delicious. For me, I personally find that eating this with the bread shown above is much better than eating these slices on their own.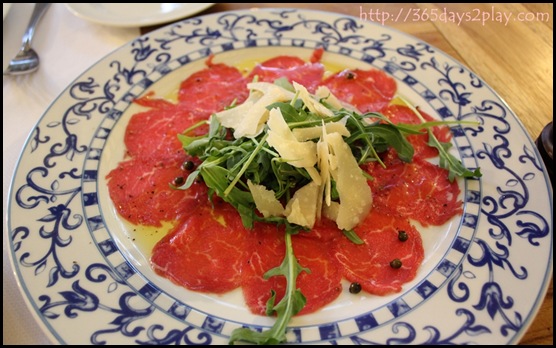 Carpaccio di Manzo con Rucola e Parmigiano $16.90 — These are kind of like the thinnest slices of raw beef tenderloin I've come across. They almost melt in your mouth and disappear way too quickly.. Very delicious.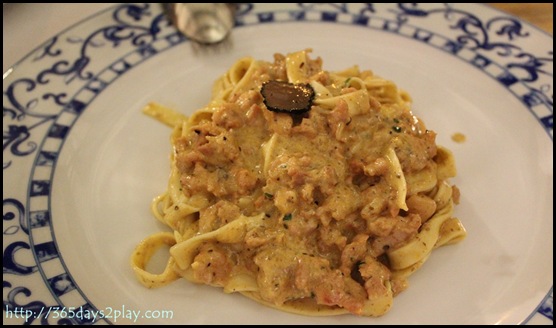 Tagliatelle con Salsiccia e Tartufo $24.90 – Home-made Tuscan Spaghetti with Sausage and Truffle. I love the rich meat sauce. It's creamy yet not overly so. It goes so well with the pasta. I had to share this dish with a few other people, but I think I'll order this again when I visit Pietra Santa again.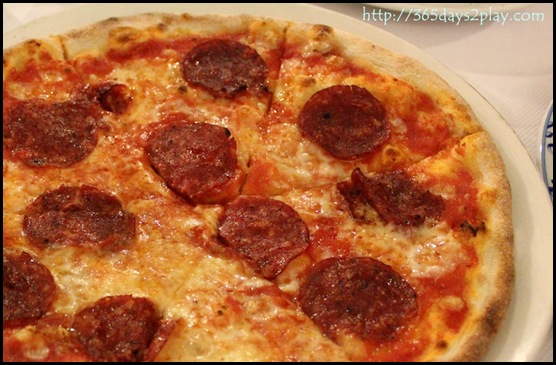 Diavola $18.90 –  Italian Mozzarella and Spicy Salami in Tomato Sauce. Can give this a miss. Pizza is dry, hard and salty.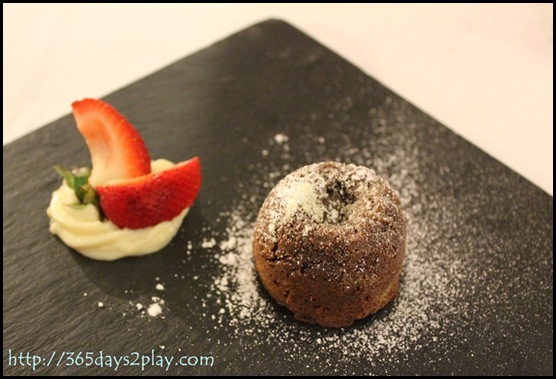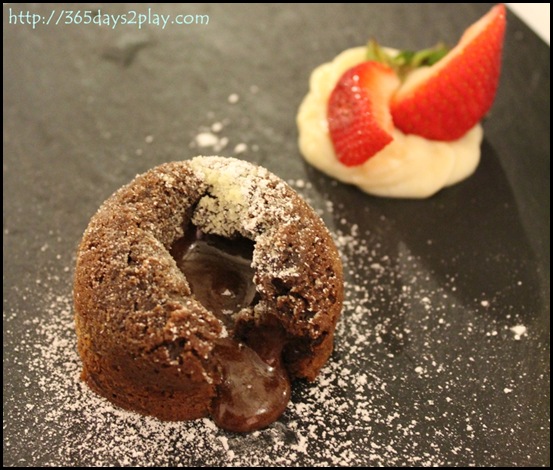 Cuore Morbido al Cioccolato $7.90 — Melting Chocolate Cake. Tastes good, but no where near the best that I've had in Singapore, which is a bit of a disappointment considering that this is an Italian restaurant and considering that the earlier dishes were so good.
There is air-conditioned seating inside too if you can't take the heat. At night you can hardly feel the heat as the fans are also on.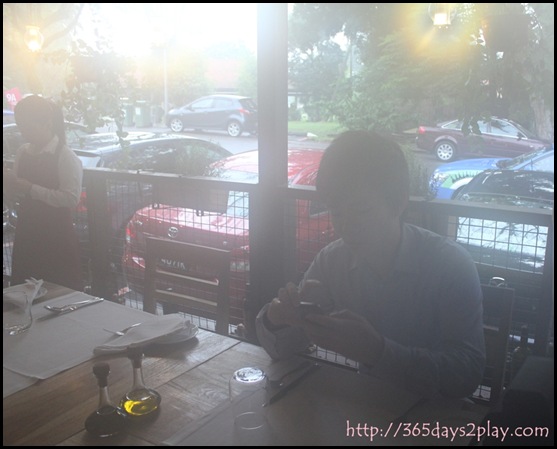 Lastly, one tip when taking pictures outdoors. Don't use your camera immediately after getting out of the air-conditioned car!
In conclusion, definitely have to bring the Partner here to enjoy the food as well as the surroundings. Service was also prompt and friendly. Only issue is, you need a car to get here, but I'm sure it's well worth the effort!
RISTORANTE PIETRASANTA PTE LTD
Address:
5B Portsdown Road
#01-03 Singapore 139311
Tel: +65 6479 9521
Email:
pietrasanta@singnet.com.sg
Opening hours:
Monday to Saturday
(Closed on Tuesday)
11:45 am – 2:30 pm
6:00 pm – 10:30pm
Sunday
11:45 am – 10:30 pm
http://www.ristorante-pietrasanta.com
http://www.ristorante-pietrasanta.com/Contact.html (see here for map)
http://www.ristorante-pietrasanta.com/MenuEvents.html (see here for menu)