I never like to spend my weekend in a harried way if I can help it. One of my favourite activities is to sit down over a drink and watch the world go by (as if you didn't already know that from reading all my previous blog posts). But the question is, where is the best place to have a relaxing cuppa? A place that has good seats, preferably the sofa type, and a place that isn't crowded. The 1st thought that comes to mind invariably is some cafe or restaurant, but I think one type of place that has been overlooked is the hotel lobby bar.
Yes I know, hotel lobby bar, sounds expensive. That's true, but sometimes it pays to pay. Yesterday, after a hard evening's worth of eating, we were in the Bugis area and we just so happened to need a place to relax some more. We went past Food For Thought on North Bridge Road, but there was some massive frying thing going on which made it almost impossible to breathe, so we had to give it a miss. By the way, Food For Thought is moving to the Singapore Botanic Gardens. 3rd September 2011 is the last day of operations on North Bridge Road.
The InterContinental Hotel in the distance beckoned to us, and we heeded the call. I've always loved stashing out at the InterContental Lobby Bar. Their afternoon tea is pretty good too. Have you seen the sofa seats? They are huge! One entire sofa just for the 2 of us, plus 2 more cushy armchairs for our bags. And a generous heap of cushions you could hide a small child behind.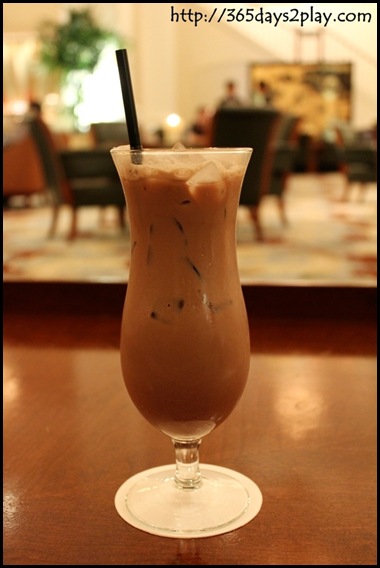 The drinks were of course expensive, nothing goes for less than $10. Coffees and pots of tea start at about $13. But here's the trick, try and order the largest drink you can think of, and you pay less per sip 🙂 . Something iced tends to look bigger and we hit pay dirt by ordering the iced-chocolate which costs $13. The iced-chocolate was really delicious too. Thick, chocolatey and sweet enough. We were in chocolate and sofa heaven, with no one else to disturb us since all the tables are spaced far enough.
For $13+++, I would consider it money well spent for great service, a great drink and great comfort, in pretty surrounding too. And if you come at the right time, you get to enjoy melodies from the pianist or harpist. If you are there during their happy hour of 6-8pm daily, you get to enjoy martinis at $10 nett.
Sorry, all the photos are taken without me having to unmould myself from my seat.
Well now you know the secret to where to find the best place to relax, but please, don't tell anyone else!
Check out my previous post on Hotel Intercontinental's weekend high tea
InterContinental Singapore
80 Middle Road
Singapore 188966
Tel: +65 6338 7600, Fax: +65 6338 7366
E-mail: singapore@interconti.com