If you haven't heard from me in a while, it's because I was having a wonderful time in the land down under, specifically in the Margaret River region! When I first told people I was going to stay 5 nights in Margaret River, they were incredulous. Most Singaporeans only spend 2 or 3 days in Margaret River, and so did I back in 2010 when I first visited.
However this trip has surpassed all expectations and when I look back, I can't imagine how the holiday could have been any shorter! There's so much to do, so much to see, so much to eat and drink, and not forgetting finding time to actually relax by the beach or resort.
Feasting breakfast, lunch and dinner!
One of the biggest highlights of our trip has to be the 2 beautiful beach resorts that we stayed in. We stayed 2 nights at Smiths Beach Resort and 3 nights at Injidup Spa Retreat. They are very different in character, Smiths Beach Resort having a more modern look and near to the surfing beach while Injidup Spa Retreat, as the name suggests, exudes a cosy and secluded feel, as if it's just you and you alone facing the huge ocean.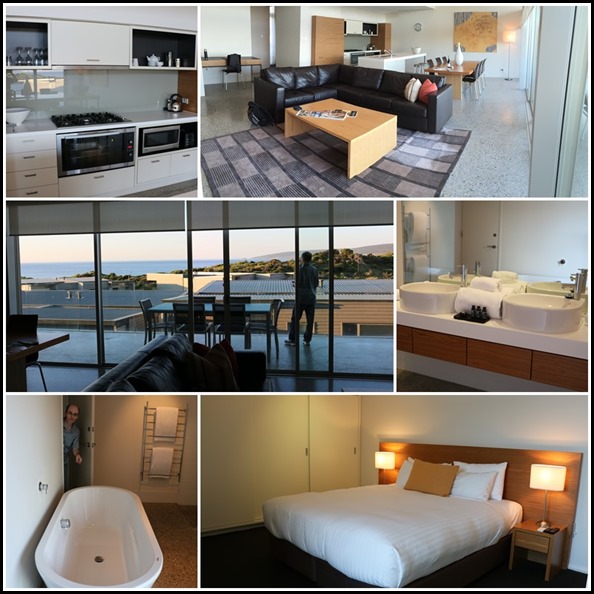 Smith Beach Resort Ocean View Villa — Check out the extensive balcony space, and the big bath tub!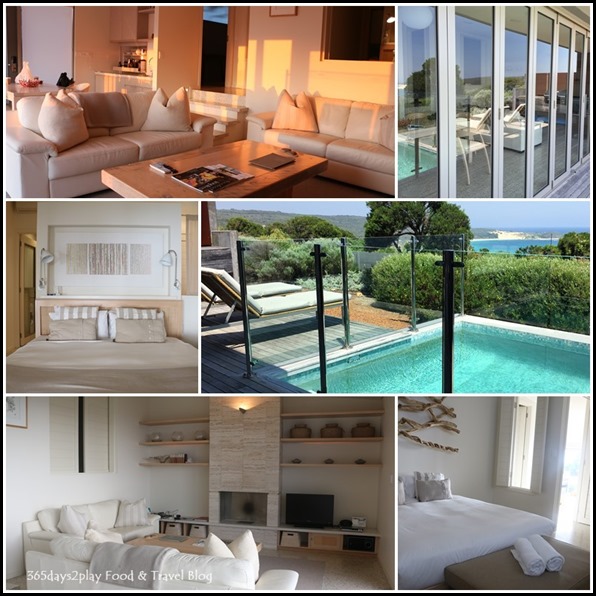 Injidup Spa Retreat — Your own plunge pool where you can watch the sun set directly in front of you! I would just love it if my house looked like this!
It was just amazing to be so near to the beach, and to be able to see the blue waters from our balcony. I would highly recommend paying a little bit more for this privilege because nothing beats waking up to the sounds and sight of the ocean while in your pyjamas and eating breakfast. In fact, I kinda regret packing my itinerary so tightly with activities. I should have spent at least 1 day doing nothing and lazing in the resort. I did at least manage to squeeze in a massage session at Injidup's onsite spa, which was so heavenly I very nearly cancelled my whale-watching plans to have another go at it.
Most people think that Margaret River is only good if you love wines, but guess what, I did not drink a drop of alcohol while I was there. I didn't even visit any vineyards for wine tastings, and still had so much to do in the 6 days I was there. For one, did you know that Margaret River is home to numerous limestone caves? Up until this trip, I did not know about it nor have I ever heard of anyone visiting the caves, which is a great pity because the experience was totally mesmerising and surreal. Imagine walking into this dark cavernous natural wonder, and if you listen closely, you can hear the droplets of water that have created the stalactites and stalagmites through the millennia.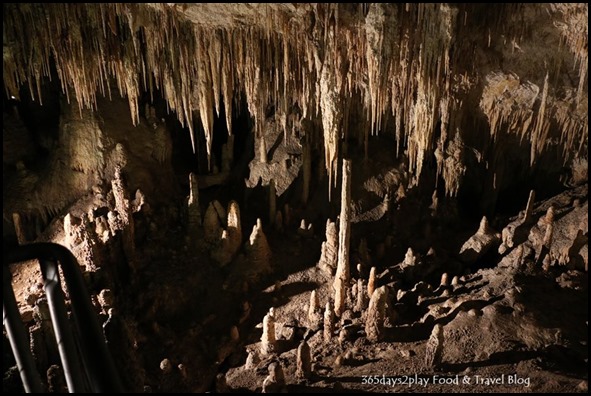 Mammoth Cave, named so not so much because of the size but because mammoth sized bones of extinct Australian megafauna were found here.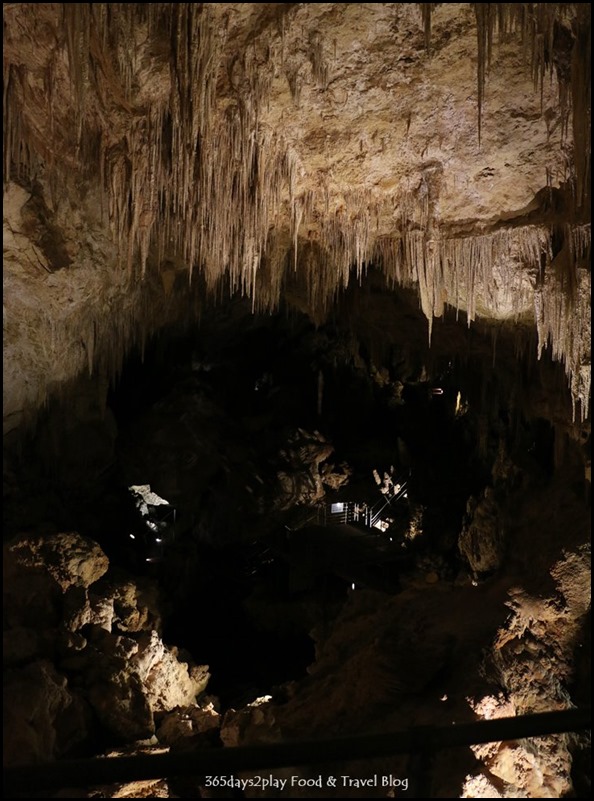 Despite my fear of heights, I managed to explore every corner of this cave because it was just so fascinating.
After descending into the earth's depths, one has to balance it out by ascending one of Margaret River's 2 lighthouses. As we had visited Cape Naturaliste Lighthouse back in 2010, we chose to go further south by visiting Cape Leeuwin Lighthouse this time round. Cape Leeuwin is also where the Indian Ocean meets the Southern Ocean. Not a lot of places where you can see 2 oceans crash into each other.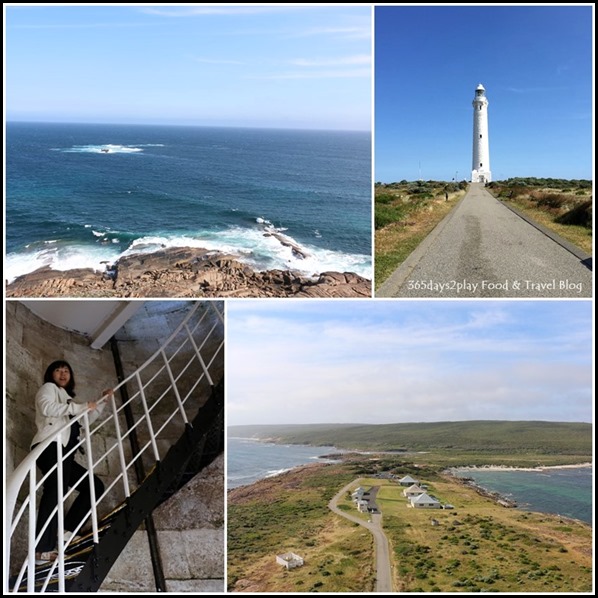 When the conditions are just right, you will see the crashing of waves from the Indian Ocean and Southern Ocean.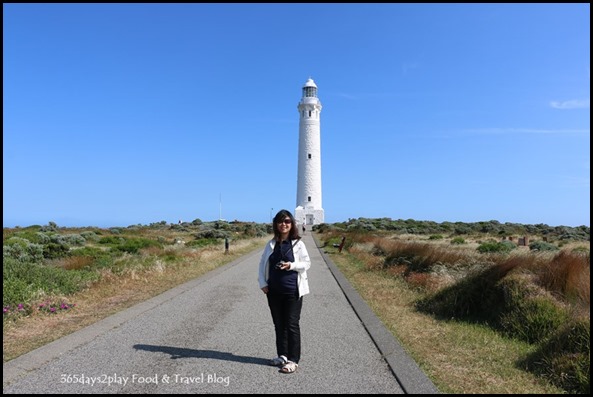 There's just something that's so lovely about a clear blue sky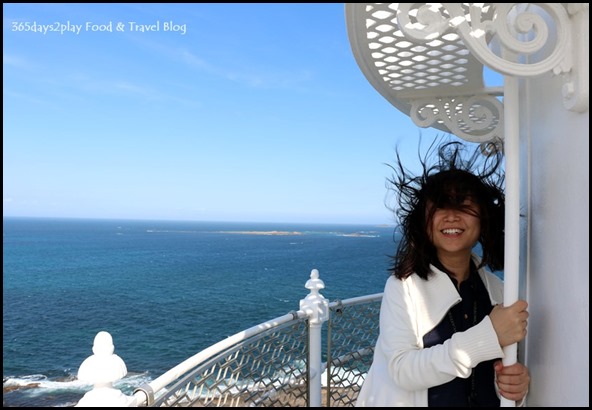 To access the lighthouse, you need to pay for the guided tour. I would definitely recommend that so that you can experience the "medusa" look. Apparently the winds were only 30km/hr when I was up there and they only close the lighthouse to tours if gale force winds of over 100km/hr are reached.
And of course, with so much ocean around us, we just had to do something involving water right? In fact, it is currently whale migration season, and we have been seeing tantalising spouts of water way in the distance from our hotel balcony. We thought we might as well get up close and personal with the whales so we booked a trip out with Naturaliste Charters. Alas, the day that we decided to go out to sea, the heavens decided to open. It was just clear blue skies every single day except for the day we decided to go whale watching! What is the meaning of that! Anyway, the whales were hiding that day, but we did manage to catch some glimpses of them after 2 hours of searching. I was kinda happy to return to shore without spotting any whales as I was feeling sea sick with the choppy waters. But everyone else paid good money and wanted to find gold so we plod on. In the rare event that no whales are spotted, you can join another trip for free. We also saw some dolphins near the start of our trip, so that was a treat.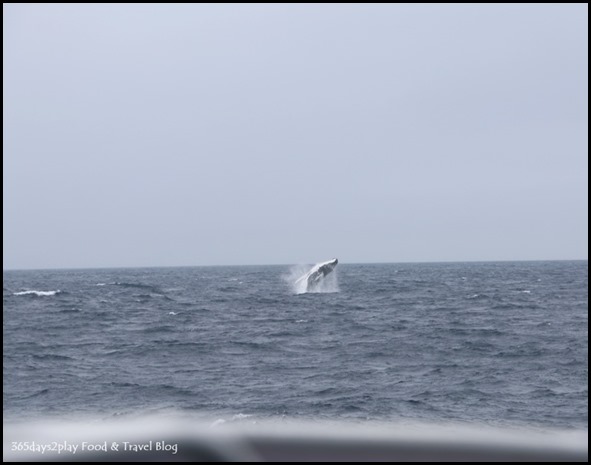 This is the best shot we have of the whales but I heard from the skipper that they have a near 100% success rate of finding the whales and within a short span of time instead of the 2 hours we took. If you look at pictures of previous trips, sometimes, the whales come right next to the boat!
And of course, how could we not indulge a little with the numerous exemplary restaurants in Margaret River. We were quite pleased with all the cafes and restaurants that we tried. A number of them also insist on using local produce, ie sourced from Margaret River or Western Australia.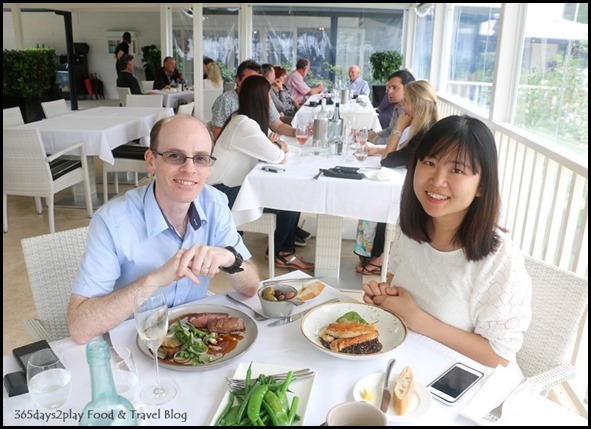 Aravina Estate — This was just after our gloomy trip out to sea and boy was I happy to be in nice comfortable surroundings again with delicious food to perk up my mood.
Here's us having afternoon tea at the Pullman Bunker Bay Resort. Notice the binoculars? They're for spotting the whales.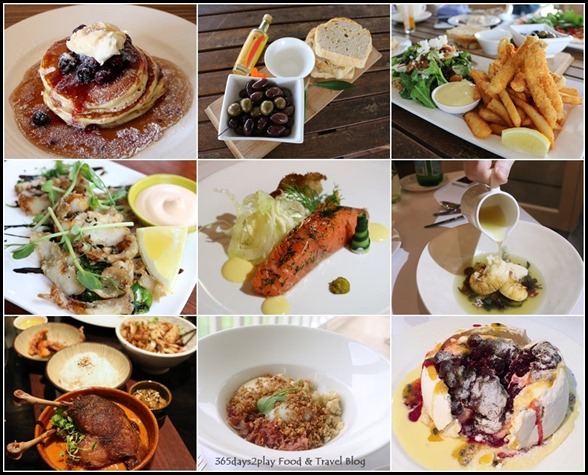 Ok I lied. We didn't indulge a little. We indulged ALOT. From left to right :
Well we did attempt to shave off the calories by taking scenic walks along the Cape to Cape track and Canal Rocks. More on that in the subsequent posts!
---
Add me on Facebook, Instagram and Twitter if you want to be kept up to date with the latest happenings in the food and lifestyle scene in Singapore!
---
A very big THANK YOU to the Margaret River Region + Busselton Tourism Board for helping to organise this wonderful and memorable trip!