Happy New Year to one and all! Hope you've been having a great time enjoying the 3 day long weekend!
On the 1st day of January 2012, I spent it at 112 Katong. I had lunch at Baci Italian Cafe, followed by sweet stuff at Da Paolo Gastronomia. Enroute from 1 outlet to the other, I toured all 5 floors of the building, which was very crowded with families keen to check out the new 112 Katong. Bumped into several strange people dressed in jester clothing who kept waving at me and wishing me Happy New Year. It was quite funny to see them going up the escalator in a straight file along with the other shoppers. Sorry no photo of that unfortunately.
Lunch at Baci Italian Cafe was a very forgettable affair. I will blog about it in the next post. What is more important is the fact that I believe I have found the best Chocolate Croissants that I have ever eaten in Singapore to date!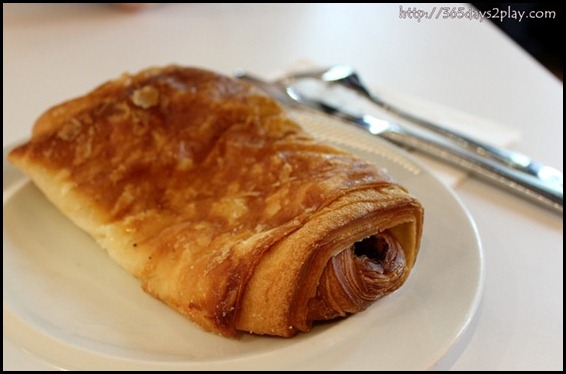 Don't be fooled by this rather plain looking Chocolate Croissant. Da Paolo's Chocolate Croissant is bigger than any Chocolate Croissant I've seen. It is as long as the knife! It's flaky on the outside, yet moist, rich, buttery and chewy on the inside. And let me tell you, this Chocolate Croissant is filled with a horizontal column of thick chocolate filling from end to end. No more searching for miserable chocolate chip bits in your croissant. Every mouthful of this Chocolate Croissant from Da Paolo delivers chocolate and croissant with every bite! If you ask me, eating this is even more comforting than eating a plain old chocolate cake. Really really really fantastic. It's so substantial, the Partner and I went halves on this. I would almost recommend you not to have this on your own or you would not be able to eat dinner.
And the most incredible part is it costs only $3.20!!!!!!!
And I've tried the Chocolate Croissant at Maison Kayser, the renown French bakery that recently opened at Scotts Square. It's nothing compared to Da Paolo's Chocolate Croissant.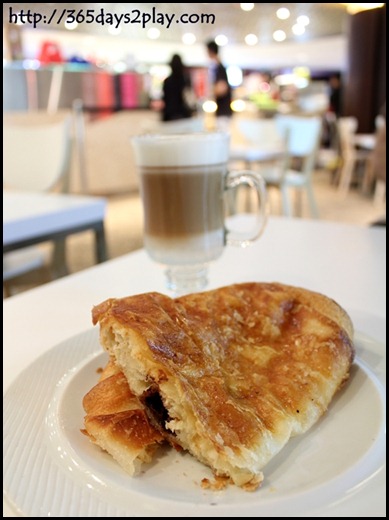 There are some seats at the Da Paolo at 112 Katong. You have to make your orders at the counter, and get your own cutlery, but they will serve the food to you.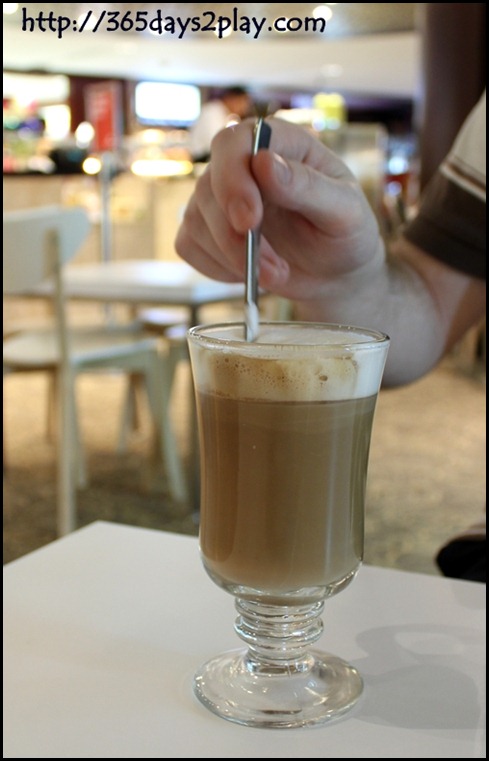 We also tried the Dark Chocolate Mint Latte for $6. Quite pricey considering the other drinks were cheaper. Whoa, at first sip, the mint flavour really hits you. It was like drinking liquid mint chocolates. I couldn't even tell that it was a latte. It was rather sweet too and I found it amusing that the staff even gave us a sugar packet. As a chocolate drink, this was refreshingly different. I rather liked the mint flavour, and there wasn't any bitter taste either, which is usually associated with dark chocolate. I wouldn't order this if I needed a caffeine shot though.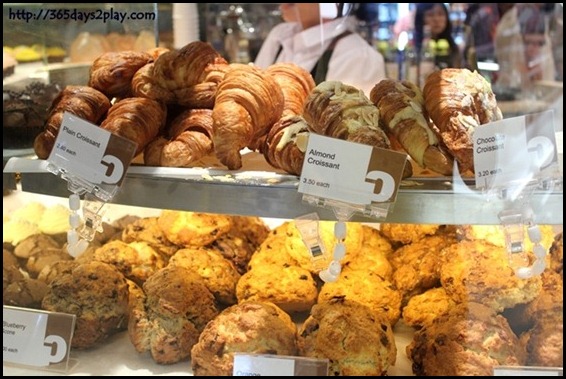 After our snack, we went back out to take a picture of the pastry case, and the chocolate croissants were all sold out!
See my other posts on Da Paolo Gastronomia at https://365days2play.com/tag/da-paolo/
See my other posts on 112 Katong Mall at http://life.365days2play.com/2011/12/10/i12-katong/
Da Paolo Gastronomia
112 East Coast Road #B1-21
Singapore 428802