The Kampong Glam area is becoming more hip with the proliferation of cafes sprouting out. You might have heard of the popular Symmetry Cafe, as it was one of the front runners to locate in this area I think a couple of years back. Even back in 2012, seats were hard to come by, and it's a statement to their food and coffee that the queues are no shorter even after all this time, and with the competition across the road.
An interesting thing to note, which I suppose most Chinese Singaporeans won't realise is Jalan Kubor, which is the street where Symmetry Cafe is located, means Tomb street! Quite apt for a road name, as Jalan Kubor is a long street cutting through a Malay cemetery just across Victoria Street. Don't worry, Symmetry Cafe is on the other side of Victoria Street, which for some reason is still called Jalan Kubor.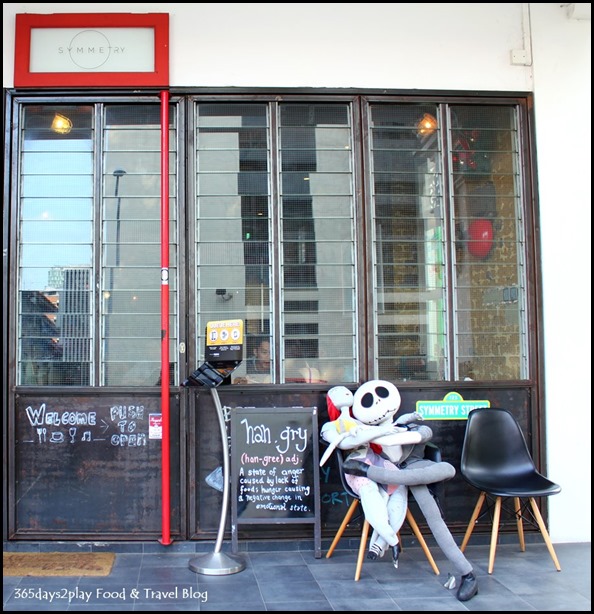 There is nothing freaky about Symmetry Cafe, unless you want to count in those near life-sized dolls sitting outside the cafe all day long.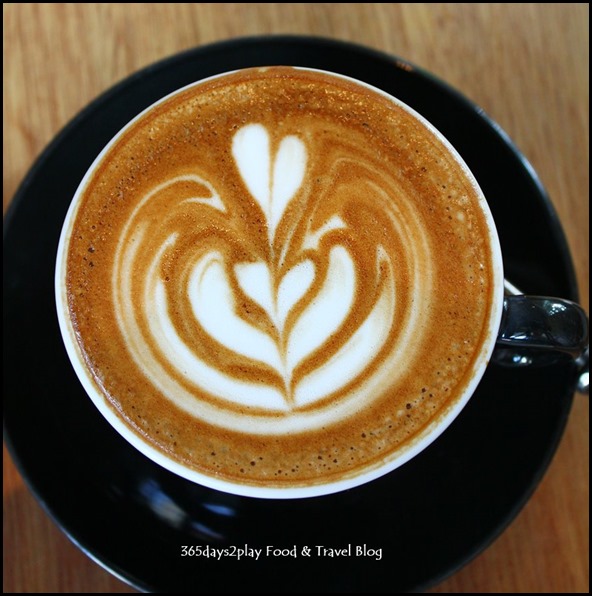 Symmetry Cafe is one of those cafes that serves good food as well as good third wave coffee. The food menu here is quite extensive as compared to the average cafe these days, which is good because then there's even more reason to visit, rather than just for cakes and coffee. The menu is on the expensive side though for a cafe, with most mains being $20 and above. We had the brunch menu when we were there but Symmetry Cafe serves lunch and dinner menus too.
But it's also here that you get to sample interesting things like pork collar croissant $20, Ham Hock & Pancetta Steak $21 and Bacon and Cheese Rissoles $16.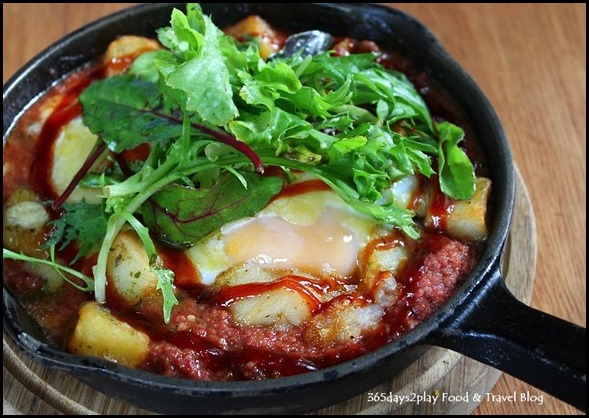 Hickory Corned Beef & Hash (eggs, pommery mustard, potatoes, gherkins, chilli, caramelized shallots) $22
The Partner was quite adventurous and went for this corned beef & hash. It's a really filling dish that packs a punch, with many flavours going on at once. I quite liked that and in fact enjoyed the spiciness from the meat mixing along with the soury tang of the tomatoes. The Partner found the dish a little to soggy for his liking. Would have been good to have some bread served with this to mop up all the juices.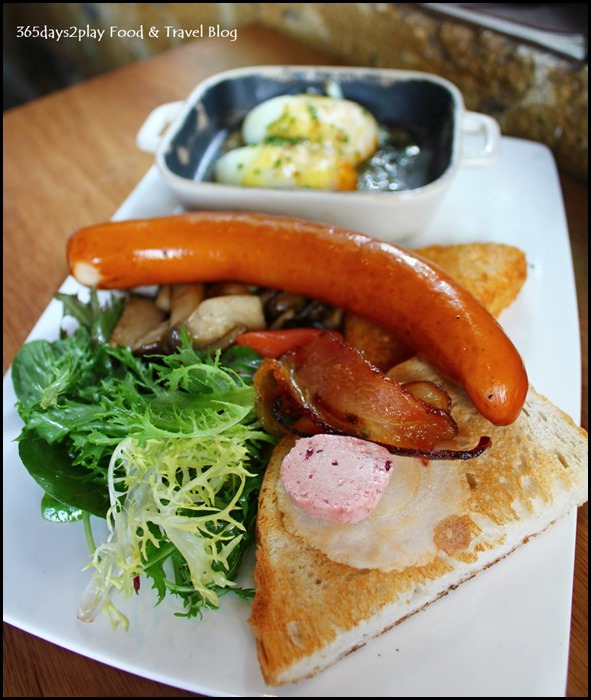 Big Breakfast (2 eggs of choice, maple-glazed bacons, smoked salmon, chicken cheese sausage, saute mushrooms, mesclun, jam & toast) $24
I found it hard to resist ordering the big breakfast. I'm so greedy I love ordering big breakfast because I want to have everything! This is really the works because not only does it have a huge sausage, there's even smoked salmon hidden somewhere underneath. And it's not just any old sausage, it's cheese encased sausage! Cheese and me go very well together.

The bread was lovely and they were obliging to give me more when I requested, to eat with all the good stuff here. Oh here's one of the rare places that will allow you to choose poached eggs as your choice of eggs. It totally solves the problem of having to choose between eggs benedict or big breakfast, which is a dilemma I always have when brunching out.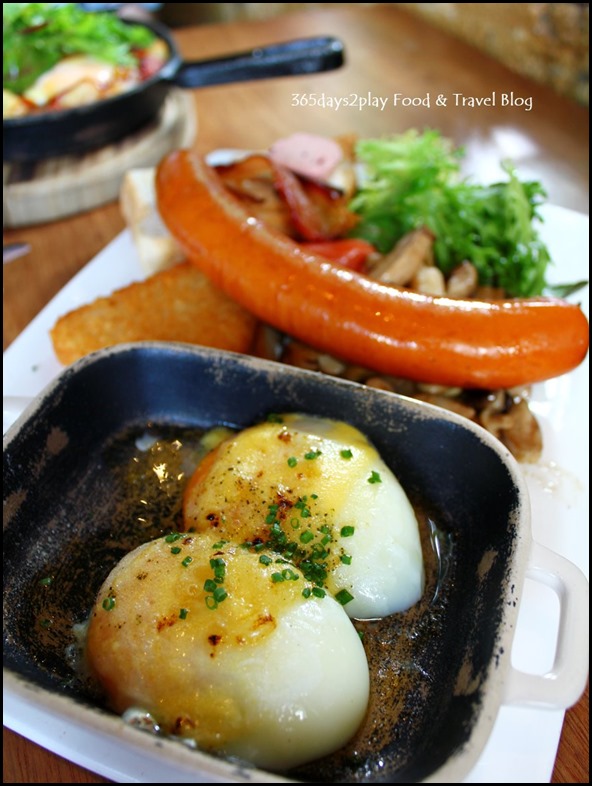 Here's my dish again from another angle. Check out my beautifully poached eggs! Here's my secret tip, go for this big breakfast rather than the eggs benny which costs $21!
Mandatory shot of the yolks overflowing. Are you a firm believer that eggs are good for health? I know which camp I'm on.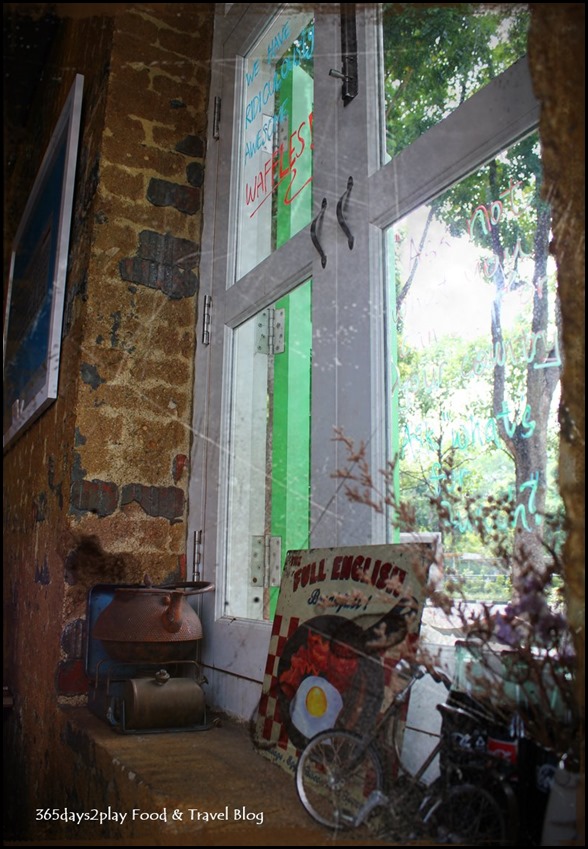 Love the rustic but slightly rough look of the place.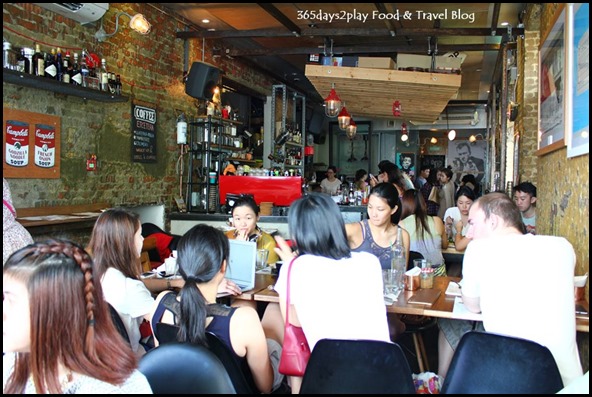 Only problem is, the seating is helluva jammed packed, and the music is way too loud for my liking. Symmetry Cafe is where the food is very good, the coffee quite good, but not a place I would want to chill out for long.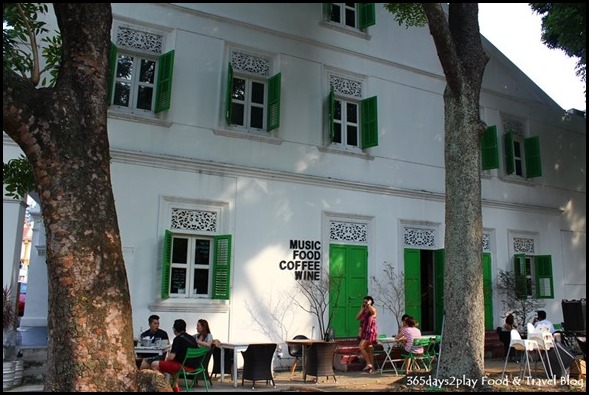 You can beat the long queues if you make a reservation in advance. Most people don't know that Symmetry Cafe accepts reservations. It'll save you a lot of hassle and you'll feel like a VIP when you saunter past those waiting in line in the sweltering heat.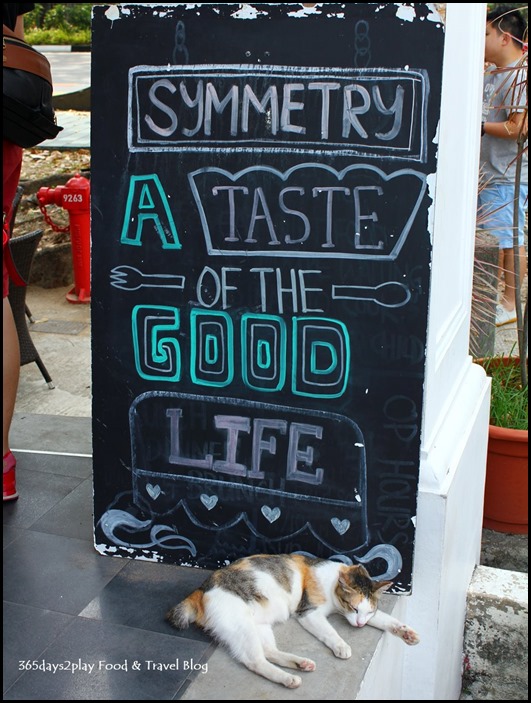 You'll be as cool as this cat we found sleeping outside Symmetry Cafe, oblivious to the din happening inside. Symmetry — A taste of the Good Life.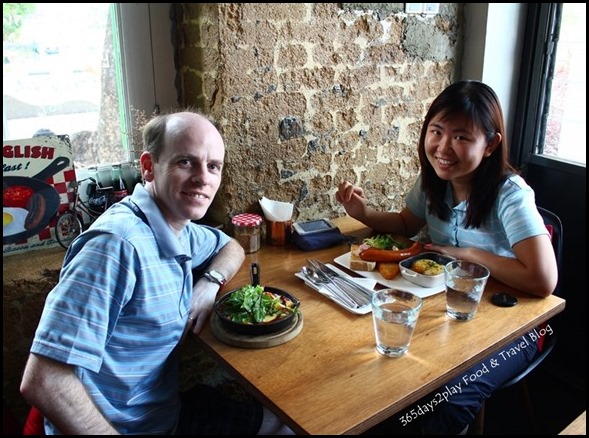 ---
Add me on Facebook, Instagram and Twitter if you want to be kept up to date with the latest happenings in the food and lifestyle scene in Singapore! 
Read my reviews of other cafes to visit in Singapore!
Check out other new cafes in Singapore that have recently opened!
---
Symmetry Cafe
ADDRESS : 9 Jalan Kubor #01-01 S(199206)
OPENING HOURS :
MON 1030 — 2100   TUE — THU 1030 — 2300   FRI 1030 — 0000
SAT 0900 — 0000    SUN 0900 — 2100
TEL +65 62919901
E-MAIL
info@symmetry.com.sg
Menu : http://symmetry.com.sg/menu/
http://symmetry.com.sg/ (You can make a reservation via their website, the available time slots are listed)