New cafes have been opening by the dozen that I can hardly keep up with the sampling. It's no longer surprising to hear of yet another new kid on the block. The good thing is that these "New Generation Cafes" are being opened by people who are really passionate about what they do. And when there is passion, there is quality and value. I would not hesitate to visit any of these New Generation Cafes as more likely than not, I'm going to be enjoying the freshly brewed single-origin coffees and food made with wholesome ingredients.
Interesting though, that most of these cafes choose to either open in the Central part of Singapore (ie Shenton Way, Robertson Quay, Dempsey) or the once old now renewed Tiong Bahru area. What's wrong with the East, people? There's still lots of space in Siglap, Katong, Simpang Bedok and Eastwood!
Well, one cafe called Chock Full of Beans has started operations in Changi Village. I consider Changi Village to be in the East, so hooray for that, although technically speaking, Changi Village is so far east that it would be equidistant for me to drive to Bugis instead. Anyway, I thought I should show my support for Eastie cafes so I dragged the Parents and Partner along to give it a try 2 days before Chinese New Year.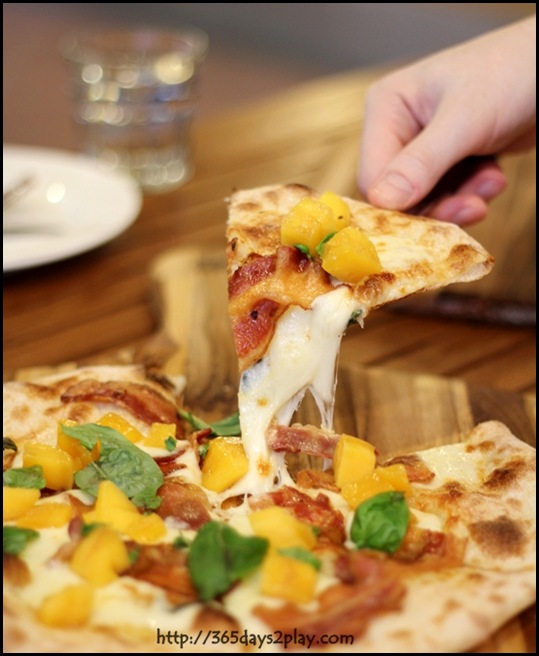 As the name suggests, Chock Full of Beans specialises in serving up various coffees. They also do cooked meals in the form of sandwiches, pasta and pizza. The lunch and dinner menu for Chock Full of Beans is slightly different in that there are more sandwich options for lunch but more pizza options for dinner. The ingredients offered are the same though, ie, if you can't find the mango and bacon sandwich you saw on the lunch menu, it's because it's now become mango and bacon pizza instead.
Of all the items we ordered for dinner, the Mango and Bacon pizza $20 shown above was the best. The combination of creamy cheese, salty bacon and sweet juicy mango cubes led to an explosion of flavours in the mouth! They were particularly generous with the mozzarella, you can see how thick it is on the slice! The crust was thin and light, and soft enough so that I could fold the pizza slice in half to stuff into my mouth. It wasn't exactly the the floppy Neapolitan kind that I like but still tasted pretty good.
Btw, if you don't know what Neapolitan style pizza is, IeatIshootIpost does a very very good write up! And I've also tried Damien's fantastic pizzas (check out his Facebook here if you want to book a pizza party). After you try the Neapolitan style, "thin and crispy is just toooooo one dimensional".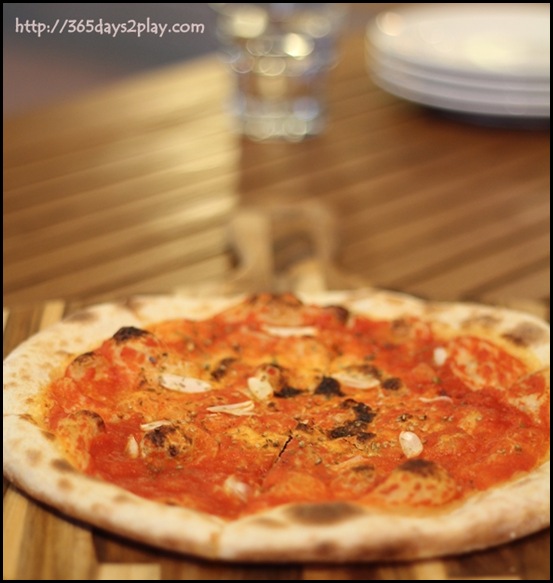 We also ordered the Marinara Pizza $12, which is basically tomato, garlic and olive oil. While the ingredients tasted fresh, I kinda regretted not ordering the Margherita Pizza $16, which would have included mozzarella. The Marinara was kind of empty, although this is how it usually is for Marinara pizzas.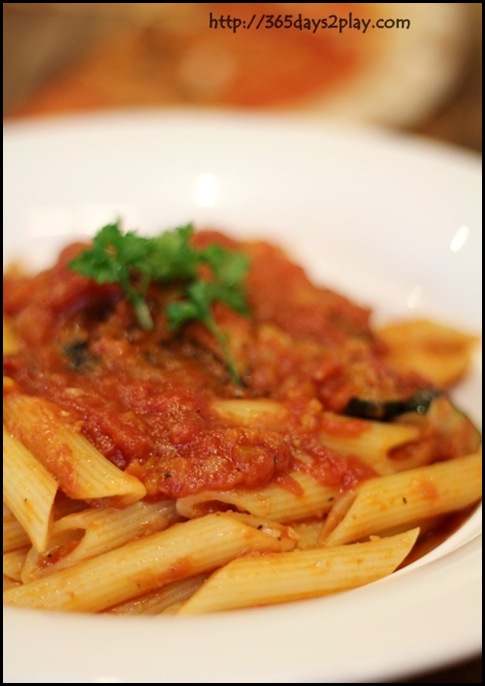 There were only 3 pastas on the menu, 2 being spaghetti with meatballs or spaghetti bolognese, both of which I don't particularly fancy, so we ordered the Penne with Roasted Summer Veggies $13.50. On the whole, it was a palatable dish. I liked the generous amount of chunky homemade tomato sauce and I loved its sweet flavour. The zucchinis and eggplants were tasty but on the soft side. Would have preferred if they were cooked a tad lesser. Same for the pasta, it was just a little over-cooked and hence not al dente.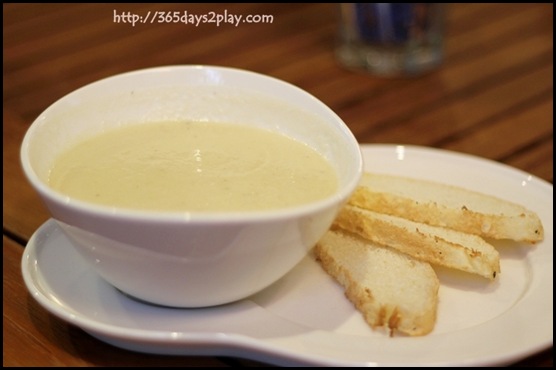 There is only 1 soup available on the menu and it changes. On the day we went, it was Cauliflower soup $5.90. Chock Full of Beans was very generous with the cauliflower. Basically the soup is almost like pureed cauliflower so it was pretty thick. It tasted nice but I thought it lacked a something extra, I don't know what. Because it was thick, we also spooned it onto our pizza as kind of like a dip. I know it sounds weird and probably looks very weird, but it made both the pizza and the soup nicer! I mean you can dip bread into soup, why can't you dip pizza?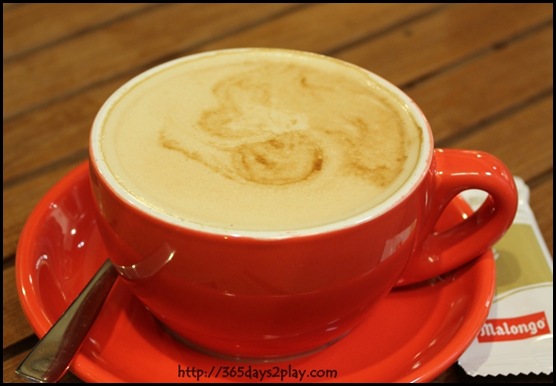 To round off the meal, we ordered a Flat White $4.50 to share. Absolutely love the striking red coffee cup!! I heard the next table got an Angry Bird coffee art and I was looking forward to it. But because the Partner had asked for a flat Flat White, which means no foam, they couldn't do the coffee art! Arrgh! Never mind, next time. I will endure the foam just to see Angry Bird and Evil Pig. And there will be a next time, especially for the coffee because it was fabulous. It was smooth tasting and strong without being bitter. There was just the right amount of milk too. Totally no complaints at all. I almost wanted to finish the whole cup and left only a 1/4 for the Partner. Highlander beans are used and having tasted their beans before, I know those beans are good.
Check out Chock Full of Beans at the quaint Changi Village area. It's facing the main road, next to the bus station so you won't miss it!
Check out my 2nd visit to Chock Full of Beans in July 2012.
Chock Full of Beans
Blk 4 Changi village road #01-2090, Singapore, Singapore 500004 · Get Directions
Phone : 62148839
Website : http://www.chockfullofbeans.com.sg
Tue — Fri : 11:00 am-10:00 pm
Sat — Sun : 9:00 am-10:00 pm
Open only on 4th day of Chinese New Year onwards!