*Media Invite*
Ju Shin Jung Korean Cuisine Stall Mixed Vegetables Rice in Hot Stone $7.80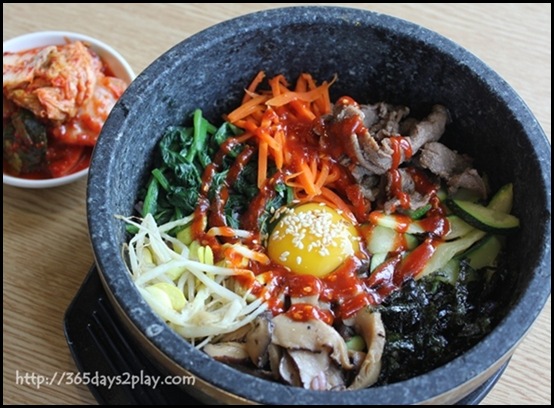 Ju Shin Jung started out as a simple family business in Korea, which has now expanded to 3 full fledged restaurants in Singapore, with Ju Shin Jung at 112 Katong being their first express counter. I have always liked Bi Bim Bap aka Mixed Vegetables Rice due to the colourful assortment of vegetables and the mandatory raw egg right in the middle. But, when compared to Thunder Tea rice, Bi Bim Bap $$$ is on the high side, and when compared to Chinese mixed rice, this is a few times more expensive. But I guess that's the price to pay when you want to savour non Singaporean dishes. This Bi Bim Bap was a little special as the rice was purple in colour! I forgot to ask them the reason for the colour, but the rice tasted pretty much like white rice, perhaps just a little bit fluffier.
Dapur Padang Stall Nasi Kuning set $6.90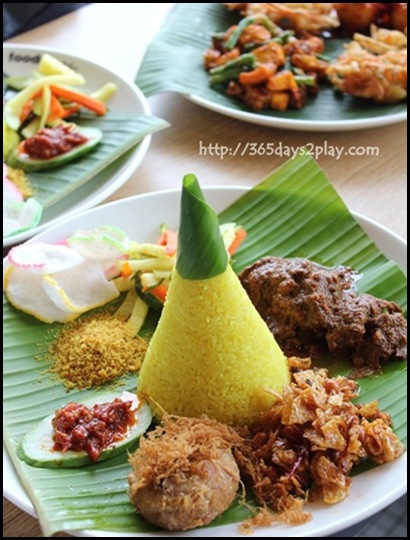 What you see here is Nasi Padang, which is a traditional Indonesian cuisine. I love the way they presented the dish, don't you find it so appetising? When you order the Nasi Kuning set, it will also be presented this way, minus the little cap on the top of the rice. Speaking of the rice, it is nice tasting but a little on the hard side, perhaps due to the fact that it was pressed into a conical shape. Of all the dishes, I found the mutton to be the most outstanding. It was supremely tender and every mouthful had the melt in the mouth sensation. Mutton tends to be stringy but this wasn't at all. The pile of cracker looking thing on the right bottom is a pile of crispy potato and tempeh (fermented bean). I'd never had anything like it before. It was on the sweet side but I loved the crunchy texture!
Wee Nam Kee Chicken Rice Stall Chicken Rice with Dumpling set $6.50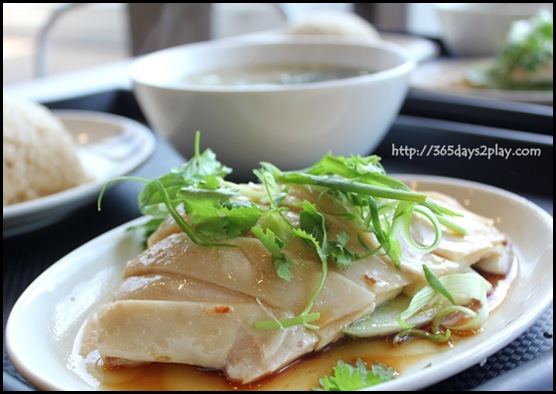 I think chicken rice fanatics should be pretty familiar with the name Wee Nam Kee. The flagship store is located at 275 Thomson Road, opposite the Novena Church. Rings a bell now? The restaurant was also invited to participate in the Singapore Day in Shanghai. I can imagine all the homesick Singaporeans lining up to taste Singapore's most famous local dish! The Wee Nam Kee stall at 112 Katong is actually a mini restaurant within the food court. You can order stuff like cereal prawns, assam fish head and chilli crab amongst other things. Hey I would have liked to try the chilli crab, how come we only got to try the chicken rice???
Indian Express Stall Butter Chicken with Garlic Naan $9
Have you heard of the Song of India restaurant? I've never been there but I love Indian food and I know that it can get expensive dining in an Indian restaurant. Now you can try the dishes without paying through your nose at Indian Express, which is owned by the Song of India. I tell you, that Naan looked absolutely beautiful when it arrived at the table. It had such an appetising and glossy sheen. Went so well with the butter chicken curry. The butter chicken curry would appeal to tomato lovers as there is a strong sweet tomato flavour too. Will definitely be back.
Fragrant Hot Pot Stall Hot Pot Ma La Triple Set $21.90
Ok this Ma La Hot Pot, I will only recommend to my enemies. The dish was so so so so so so spicy that just eating 1 sliver of cabbage was enough to make me surrender! Luckily I was warned by the victims before me or else I shudder to think what would happen. In that 1 sliver of vegetable, I did detect a very strong peppercorn and peanutty taste in the broth. Unfortunately I am unable to comment beyond this for obvious reasons. I am told that Fragrant Hot Pot originates from Beijing and the Hot Pot is widely popular with Chinese nationals. What you do at this stall is that you choose the individual ingredients that you want, kind of like how you choose your yong tau foo items. The items will be weighed and you will be charged accordingly. They have lots of meat and vegetable dishes to choose from.
Pepper Lunch Stall Pepper Steak $15.90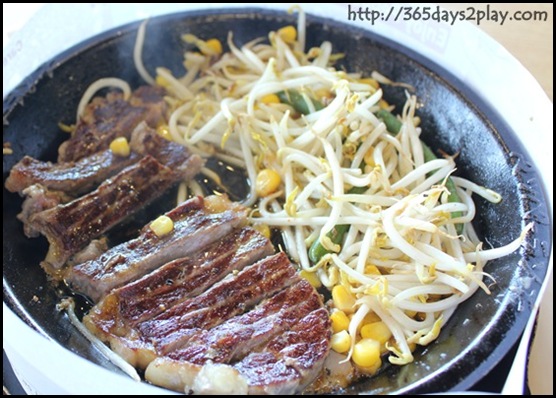 Pepper Lunch is the 2nd mini restaurant within Food Republic. To be frank, I have never liked Pepper Lunch. I find it to be a novelty feature that I have to cook the steak myself. It is different from steamboat because if you ruin or overcook something, its a small item and there are many more items in your steamboat anyway. Ruin or overcook this steak, and there goes your lunch. Besides, I like my steaks to be medium rare. Maybe the 1st piece is fine but by the time I reach the last piece, the steak would have been well done. The one and only time I ate at Pepper Lunch, I found myself hurrying to eat the steak, and as a result I burnt my tongue. Not a very good impression eh.
Read more about Food Republic at 112 Katong Mall
https://365days2play.com/2012/04/20/food-republic-at-112-katong-snacks-and-drinks/
https://365days2play.com/2012/04/20/food-republic-at-112-katong-oodles-of-noodles/
https://365days2play.com/2012/04/20/food-republic-at-112-katong-rice-and-more/